The FDA's New Policy on Blood Donations From Gay Men
The agency announced on Monday an historic shift in longstanding regulations.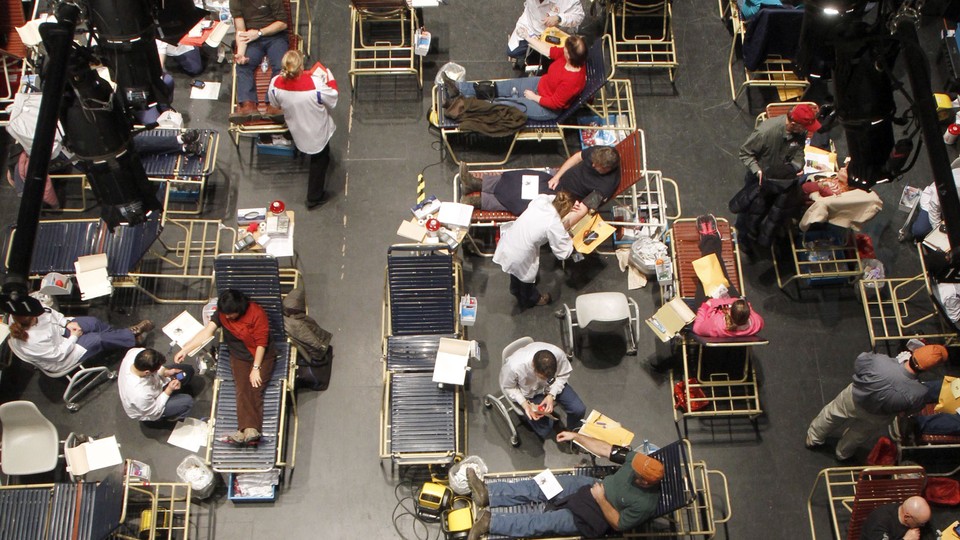 Updated on December 21 at 2:33 p.m. EST
The U.S. Food and Drug Administration will remove the country's longtime policy barring all gay and bisexual men from donating blood, the agency said Monday.
The FDA announced on its website that it would lift the blanket ban on these individuals "to reflect the most current scientific evidence." The policy was instituted in 1983, amid the early AIDS crisis, in an attempt to prevent HIV transmission between blood donors and recipients.
"The FDA's responsibility is to maintain a high level of blood product safety for people whose lives depend on it," said the FDA's Acting Commissioner Stephen Ostroff in a press release."We have taken great care to ensure this policy revision is backed by sound science and continues to protect our blood supply."
Existing FDA policy indefinitely prohibits men who have ever had sexual contact with men from donating blood. The new policy would bar men who have had sexual contact with another man in the previous 12 months.
Gay-rights advocates, medical professionals, and others have criticized the longstanding FDA rules, saying the policy was not supported by scientific evidence and perpetuated stigmas against gay men. The National Gay Blood Drive, which has petitioned for a change to FDA regulations, welcomed the change Monday, but said in a statement that the policy is "still discriminatory" because "countless more will continue to be banned solely on the basis of their sexual orientation and without medical or scientific reasoning."
The FDA said the updated recommendation is in line with those in place "for other men and women at increased risk for HIV infection—such as those who had a recent blood transfusion or those who have been accidentally exposed to the blood of another individual." The restriction also matches those in several other countries, like United Kingdom and Australia, the FDA said.
Monday's decision comes one year after an advisory panel in the Department of Health and Human Services, which houses the FDA,  voted to recommend the lifting of the ban. As my colleague Julie Beck wrote back then, while gay men are still at increased risk for HIV, doctors and health officials understand the disease now more than ever before. "For example, in 1983, the Centers for Disease Control and Prevention were just ruling out casual contact as a possible means for transmitting AIDS," Beck wrote. "More than 30 years later, we have preventive drugs for HIV and life expectancy for HIV-positive people in the U.S. is very nearly the same as that of the general population."