Another Food Scare at Chipotle
Some 120 students at Boston College have been stricken with norovirus after eating at the fast-casual chain that prides itself on "Food With Integrity."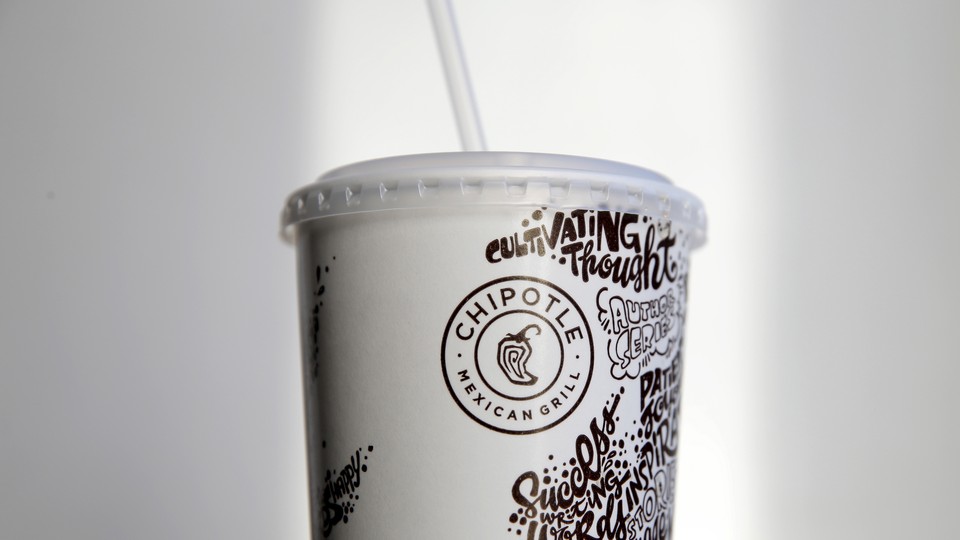 Last month, when commenting on Chipotle's third food contamination scandal in as many months, one retail analyst told Reuters not to expect a lengthy downturn for the fast-casual chain. "Short term they will take a hit but it will blow over quickly," he said, adding, "They have a lot of customer goodwill."
Many of those warm feelings have to do with Chipotle's carefully cultivated image as the feel-good alternative to fast food. Over recent years, the company had seen stellar revenue growth and become into the face of the fast-casual movement, where consumers, particularly millennials, will pay a little bit more for seemingly better, more customizable food.
But as we noted last month in the wake of an E. coli outbreak that made dozens of burrito lovers in nine states sick, "Part of what makes this series of food contamination outbreaks so damning is that the company markets itself so aggressively as a quick-service purveyor of responsible food."
Fast forward four weeks and add a norovirus outbreak at a Boston College Chipotle, which has made as many as 120 students ill and the goodwill seems to have vanished. "Chipotle's shares are down 22 percent over the last four months, the worst performance among restaurant companies in the Standard & Poor's 500 Index," Bloomberg reported. "The shares fell an additional 5.6 percent...on Tuesday after the latest reports about Boston College."
Chipotle, to its credit, has acted swiftly, closing down stores and promising to improve a food-safety standards. But given the variety of issues recently associated with the company—salmonella, E. coli, and, now, norovirus—some are saying the company has not done the rhetorical work to take account.
"They're not going far enough," one communications crisis expert told CNBC. "They're not painting pictures with their words. They're still doing too much explaining." In a Bloomberg column titled "It's Time for Chipotle to Eat Crow," Shelly Banjo cited the company's all-time low in brand favorability and implored it to "immediately and authentically reassure customers that it's safe to come back."
In an email to CNBC, Chipotle spokesman Chris Arnold pushed back. "I think it's very easy to armchair quarterback these things and say a company should have done this, or could have done that better." He added that the company has apologized to affected consumers while pushing to investigate its food-safety issues.
Nevertheless, Chipotle has long promoted its model as a panacea for the failings of the food system and practically named itself a movement of the righteous. Sample website copy: With every burrito we roll or bowl we fill, we're working to cultivate a better world. It may have grown too fast for all of that.