Where Seniors Go When Their Nursing Homes Close
When assisted-living facilities shut down, their elderly residents often have to scramble for a new home—and health and financial concerns can make it hard to find a fit.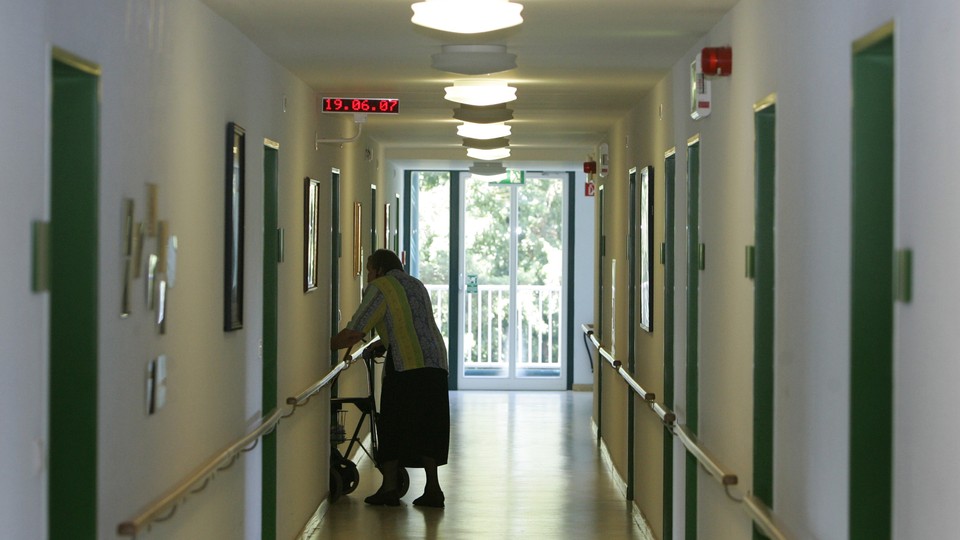 When Emily Berger helped her mother, Mary Berger, move into the Prospect Park Residence, a long-term care facility in Brooklyn's trendy Park Slope neighborhood, her mother settled quickly into the community of seniors, making friends among other residents and attending social events.
Mentally sharp but needing a walker to get around, Mary Berger couldn't live independently any more. Her daughters thought the residence would be their mother's last home before she died: Prospect Park Residence was just the kind of facility where children want their elderly parents to "age in place." The average age of residents was 88; some residents had dementia or Alzheimer's disease, and others used wheelchairs.
But that all changed on March 5, 2014, when the home's management abruptly told 130 senior residents and their families that it was closing. Entities related to the home's landlord, Haysha Deitsch, planned to sell the building to an investor for $76.5 million, and the new owner would turn it into market-rate apartments. Residents had 90 days to move.
"It was just horrifying," Emily Berger recalled of the meeting where residents learned of the closure. "People were so upset."
Mary Berger joined a group of residents who sued Deitsch and New York State's Department of Health to halt the closure. Berger and some of her peers vowed to stay in the home. But other residents began to scramble to find new places to live—places that could accommodate both their health needs and financial constraints.
As some residents left, staffing numbers dwindled and services diminished, Berger claims. Her mother, then 89, became addled and overwhelmed. "My mother got more and more anxious and depressed," said Berger. "The services started to fall apart. She felt betrayed by the staff," some of whom had known that the home would be shutting down but kept it secret from residents, she said.
Meanwhile, Berger said, she got no assistance from the New York State Department of Health. The Department of Health declined to comment on the home's closure for this story, citing pending litigation.
Mary Berger moved to another assisted-living facility several miles away, but she soon fell ill and was in and out of hospitals and rehabilitation centers until her death in January 2015.
The question for the next generation of seniors in New York and other cities is not just where they will go when they age, but whether they'll be able to stay there. What happens when aging in place turns into an eviction?
* * *
Advocates for seniors say that regulators and facility managers often don't go far enough in safeguarding the wellbeing of seniors during closures of nursing and assisted-living homes. A resident's closure experience may turn on what kind of home they are in, and what state they live in.
"Assisted-living and nursing homes are regulated in very, very different ways," noted Toby Edelman of the Center for Medicare Advocacy. Nursing homes, almost all of which accept Medicare and Medicaid, are regulated by the federal government. In 2013, the federal government issued a new rule aimed at beefing up closure requirements, making nursing homes give residents 60 days' notice before a closure and mandating that administrators of the closing facility "provide a plan for the transfer and adequate relocation of the residents." State health departments are charged with overseeing the closures.
Assisted-living facilities—such as Prospect Park Residence—are aimed at giving support to people in their day-to-day activities and are subject to state, rather than federal regulations on closure; those state regulations can vary widely.
Kevin Cremin, a lawyer with MFY Legal Services, one of the legal-aid groups suing over the closure of the Prospect Park Residence, said the state's regulations do not offer enough protection to residents of assisted-living facilities. "In New York, the regulations on assisted living don't provide adequate protections for residents, even those who have been there many years," Cremin said.
New York State's Department of Health rules forbid assisted-living facilities from disclosing to their residents that they are filing closure papers with the health department; indeed, Prospect Park Residence still accepted new residents before it announced it was shutting its doors, said Cremin.
Family members were livid about the 90 days' closure notice that Prospect Park Residence gave—although it's the state guideline for adult homes.
"I felt 90 days was so insultingly out of touch for someone with Alzheimer's," said Jennifer Stock, whose father, Jack, had mid-stage Alzheimer's disease and was 89 when the closure was announced. "It's very difficult for someone who has Alzheimer's to find a good match."
"We couldn't find a facility anywhere that would accept his combination," said Stock. She said her father grew anxious as his peers moved out and his meals were served in a separate, smaller dining room.
"For someone with Alzheimer's, it's all about routine. There was no way to explain to him what was going on. He got restless and upset. The character of the place changed."
Eventually, Stock and her husband found a private rental apartment where her father could live with his aide, but he fell ill with pneumonia in August 2014 and died the following month, before he moved into the apartment.
Today, seven residents remain in Prospect Park Residence. The judge overseeing the legal case has ordered Deitsch, the operator, to keep the facility open and provide basic services while he rules on the merits of the lawsuit challenging the closure process.
Joel Drucker, an attorney representing Deitsch, declined to comment on conditions at the residence, citing the pending litigation. He has appealed the decision letting the plaintiffs' case go forward, saying the plaintiffs do not have a legal right to challenge the closure process.
"There's another side of the coin. It's a free country; people go into business and sell that business. How can someone be forced to remain in business?" Drucker said.
While Prospect Park Residence is closing for a lucrative sale, some care facilities close because they are forced to. So-called involuntary closures occur when health officials rule that homes have provided inadequate care, and Medicaid and Medicare cut off reimbursements. There were 106 terminations of nursing-home contracts in 2014, according to the federal Centers for Medicare and Medicaid Services (CMS).
Blossom South Nursing and Rehabilitation Center, a nursing home in Rochester, New York, lost its contract with CMS in January 2014 after it was placed on a watch list for low-performing homes because it was written up for deficiencies in safety, pest control, and record-keeping. The nursing home served mostly low-income residents.
The home was not in good shape when it was open, said Ken Traub, a co-chair of the Elder Justice Committee of Metro Justice, a Rochester-based advocacy group. But its closure wreaked havoc on residents. After the home announced it was shutting, about a third of the residents were sent to another home in Utica, New York—about 130 miles away.
"The nursing-home management didn't have any real incentive to do a good job on placements of people, and these people were not easy to place," said Traub. "This was a city nursing home; [the vast majority] of the residents were on Medicaid. Good nursing homes don't like to take people who don't have good private-pay money. Many [residents] had some health problems; some were smokers."
A year and a half after the closure, nearly all of the people who were sent to Utica have returned to the Rochester area, said Traub, but he maintains that the state Department of Health could have done a better job with their original placements.
The nursing home's closure timetable was set by CMS and the state department of health complied with the federal guidelines, a spokesperson for the New York health department wrote in an email. "DOH has limited ability to force other nursing homes to accommodate the affected residents, but DOH does its best to ensure residents are relocated either within, or as close as possible to, their home county," the spokesperson wrote.
* * *
There are more than 15,000 nursing homes across the country. Even as the elderly population swells in coming years, with the aging of the Baby Boom generation, there will likely be more nursing-home closures, according to Cynthia Rudder, an advocate for the elderly. Medicare is covering more at-home and community-based services, she said, and individuals are trying to stay in their own homes.
Concern over how nursing homes shut their doors prompted Rudder to work with the National Consumer Voice for Quality Long-Term Care, a Washington-based advocacy group, to launch an online survey of residents, family members, nursing-home ombudsmen, and even staff of closed homes to find out about their experiences. She plans to use the survey results to develop models for best practices for future closures.
Closures may affect residents differently if they live in a rural environment or a major metropolis, said Eric Carlson, the directing attorney of Justice in Aging. Residents in lower-population areas can get transferred miles away. Big-city residents may get lost in the transfer system, as they are shuffled from one large urban facility to another.
"It's the typical problem in the city—the anonymity," said Carlson. "It almost makes it easier to do these really sloppy transfers; no one's paying attention. You are just placed somewhere else; no one knows where you went."
Regardless of geography, and whether it's a nursing or assisted-living facility, being moved from one home to another can provoke "transfer trauma" in the elderly, a state of heightened stress and anxiety. Residents can feel hopeless if they are forced to find a new place to live.
"Facilities are supposed to do a whole number of things when they close," such as help residents find new homes, Rudder said. "But sometimes it doesn't happen. Even though there may be some good rules and regulations out there, we want to know: What's actually happening?"
---
This article appears courtesy of CityLab.