Texas Women Are Inducing Their Own Abortions
Researchers fear DIY pregnancy terminations will become more widespread if clinics continue shutting down.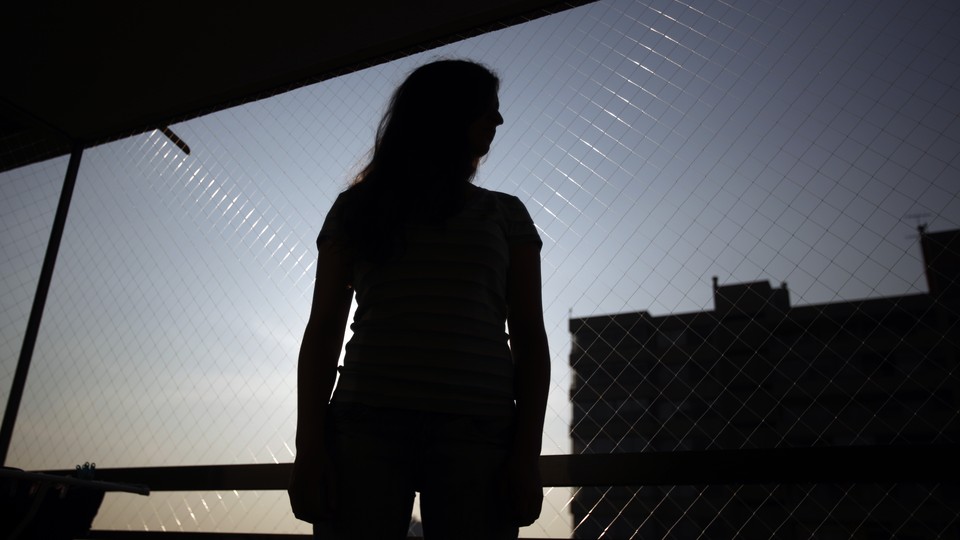 "I didn't have any money to go to San Antonio or Corpus [Christi]. I didn't even have any money to get across town ... I was just dirt broke."
That was the response given by a 24-year-old woman in Texas' Rio Grande Valley when asked by researchers why she had attempted to terminate her pregnancy on her own, without medical help.
Between 100,000 and 240,000 Texas women between the ages of 18 and 49 have tried to end a pregnancy by themselves, according to a pair of surveys released Tuesday by the Texas Policy Evaluation Project, a University of Texas-based effort aimed at determining the impact of the state's reproductive policies.
The figure was found by asking an online, representative sample of 779 women whether they themselves or whether their best friends had ever tried to self-induce an abortion. Of the Texas women surveyed, 1.7 percent said they had performed an abortion on themselves, but 4.1 percent of them said their best friend had or they suspected she had.
The most common method reported was by taking the drug Misoprostol, also known by the brand name Cytotec. Other reported methods included "herbs or homeopathic remedies, getting hit or punched in the abdomen, using alcohol or illicit drugs, or taking hormonal pills."
The finding is important because the Supreme Court has agreed to hear a case, Whole Woman's Health v. Cole, that concerns abortion law in Texas. The court will decide the constitutionality of a 2013 law requiring the state's abortion clinics to meet the standards of ambulatory surgical centers and for their doctors to have admitting privileges at a nearby hospital.
At the time, most of the state's clinics didn't meet these requirements. It's too expensive for them to make the necessary renovations, they say, and there are not enough nearby hospitals for every abortion provider to gain admitting privileges.
As a result, Texas now has just 17 abortion clinics, compared to 41 in 2012, and almost all the remaining clinics are in major cities. If the Supreme Court upholds the law, seven more clinics will likely close, leaving just 10 in operation for the 269,000-square-mile state.
As Kim Soffen reported in The New York Times' Upshot blog, "the average Texas county is now 111 miles from the nearest clinic, up from 72 miles in 2012. This is substantially higher than the national average outside Texas, 59 miles."
The survey from the Texas Policy Evaluation Project found that self-induced abortion was more common among women who had trouble obtaining reproductive services. Women were more likely to report having tried it if they had experienced difficulty getting birth control or Pap smears or if they lived near the Mexico border. Not only are some border towns located far from abortion clinics, but Cytotec is more widely available in Mexico.
The survey authors say self-induced abortions may become more common if more abortion clinics close. "Given that the populations we found to be most familiar with abortion self-induction are among those that have been most directly affected by the closure of abortion clinics in the state," they write, "we suspect that abortion self-induction will increase as clinic-based care becomes more difficult to access."
The plurality of the women in the survey said they were against abortion in general, but they understood why a woman would want to self-induce.
---
Women's Opinions on Self-Induced Abortion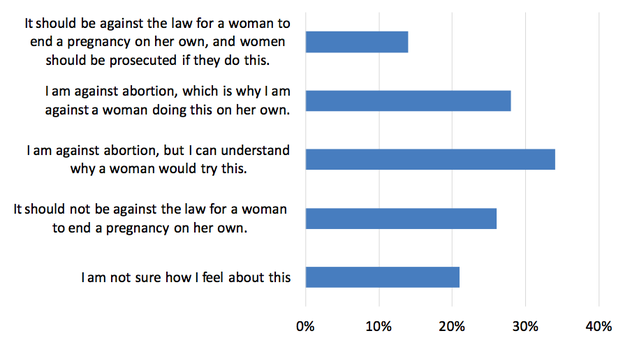 ---
It's not clear whether the self-induced abortions reported in this survey occurred as a direct result of the state's abortion restrictions. Overall, abortions in the state declined by 13 percent since the law was enacted. The authors speculate that these women either traveled out of state, continued their pregnancies, or took their abortions into their own hands.
In a series of interviews with women who had attempted to induce their own abortions, also released by the Texas Policy Evaluation Project this week, the cost or hassle of traveling to a clinic emerged as just one of the reasons women gave for self-induction. Often, the logistical factors intermingled with poverty or feelings of shame.
One woman in the southern, coastal town of Corpus Christi said her local abortion clinic had closed, so she tried to self-induce at home using herbs. When that failed, she called a clinic 150 miles away, but she couldn't get an appointment for a month because that clinic was so busy, she said.
For some women, taking Cytotec at home increased the anxiety surrounding the abortion process.
"There was also the fact that I'm doing it at home, we're not—though we have all of the information as to how much bleeding is too much bleeding," one 24-year-old said, "there's always that slight uncertainty of like I don't really know what I'm doing."
Still, women might prefer that uncertainty to a long and expensive trek. West Texas's Midland County, home to 151,000 people, is now 258 miles from the nearest abortion clinic, or about an nine-hour round-trip drive. The big question before the Supreme Court is whether distances like these pose an "undue burden" for women seeking an abortion. If women are inducing their own abortions because they're not able to reach clinics, it adds fuel to the argument that the obstacles they face are too steep.
The Court is also being asked to determine whether the state's abortion restrictions make clinics safer and protect women's health, as the law's supporters have claimed. Even if that was their intent, this study suggests thousands of abortion-seeking Texas women are being nudged away from healthcare settings entirely—be they safe or unsafe.