The Feminist Asylum That Redefined Women's Mental-Health Treatment
When it opened in the 1920s, California's Rockhaven sanitarium took a radically different approach than the other institutions of its time.
On a shaded lot in a quiet residential enclave in the La Crescenta valley sits a collection of Spanish Colonial cottages. These days, the only people who set foot on the Glendale, California, property are the caretakers who tend the peacefully empty grounds, and the groups of visitors who come through on guided tours. But for much of the 20th century, the lot was home to the Rockhaven sanitarium—a feminist institution for mentally ill women, founded as an antidote to the prison-like atmospheres of the asylums of the time.
In the 1920s, when Rockhaven was founded, running a sanitarium was a lucrative business. Scores of sanitariums had popped up around La Cescenta, modeled after the French sanitarium movement; any home could be transformed into an asylum for people with mild mental illness, the homeowners collecting money from wealthy patients as they prescribed them sunshine and dry air.
In practice, though, many of these institutions treated their patients as poorly as the notorious public asylums of the time—there were no laws governing their operations, leaving the residents of these sanitariums with few legal protections. Some homeowners threw up vaulted tents on their property in order to cram in more patients. In one of the more well-known cases, a La Crescenta sanitarium called Kimball held the actress Frances Farmer against her will after she declared herself to be a communist and an atheist, diagnosed her with paranoid schizophrenia, and treated her with electroshock therapy and insulin.
Patients at the state-run asylums of the time generally fared far worse—and the growing fascination with eugenics meant that many of them were also forcibly sterilized.
Rockhaven was different. It was founded in 1923 by the former nurse Agnes Richards, who had spent much of her career working in asylums in California. Determined to create a kinder, gentler alternative to the abuses she had witnessed, Richards used a thousand dollars she'd saved to purchase a small found-rock cottage on a lush, tree-lined estate in an area that was then called Verdugo City. Within a year, Richards had 24 "ladies"—never called "patients"—and was expanding the estate rapidly.
A place like Rockhaven—one run by and for women—was especially significant at a time when new and dangerous ideas about women's sanity were taking hold. During Prohibition, as many young women were drawn to the danger of speakeasies, alcoholism among females rose dramatically. But nobody knew what to do with female alcoholics, and many were involuntarily committed. At the same time, women, having just won the right to vote, were seen as more dangerous, and the State Lunacy Commission committed women liberally, often for flimsy or manufactured reasons.
Even a disgruntled husband wanting to leave his wife without a messy divorce could present his case for his wife's insanity and win. Richards had seen more than one previously sane woman driven insane by degrading treatment inside the asylums.
Joanna Linkchorst, the head of the historical coalition Friends of Rockhaven, says many of the family members who'd placed their mentally ill mothers or sisters in Rockhaven had been so accustomed to degrading treatment that they were shocked by the results of Richards' methods.
"There's a story of a woman who called to check on her mother, who was snarling and biting when she brought her in. She said, 'How is my mother?' They said, 'She's doing great!' And the woman said, 'No, no, my mother is so-and-so.' And they said, 'We know, and she's doing great!'" Linkchorst said. "Two weeks of someone doing this woman's hair, getting her up and getting her dressed, and the local school kids coming over to read to her, and it was like she was a completely different person."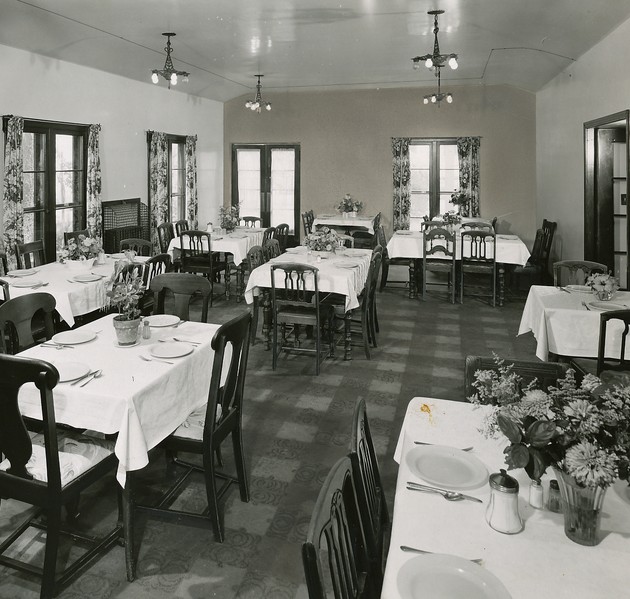 In fact, the residents of Rockhaven often threw parties, dressing up in their best gowns. They attended picnics in the community and went out to dinner as a group. To the ignorant observer, it was often impossible to know that the women would end the evening by returning to their home at a mental hospital. Richards treated the residents as her friends and once traveled the world with one of them, bringing back rugs and gifts and decorations for the rooms.
Richards's daughter sold Rockhaven to new management in 2001, and it remained open until 2006, when the property was purchased by the city of Glendale (officials are currently considering either selling it or turning it into a museum). Today, once a month, a group dedicated to preserving the heritage of Rockhaven's progressive history meets to offer limited tours of the property, now owned by the city of Glendale. Linkchorst and the local historian and writer Mike Lawler lead the tours, taking visitors down winding cement pathways adorned with rose bushes, past the statues of sunbathing women that dot the property, and through the ornately decorated, wallpapered rooms. Linkchorst says the only time people are disappointed by Rockhaven is when they walk in expecting gruesome tales of mistreatment and hauntings by restless souls.
"Sure, we have ghosts," says Lawler, who often writes about Rockhaven and its enduring residents. "But it's a pretty pleasant haunting." Every so often, he says, old cards or rosary beads will appear in rooms—not really the ghost stories one imagines from an old asylum, but then again, this wasn't the typical asylum.
When Linkchorst and Lawler lead their tours, they encourage visitors to take photographs and to share what they've seen. The legacy of Rockhaven, they say, is this: At a time when women with mental illness were treated in all the wrong ways, this place did something right.
"Dignity," Linkchorst says. "It makes all the difference."