A Strange Trend in Pro Football: Kidney Lacerations
In consecutive weeks, two star NFL players suffered serious kidney injuries.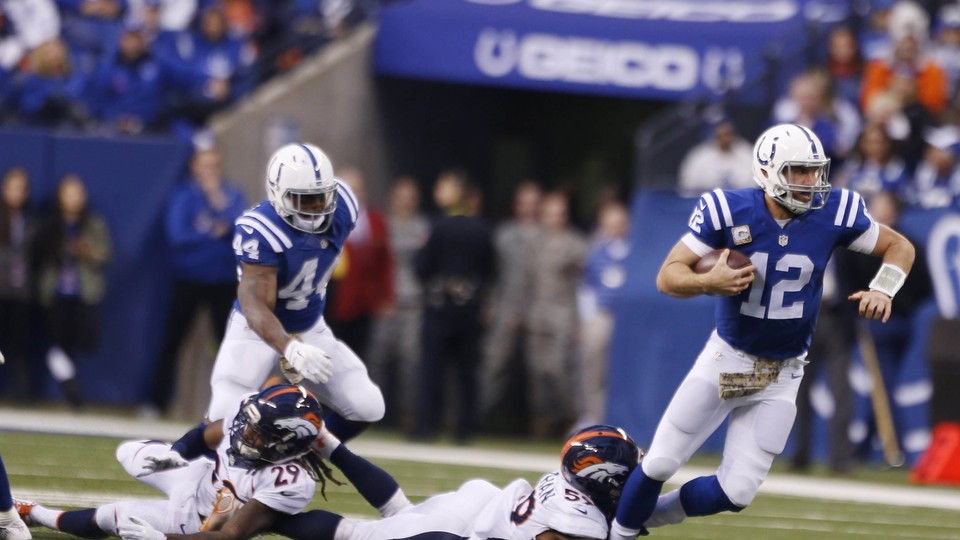 On Monday, Andrew Luck and the Indianapolis Colts were celebrating their midseason upset of Peyton Manning and the previously undefeated Denver Broncos. Luck had played his best game of the year and the Colts had taken hold of first place in their division with the win.
By Tuesday, Luck's season appeared to be in some jeopardy. According to the team, tests had "revealed a laceration in one of Luck's kidneys and a partial tear of an abdominal muscle." Doctors set a pretty broad range for the star's potential return, setting expectations at anywhere from two-to-six weeks.
The play that some suspect caused the injury was a routine four-yard scramble that ended with Luck getting hit both high in the back and low in the abdomen. Luck, who has reportedly been playing with fractured ribs, finished the game.
San Diego Chargers receiver Keenan Allen was not as lucky. Just last week, Allen was in the midst of a breakout year, grabbing 67 catches in just eight games, the third-best start in NFL history. His last catch of the season was an impressive 13-yard touchdown, which he dived to catch before landing on his side with a defender on top of him.
Following the incredible grab, he came up in obvious pain while his teammates tried to pull him up to celebrate. He didn't return and after the game, Allen checked into a hospital. With the Chargers seemingly out of playoff contention already, the team declared that his season was over.
Curiously, for the second time in as many weeks, a star NFL player has been diagnosed with a lacerated kidney. Footage of Allen's catch, sadly or fittingly enough, was blasted out by the NFL's ever-approbatory Twitter account before the extent of his injury was known.
Football, as we well now know, is a dangerous sport. (Eighty-three concussions in nine weeks, dangerous.) But as the last two weeks show, it's also dangerous in ways that are still not fully understood. Concussions and CTE are one upshot of play that has inspired recent study, but who predicted trauma to the abdomen, an area uncovered by pads, would be such a large storyline of the 2015 NFL season?
Moreover, just because kidney injuries are relatively rare, doesn't meant that they aren't serious. "Luck's injury typical of car crash," read a headline on Tuesday for the Indy Star.
"These things can be fatal if they aren't found quickly enough and dealt with quickly enough," an associate professor for surgery at Johns Hopkins Medicine told Sporting News.
Late late season, Miles Austin, another standout (if oft-injured) receiver, suffered a lacerated kidney while playing for the Cleveland Browns. Back in June, Austin described his injury to Mike Sielski of The Philadelphia Inquirer, in which a post-game stomachache after a big hit took on a new dimension when "he stood at a urinal and saw the rich red stream."
It was definitely something that will wake you up. I remember somebody on my team saying, "You going to tell somebody?" I was like, "Absolutely, I'm going to tell somebody."
That a teammate's first instinct was to ask Austin if he was going to keep silent about it is telling, given the culture of football where playing through pain is an expectation. Austin ultimately missed the rest of the season and the Browns declined to re-sign him. Austin now plays for the Philadelphia Eagles.
Since his injury, little has been said about Allen, other than questions about how his lost productivity will be made up by other receivers. While few are critiquing the Colts for inadequately protecting Andrew Luck, the focus has really been on his on-field replacement Matt Hasselbeck. That's the game, but that's also part of the problem.