Getting Toxic Chemicals Out of Black Women's Hair Salons
Hair relaxers and other popular products can put employees' health at risk.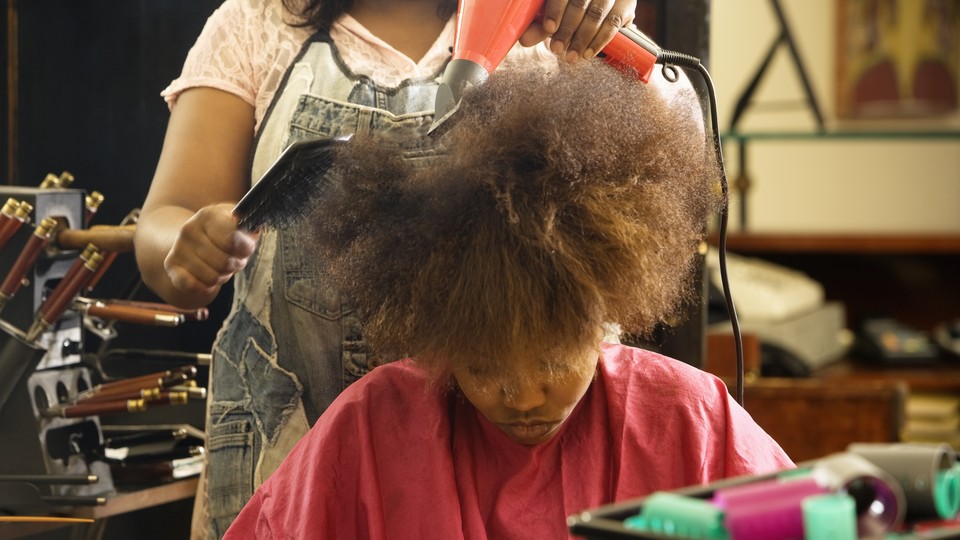 When Teni Adewumi surveyed African American salon workers in Inglewood, California, she kept seeing the same health concerns over and over. Asthma. Dermatitis. Hair loss. Uterine fibroids. Miscarriage. Veteran stylists told her they experienced symptoms when they applied relaxers and other chemical hair straighteners, and they now preferred working with natural styles. But many didn't know that the products they used could be making them sick.
Adewumi, a graduate student at the University of California, Los Angeles, Fielding School of Public Health, works to close that knowledge gap as the environmental-justice program coordinator at the California nonprofit Black Women for Wellness. In salons across Inglewood and South Los Angeles, she helps train stylists in safe products and practices, from ventilation and personal protective equipment to ergonomics and label comprehension. But her work is also part of a nationwide effort to make beauty salons safer for the people—mostly women—who work in them.
That starts with research. Epidemiological studies dating back to the 1980s have found that hair stylists are at risk for a range of chronic occupational-health conditions, including skin and respiratory diseases and adverse reproductive outcomes. Certain toxic chemicals found in hair glues and straighteners, such as formaldehyde, styrene, and trichloroethylene, have been linked to cancer, liver damage, and dermatitis.
"When we held focus groups with salon workers, we found these stories of lack of education on chemical exposures and chemical-related health problems," Adewumi says. "Even though they had all gone to beauty school, there was just really no training around what these products could do to your body and to your reproductive system."
That's partly because there's precious little research on the long-term health effects of salon products. Alexandra Scranton, the director of science and research at the environmental organization Women's Voices for the Earth, explains: "The weakness in the data is being able to connect [health impacts] to specific chemicals, because those connections are almost never studied." And so far, research has failed to account for the combination of toxic chemicals found in hair salons. "They'll look at a chemical at a time, but of course a salon worker is never exposed to just one chemical at a time," Scranton says.
In the absence of comprehensive longitudinal data, assessing the health risks of specific products is "an art as much as a science," Scranton says. Her organization singles out chemicals of concern by drawing on watch lists created by governmental authorities—California and Washington state have them, along with the European Union—and recommends safer alternatives where available.
The case of Brazilian Blowout offers a window into federal regulation of the beauty industry. This professional hair-smoothing product contains formaldehyde, a known carcinogen, which is released into the air when hair treated with the solution is heated with a blow dryer and flat iron.
In 2011, the Occupational Safety and Health Administration issued a hazard alert about formaldehyde exposure from Brazilian Blowout, and the FDA issued a warning letter to the company, citing the product's health risks and misleading "Formaldehyde Free" label. But the agency had no power to recall the product, even though it had been linked to "adverse events" including eye, respiratory, and nervous-system disorders. It was only after the state of California sued the makers of Brazilian Blowout that they modified its formula, reducing but not eliminating the formaldehyde content. Without mandatory-recall authority, the federal government could do little more than send strongly worded letters.
The FDA regulates cosmetics in the U.S., but it doesn't approve products before they hit the shelves. It also doesn't require manufacturers to list the ingredients of professional salon products. That means that, on the label, the word "fragrance" may stand in for hundreds of unreported chemicals. "The burden is on us as consumers or us as researchers to test these products," Adewumi says. That's the reverse of the regulatory protocol in Europe, where cosmetic products must undergo scientific safety assessment before they can be sold. In the U.S., companies can ask for forgiveness rather than permission, letting potentially hazardous products slip through the cracks.
The risks are particularly severe for salon workers, who have more exposure to these chemicals than consumers do. These women are "a tough lot," says Scranton. "They really love their jobs, they really want to continue to work their jobs, so they tend not to complain as much, even though their health is definitely suffering." And even when salon workers do report their health problems, public-health agencies are often unwilling or unable to help. They rely on federal "permissible-exposure limits" to determine whether a workplace is hazardous. But those limits are mostly based on studies of healthy adult men working in heavy industry—and even OSHA admits that they're "outdated and inadequate for ensuring protection of worker health."
These regulatory gaps are inseparable from historic gender and racial inequities in clinical research. Before the 1990s, women and minorities were consistently underrepresented in clinical studies, due in part to the assumption that research on male subjects could be extrapolated to these groups. Scranton says that the disparity is especially stark when it comes to women of color: "I could find almost no studies on salon workers who either are women of color or work with women of color, and work with the different products that are marketed to women of color—the hair relaxers, certain kinds of dyes, the hair glues for extensions," she says. "These are some of the products that seem to contain the most toxic chemicals, and no one has studied them."
Brazilian Blowout is one such "ethnic" beauty product, marketed to women seeking super-straight hair that conforms to European beauty standards. The natural-hair movement is making a dent in demand for chemical straighteners; sales of hair relaxers fell 26 percent between 2008 and 2013. Still, according to a 2013 Nielsen report, African American women spend nine times more on "ethnic hair and beauty aids" than any other group—and we don't really know what's in those products.
Salon workers have the most to lose from the dearth of information. "There's a great need for better training and warnings, and less [saying] 'This is just the cost of the job,'" says Scranton. "It shouldn't be the cost of the job. They shouldn't be paying with their health."
To protect salon workers across the board, federal cosmetic regulations will need to change. Scranton and Adewumi want to see legislation that requires manufacturers to list ingredients on all beauty-product labels; bans ingredients linked to cancer, birth defects, and developmental harm; empowers the FDA to recall unsafe products; and enforces stricter salon safety standards. With the powerful chemical lobby standing in the way, advocates have their work cut out for them.
But while they grind away at national policy, environmental and women's health organizations are making significant progress at the state and local level—though mostly, so far, with nail salons, logical partners in the reform effort. California, Boston, and King County, Washington, have certification programs for safe and healthy salons. New York state, in the wake of a widely-shared Times expose, enacted emergency regulations to improve workplace conditions for nail-salon employees. Adewumi is currently working with the city of Inglewood to create a pilot healthy-hair-salon recognition program.
And she's still in salons, talking to workers about their health. On the whole, she says, stylists have been receptive and eager to learn more about greener products and practices. "We're definitely very aware about economics," she says. "This is what they do for a living, they are pillars in the black community, they are really strong women in terms of starting their own businesses. We come in with this open approach. We just want to talk to them, to know how they're doing … addressing [health] issues in a holistic sense, and then bringing up the conversation around product use."
It's a conversation Scranton encourages women to have with their own stylists. Women's Voices for the Earth offers a number of informational materials about toxic salon exposures and products to avoid, which can kickstart the discussion about your stylist's safety. "We often encourage people to take those with them when they go to the salon, and to have that conversation from the point of view of 'I'm concerned about your health,' and not, 'You work a toxic job,'" Scranton says. "Com[e] from that standpoint of 'I want to make sure that you're healthy because I appreciate the service that you're doing.'"
---
This article appears courtesy of CityLab.