Frank Gifford and the NFL's Concussion Crisis
The Hall of Fame halfback and sports analyst, who died earlier this year, suffered from a degenerative brain condition brought on by head trauma.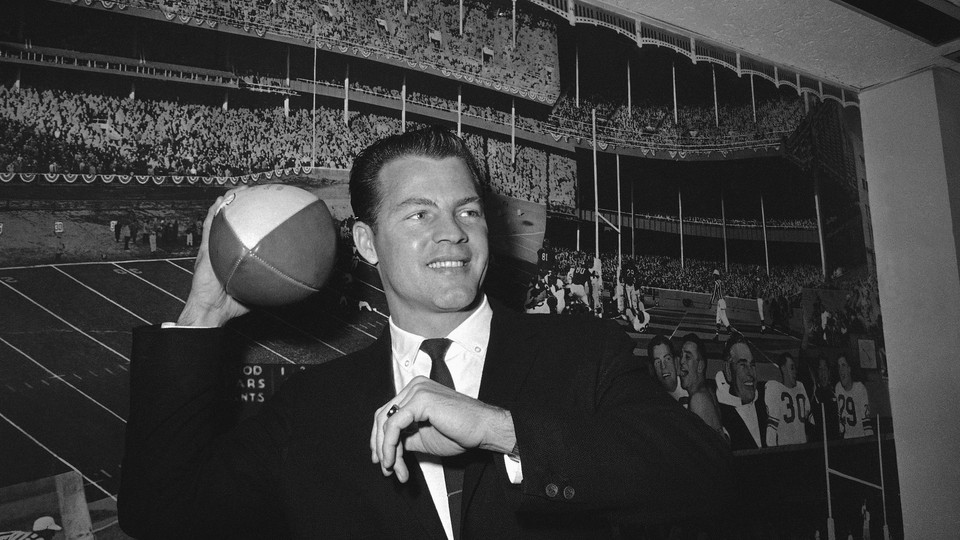 In the world of professional football, there are few names that evoke more credibility or deference than Frank Gifford.
Gifford, who died in August, was a Hall of Fame halfback, an Emmy award-winning broadcaster, and ambassador for the sport. He won five titles, was named the league MVP, and helped form the NFL Players Association back in the 1950s. In 2008, The Atlantic put him on its short list of pro football's founding fathers.
Gifford apparently also suffered from the degenerative brain condition CTE, which is brought on by repeated head trauma and has become most closely associated with professional football's ongoing concussion crisis. On Wednesday, his family disclosed his condition:
During the last years of his life Frank dedicated himself to understanding the recent revelations concerning the connection between repetitive head trauma and its associated cognitive and behavioral symptoms -- which he experienced firsthand. We miss him every day, now more than ever, but find comfort in knowing that by disclosing his condition we might contribute positively to the ongoing conversation that needs to be had; that he might be an inspiration for others suffering with this disease that needs to be addressed in the present; and that we might be a small part of the solution to an urgent problem concerning anyone involved with football, at any level.
Fans of Gifford might remember that he initially retired from the sport after suffering a major head injury during a game in 1961, which sidelined him for nearly two years.
Football has never been more popular, but public interest in the concussion epidemic is only growing. Consider Concussion, the upcoming Will Smith film biopic about a medical whistleblower, which is slated for a Christmas Day release.
The negative attention is forcing the NFL's hand as former players who suffered brain trauma behave erratically or even commit suicide and current players are walking away from the game early. Last week, former NFL players asked a Philadelphia judge to throw out a $1 billion class-action settlement with the league because it failed to address CTE.
According to a ongoing PBS Frontline project, NFL players have already suffered 108 concussions through 11 weeks of play this season. While the league has instituted new protocols, just this week they were criticized as insufficient after Case Keenum, the quarterback for the St. Louis Rams, failed to be removed from the game after suffering a concussion on Sunday.
The disclosure of Gifford's diagnosis, particularly given his stature, will add to the NFL's publicity woes. But it also presents the league with yet another opportunity to do more.