Don't Call the Doctor
How the death of voicemail is changing the way physicians communicate with their patients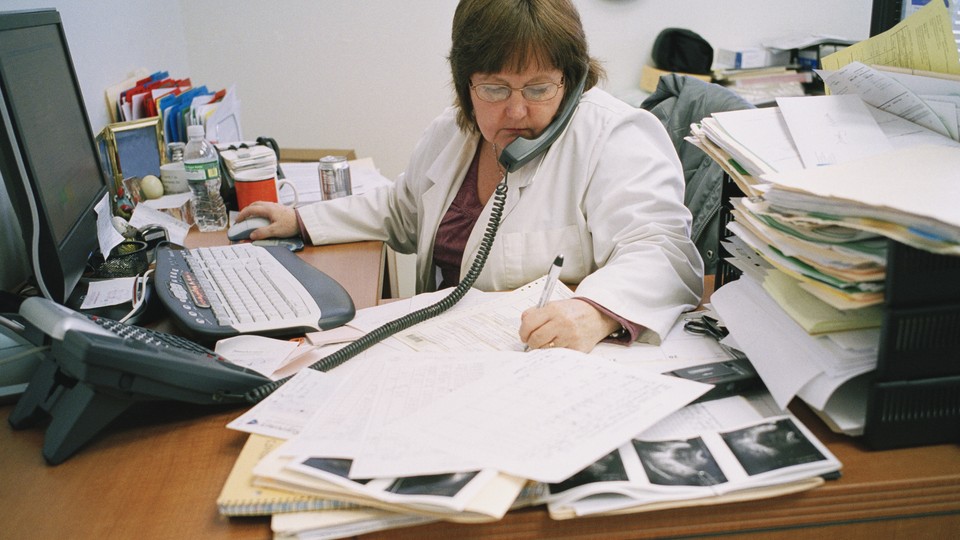 I'd spent all week waiting for it, checking my phone repeatedly for the voicemail telling me that the results of my recent pap smear and STD screening were in. But the voicemail never came.
Instead, I got an email telling me to log on to the same online portal I use to pay my medical bills. Waiting for me there was a two-sentence, punctuation-free note from my doctor with the results and an offer to answer any questions I may have had.
All things considered, the whole process was pretty painless, at least compared to what I was used to. It was certainly more abrupt than a phone call, but that's also what made it so much easier—no days spent playing phone tag with the doctor's office, or frantically looking around for a private place to take the call when the number popped up on my screen. No shelling out a copay to hear answers I could have read in an email. Instead, I sent my doctor a reply with my questions, and she answered within 24 hours. As a bit of a hypochondriac, I'll admit I was also relieved to do away with the please-call-us-back voicemail—in the time between hearing it and connecting with a human on the other end of the phone, my imagination tends to diagnose me with all kinds of far-fetched worst-case scenarios.
My doctor's office was only the latest institution in my life to offer an alternative to voicemail. Credit-card companies will often text or email when they suspect fraudulent activity. Same with airlines reporting flight delays. Bank of America texts me before I overdraft, so I know when to transfer money between accounts. And it seems like health-care providers, too, are coming around. If voicemail really is dying, then so too is a longstanding method of doctor-patient communication.
In its place, though, other methods are rising in popularity. In a Nielsen survey published earlier this year, 28 percent of surveyed patients were able to use a portal to view their medical information—13 percent more than in 2014.The percentage of respondents who had access to online appointment-scheduling tools also increased, as did the percentage of those who elected to receive their appointment reminders via email.
A few years ago, in response to this shift, the U.S. Department of Health and Human Services updated HIPAA guidelines to explain the "reasonable administrative, technical, and physical safeguards" that doctors must have in place in order to communicate electronically with their patients. HIPAA's 2008 Privacy and Security Framework for Electronic Exchange declares that that integrating electronic communication "promises an array of potential benefits for individuals and the U.S. health-care system through improved clinical care and reduced cost."
Major health-care companies, meanwhile, have made changes of their own. Kaiser Permanente, for example, has an online portal  where patients can check their medical history, request prescription refills, communicate with their doctors, schedule appointments, and receive reminders. As of last year, the system had 4.89 million users, and 20 million secure emails were sent, according to Kaiser's 2014 annual report.
Even some smaller private practices, which may not have the resources to adopt similar patient-portal systems, may still be moving towards other alternatives to voicemail. "Texting is the most expedient way to go," said James Barbaria, a psychologist based in Boston who rarely uses phone messages to communicate with his patients. "It's simpler than a voicemail, or a phone call, because there is a tangible record of the exchange, and it's a more accessible and salient means of communication."
The majority of Barbaria's patients, he says, prefer to text him to schedule appointments—a preference he's happy to accommodate, so long as they've given their informed consent for electronic communication. If the medical voicemail really is dying, I'm not the only one who won't miss it.