How Arbitration Affects Health Care
A New York Times investigation sheds light on an opaque judicial process increasingly used in medical and nursing-home settings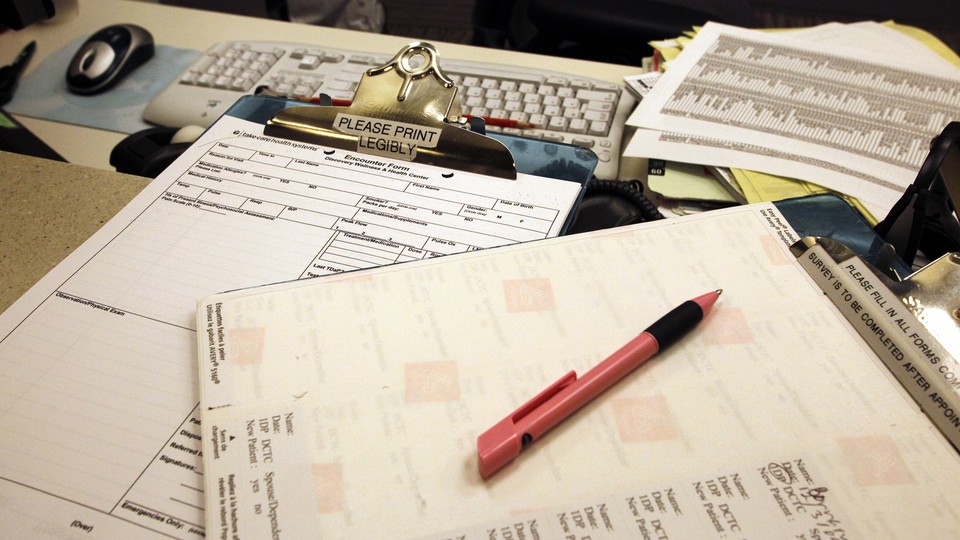 The next time you're filling out paperwork in the waiting room of a doctors' office or nursing home, you might want to look for a phrase buried amid all the legalese and checkboxes. It'll be something like, "Claims are decided by a neutral arbitrator."
If it's there, the provision will significantly change the way you can sue for damages if something goes wrong.
The New York Times this weekend investigated the rise of an opaque legal process called arbitration, which has been bolstered by two Supreme Court rulings in recent years.
Unlike jury trials, arbitration proceedings are wholly overseen by a retired judge or arbitration-trained lawyer. The Times report finds rampant bias and inconsistent rules within the process. "What rules of evidence apply?" one arbitration firm's website asks, according to the story. "The short answer is none."
According to the Times' data, the deck is often stacked in favor of the corporate defendant. "Roughly two-thirds of consumers contesting credit-card fraud, fees, or costly loans received no monetary awards in arbitration," the paper found. The arbitrator's ruling is usually final.
It's troubling enough when people can't get a fair hearing for erroneous credit-card charges or wage theft. But arbitration has also crept into the health-care realm. The Times' report notes a few such examples:
The family of a 94-year-old woman at a nursing home in Murrysville, Pa., who died from a head wound that had been left to fester, was ordered to go to arbitration … When an infant was born in Tampa, Fla., with serious deformities, a lawsuit her parents brought against the obstetrician for negligence was dismissed from court because of an arbitration clause … An ob-gyn's office in Tampa, Fla., now informs expectant mothers that if problems arise—a botched vaginal delivery, a flawed C-section—the patients cannot take their grievances to court.
The American Arbitration Association and JAMS, two arbitration firms, told the paper that plaintiffs can dismiss arbitrators they fear are biased.
Still, even when plaintiffs win in health-care cases, the closed arbitration process can make it so others never find out about the malpractice. And surveys show that when nursing-home residents' families sue after wrongdoing, they are more likely to get payouts when they don't go into arbitration.
Over the past few months, health-care publications have been detailing how families unwittingly sign arbitration agreements when checking aging relatives into long-term care facilities, only to find their hands tied later. Modern Healthcare interviewed one woman who said the intake paperwork was "kind of like here's 1,000 papers … Some they explain, and some they don't." The woman's mother later died after allegedly being neglected by the facility.
When her husband died shortly after being placed in a Minnesota nursing home, a woman named Virginia Cole was forced into arbitration. She won, "but after paying the arbitrators, expert witnesses and attorney's fees, she was left with less than $20,000," NPR reported.
In a September letter, a group of senators called forced arbitration in long-term-care agreements "unfair to residents and their families" and urged the Centers for Medicare and Medicaid Services to prohibit senior-care facilities it contracts with from using arbitration provisions. (The American Health Care Association, which represents most nursing homes, has defended arbitration in nursing-home settings, saying they are cheaper and more efficient for the providers and consumers alike.)
"Once signed, pre-dispute arbitration decisions are binding, with a very limited right to appeal an arbitrator's decision," the senators wrote. "All too often, only after a resident has suffered an injury or death, do families truly understand the impact of the arbitration agreement they have already signed."
Some lawyers recommend opting out of arbitration agreements, for patients who can help it. When
a man wrote in
to a St. Louis newspaper advice columnist last year saying he was being asked to sign an arbitration agreement for an upcoming spinal surgery, the columnist responded, "I personally don't see it as a reason to be concerned about the surgeon. However, I spoke with an attorney, who advised not agreeing to arbitration, as it isn't germane to your medical condition
and may limit your options later
."
Families seeking long-term care might not have a choice, however. Greg Crist, a spokesman for the American Health Care Association,
told Modern Healthcare
, "the vast majority of nursing homes" now use arbitration.