Freedom for a Woman Who Got 20 Years for Using Meth While Pregnant
Editor's Note:
This article previously appeared in a different format as part of The Atlantic's Notes section, retired in 2021.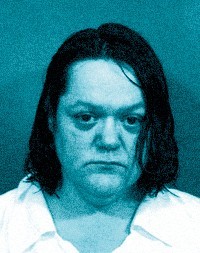 On Thursday, the Arkansas Supreme Court overturned the conviction of a woman who was sentenced to 20 years in prison for using meth while she was pregnant.
I wrote about Melissa McCann Arms last year in an investigation into cases where women are given long jail sentences for giving birth to babies with drugs in their systems. (Readers disagreed over the best approaches to pregnant drug addicts like Melissa.)
Melissa's son, who will turn three next month, has been living with his father, Joseph, and Joseph's relatives in Oklahoma while Melissa has been in prison. Joseph has mild mental retardation, can't read, and, when I interviewed him earlier this year, was homeless. Prior to her conviction, Melissa had completed drug rehab, parenting classes, and several 12-step programs in hopes of keeping her son.
"By the time they actually took her to trial, she had rehabilitated herself," Melissa's child-custody attorney, Pamela Fisk, told me at the time. "She had done the drug treatment, she had done parenting, she had done counseling. She had done everything the state had put in place. This is punishment. This is not rehabilitation."
Nearly a year after her son was born, a jury convicted Melissa of injecting the drug into his body via the umbilical cord. In January, the Arkansas Court of Appeals upheld the conviction. In reversing the decision this week, the state's highest court wrote that the statute Melissa was convicted under, "introduction of [a] controlled substance into [the] body of another person," makes no mention of a fetus or an unborn child. The Arkansas criminal code does consider fetuses people, but only for certain homicide offenses. Furthermore, the court ruled that the state cannot criminalize "passive bodily processes," such as a substance from a mother's body entering her child's.
Melissa's lawyer, Randy Rainwater, told me on Friday that he was still waiting to hear whether Melissa would be released immediately or detained further because of an outstanding probation violation charge. (The drug use violated a condition of her probation from a separate charge for not returning a rental car on time.)
Melissa's case is one of a growing number in which women find themselves losing custody of their children and serving time for drug use during pregnancy. As I found in my investigation, this can happen even when the children are born perfectly healthy, and as ProPublica recently reported, it happens even when the drugs in question are legal.
Rainwater said there had since been two similar cases against new moms in his area, but that those defendants had taken plea bargains in order to avoid the harsh sentence imposed on Melissa. It remains to be seen what will happen to those women, he said.