A Manly Way to Seek Therapy
A new program is building online resources to help get men mental-health treatment, using humor and language tailored to address potentially harmful ideas about masculinity.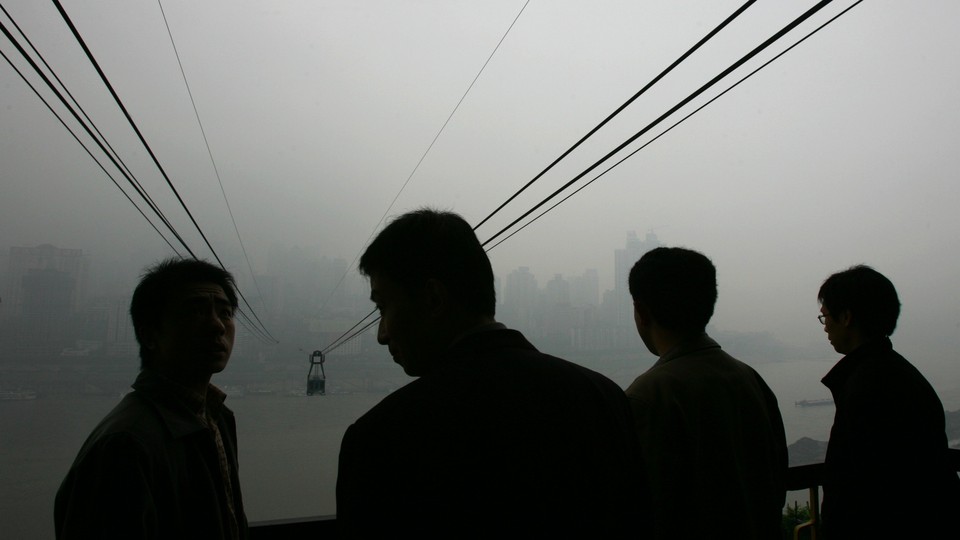 Men in the United States commit suicide at a rate four times higher than women, despite the fact that women are more likely to have suicidal thoughts. Suicide researchers call this the "gender paradox," and traditional prevention efforts have struggled to overcome it. Now, online mental-health services are attempting to bridge this gap by specifically targeting and tailoring their efforts to men.
Why are men more likely to kill themselves? Because they tend to be unwilling to acknowledge mental-health problems or to seek support. A number of academic studies have found that traditional gender roles often impose negative attitudes towards expressing emotion on men, making them less likely to exhibit "weakness," or ask for help, lest their male identity be threatened. Men tend to keep their feelings to themselves, which in turn makes them feel more isolated.
"Men tend to be different from women in the way they cope with stressors," said Anthony Jerant, a professor at the University of California Davis School of Medicine, who is currently focused on suicide prevention in middle-aged men. The tendency of men to remain silent and avoid support networks presents a serious challenge for family and friends, health-care providers, and suicide interventionists, who can't help when they don't know something is wrong.
According to the National Institute of Mental Health (NIMH), men utilize mental-health services at a far lower rate than women, and rarely express mental-health concerns with their primary-care physicians. And so, it should come as no surprise that existing models of suicide prevention, and specifically crisis intervention, have proven to be far more effective with women, who are more likely to take advantage of them in the first place.
John Draper, project director of the National Suicide Prevention Lifeline, said he was surprised to learn that 80 percent of the people who use the organization's online chat and text-based services are women.
"One of the hopes for the online chat was that we would reach more men," Draper said. "Our thinking was that for males, communicating on the computer is more comfortable than talking, but that has not been our experience. I think writing about intimate thoughts and feelings online may still be more familiar to females than males, but there may be more of a tendency for males to use the computer to research things and find things out to help themselves, as opposed to engaging people to seek help."
Billed as "therapy the way a man would do it," Man Therapy aims to break down the male stigma surrounding mental-health issues and provide a male-friendly way to access support. The multi-agency effort includes the Colorado Office of Suicide Prevention, the Carson J Spencer Foundation, and the ad agency Cactus, which frequently works on public-health campaigns.
"We realized that there were very few mental-health campaigns or resources created for males in the U.S., and we didn't just want to create another crisis hotline," said Joe Conrad, founder and CEO of Cactus. "We were interested in prevention, but help-seeking behavior is not part of the male psyche and culture in America. We wanted to build a bridge to men who knew something was wrong, knew they needed help, and wanted to fix it."
Man Therapy's focal point is the fictional therapist Dr. Rich Mahogany. Dr. Mahogany, a mustached, mature-looking man, sits in an office with a mounted moose head and dart board, among other masculine accoutrement, and welcomes visitors to a place where "men can come to be men." He also tackles stigmas head on, addressing issues such as depression, divorce, and suicidal thoughts in a male-friendly way.
The site prompts visitors to fill out an 18-point "head inspection" that is used to create a report card of issues and generate recommendations for how to address them. It also provides informational guides, DIY suggestions, and links to professional help.
"What we've learned is that many guys don't want to interact with anybody, even anonymously," Conrad said. "They don't want to ask for directions or seek help. They want to figure it out on their own, and get the resources they need to fix themselves."
Brett Zachman became involved in Man Therapy after going through a difficult period in his own life, which involved a divorce, a move, and starting a business in a short period of time. He said growing up as an athlete and working in the finance sector, he didn't spend much time thinking about his emotions. He opted for the "machismo route" to cope with his stress and ultimately had a panic attack, at which point he realized he needed to make a change.
"Men won't reach out about stuff like this—it's survival of the fittest. We isolate, but that's the wrong approach," Zachman said in an interview. "I loved that Man Therapy was trying to take the idea of male wellness and deliver it to the masses, in a way that didn't involve telling men they are broken."
Zachman said that the humorous aspect of the platform is essential because it helps men break the ice when faced with uncomfortable topics—as does the anonymity.
"With a therapist or counselor, at least one person knows your deep dark secrets," he said. "Online, you aren't paying $200 an hour to open up and tell someone how you all you've messed up your life and air your dirty laundry."
Since launching in 2012, Man Therapy has attracted 800,000 unique visitors and 85,000 men have completed the 18-point head inspection. Of these visitors, 15 percent go on and engage an additional resource, although Conrad said it is difficult to gather data on this metric because the site is anonymous. 51 percent of visitors agreed or strongly agreed that they were more likely to seek help after visiting the site.
Man Therapy recently licensed and launched its technology in Australia, in association with beyondblue, an Australian organization that aims to raise awareness about depression and anxiety. In the U.K., there is CALM, a charity that provides male-targeted suicide prevention and intervention through its website, as well as phone and chat-based helplines.
Jerant's team is also working on a digital platform designed to encourage men to seek mental-health support. This CDC-funded project is trying to activate male patients to discuss mental-health issues with their primary-care providers, since men rarely enter "speciality mental-health-care settings," and since an estimated 45 percent of those who committed suicide had contact with a primary-care physician within a month of their suicide, according to data from NIMH.
"The goal is to get patients thinking about these issues and talking about suicidal thoughts with their doctors," Jerant said. "We want primary-care providers to be able to make a diagnosis and get patients the appropriate care, because there is a good chance that you can make an impact if you intervene earlier."
Jerant echoed what Conrad and Zachman expressed about the importance of language when broaching these subjects with men.
"We wouldn't say something like 'you really need help' because those messages don't resonate with men," Jerant said. "But what's interesting is that you are essentially saying the same thing, in terms of encouraging them to ask for help. Subtle differences in framing make a big difference in men."
Real men may not cry, but with a few tweaks of wording and a dash of humor, they may be willing to seek help.