The NFL's Continuing Concussion Nightmare
As a new season starts, the National Football League tries to move forward from an ugly history of brain injuries.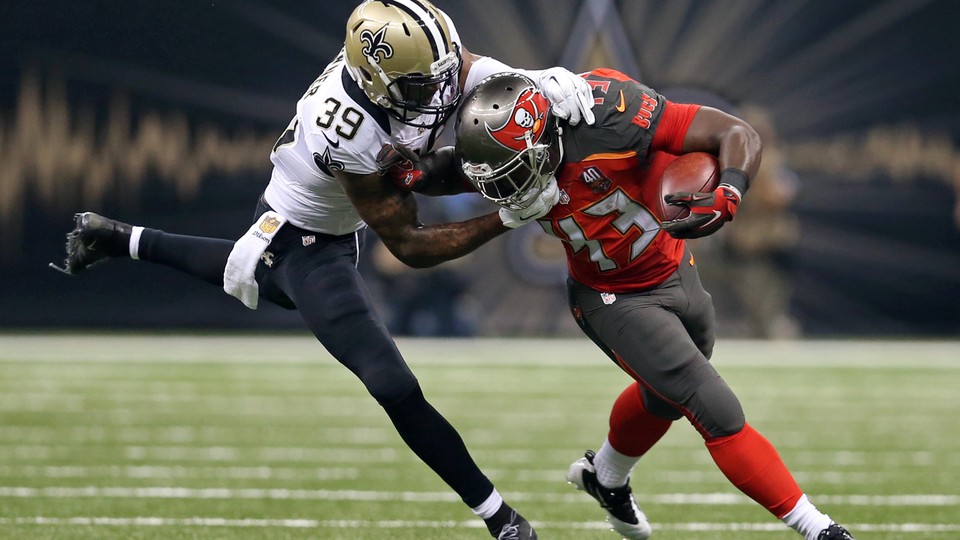 It's football season again, a time for tailgating, touchdowns, and traumatic brain injuries. Only a few weeks into the National Football League's season, there have already been 14 concussions. (Frontline is tracking the season's concussions, and breaking them down by position, team, and player.)
To make matters worse, new research on the brains of deceased former football players found high rates of chronic traumatic encephalopathy (CTE)—a degenerative disease believed to stem from repetitive brain injury.
Frontline reported on numbers from the Department of Veterans Affairs and Boston University, where researchers studied the brains of 165 people who played football at the high school, college, or professional level. They found evidence of CTE in 131 of them—79 percent. Of the brains studied, 91 of them belonged to former NFL players, and 87 of those 91 (96 percent) had signs of CTE.
Even with the caveat that the people likely to donate their brains to be posthumously examined for CTE also probably had reason to suspect that they had the disease, these numbers are overwhelming.
In the NFL's 2015 Health and Safety Report, the league reported that concussions in regular season games have gone down by 35 percent since 2012, perhaps partially thanks to the league's 2013 ban on players tackling with a blow from the crown of the head. In an attempt to further reduce concussions some teams are considering adopting a tackling style similar to that of rugby, where players tackle each other lower, grabbing the other's legs, and hitting with their shoulders.
Other initiatives mentioned in the Health and Safety Report include helmet testing, clinical trials for new types of imaging to better identify concussions, and the "medical timeout," which is new for the 2015 season.
"This significant step for safety allows athletic trainer spotters positioned high above the action to alert a referee to call a timeout if they see a player needing assistance," the report reads.
The NFL is clearly trying to show a dedication to player safety in the aftermath of the $1 billion settlement it made in April with more than 5,000 retired players who claimed the league hid the risks of concussions. (Several players have since objected to the settlement, saying it offers no recourse for players who have yet to be diagnosed with CTE.) But because head injuries have been endemic to the sport for so long, as these new numbers show, the league might need to make deeper changes if it wants to signal a genuine commitment to safety.