An Age-Old Battle: The FDA Versus the Shill
The kerfuffle over Kim Kardashian's drug-promoting Instagram selfie is nothing new: As long as the FDA has existed, it's had to figure out how to regulate drug advertisements in new forms of communication technology.
Last month, celebrity-news and health-policy bloggers had a rare moment of overlap after the Food and Drug Administration issued a warning letter to the pharmaceutical company Duchesnay, which manufactures Diclegis, a prescription-only anti-nausea pill. At stake: a single selfie with pill bottle.
The image that attracted the censure of the FDA was an Instagram posted on July 20 by Kim Kardashian. The image featured her upper torso, right hand, and face, with a bottle of Diclegis prominently displayed in her grasp. "OMG," the caption began:
Have you heard about this? As you guys know my #morningsickness has been pretty bad. I tried changing things about my lifestyle and my diet, but nothing helped, so I talked to my doctor. He prescribed my Diclegis, I felt better, and most importantly it's been studied and there is no increased risk to the baby.
Kardashian's post, sent to 42 million followers on Instagram and 32 million on Twitter, wrote that she was "partnering" with Duchesnay to "raise awareness about treating morning sickness"—but was less forthright about the fact that she was being paid to promote a product. By touting the benefits of Diclegis for its FDA-approved use as a paid spokesperson (which Duchesnay has confirmed), Kardashian transformed her selfie into a pharmaceutical advertisement. The FDA specifically objected to the lack of "fair balance" of risks and benefits in her Diclegis promotion, and warned that if the post was not removed or corrected to more accurately reflect the drug's risks and limitations, Duchesnay would face further regulatory action. Kardashian deleted the offending selfie and reposted a "#CorrectiveAd" on August 30.
But in the meantime, Kardashian's Instagram feed, meant to offer fans a window into her life, this time provided the public with a glimpse of something else: the enormous challenge that the FDA faces in regulating pharmaceutical marketing in an era of social media.
The rise of social media has introduced a parade of new questions for the agency: How is it supposed to monitor person-to-person pharmaceutical recommendations? Can something be considered an advertisement if it's only 140 characters long? Who is responsible for the accuracy of tweets about a drug? But this isn't the first time evolving technology has forced the FDA to rethink its role. Before Instagram, television advertising was once new; before television, radio. Since the agency's founding, its ability to regulate drugs has been consistently challenged by new forms of communication.
In fact, the FDA was formed partly in response to a new media of the late 19th century: the national magazine. As printing became cheaper in the decades after the Civil War, periodicals began to expand their circulation from cities to regions to an entire nation. These new magazines also gave companies the opportunity to reach a mass market, spurring the growth of the advertising industry. Proprietary pharmaceutical products—with bold claims for secretive cure-alls known as "patent medicines"—soon became some of the most heavily promoted products in this new media.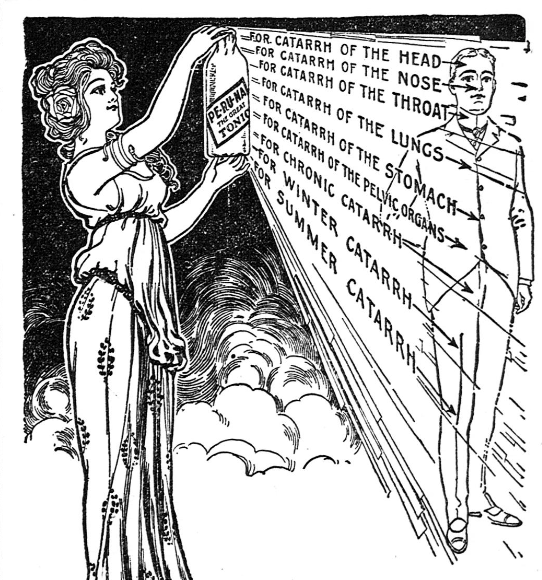 By the early 20th century, some of the more outlandish advertisements for proprietary medicines, such as Mrs. Winslow's Soothing Syrup (a remedy for teething pains that contained morphine) and Peruna Tonic (a cure for the common cold that was nearly 60-proof alcohol), had become targets for the watchdog journalists of the day. "The Great American Fraud," a series of 11 articles published in 1905 by Samuel Hopkins Adams in Collier's Weekly, documented numerous addictive and poisonous substances in patent medicines marketed for children. The Collier's reports helped stimulate the passage of the 1906 Pure Food and Drugs Act, which established the regulatory powers of the FDA (then called the Bureau of Chemistry) and ushered in the modern era of federal drug regulation.
For the Pure Food and Drugs Act, "truth in labeling" was the watchword: If a compound contained a dangerous substance (such as morphine, cocaine, strychnine, or arsenic), its label needed to say so. But the architects of the FDA could hardly have predicted the rise of radio or television, let alone the internet and the polymorphous marketing phenomenon that is Kardashian's social-media presence.
The limits of the 1906 act were immediately apparent. Most significant, it covered statements made only on physical labels directly attached to the medication itself. Later statutes such as the Food, Drug, and Cosmetics Act of 1938 expanded the FDA's regulatory powers, although authority over drug advertising generally fell to the Federal Trade Commission. As the federal government cracked down more on deceptive consumer advertising, drug manufacturers increasingly targeted their advertising efforts toward physicians, who as medical professionals were considered exempt from some of the consumer protections in the FDCA.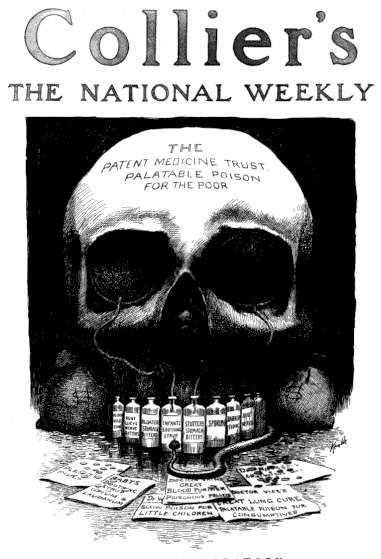 Further legislation in 1962 shifted the regulation of all pharmaceutical marketing from the FTC to the FDA, and gave the government more authority to ensure that promotional materials for physicians accurately reflected the true risk/benefit profile of the drug (even if the risks were often conveyed in much smaller font than the benefits). In the 1980s and '90s, the inclusion of these same fine-print warnings allowed pharmaceutical companies to begin once again advertising directly to consumers in magazines, newspapers, TV, radio, and eventually the internet. Over the past century or so, each new medium has presented new opportunities for marketing, and a broadening horizon for regulators to scan for overstatements of claims and understatements of risk.
Even as the method for reaching consumers has changed, however, strategies for deceptive marketing have remained remarkably constant. Kardashian is only the most recent in a long line of celebrities who have provided paid testimonials for pharmaceutical manufacturers, a list that includes, among others, the celebrity chef Paula Deen (who appeared in commercials for Victoza, a diabetes treatment, in 2012); the actress Sally Field (Boniva, a treatment for osteoporosis, in 2006); and Lucille Ball, Milton Berle, George Burns, Judy Garland, Groucho Marx, and Mickey Rooney, all of whom participated in radio promotions of Hadacol, a highly profitable mid-20th-century remedy for "stomach disturbances, gas, heartburn, indigestion, nagging aches and pains, and certain nervous disorders."
Hadacol was the brainchild of the four-term Louisiana State Senator Dudley J. Leblanc, who offered his own testimonials to successfully market the mixture of vitamin B and 12 percent alcohol in dry counties throughout the South. Leblanc also wasn't the first elected official to profit from pharmaceutical testimonials: Peruna Tonic, the subject of one of Adams's 1905 exposés, had been extensively promoted in testimonials from W. V. Sullivan, a U.S. Senator from Mississippi.
A century's worth of regulation has worked to replace personal anecdote with rigorous scientific evaluation as proof of a drug's effectiveness or safety, a fact that Kardashian gestures toward when she reminds her followers that "most importantly, it's been studied and there is no risk to the baby." But despite the FDA's best efforts, testimonials have stuck around and continue to have market power. Kardashian's value to Ducheshay lies not so much in the number of followers her posts may reach, but in the weight her words carry for many of those followers—she is, in the jargon of pharmaceutical marketers, an "influential" or a "key opinion leader," even if she claims no expertise.
The Diclegis episode is yet another reminder of the double-edged sword of direct-to-consumer advertising of prescription drugs, which has been criticized as a tactic that often fails to clearly communicate a drug's risks. Kardashian's post for Diclegis was framed as a way of promoting disease awareness, but pharmaceutical companies generally have the incentive to "partner" with celebrities only when there is significant profit to be made on patent-protected drugs. No one is paying stars to tweet about the use of generic thiazides to treat hypertension, for example, even though high blood pressure is undertreated in many populations. In the case of Diclegis, specifically, the argument for "disease awareness" is particularly flimsy—after all, pregnant women and their families have been aware of morning sickness for millennia.
This is not the first time that the FDA has tried to exert its authority in the social-media space, but it is one of the most visible—and as a result, it serves to highlight a few of the ways in which social media can negate consumer-protection measures. The top 10 most-followed accounts on Instagram (a list that includes multiple members of the Kardashian clan, as well as Beyoncé and Taylor Swift) all have tens of millions of followers. These numbers represent a new scale of possibility for advertisers to connect directly with consumers, dwarfing the reach of printed periodicals or even most television shows. Social media also blurs the line between commercial and noncommercial communication, making paid sponsorships more difficult to spot: How is the FDA to distinguish between the times when a celebrity is acting as a paid spokesperson and the times when she is merely using social media to share her personal opinion, an act protected by the First Amendment?
That question may become even more complicated before it's resolved. Prescription-drug promotion is supposed to be limited to conditions for which the FDA has reviewed data on efficacy and safety—in other words, drugs can be advertised as treatment only for whatever they've been approved to treat. But on August 7, the same day that the FDA issued its warning letter to Kardashian and Duchesnay, a federal court in New York ruled on a lawsuit that the pharmaceutical company Amarin had filed against the FDA, seeking the freedom to promote an off-label use of its prescription fish oil. The court issued an injunction against the FDA's attempts to stop Amarin, ruling that the First Amendment gave the company the right to make claims that went outside the bounds of a product's FDA-approved use, so long as those claims were not false.
The Amarin case had little to do with social media, but the ruling nevertheless could make it even harder for the FDA to regulate drug promotion simply by increasing the number of promotional posts that exist on Instagram, Twitter, and similar sites. Drug manufacturers could regularly advertise their drugs for a variety of conditions based on data too flimsy to meet FDA standards. Celebrities, in partnership with manufacturers, could tell their millions of followers to ask their physicians about a particular medication that worked for them, even if the FDA hadn't approved the drug for that use. The anecdotes may be true, or they might not—but either way, how would the FDA prove it? The testimonials that sold 19th-century patent medicines are a thing of the past, but their legacy is alive and well.