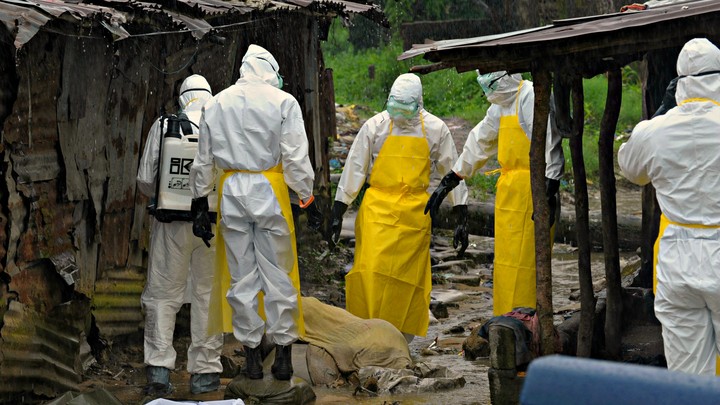 At the height of the Ebola outbreak, Garmai Sumo spent her days waking up at 5 a.m. to collect dead bodies from the streets of Monrovia. She didn't return home until midnight.
Her 8-year-old son called her "Ebola hero."
It was not a job that she had imagined for herself. As a senior nursing student, she envisioned treating patients, not collecting them from the field.
Sumo, 29, was part of a 12-person team nicknamed "Body Team 12." Their responsibility was straightforward: Collect and dispose of the bodies of Ebola victims safely, without infecting themselves or others. Twelve such teams of 12 people roamed the streets and alleys of Monrovia, on behalf of the Liberian Red Cross.
Each day was extremely hard, Sumo says. For almost 15 hours straight, they collected bodies. Every morning they met at 5:30 at the Red Cross headquarters before setting out for the day. They received reports of the deaths and their approximate whereabouts. Throughout the day, the Red Cross updated them of more casualties and assigned new locations to visit. This continued into the evening, often as late as midnight. Not only did the bodies have to be collected, but they had to be cremated every night as well.
If the sheer exhaustion of the hours wasn't enough, there were the mind games she had to battle, Sumo says.
"There was always the chance of you contracting it." Every fever, headache, or sore throat made her extra aware of what she was doing, she says.
The weather compounded the stress: The sweltering heat outside coupled with the heat inside their isolation suits. The impermeable hazmat suits, layers of synthetic material, along with gowns, goggles, and gloves, were difficult to put on and get out of, she says.
Getting the bodies wasn't an easy task either. Families, wailing in grief, sometimes stopped the team from taking the deceased away. At times, they were threatened. Two men told Sumo and her colleagues that they would burn down their car, if they came closer.
"I was scared," Sumo admits. "But they are not angry with us. They don't know where you're going to take the body. They want closure. We don't blame them. We have to cooperate."
Roselyn Nugba Ballah, a supervisor for the Liberian Red Cross who is responsible for safe and dignified burials, told me in an email that the job credentials were basic: "Willingness to do this dangerous job and at least [the ability to] read and write, since there were forms to be filled in."
Sumo filled those criteria and was notably the only woman on the team, a trait, she says was needed. "Women are mothers, sisters. We are soft people." The men, she jokes, were frightened by the blood.
But she, too, was scared in the beginning.
"At first, I was confused. What kind of sickness is this? Blood coming out everywhere." Sumo started collecting bodies when only about 200 cases of Ebola had been reported in Liberia. Three months later, there had been 14,000 cases.
"This was completely new for us," writes Ballah, explaining that local Red Cross authorities like herself had to lean on their international counterparts for guidance. "We have dead-body management expertise within the International Red Cross. So we were able to draw on that and adapt to the crisis we were facing."
The Ebola epidemic produced a series of firsts, she admits. "Ebola took everyone by surprise, and we found it very difficult to get our footing in getting the situation under control." While it may seem obvious, she says, "One of the key lessons was the importance of being prepared."
That meant putting together a body team for the first time. The training was just one day long, followed by seven days of supervised field visits. The whole ethos of the team was very "learn-as-you-go."
Ballah breaks it down. The training began with a straightforward discussion about Ebola. "What it is, mode of transmission, prevention, and control," she writes, noting the basics.
Then came a demonstration on how to dispose of the bodies while being mindful of traditional and religious customs. The day rounded out with the practicalities of putting on the personal protective equipment, or "PPE." After that, they were thrown into the field immediately to stop the spread of the virus.
David Darg, co-founder of RYOT Media and an aid worker who has responded to crises such as the earthquakes in Haiti and Nepal, flew to Liberia to help get liquid chlorine, a disinfectant, to medical professionals like Sumo.
"Liquid chlorine, I learned was one of the main solutions carried by the body teams," says Darg. "They use it to spray the dead bodies and each other."
His time in Liberia had two purposes: one to film a documentary for RYOT and second, to work with the U.S.-based non-profit Operation Blessing, which had been working to distribute the liquid chlorines to health workers in the field.
Operating from afar primarily, Darg says, he hadn't seen the impact of the virus at the street level. During his trip, he met Sumo and was certain that she would be the ideal protagonist to follow in a documentary.
"I was so impressed by her bravery and her strength," he says.
However, in choosing her as his protagonist, Darg had to face the daunting task of riding along with Body Team 12. "We were given a quick training on the fly," he says, in preparation for the day-long shoots in the field. "We were told to wear long sleeves, keep our distances, which wasn't really enough for my anxiety. This was probably the riskiest film I've done." (The risk seems to be paying off. Body Team 12 won "Best Documentary Short" at the Tribeca Film Festival.)
Darg, in filming the documentary, built a friendship with Sumo. Once her services were no longer needed on the body team, Sumo accepted an offer from Operation Blessing and Darg to run a program for Ebola orphans.
Ebola was hard not just on the families of the victims, but also on people like Sumo, says Ballah. "Our volunteers did see some very tragic things and, so, we are working to provide psychosocial support to those have support anxiety or trauma."
For instance, Sumo says her friends, scared that they might get the virus, abandoned her during the height of the epidemic.
There was a tremendous amount of fear during the early days of the outreach, she says, and people didn't want to be around the body teams in fear of contracting Ebola.
Ballah writes that it went beyond just being stigmatized by the community and friends. "Others have been asked to leave their rented accommodation, or employment, because of the misplaced fear of contracting Ebola."
Despite being outcast and the physical toll, looking back, Sumo says, she doesn't regret joining Body Team 12.
"I did it for my country," she says. "I wanted to stop the virus from leaving the country and spreading as well. I want my son to grow up in a country that's safe for him."
We want to hear what you think about this article. Submit a letter to the editor or write to letters@theatlantic.com.
Esha Chhabra
is a journalist covering India's polio-eradication efforts on a grant from the Pulitzer Center on Crisis Reporting.