Bioethics in the Grocery-Store Checkout Line
As techniques like IVF and surrogacy become more common among celebrities, tabloids offer a window into the complicated future of reproduction.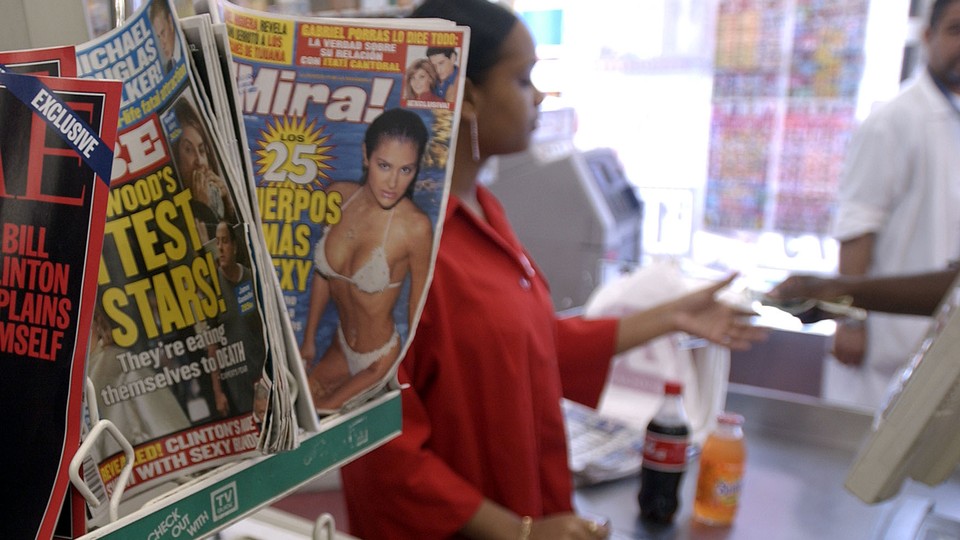 It was a typical tabloid story with a highly atypical ending. In 2012, the actress Sofia Vergara became engaged to an entrepreneur named Nick Loeb while celebrating her 40th birthday at a resort in Mexico. It later emerged that the couple had created several embryos in 2013 using her eggs and his sperm, to be used for in vitro fertilization—but they broke up shortly afterwards, and Vergara was no longer interested in bringing the frozen embryos to term. Then came the twist: Last year, Loeb sued his ex-fiance to prevent her from destroying the two remaining embryos.
A custody dispute over two microscopic groups of cells—"our girls," as Loeb calls them—is unusual. But messy, complex situations involving stars' fertility are increasingly common. If you don't follow celebrity gossip, you might have missed just how often stories about reproductive technology are gracing the covers of tabloid magazines. In recent years, these publications have become a window into the future of reproduction.
As recently as a decade ago, magazines handled stories about surrogacy and in-vitro fertilization like the relative novelty they were. When the then-52-year-old former Good Morning America host Joan Lunden had twins via a surrogate in 2003—using her husband's sperm and a donor's egg, implanted into a third woman—it made the cover of People magazine, with a photo of Lunden wrapping her arms around her surrogate's belly. At that point, Lunden's path to motherhood was a much rarer one: In 2004, around 738 babies in America were born through gestational surrogacy, according to the American Society for Reproductive Medicine; in 2008, it was around 1,400. By 2012, as ABC has reported, the number was estimated at 1,989.
And as surrogacy became more commonplace, it transformed from exotic news to tabloid staple, right next to marriages, divorces, and addictions. Sarah Jessica Parker, Lucy Liu, and Nicole Kidman are among the many actors who have had children through surrogacy in recent years; gay male stars like Neil Patrick Harris and Ricky Martin have also become fathers by using a surrogate. The E! host Giuliana Rancic has spun multiple seasons of a reality show out of her attempt to have a baby through a surrogate. IVF pregnancies, too, are now just another variation on the Hollywood birth story. (The preponderance of these stories has led to its own subgenre: The hand-wringing article about how older celebrity moms will lull older regular women into a false sense of fertility security.)
On the face of it, these are all straightforwardly happy stories, and they have surely gone a long way to destigmatize the use of reproductive technology. But in the past few decades, reproductive technology has rapidly advanced beyond "simple" IVF and traditional surrogacy (in which the carrier provides the egg) to techniques like sex selection and a wider variety of surrogacy options, including using the eggs of the legal mother or a third-party donor. And as shrinking cost makes assisted reproduction more accessible, the tabloid tales are getting more baroque. In fact, if you want to grapple with—or simply gawk at—the most extreme what-ifs, tabloids are now about as good a place as bioethics textbooks to find them.
Vergara's story isn't the only complicated one to grace the tabloid pages in recent years. Other case studies include Sherri Shepherd, a former co-host of The View who tried to deny financial responsibility for a baby conceived by her now ex-husband and carried by a surrogate; and Kim Kardashian, who, US Weekly reported, implanted only male embryos in her most recent round of IVF because her husband Kanye West "wanted a little boy, an heir." The celebrity wedding planner David Tutera and his now ex-partner each fertilized an egg to be carried by a surrogate, resulting in fraternal twins; when the couple split soon afterward, Tutera kept custody of one twin and his partner the other. Tutera told TMZ last year that the twins have never met.
There are a few possible reasons why assisted reproduction seems to be so common among the Hollywood set. First, celebrities are rich—and while these treatments may be going down in cost, they're still expensive. Second, the entertainment industry is one in which women's peak working years typically overlap with peak fertility. A study published last year on actors' age and compensation found that female movie stars' earning power tends to increase through their 20s and up to age 34, at which point it starts to quickly decline; a women's ability to conceive typically has a similar drop-off in her early 30s, so the ability to delay childbearing past that point has obvious appeal. Layer that on top of celebrities' notoriously unstable personal lives, and things are bound to get even messier.
Since talking about one's personal life is part of the job of a modern star—and reporting on stars' personal lives, whether or not they like it, is the job of the modern tabloid—the public also gets to hear stories that might otherwise be kept quiet. Magnanimous, transparent statements about surrogacy and IVF treatments are now de rigueur. When the actress and director Elizabeth Banks had her second son by surrogate, for example, she said in a statement on her website that the experience "taught us a great deal about generosity and gratitude, and established a relationship that will last a lifetime."
And when things go awry? Well, the public is still interested, maybe even more so. Absent a warm-and-fuzzy People magazine feature, people will happily settle for a screaming TMZ headline. As celebrities push the boundaries of reproductive technology, we're getting more than juicy gossip. These stories—a far cry from the cheery pieces about longed-for babies joining welcoming families—are the first chance the average person may have to grapple with the moral, legal, and philosophical questions that reproductive technologies raise. And more than that, they're a glimpse at what may lie ahead for the American family.