Where to Buy a Safe Couch
Flame retardants are potentially harmful. Here's where to find couches that don't contain them.
Last week I wrote about the high rates of cancer among firefighters, which many researchers believe are driven by their exposure to flame retardants and other chemicals in burning furniture.
But it's not just firefighters' health that might be threatened by flame retardants, which still lace most furniture and electronics. Even in the absence of a fire, our sofas and TVs are constantly sloughing off these chemicals, which some studies link to thyroid and other endocrine problems.
Some types of flame retardants, called PBDEs, have been phased out, but their replacements might also be harmful. A substance called tris was widely applied to children's pajamas during the late 1970s before being discontinued because of concerns over potential carcinogenicity. But after the phaseout of PBDEs in 2005, chlorinated tris became the primary flame retardant in polyurethane foam, according to a study by Duke University researchers.
There is evidence that people have traces of flame retardants in their bodies. Toddlers tend to have higher levels because they crawl on couch cushions and put their hands in their mouths.
We won't know the full health impacts of these chemicals until studies prove a causal link. In the meantime, if you want to stay as flame-retardant free as possible, the Environmental Working Group and NRDC have compiled lists of furniture stores that have started phasing out flame retardants this year:
The Futon Shop
Crate & Barrel
La-Z-Boy
Williams Sonoma/West Elm/Pottery Barn
IKEA
Room and Board
Design Within Reach
Interline
Look for this label either under the cushions or the frame: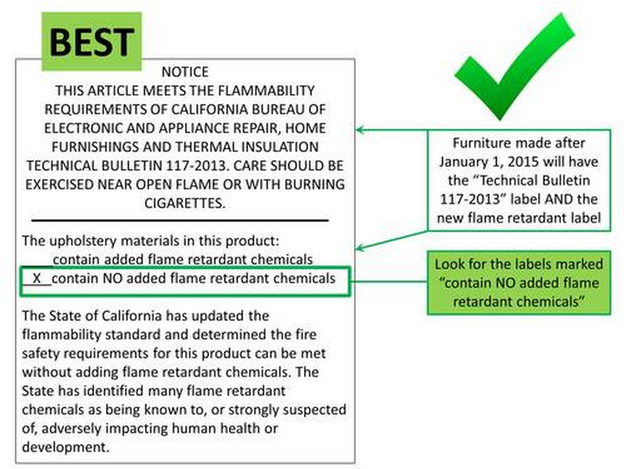 Spotting flame-retardant-filled couches might become easier thanks to a California law passed last year. The state now requires furniture that contains flame retardants to be labeled, and because it's such a large market, furniture makers may adopt the practice for other states.