Why Aren't More Crisis Hotlines Offering Chat-Based Help?
Many organizations know that text-based service is the future—but upgrading from phone-based systems costs time and money.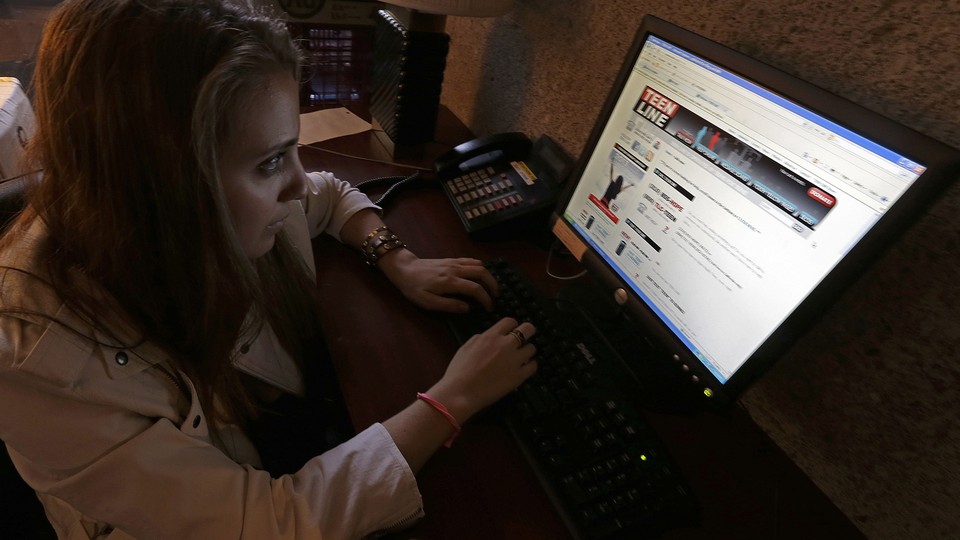 We are now living in a chat-based society and traditional crisis hotlines are struggling to adapt.
The volume of text messages has surpassed voice calls in the United States since 2008. Which means, with every passing year and new messaging app, the telephone becomes more irrelevant. According to Experian, U.S. smartphone owners between the ages of 18 and 24 send an average of 2,022 texts per month on average—the equivalent of 67 texts a day. Meanwhile, telephone conversation is in the midst of a "serious decline." People (especially Millennials) just don't call each other like they used to, and this has serious implications for the institutions designed to help them through crises. The telephone hotline has dominated crisis support for over 40 years, and now the tide is slowly turning.
As a volunteer for the Rape Abuse Incest National Network, or RAINN, I know first hand about the organization's efforts to adapt. I went through 60 hours of training and supervision to become an online volunteer on RAINN's National Sexual Assault Hotline, where I talk to victims of rape and sexual assault through an anonymous, Instant Messenger-style chat service. I let visitors know that the chat is anonymous and they do not have to share anything with me they do not want to. I ask if they are safe and if they have any privacy or safety concerns. Then I ask what brought them to the hotline. Sometimes, visitors share what is on their mind right away, while others take longer to open up. The chats usually last at least an hour.
RAINN was one of the first victim-support organizations to launch an online hotline back in 2007. Since then, it has served almost 250,000 visitors and demand for the service grows every year. Two hundred volunteers and 45 paid staff members work around the clock—24 hours a day, every day of the year—to provide continuous support for the online hotline. Earlier this year, RAINN added a Spanish-language service, and between the two, RAINN conducts an average of 113 sessions a day.
RAINN also operates the Department of Defense Safe Helpline services through a contract with the agency's Sexual Assault Prevention and Response Office (SAPRO) and has partnered with the Peace Corps to provide chat-based support to its volunteers.
RAINN offers these chat services in addition to its telephone hotline: 1-800-656-HOPE (4673). Operating the online hotline requires a substantial amount of financial and human resources, and money for initiatives like this is in short supply. However, as with businesses across all sectors, nonprofits are not impervious to shifts in the way people communicate. In order to "stay relevant," they have to modernize.
"We get people who are talking about what happened to them for the first time, and if it wasn't for an online service like this, they wouldn't have reached out in another way," said Jennifer Marsh, RAINN's vice president of victims services. "We are catching young survivors and people who say they could never talk about this out loud. Online communication gives them the space to control the conversation and put down their own narrative about what happened."
Marsh said that a vast majority of the online hotline visitors are between 13 and 24 years old. More than half are talking about abuse or assault that took place five or more years ago. RAINN has also found that the chat system appeals to people who have been through particularly violent trauma or experienced a type of assault or abuse with a higher stigma, such as incest—40 percent discuss an attack that was perpetrated by a family member. (The RAINN chats that I have had reflect these findings as well.)
The interface of the chat system is stripped of "branding" and looks ambiguous, so it can be used in public spaces like school libraries, home computers, and mobile devices on a bus without screaming "crisis hotline." RAINN does not ask for any personally identifiable information or track IP addresses. It records no transcripts of the session and all data are encrypted. There is nothing that could be subject to subpoena. From a volunteer's perspective, all I see is that "anonymous" is typing.
According to Marsh, and in my own experience, most visitors don't come with quick questions. They want to discuss layers of complex issues and the online chats are generally longer than the phone chats. "I was raped when I was 15. I was very young and scared, and worried that no one would believe me," said Toby Wagner Klein, a member of RAINN's Speakers Bureau who agreed to talk with me about her experience with the online hotline. "The idea of taking up a phone and speaking to a complete stranger about things I wasn't even entirely sure of myself seemed daunting. The online chat helped me express what I wasn't able to vocalize with my therapist or family and friends. I probably would not have gone to RAINN if it did not have an online chat."
In addition to appealing to a younger demographic, online hotlines also enable conversations that can't be overheard, which is critical when immediate safety is at risk. Brian Pinero is the Chief Programs Officer at the National Domestic Violence Hotline, which launched an online chat service called The Hotline in 2013. The Hotline now sees 1,000 to 1,500 chats a month, half of which come from mobile devices. Pinero said the ability to communicate silently is key, since visitors often cannot discuss sexual coercion and assault on the phone when their husband or kids are in the house, or in public.
"It is hard to have a discussion about how your husband makes you have sex in ways you don't want to," he said. "On chat, people reveal way more than they do on the phone, and that is a huge opportunity for us to start exploring topics surrounding assault and coercion without making the visitor feel completely vulnerable."
Conversely, the greater anonymity of the chat system makes it more difficult to gather information that can help provide the best support. Volunteers have far fewer contextual clues about the visitor's gender, age, or current state of mind, and you cannot make assumptions. With so little personal and contextual information, saying the "right" thing or recommending relevant resources can be a challenge. You have to focus completely on and respond to what the visitor has felt comfortable sharing.
"Our entire approach was phone-based and we had to change our advocacy style, because in chats you don't have the ability to hear environmental things," Pinero said. "On the phone, I can hear if children are crying. With chats, you need to follow up, clarify you understand what is going on, and check in. You can't hear the inflection in someone's voice that this is a difficult moment. Conveying empathy is much more difficult."
Chat-based conversations require more time to build trust and rapport. While it might seem that online chats would be more "scalable" than phone hotlines, this is not the case, at least not yet. Longer sessions demand more volunteers, and volunteers take a long time to find and train. A shortage of volunteers means longer wait times. On RAINN, peak wait times can be up to an hour, and I've had sessions where 10 people are in the waiting room at a time. It's sad, but demand significantly outstrips supply.
The National Suicide Prevention Lifeline just made its chat service available 24/7 in January across a network of 28 (out of 165) centers, but the wait times are still significantly longer than on the phone. As a result of limited capacity, John Draper, the project director, said that the chat remains a secondary service. However, he hopes to continue expanding it into a robust and fully-integrated option.
"You can't schedule a crisis, and our goal is to open as many doors and windows as possible to get people help in the moment when they are in crisis," he said. "97 percent of calls to the phone hotline are answered within 90 seconds, while only about half of chats can be responded to at all. But we do know from early data that an overwhelming majority of people who access the service feel better after the chat. Typically, they are feeling less sad and more hopeful."
Draper said that the Lifeline Crisis Chat service is overwhelmingly visited by young women. The phone hotline is around a 50-50 split between the genders, whereas 78 to 80 percent of the chat visitors are women, and 70 percent are women under 25. Draper said this is not just an American phenomenon, and that similar international services have found the same.
Like the National Suicide Prevention Lifeline, RAINN and the National Domestic Violence Hotline also aspire to scale up their chat services and acknowledge that they are the way of the future. However, scaling up requires funding, and funding requires evidence.
In May 2013, the Department of Justice's Office for Victims of Crime published a report titled "Vision 21: Transforming Victim Services" that represented the "first comprehensive assessment of the victim assistance field in nearly 15 years." This initiative received $12.5 million in the congressional Consolidated Appropriations Act, 2014, to address the recommendations in the report by providing grants to organizations that are working to address gaps in capacity and infrastructure, including making victim services more accessible through technology. While any funding amount helps—RAINN's Spanish language online hotline was made possible through a Vision 21 grant—$12.5 million is a drop in the bucket.
"The funding infrastructure to support chat hotlines is just not there yet," Draper said. "We'd like to expand, but we can only stick our toes in because we don't have the funding to jump all the way in. Once we have scientifically-based data that says, 'X number of people want chats, this is how effective they are, and this is how much they cost,' then we will see crisis chats become increasingly ubiquitous, but it could take 15 to 20 years."
That's a long time, especially when you consider that hotlines can dramatically expand the reach of crisis organizations, not just in terms of numbers, but also in terms of the populations they reach and when.
"When you look at short and long term effects of sexual violence—whether substance abuse, depression, self harm, unhealthy relationships, or intimacy problems—the fact is that we are getting to people earlier with chats," Marsh said. "There are public-health ramifications to getting people plugged into support systems earlier, by allowing them to avoid or lessen long term effects. This is really powerful. I think it is one of the greatest things about the online service."
Victim services organizations aren't the only ones faced with the need to update their infrastructure, and with the challenges inherent in doing so. Just 5 percent of the 6,500 emergency dispatch centers across the U.S. accept 911 text messages, but last year, the FCC voted to require all cell service providers to universally support 911 texts by the year's end, including those from third-party messaging apps. Progress, albeit slow progress, is being made. In the meantime, it seems the best way to get immediate help remains to call. Otherwise, there may be a wait.