Working a Million Hours to Heal a City
Can a Chinese-born wunderkind ER doctor cure what ails Baltimore?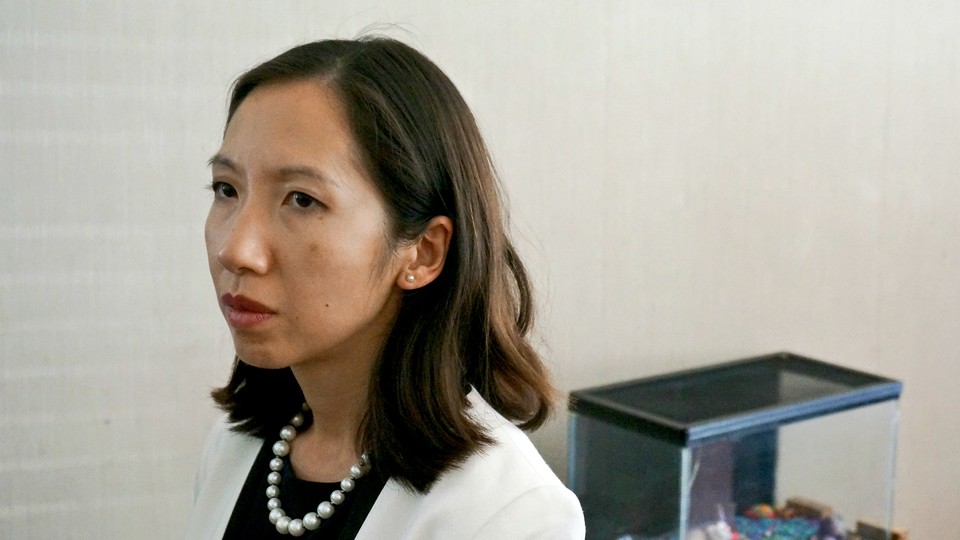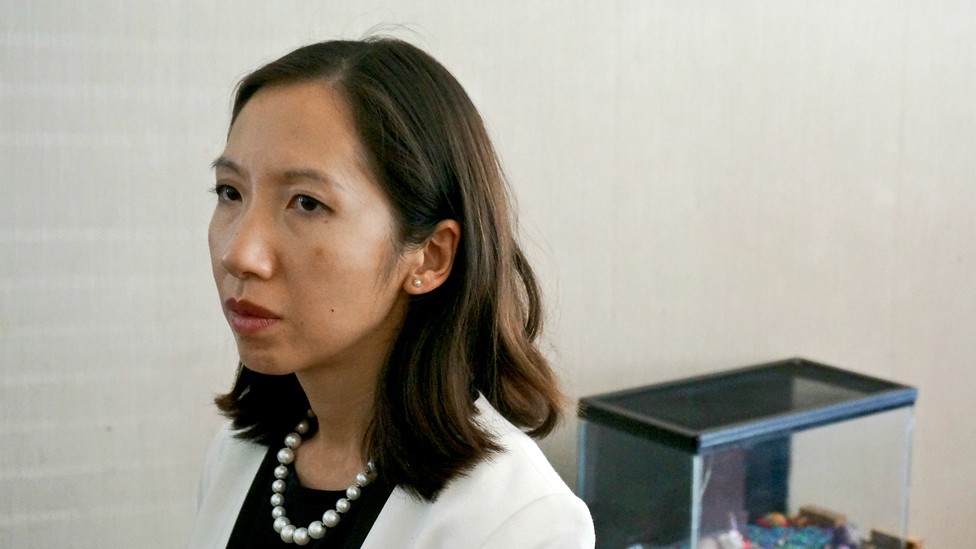 BALTIMORE—At 7 a.m. on a recent Friday, I met Leana Wen, Baltimore's new health commissioner, in the gleaming lobby of St. Agnes hospital on the far west side of the city. Wen looked polished in a black dress, white jacket, and pearl necklace. We were there because she was scheduled to attend a meeting with a group of healthcare workers, and I was following her around for the day.
I had just driven an hour and a half from Northern Virginia after staying up late finishing a story the night before. I had also just chugged my third coffee of the morning, but I was still fighting the nauseated, almost drunk sensation that's my body's way of telling me I should not be awake. In short, I was pooped. Wen was not.
As I sat down on the bench next to her, she flung her computer onto my lap. "Can you please look at this op-ed I wrote?" she asked.
The article was about the recent death of Freddie Gray—the 25-year-old black man who was thrashed around in a police van until he died—and the protests that shook Baltimore afterward. Wen made the argument,
supported by evidence
, that drug abuse, poverty, and mental illness are driving high incarceration rates in big cities—and, consequently, the citizen outrage over them. Most arrests in Baltimore are drug-related, and she thinks that if there were better programs for drug-addicted and mentally ill Baltimoreans, fewer people would be thrown in jail.
Wen had written the op-ed in the wee hours of the morning after having worked 14 hours the day before. Aside from two tiny typos, it was flawless. (It was later published in
The Washington Post
.)
Since January, Wen has been running one of America's oldest and most experimental health departments, in one of the poorest cities in the country. Throughout my day with her, I learned a lot about how racial disparities and poverty pry an immense gap in the health outcomes of a community. I heard about some unusual strategies—like using ex-cons to patrol neighborhoods and break up fights—that public-health experts are employing in order to address those problems.
Also, I learned that I cannot keep up with Dr. Leana Wen.
After we looked at the op-ed, it was time for the meeting. The topic of discussion was, broadly, why poor kids are so much more likely than rich kids to get asthma. In some local schools, one person said, half of kindergarteners have asthma. How could we expect kids to get better when roaches roam their bedroom walls? Or when their parents didn't get paid before the inhaler ran out? Certain interventions—more health workers, better pillow covers—have proven to work, participants noted, but there's not enough money to fund them.
Wen interrupted with a more inspirational note: "There is a tide of change that's been coming in the past few years. I'm curious as to what you think the opportunities might be, not only with the [Affordable Care Act], but also with global budgeting affecting our hospitals in Maryland. Might there be opportunities there in order to use innovations that will keep people out of hospitals?" (Last year, Maryland
became the talk
of the health-policy world when it decided it would cap how much hospitals can spend—in effect rewarding hospitals for keeping people out of them.)
About halfway through the conversation, Wen rose abruptly, thanked everyone, and said she had to be off. Because of the recent riots, she and the city's other agency heads had an emergency cabinet meeting.
Outside, she turned to me with a slight frown. "Unfortunately, I often don't get to see all of any one meeting," she said.
She phoned Shirli Tay, her assistant.
"Shirli, I need your help. Can you send Olga the call-in details? And where's Michael, because I need him to review that op-ed, like, now. Like, urgent." But she ended sweetly: "Cool, see you soon, bye."
Throughout the day, I would learn that interacting with Wen is a bit like swallowing a lit firecracker. Except instead of killing you, her force makes you feel smarter and healthier.
Wen told me to call into her scheduling meeting at 8:30, but also to drive to the offices of the city public health department by 9. She rattled off the address and I started repeating it in my head so I wouldn't forget it before I could get back to my car and punch it into Waze. I'm an atrocious driver and even worse when I'm on a conference call, but I figured I'd give it my all.
As soon as I reached my car, the call-in details arrived via a text from Tay. A few minutes later, Wen texted the details to me herself.
How is she dealing with me, calling in, getting there, and organizing her schedule all at the same time? I thought to myself as I made a wrong turn. She arrived at the health department well before I did.
* * *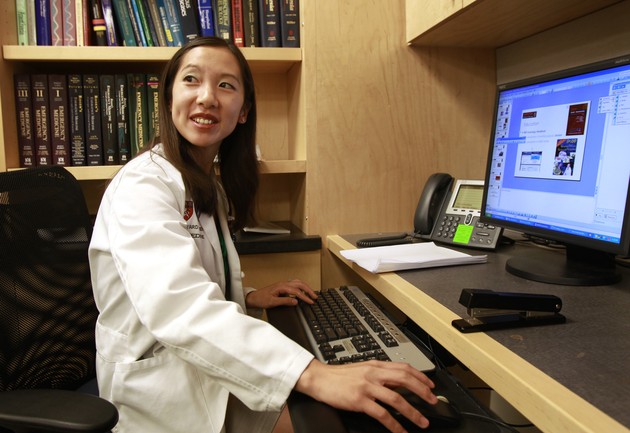 Wen has a very distinctive and purposeful way of speaking, like she's always in the process of giving a TED talk. (Which she's done.) She's spent much of her life overcoming a stutter. Once, in elementary school, she stabbed herself in the leg with a pencil to get out of having to speak in class.
When
she was eight, her dissident family fled China for the U.S. on political asylum grounds after the Tiananmen Square massacre. Wen's parents washed dishes and cleaned hotel rooms to survive. Growing up in Compton and East Los Angeles, she had neighbors who had asthma, who couldn't exercise because they feared gangs, and who regularly chose between food and medicine. She figured if she
became a doctor, she could work to fix all that.
She enrolled at Cal State University when she was 13 and earned a bachelor's degree, summa cum laude, in biochemistry at 18. Upon graduation, eight medical schools offered her full scholarships.
"
I worked very hard and I'm very, very driven," she said. "The only thing I could do at that time was to work as hard as I possibly could."
Wen chose to attend Washington University in St. Louis and later became a clinical fellow at Harvard. During med school, she took time off to serve as the president of the American Medical Student Association and to work for the World Health Organization in Geneva. She studied public health at Oxford as a Rhodes Scholar, and in 2005, she was tapped by the Department of Health and Human Services to represent medical students and residents for a congressional advisory commission. Along the way, she published in major journals like
The Lancet and The Journal of the
American Medical Association, as well as in popular outlets like NPR's blogs. In 2007, the New York Times columnist Nick Kristof selected her for his "win a trip" contest
, and she journeyed to East Africa on a reporting trip with him.
She ended up working as an emergency physicia
n and professor at
George Washington University, a buzzing urban hospital that treats everyone from homeless panhandlers to State Department honchos
. Wen loved her job at GW—she was teaching, practicing, doing research—but she itched to make a difference in big, systemic health problems.
"In the ER, we can put tubes in people who have gunshot wounds, but we're never addressing the core reasons of why there's violence," she said. "We're not addressing cigarette smoking or obesity."
Wen is only 32, but Baltimore has a history of seeking out youthful health commissioners. Peter Beilenson, who had the job for 13 years before he stepped down in 2005, was also 32 when he started, and Josh Sharfstein, who succeeded him, was 36 when he was appointed. "There's a tradition of picking people who are early in their careers but interested in making a big difference for Baltimore," said Sharfstein, who is now Johns Hopkins' associate dean for public-health practice and helped recruit Wen.
Sharfstein said he wanted Wen for the job because it requires the creativity to come up with unorthodox solutions and the energy to overcome roadblocks. "And she has boundless energy," he said.
Indeed, once Wen got the job, she took to it with the exuberance of an American Idol winner on the night of the finale. "This an opportunity to combine everything that I've ever trained to do with my passion that's rooted in my deep personal experience," she told me two weeks into her stint. "I feel like I've spent my whole life training for exactly this job."
Before she started, Sharfstein gave her a word of advice: She could never have a bad day. If Wen was in a sour mood and griped at someone, it might be that person's only interaction with her, ever.
"Even if I'm just washing my hands," she said, "I have to always be on."
Sharfstein also told her something she might have taken a little too seriously: "Y
our only limitation as far as how much you can get done is your own capacity to stay awake at night."
* * *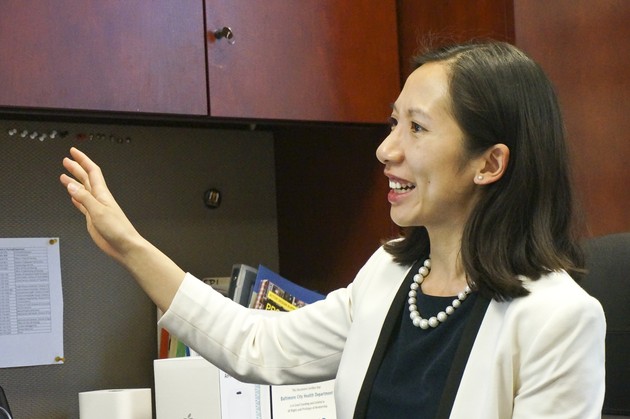 At around 11 a.m., it was time for Wen to give the first of her two speeches that day. The first, at the
Johns Hopkins' Bloomberg School of Public Health, was one of a series of talks by local leaders that was intended to make sense of Freddie Gray's death. The event was meant to be part grievance-airing, part catharsis-providing, and part action-sparking.
Wen doesn't have a driver, so it fell to Tay, as it often does, to pick her up from her cabinet meeting and drive her
there. Tay is small, forceful, and organized like Wen, but she's a little bit less intense. She was Wen's super-fan back when Wen was still an ER doctor on the speech-and-op-ed circuit.
Last year, Tay was a post-baccalaureate student at the University of Maryland when she saw on Twitter one day that Wen was giving a talk at Politics and Prose, a D.C. bookstore. Tay came up afterward and introduced herself. She asked if she could shadow Wen—sort of be her mentee—at the hospital. Of course she could.
After six months of shadowing, Wen was appointed to the commissioner job, and she asked Tay to come on and be her (paid) assistant. Of course she wanted to.
As we waite
d for Wen in the car together, I asked Tay if it was hard to keep pace with her boss.
"Oh yes, she's like the Energizer bunny. She works all hours," Tay said. Regardless, she finds it inspirational to be around her. "She's very down-to-earth. She walks the talk."
I looked up to see Wen trotting toward the car in her sensible black wedges.
"Oh no! You're missing Elijah Cummings," Wen gasped after getting in and taking a closer look at the Hopkins itinerary printout. "I would have wanted to see him. I'm obsessed with him."
"Why's that?" I asked.
"He has such moral authority and credibility. He's also such a phenomenal leader. He's been out on the streets every day." At home, she watches YouTube videos of the firebrand congressman from Baltimore. "I hope that one day I can speak like him and do the kind of work that he does."
We arrived for the very end of the speech by Cummings, who was basically shouting. "As I march toward the evening of my life, I want my children's children to have a morning!" he roared at the crowd, who cheered and said, "Yes, sir!"
Next came Tom LaVeist, a Hopkins professor of health policy who spoke about the role of slavery and redlining in today's racial inequalities.
The whole event was running overtime—which was a good thing, since people were clearly into it—but Wen was a little anxious because she was supposed to be giving another speech across town in just a few minutes.
I started to get nervous for her, too. She was following some pretty powerful speakers. Wen's childhood hard knocks have certainly lent her credibility. But she doesn't exactly know what it's like to be a black man. She's not even from Baltimore. Could she really follow these guys, who were propelling people out of their seats with their rhetoric?
When her time came,
Sharfstein introduced her.
Wen walked up to a podium that almost completely obscured her tiny frame.
She opened with the story of a patient she once treated—a common theme for her. (All the patient stories in her speeches are real, but she changes the details). His name was Sam, and he was 25 when his car struck a median and flipped over twice. It took paramedics half an hour to extract him, and then he was rushed to a busy emergency room. As they scrambled, the doctors forgot to talk to Sam. No one explained what they were doing, why they were ripping off his clothes. But Sam was awake, and he was scared.
It reminded her, Wen said, of something Cummings had said about Gray at his funeral: "Did anyone really know him? Did anyone see him? Did anyone say hello to him?"
Frankly, she kind of nailed it.
* * *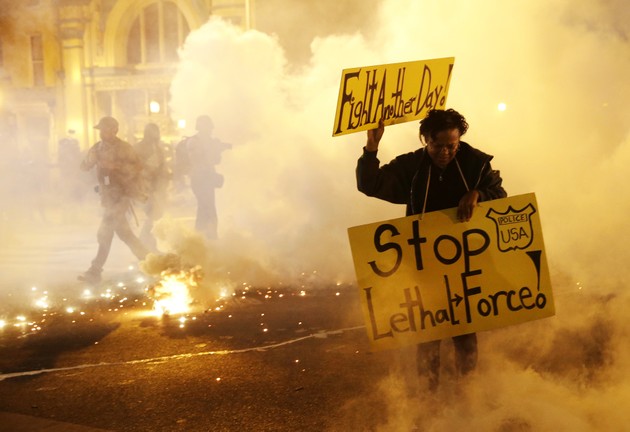 A few days before that speech, Baltimore was burning and Wen was staffing an emergency-operations center that was trying to keep the city's health systems functioning. Hospital workers couldn't get to work because they feared for their safety. Older people who relied on an incinerated CVS were spacing out their medications, hoping to make do until their pharmacy re-opened. Wen was getting up at 5 a.m. and working until 2 the next morning. She was out there with the health-department staff, knocking on senior citizens' doors and delivering medications.
The work was brutal, but she found it invigorating. "This is the reason why I'm here," she said. "I'm not here to sit behind a computer and write a memo."
In the ER, Wen says, patients would always ask their doctor or nurse for a blanket, and everyone would say, "That's not my job."
Similarly, she says, "public health is one of those areas where everyone could say, 'That's not my problem.'" Some might argue, for example, that health disparities will never be solved until the city eliminates drug abuse or violence. "But," she continued, "
someone has to take ownership. Why not us?"
At meetings, Wen's passion sometimes gets filtered through functionary platitudes. "It's so wonderful to be at this gathering"—that kind of thing. But underneath, there's a palpable urge to make things right.
The city has already made strides—the P
ew Charitable Trusts
recently lauded
Baltimore's home-visitation program for new mothers, which has helped reduce infant mortality by 24 percent since 2009 and is serving as a model for 11 other states. The health department has
also managed to cut
lead poisoning, teen pregnancy, and (until recently) overdose deaths.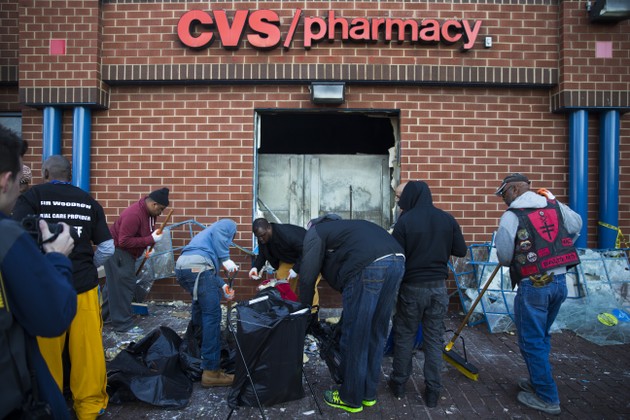 Still, Baltimore remains the least-healthy place in Maryland,
according to
the Robert Wood Johnson Foundation's county health rankings. (To be fair, the city is ranked against the state's counties, which tend to be larger and richer). It suffers from many of the same health woes as other poor, urban centers. Sexually transmitted diseases are about three times as prevalent there as in the rest of the state. Its rate of unemployment, child poverty, and violent crime all top Maryland's charts, as does its percentage of people—nearly one-quarter—who don't have reliable access to food. On average, Baltimoreans die much younger than people in the rest of the state do, and the Freddie Gray aftermath has only made the problem worse. Forty-three people were killed in Baltimore in May—more than in any month in the past 40 years.
On top of the enormity of all those ills, there are also ingrained trust issues. At one point, Wen and I visited the home of Baltimore woman whose son had been regularly hospitalized for severe asthma until a local nonprofit came by to offer her tips for eliminating dust mites and other allergens. But the nonprofit workers first had to convince the woman that they only wanted to help. She had repeatedly hung up on them because she thought they were just trying to study her. "I ain't got time for studies," she said.
Wen knows that the people in Baltimore, just like those where she grew up in Compton, could be much healthier. It's just that all this other stuff gets in the way: an absent-minded (or absent) parent, a neighborhood drug problem, a lack of affordable housing. I could see how watching people struggle with all that and more, day in and day out, would make you want to work 90, 100, "all the hours" in a week, in Tay's words, if there's even a small chance you can make it stop.
One of Wen's goals is to expand a program called Safe Streets. For eight years, the health department has been sending former felons out onto the streets to intervene in neighborhood fights before they escalate into shootings. The idea is that the ex-cons have street cred that cops don't. During the recent riots, the
Baltimore Sun reported
that Safe Streets workers were trying to settle arguments over ownership rights to goods that had been looted from stores. There are four outposts of this program. So far it's been successful, if controversial. Some studies have found that it has reduced gun violence in the neighborhoods where it operates, but some of its employees have been arrested or faced charges of gang ties.
She also wants to beef up a program in which nurses visit first-time teen moms. The current funding level only supports a small percentage of the city's pregnant teenagers. On top of that, she wants all children in Baltimore to have access to a nurse practitioner or doctor though their school health centers.
Heroin overdose deaths are soaring, so Wen recently helped pushed through a bill that will expand doctors' ability to prescribe Naloxone, the life-saving heroin overdose antidote. The department also secured $3.6 million to open up a sobering center—a sort of alternative ER, staffed with addiction specialists, that's aimed at people who are charged with public intoxication.
Then there are programs for citywide smoking reduction, dating-violence prevention in middle schools, and geo-mapping senior citizens' falls, along with endless fundraising. (The city's health department is 80 percent grant-funded.) It certainly helps that Wen has her "ideal" team of staffers, as she puts it, and that the administration faces almost no political opposition in the thoroughly Democratic city. Still, the job can be herculean.
"The hours are crazy because I feel like I have a once-in-a-lifetime opportunity," she says. "I have high expectations of myself and of my team."
Sharfstein also warned Wen that she should pace herself. When he first came on as commissioner in 2006, he wound up hospitalized after a bout of sleep deprivation so severe that he temporarily lost control of his speech. Those first few months on the job are grueling because there's so much to do, he said.
"You don't know in advance where your victories will be in this job. There's a need to try a lot of things," he said. "Baltimore is a big challenge, but it's a worthy challenge."
* * *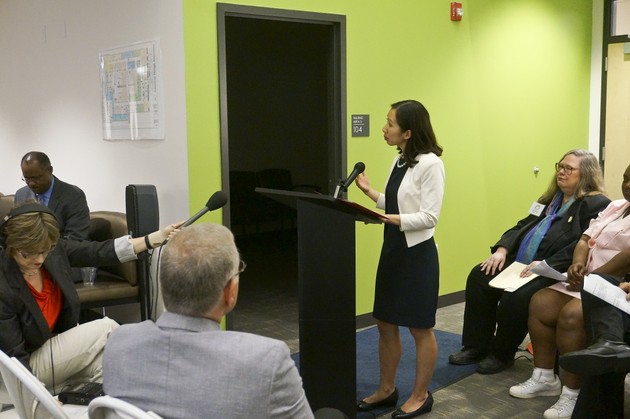 I asked Tay when we were going to eat lunch.
"She doesn't really eat lunch," Tay said, handing me a granola bar from her desk.
After the Hopkins speech, Sharfstein, Wen, and I piled into Sharfsteins' car and drove to a ceremony at a new community-health center that was being named after Sharfstein's father, Steven Sharfstein, the
retiring CEO of the

Sheppard Pratt

Health System.
At the health center, Wen gave another speech. She writes most of her own. When she first came on as commissioner, she'd have her staff draft them, but then she realized, "I'm so specific in terms of how I speak. It feels strange to me to read someone else's speech."
Back at the health department, I asked Wen if this wasn't an onerous amount of writing for someone in her position.
Tay, in a rare moment of dissent, piped up from her adjoining office that Wen can be a "control freak."
Wen says it's just part of her wiring, though: In the ER, when someone was dying and the doctors didn't know why, she would take command. Wen views bureaucratic problems like nonresponsive patients: "I need to be able to see everything. I need to stand back and see what everybody else is doing while also focusing my attention and leading codes (emergencies) myself." That's the same reason she went back to either writing or heavily editing almost all her remarks herself. Sometimes she gives 14 speeches in one week.
At 6 p.m., it was time for me to pack up. Tay was the last employee standing, and Wen was taking her out to drinks to thank her for being her. ("I interviewed a few assistants. They said, 'I don't want to work with you!' because the hours are crazy.")
After what was already an 80-hour week, Wen had to be up early for a charity walk the next morning, and she had a call before that. Afterward, she had another call with a student who was working on a project, and another with a journalist who was writing about stuttering. On Sunday, she was scheduled to appear on MSNBC.
She didn't look to any of this with dread. "I could not have pictured a job I enjoy as much as this one," she said. "For so long people told me I need to pick one thing I want to do." But she wanted to do it all—the curing and the catalyzing. After long days in the ER, she used to come home and work on her advocacy projects.
The fact that it was all finally coming together confirmed, to her, that people should "do what you love doing, and it's going to be fine," she said.
"Even if it seems crazy to other people."