Why Non-Jews Are Choosing Jewish Circumcision Ceremonies
Some parents opt for traditional mohels, rather than doctors, to perform the procedure on their sons—even when they aren't Jewish themselves.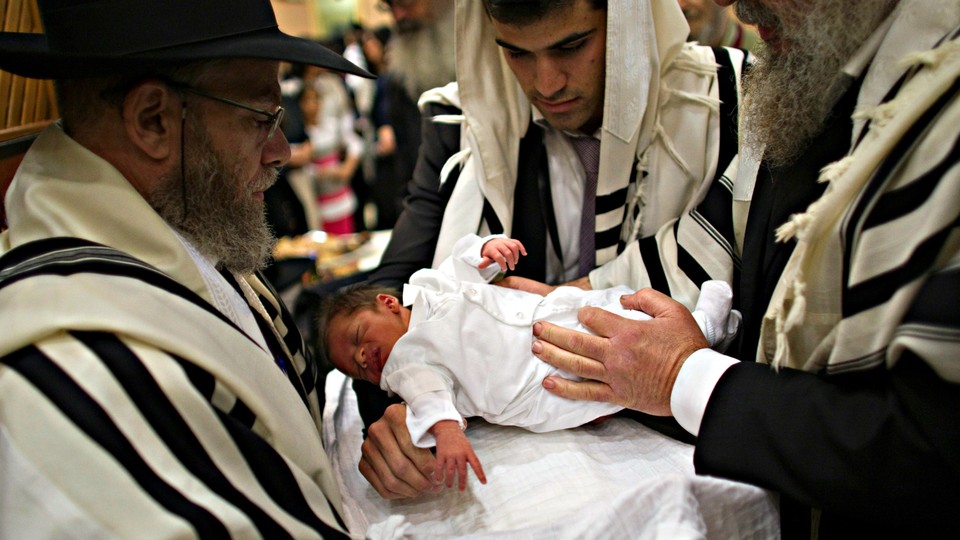 When Allison Finch, a 36-year-old mother of five from Houston, had her first son, in 2007, she had him circumcised before taking him home. But the circumcision was cosmetically uneven, a result that left her regretting the choice to have the procedure done in the hospital. "We weren't overly impressed, but we didn't know that there was another way," she says.
So when their second son, Henry, was born in 2011, she and her husband Robert went a different route. Although they identify as practicing Christians, the Finches decided to have their baby circumcised by a mohel, a Jewish person trained to perform a ritual circumcision, or brit milah (Hebrew for "the covenant of circumcision"). In keeping with Jewish tradition, the family asked the mohel to circumcise Henry on the eighth day of his life.
Finch isn't the only non-Jew who has felt a connection to the religious elements of the procedure. Nationwide, circumcisions have decreased over the last few decades—from 64.5 percent of newborn boys in 1979 to 58.3 percent in 2010, according to Centers for Disease Control data—but among those opting to circumcise their sons, some non-Jews are forgoing the hospital or doctor's office and requesting Jewish mohels for reasons both practical and religious. (Reliable statistics on religious circumcisions are hard to come by, but several mohels I talked to said they've noticed an uptick in their popularity in recent years.) Mohels, who typically perform circumcisions in private homes, can be doctors, but some are simply devout Jews—often, but not always, members of the clergy—who undergo technical training in order to learn how to perform the procedure. All mohels, including health professionals, are also trained in the ritual aspects of circumcision.
Non-religious circumcisions are typically done in the hospital around 24 to 48 hours after the baby's birth, though some parents may choose to circumcise their sons in a doctor's office after the baby has been taken home. (The exact timing may depend on each pediatrician, but the procedure generally takes place within the first four weeks of a baby's life.) Techniques used vary from doctor to doctor, but three methods are common in the U.S.: the Gomco clamp, the Mogen clamp, and the Plastibell, a ring attached to the penis underneath the foreskin. The procedure can take anywhere from 30 to 60 seconds with the Mogen clamp to 10 minutes with the Plastibell; most mohels use one of the clamps.
In a hospital setting, the parents may not necessarily be present while the procedure is performed. (After confirming with the family that they wanted their son circumcised, Finch says, members of the hospital staff "just came in and told us that it had been done and how to care for it.") At a traditional Jewish circumcision, a baby is circumcised in the presence of his family, usually as he lays on a pillow that's been placed on the lap of a family member. Mohels have varied methods for comforting the baby, including a sugar solution, a drop of wine, or topical or injectable anesthesia. Physicians in the hospital may use topical or injectable anesthesia to make the baby more comfortable.
Philip Sherman, a mohel and a cantor at Congregation Shearith Israel, a synagogue in New York, estimates that he's done more than 21,000 circumcisions over his 40-year career, and that he now does one or two per month on non-Jews. While Sherman doesn't perform Jewish blessings at the circumcision of a non-Jewish child, he says that his circumcisions always have a spiritual element, and that many of the parents he's worked with tell him they pick him over physicians for religious reasons. "Families who are seeking traditional mohels like myself want someone who is not only a super-specialist, but someone who is religiously observant," he says. "They are seeking the spiritual component and are often seeking to do this in the context of their own religion or spirituality." In fact, Sherman has an entire website dedicated to "holistic circumcisions," which he performs instead of a traditional Jewish ceremony for non-Jewish families. These circumcisions involve the same technique as a traditional Jewish ceremony without the blessings. Sherman will often open the ceremony with a humanistic prayer but encourages families to add their own readings, songs, and prayers.
Sherman draws a clear distinction between his work and the medical realm: "I do not perform medical procedures," he explains. "All brisses and circumcisions that I perform are religious in nature. If it is a bris," he said, using the Yiddish shorthand for Brit Milah, "it is a religious ceremony. If it is for a non-Jewish family, there may be scriptural readings, psalms, blessings, and prayers that are recited."
As demand for circumcision by mohels continues outside of the Jewish community, though, some experts caution that mohels like Sherman may be putting themselves at legal risk.
Thus far, legal regulation of mohels has been mostly limited to civil suits. In 2013, for example, a Pennsylvania family sued the mohel who severed their infant son's penis during a ritual circumcision, citing negligence. Pennsylvania authorities also have the option to prosecute negligent mohels for practicing medicine without a license, a state spokesman told The Pittsburgh Post-Gazette, but with circumcision, "You have to balance religious-freedom protections against public health and safety."
Similarly, in the 1993 New York State Supreme Court case of Zakhartchenko v. Weinberger, a Jewish man who suffered a botched circumcised as an adult sued the mohel who performed the procedure, which was done in a hospital setting. The court ruled that while the government did have the duty to ensure that mohels met certain "standards of skill and care," it otherwise had no authority to regulate circumcision as a religious rite:
A religious ritual, such as a circumcision, anciently practiced and reasonably conducted, is not subject to governmental restrictions so long as it is consistent with the peace or safety of this State. Therefore, while a circumcision performed by a physician would be the practice of medicine, a circumcision performed as a religious ritual by a qualified person (a mohel, in this case) does not constitute the practice of the profession of medicine.
Both of these cases involved Jewish plaintiffs—but they have tricky implications for mohels performing non-Jewish circumcisions. The right to perform brit milah is protected under the First Amendment, but when it's no longer a religious ritual, mohels may run up against laws that forbid the practice of medicine without a license, explains Marci Hamilton, a church-state scholar and professor at the Cardozo School of Law at Yeshiva University. There is no legal gray area for mohels who are also health professionals—these mohels can perform the procedure on non-Jews as part of their medical practice, even if the primary purpose is religious rather than medical. But others, Hamilton says, may be subject to prosecution when they perform the procedure outside of its religious context.
When it's a non-Jewish family using a mohel, "The mohel is not acting as a religious participant, and therefore his acts are not protected as free exercise," she explains. "This is really a medical business transaction, not a religious transaction."
Along these lines, some Jews fear that mohels like Sherman who work outside the faith may inadvertently serve as fodder for anti-circumcision activists. "I think it is problematic on every single level for mohels who are not doctors to do procedures on non-Jews. I am dreading the day when one of these guys makes a mistake and all of Judaism pays for it," says Michael Barclay, the chief rabbi at Temple Ner Simcha, a synagogue in Westlake Village, California. (He is not a mohel.) "[Circumcision is] a primary commandment of our faith, and when a mohel who is not a doctor messes up on a non-Jewish kid, that is just going to give a lot of fuel to the fire of making the practice illegal."  Barclay points to previous efforts in his state in 2011, when a ban on circumcision gained traction in Santa Monica and San Francisco.
The San Francisco effort mobilized local Jewish and Muslim leaders who said their right to perform circumcisions was protected under the First Amendment. The state punted; in July 2011, a Superior Court judge ruled that the ban could not appear on the ballot that November, citing a law preventing municipalities from regulating medical practice. A few months later, in October 2011, California Governor Jerry Brown cemented this idea even further by signing into law a ban on all local circumcision bans, making it illegal for municipalities to outlaw the practice.
But for some, policy debates and legal liability are secondary concerns. Some religious Jewish scholars are unhappy with any mohel—doctor or not—performing circumcisions on non-Jews. Moshe Tendler, a medical ethicist and rabbi at Yeshiva University in New York City, says traditional Jewish law, or halacha, forbids mohels from circumcising non-Jews. Other Jewish scholars argue that this position, like much of Jewish law, is open to interpretation. Tendler stands by his interpretation and worries that the growing number of mohels performing the procedure on non-Jews may cheapen the meaning of the ritual. "Jewish circumcision is not a surgical procedure," he says. "It's a religious one."
Some mohels who work with non-Jews counter critics like Tendler by noting that they aren't actually performing a Jewish ceremony at all. Sherman notes that mohels have been performing circumcisions on non-Jews—including the British royal family—for generations. When he was in Israel training to become a mohel in 1977, he says, his teacher, then the chief mohel of Jerusalem, received a call from the Italian ambassador to Israel, who asked him to circumcise his newborn son.
Fred Kogen, a Los Angeles-area physician who now works full-time as a mohel, points out that although he does not perform any Jewish blessings when doing a circumcision for a non-Jewish family, he doesn't prevent families from creating their own religious ceremony around the procedure.  "It's not for me to say they can't do this," he says, adding that his only goal in working with non-Jewish parents is "to provide these families the opportunity to have a safe, humane, respectful circumcision experience."
Joe and Carrie Dilley, both psychologists who live near Pasadena, California, hired Kogen in 2015 after deciding they wanted a more family-oriented ceremony for their son, as opposed to a hospital circumcision. Carrie, whose family has some Jewish ancestry, says she first learned about mohels after attending the traditional Jewish ceremony of her nephew in 2004 (her sister's husband is Jewish). The Dilleys found the ceremony meaningful, she says, and appreciated the fact that extended family could attend. Years later, during a birthing class while pregnant, Carrie listened to her birthing instructor explain the different methods of circumcision; when the Dilleys expressed an interest in using a mohel, the instructor recommended Kogen. Eight days after their son was born—timing requested by the Dilleys—Kogen came over to the family's house, where immediate and extended family members had assembled for a small brunch. As Kogen performed the procedure, Joe read a verse from Psalms and recited a blessing over the baby. "We were really grateful to be able to meld our own faith journey into this ceremony," he says.
Sherman, the cantor, is convinced that even without the traditional Jewish blessings, a circumcision from a mohel allows all families to mark their child's circumcision as something more than a surgery. "The goal is simple," he says, "to let people know that there is an alternative that is better, more compassionate, gentler than what doctors or hospitals will do."
Nearly four years after her first experience with a mohel, Allison Finch, the Texas mother of five, recently chose the same option for her youngest child, a son named Peter. She called the same mohel to perform the procedure—and plans to call him again, she says, for any future sons: "I just hope he is training another person to someday take his place."