When the Therapist Is a Quack
A nationally watched gay-conversion trial exposes the dark world of unregulated counseling, where people calling themselves "life coaches" get away with practically anything.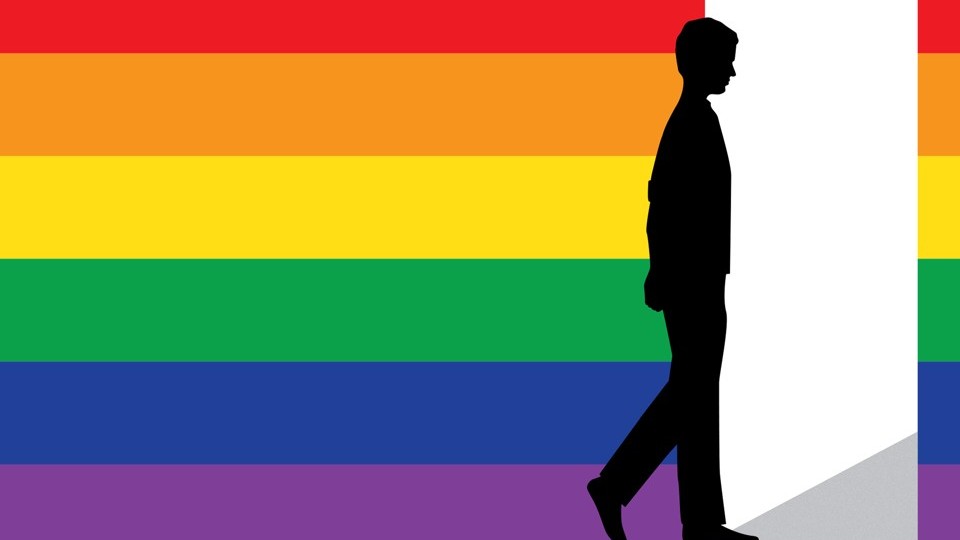 JERSEY CITY, New Jersey—Wiping away tears, Benjamin Unger described how he stopped speaking to his mother for several months after his gay conversion therapist, Alan Downing, suggested that Unger's strong bond with her was the reason he had homosexual urges.
Unger, who was 19 years old at the time of his conversion treatment, is now a plaintiff in the civil case against Downing and the New Jersey-based JONAH, or Jews Offering New Alternatives for Healing.
It all started when the teenaged Unger, who comes from a strict Orthodox Jewish family, told his parents and rabbi that he felt attracted to men. They referred him to JONAH, which in turn connected him with Downing, a life coach with a background in musical theater. Through individual and group sessions, Downing was allegedly going to help Unger become straight.
Told that he was clinging too much to his mother, Unger "began the process of detaching" from her, he said on the witness stand Wednesday. "Obviously I felt a lot of anger at that point. I blamed her."
Unger went on to describe his experience with Downing in excruciating detail. In one session, he said, Downing gave him a pillow and, instructing him to imagine the pillow as his mother, told Unger to hit it with a tennis racket over and over while screaming "mom." Unger did so, until his hands were raw. Downing told Unger to go the Jewish ritual bath, the mikvah, with his father, Unger testified, and to look at his father's penis. In so-called "healthy touch" group sessions, Downing allegedly told Unger and his other young, gay clients to touch and cuddle with those in the group they were attracted to—apparently to learn the difference between sexual and non-sexual affection.
Unger's lawyer showed the jury a piece of paper that was covered in what Unger said was Downing's handwriting and doodles. Unger said "80 to 90 percent" of his sessions with Downing involved discussing why Unger was drawn to specific male body parts—rear ends, in particular. On the paper, Downing had allegedly drawn a stick figure with an enlarged bottom that said, "I am cute, play with me, fluffy butt."
Opinions vary on the ethics of gay-conversion therapy for adults, but Downing's therapeutic tactics would be considered strange no matter what his client's problem was.
Some conversion therapy practitioners are bona-fide psychologists or counselors. But many operate on the fringes, pitching themselves either as religious mentors or, in Downing's case, as mere "coaches." In some ways, the rise of therapeutic-sounding titles like "life coach"—with its patina of personal growth and near absence of accountability—has allowed conversion therapy to flourish.
"To my knowledge there is no regulation of the [life coach] title, nor are they licensed by any state," said Jack Drescher, a psychiatrist and psychoanalyst who helped write the American Psychological Association's reports on conversion therapies. "As far as I know, life coaches can say and do pretty much whatever they want." In most states, he added, even the title of "therapist" is not regulated: Anyone who wants to hang a shingle, can.
The actual legal question in the JONAH case is not whether Downing is a bad coach; it's whether gay-conversion therapy is consumer fraud. The Southern Poverty Law Center, the civil-rights group bringing the case, argues that charging money while promising to "change" gay people to straight is a scam because such a transformation is impossible. Unger and the other plaintiffs are still gay. (More background on this in my previous story.) A New Jersey jury will decide whether the SPLC is right when the trial ends in about three weeks. If the SPLC prevails, Unger and several other former JONAH clients will get their money back.
In the meantime, the ordeal suffered by Unger and the other plaintiffs highlights how few rules govern certain types of counseling and coaching. Downing, who did not return my earlier requests for comment, says in his bio that he is a "Professional Life Coach"—a title that means little—and is "currently pursuing his Master's degree in counseling."
If a licensed psychologist or counselor had done what Downing allegedly did to Unger, a patient could bring a complaint to the state licensing board or professional ethics committee, and as Drescher says, the psychologist in question "might have some 'splainin to do." (It's worth noting that a licensed therapist could not have done what Downing did in New Jersey. The state banned licensed professionals from participating in conversion therapy in 2013.)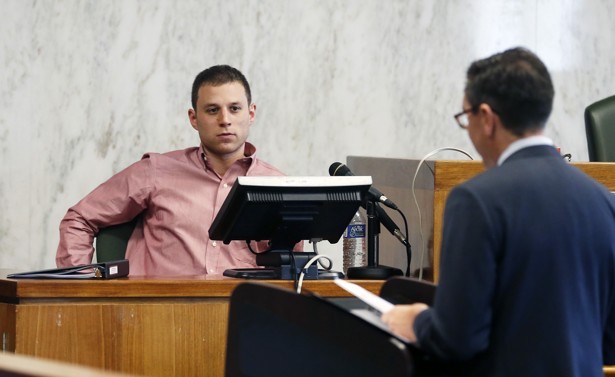 Because life coaching is self-regulated, there are few legal requirements for becoming one. There is no way to lose a life-coaching license because there is no license to have. As one coaching trainer told CBS, "there are 'schools' that will offer a credential after three hours of training, and people read a book or watch a TV program and decide 'I'm a coach!'"
Sometimes, the field serves as a refuge for those banished from licensed therapy practice because of misconduct. One prominent conversion therapist, Richard Cohen, has a counseling psychology master's degree but was expelled from the American Counseling Association in 2002, according to The Washington Post, after he violated the organization's ethics code in six different ways. He went on to practice as a coach.
Complaints against licensed counselors or psychologists can be found on state licensing-board websites, but there is no similar repository for complaints against life coaches.
A spokeswoman from one coaching organization, the International Association of Coaching, told me in an email that the group has only received "one or two client complaints" in its 12 years of existence, and those complaints were reviewed and resolved satisfactorily.
And to be fair, most professional coaches are more like cheerleaders with checklists and Skype accounts: The majority don't attempt to change sexualities—or even to give their clients specific advice.
Coaching associations, such as the International Coach Federation, do offer credentials to coaches—be they life, executive, or otherwise—who have met certain training and experience benchmarks. The spokespeople for both coaching organizations I contacted said prospective clients should look for coaches who have been credentialed by a professional association.
That resembles Drescher's view on life coaches: "Caveat emptor."
It's less clear, though, whether desperate people suffering mental anguish can be expected to investigate the certificates of life coaches they consider seeing. Certainly, the argument could be made that people should not see life coaches if they truly need mental-health care (or believe they do). But as the JONAH plaintiffs show, some people are funneled to life coaches through their religious leaders or other community networks.
I wrote previously that this case represents an important acknowledgement of the lasting damage that inappropriate psychotherapy can cause. The JONAH plaintiffs have heard things from their so-called therapists that they may never forget. In earlier eras, some in the medical community have believed that when it comes to therapy, "there's no harm in talking." But it's increasingly evident that therapy can make all the difference—for better or worse.
Unger testified that during and after his experience with Downing, he fell into a deep depression. He was told that sexual-orientation change would come if he worked hard enough, and he did everything he could. But change never came.
"The hell of desiring my fellow man has not been diminished," he wrote in an email in 2008, a few months into his treatment. He began praying every night that he wouldn't wake up in the morning.
Whatever the result of the JONAH trial, it has already succeeded in shining a light on the darker corners of the mental-health world.
"The majority of people who are practicing [conversion therapy] are not licensed," Drescher said. "The JONAH case seems to be an attempt to go at it from another direction, which is consumer fraud, because with consumer fraud, it doesn't matter whether or not you have a license. If you're practicing activities which are intended to defraud the public, the state has a right to intervene to protect the public."
Even if the plaintiffs win their fraud case, though, it will remain difficult for states to protect the public from unlicensed practitioners who aren't fraudulent—just abusive.