The End of Gay Conversion Therapy
A New Jersey jury found a Jewish counseling group designed to turn people straight is guilty of consumer fraud. Experts predict other states may soon do the same.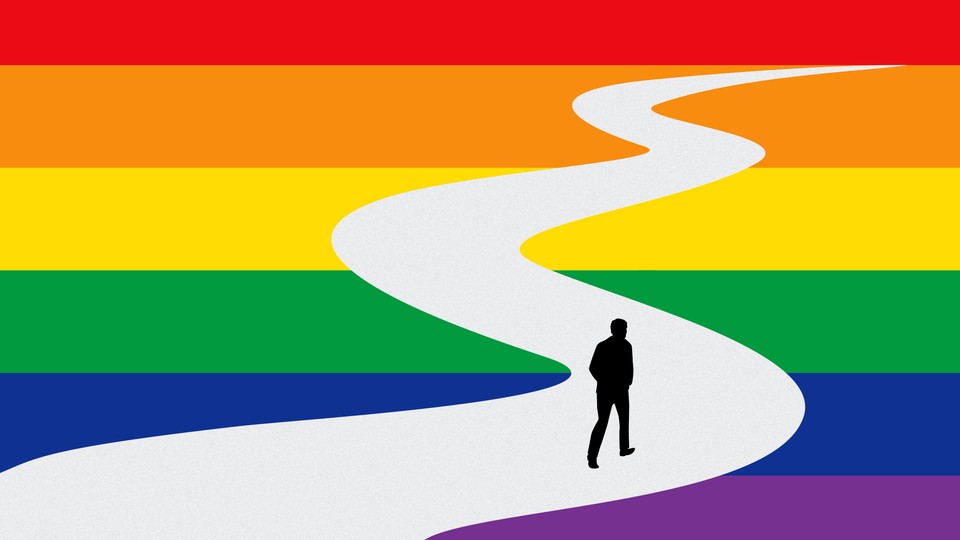 After three hours of deliberation, a New Jersey jury ruled Thursday that a Jewish, gay-conversion therapy group committed consumer fraud and unconscionable business practices by promising to change the sexuality of several Orthodox Jewish men, who were its clients.
The group, Jews Offering New Alternatives for Healing (JONAH), must pay the plaintiffs' attorneys' fees. They've also been ordered to pay $72,400 in damages—roughly triple what JONAH's clients paid for its services, including therapy to undo the conversion therapy's effects. It may also be forced to shut down.
Over the course of the three-week trial, the Southern Poverty Law Center, which represented JONAH's former clients, argued that the practices used by JONAH-affiliated life coaches were ineffective and at odds with the recommendations of mainstream medical groups. Among other things, the men were asked to undress and touch themselves in front of their life coaches and to beat effigies of their mothers with tennis rackets.
Charles LiMandri, president of the Freedom of Conscience Defense Fund, who represented JONAH, said in a statement, "This is a sad day, not just for my clients, but for America: Our freedom to choose to live according to Biblical values is being restricted by powerful forces."
The lawsuit was the first in the country to challenge conversion therapy on consumer-fraud grounds. Though the ruling applies only to JONAH, it will likely have a national chilling effect on the practice. Three states—New Jersey, California, Oregon—and the District of Columbia have already banned conversion therapy for minors, and several more are weighing similar laws.
"This verdict is a monumental moment in the movement to ensure the rights and acceptance of LGBT people in America," said David Dinielli, the deputy legal director for the Southern Poverty Law Center and the lead attorney for the case, in a statement. "Conversion therapy and homophobia are based on the same central lie—that gay people are broken and need to be fixed."
National sentiment is already turning against conversion-therapy providers. A bill introduced in Congress would ban conversion therapy nationwide. In April, President Obama called for an end to these therapies for gay youth.
Sam Wolfe, an SPLC senior staff attorney, predicted that the group's victory will make it easier for other states to bring down conversion therapists on consumer-fraud charges. He also hopes the attention generated through the trial will make more prospective conversion-therapy patients realize that these treatments, according to mainstream medical groups, are ineffective. "The defendants sold them modern-day snake oil," he told me.
Steven Shiffrin, a retired Cornell Law professor who has followed conversion-therapy cases closely, said that in the past, conversion therapists have claimed their treatments are a matter of free speech under the First Amendment.
But "there is no First-Amendment right to engage in consumer fraud," he told me. "The whole premise of consumer fraud is that adults need to be protected as well."
Shiffrin predicted this case will doom a free-speech defense for conversion therapists in the future.
The ruling might also pave the way for further crackdowns on unlicensed therapists or life coaches, who are not regulated by state boards. Consumer-fraud laws apply regardless of licensing status. According to Jack Drescher, a psychiatrist and psychoanalyst who helped write the American Psychological Association's reports on conversion therapies, many conversion therapists are unlicensed.
"The movement tends to produce people who sought out this treatment for themselves, and then they make a living becoming professional 'ex -gays for pay,'" he told me.
He says other states might try to enact consumer-fraud protections that can be applied to conversion therapies.
Another possibility is that more conversion therapists will be driven underground, or be forced to operate through churches and other religious institutions. In that case, the therapists could make a religious-freedom legal argument for their right to offer services.
Still, Drescher says, "there are limits on freedom of religion. For example, Jehovah's Witnesses do not believe in accepting blood transfusions. But if a child of parents who are Jehovah's Witnesses shows up in an ER and needs a blood transfusion and the parents deny it, the hospital can get court permission to overrule the parents because it's considered, in the case of a minor, this is harmful and reckless endangerment of a child."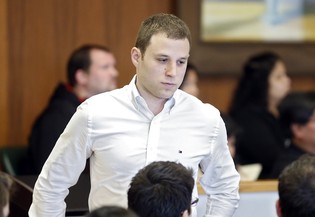 The case also made minor celebrities of the plaintiffs, three young men who still identify as gay despite having sought JONAH treatment. On the witness stand, they testified about their personal lives in excruciating detail as LiMandri tried to prove that some of them find women attractive.
LiMandri suggested at one point in the trial that Chaim Levin, one of the plaintiffs, was profiting from and enjoying the publicity surrounding the trial.
"With all due respect, I do not like this," Levin responded in his testimony. "I do not like being known as the guy who undressed in front of his life coach."
In a statement after the verdict, Levin suggested it had all been worth it.
"Now the world knows about their destructive, refuted practices," he said. "I took part in this lawsuit to take a stand. I don't want another person to endure the anguish and harm JONAH put my loved ones and me through."