An IUD in Every Uterus
A new study finds that telling providers to teach women about the benefits of IUDs and implants makes a big difference in unplanned births. But not every woman who wants one can get one.
Babies are delightful, but they're even better when their moms can afford to take care of them. And yet, in the U.S., roughly half of all pregnancies are unintended. These births add up to billions in medical and welfare expenses, not to mention the human-suffering cost of worse infant and maternal-health outcomes.
Long-acting reversible contraceptives, such as IUDs and implants, have been shown to reduce unintended pregnancies because they are much more effective than condoms and the pill. Still, these methods are much less popular in the U.S. than they are elsewhere. (Just 9 percent of American women have an IUD or implant, compared with 23 percent of French women).
---
% of Physicians Who Would Consider IUDs, by Type of Patient
---
In 2012, only about half of OB-GYNs said they would recommend an IUD for adolescent patients, and as a result not all young women—also about half, by some measures—even know about IUDs. So what will it take to get more doctors to talk to young women about these methods?
For a study published Wednesday in The Lancet, researchers selected 40 Planned Parenthood clinics across 15 states. (Despite its reputation, 97 percent of the organization's budget goes toward healthcare, not abortion.) In half of the clinics, researchers trained the clinic staff to talk to young patients about the varying levels of effectiveness of different contraceptive methods. The staff in the other clinics received no special instructions or training.
The results were striking: 71 percent of the providers who received the training discussed IUDs and implants with their patients, but just 39 percent of those in the control group did so.
In the intervention group, 28 percent of women ended up choosing IUDs or implants, compared with 17 percent in the control group. Among women who had gone to the Planned Parenthood for family-planning services, the effectiveness counseling reduced the rate of unintended pregnancies by half over the course of a year.
The extra guidance didn't infringe on the women's autonomy. In both groups, the same proportion of women (78 percent) said they made their contraceptive decision on their own.
The big downside of the study was that the counseling didn't do much good for women who had gone to the clinic for an abortion, rather than family-planning help. Though the women getting abortions wanted to get LARCs, fewer of them were able to actually get the LARCs inserted during their visits to the Planned Parenthood clinic. As a result, almost a quarter of the women who had sought abortions were pregnant again within 12 months.
---
Likelihood of Getting Pregnant After Clinic Visit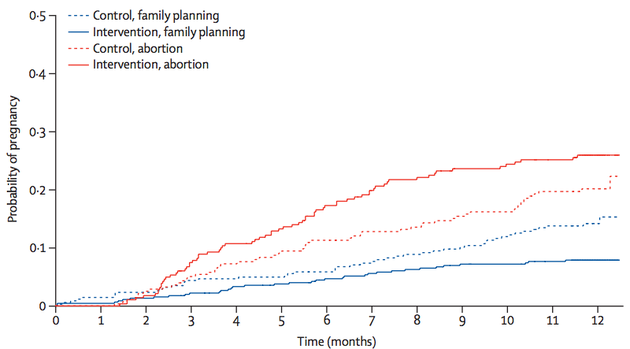 ---
The authors don't know why this happened, but a likely reason was cost. IUDs can cost up to $1,000, and 38 percent of women in the study were uninsured. Six states prohibit abortion providers—that would be Planned Parenthood—from receiving state family-planning funds, and clinics in two of those states (Colorado and Ohio) were in the study group.
All but a few private insurance plans are required to cover IUDs at no cost, and Medicaid mostly covers IUDs for poor women, but at least 18 states have opted not to proceed with the Obamacare Medicaid expansion. The federal government makes grants available for family planning, but that money is limited and not every family-planning clinic in the country receives it.
Clinics that use these grants, called Title X, must by law keep their family-planning activities separate from abortion services. That means that women who receive abortions must often return for separate visits to get IUDs inserted. And of course, the more hassle for patients, the less likely they are to follow through on doctors' recommendations.
As one Colorado abortion provider put it to the Guttmacher Institute in 2007, "If only we didn't have these barriers, we would be able to provide a low-income abortion patient with an appropriate and subsidized method of birth control on the spot, instead of her having to return for another appointment at our Title X clinic."
Congressional Republicans have cut $31 million from Title X since 2010, and their budget proposal this year would eliminate the program entirely.
In short, this study shows that telling providers to counsel women about the power of IUDs and implants—which are 90 times more effective than condoms—actually works to reduce unintended pregnancies. But one of the remaining problems, as it usually is, seems to be getting all those Implanons and Mirenas paid for.
One tidbit for those skeptical about publicly funding these devices: For every dollar U.S. taxpayers spend on family planning, they save $7.09.