Preventing the Next Pandemic
As the Ebola outbreak nears its end, the world prepares for future public-health threats.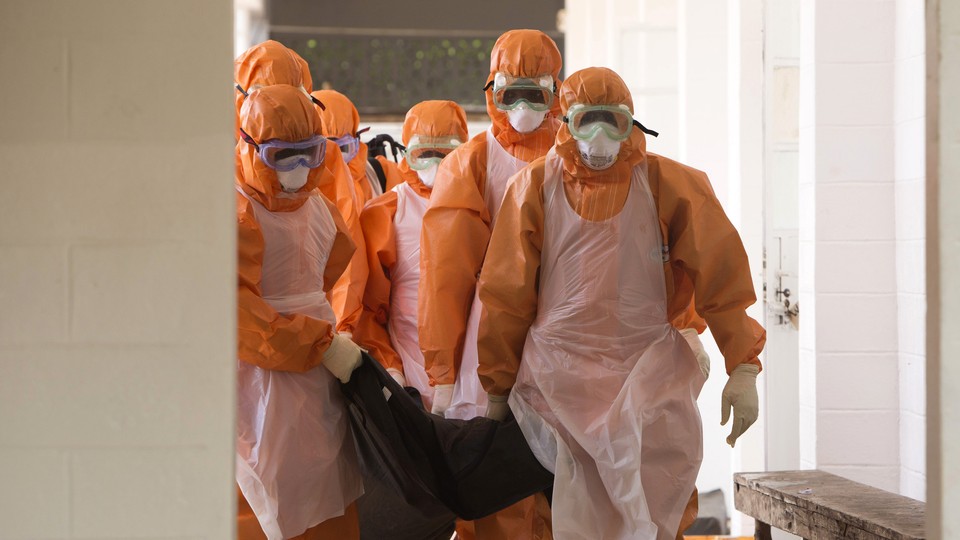 Though the furor has died down, the Ebola outbreak is not over. The latest World Health Organization situation report found 20 cases last week compared with 24 cases the week before. Liberia was declared free of the disease on May 9, but cases in Guinea and Sierra Leone have continued to hover at 20-27 per week.
When you compare that to six months ago, when there were hundreds of new cases per week, it certainly seems that things are approaching getting back to normal. But what we've learned from the Ebola outbreak is that, in the face of an unexpected pandemic, normal isn't good enough.
"If one thing kills 10 million people on planet Earth in the next decade, it's going to be a pandemic," said Ron Klain, who served as the White House Ebola "czar" from October 2014 to February 2015, at the Aspen Ideas Festival on Friday. "If you believe that's the kind of threat we face, we need to have a response."
When it comes to how things went so wrong, much has been made of the weakness of West Africa's health systems. Samuel Kargbo, the director of health systems, policy, planning, and information for Sierra Leone's Ministry of Health and Sanitation, described the situation there. "[Ebola] was in the forested areas of the countries, the places that were hard to reach, with seasonal roads, which are terrible. It was difficult for the health system to reach these places ordinarily," he said. "When it happened, our staff were not really ready for something like this, the first time we had this type of disease in the area.  Because it was the very first time, nobody knew what to do, so they referred them to the general hospital which should not have been done. They should have made a field hospital to treat them there."
In Sierra Leone, Ebola came through the "back door," as Kargbo put it. It moved from remote areas inward. Not so in the United States, which saw its Ebola cases appear in metropolitan Dallas, and one case in New York City. But even when the disease came through the front door, into a country with a fairly strong health system, we were relatively unprepared.
"I don't think there was enough respect given to the virus," said Brian Koll, the executive medical director for infection prevention and control at Mount Sinai Health System. "Infection-prevention techniques were fairly basic. To say that basic contact precautions were okay—we learned very quickly that they were not okay."
Tom Kenyon, the director of the center for global health at the Centers for Disease Control and Prevention, also said he wishes the response had been quicker. "We've been dealing with Ebola for 38 years. There have been approaches to it that have worked. I think what was different here was the scale. The scale was extraordinary. There were days when we had more cases in a day than we'd had historically."
"We do need an approach to what I call the big one," he went on. "Ebola was a big one. As tragic as it's been, we could face something much much worse."
How, then, can governments and health organizations use the experience of the Ebola outbreak prepare for the next big one? How do public health officials convey that pathogens are not to be underestimated without causing panic? How do we prevent a pandemic?
Revamping procedures and getting training for healthcare workers is one way. This is happening in West Africa. Sarah DiLorenzo recently profiled Redemption, the only free general hospital in Monrovia, Liberia, for The Atlantic, and its post-Ebola improvements:
The hospital now has a rigorous procedure for checking patients at the door, including temperature checks and questions about their symptoms and possible contact with Ebola. It has an isolation unit, where any suspected cases can immediately be sent. It is also now equipped to do the kind of infection prevention that Western hospitals routinely do: It has running water throughout its wards and chlorine hand-washing stations; it has stocks of rubber gloves and doctors and nurses have been trained to wear them every time with every patient; beds have been properly spaced and staff have been warned of the dangers of putting more than one patient in a bed, a practice that used to be common.
The larger question is, can these changes be kept up once the international aid money goes away?
This is one of Kargbo's worries. "When the attention of the press goes away, the funds go away … They do not strengthen the system for the system to sustain. They do the work for you and then go away."
Klain said he would like to see what he called a "white-hat brigade"—an international health-crisis team that could respond quickly at the first sign of an outbreak. Helpful as that would be, it wouldn't solve the problem of help parachuting into and out of a country.
"I think we need both," Kargbo said. "We need concerted effort within the country, and globally. Take a country like Liberia, what happens in the capital where there are hospitals and what happens in the far flung areas are completely different."
"The community is really the essence of Ebola control," Kenyon agreed. And that's where the messaging can really make a difference. Ebola in particular is a disease that preys on people's care for one another, spread as it is through touch. The pathogens of future outbreaks, though they may be spread differently, will likely benefit from the human impulse to help one another, to hold your loved ones close when they're suffering.
Spreading information that makes people panic won't change that. Not much, anyway. It may make people afraid—afraid of health workers, afraid to go to the hospital, afraid to seek help quickly. Kenyon suggests framing the messages more positively: "There's been a lot of negative messaging, saying 'Don't do this,' rather than saying what can you do to bury your loved one, to care for your loved one," Kenyon said. "Families are going to care for their loved ones no matter what we say on a poster or a billboard."
Kargbo added: "The type of information that I would spread out, I would make sure it's not one that causes panic, but one that spreads hope."