The Scarcity of Abortion Training in America's Medical Schools
Many students who want instruction aren't able to find it. And those who get it, like me, often aren't willing to move to the areas of greatest need.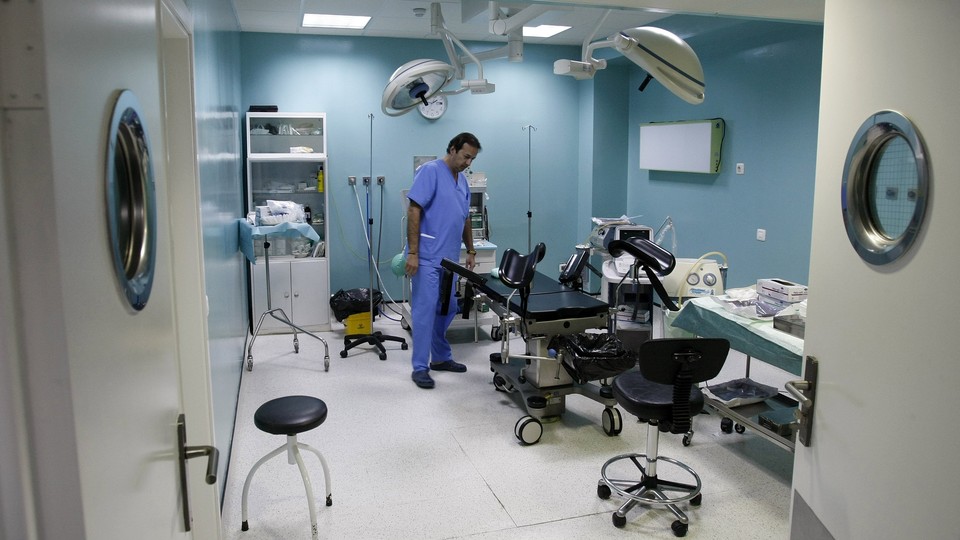 Last spring, I attended a conference for pro-choice medical students outside of St. Louis, and there I met the doctor who helped fill the void left by George Tiller. (I attended on a scholarship from Medical Students for Choice, which sponsored the conference. The organization also funds a reproductive-health externship, which I enrolled in earlier this year.*)
Tiller, who ran a clinic in Wichita, Kansas, was one of only a handful of physicians in the U.S. who provided abortions late in pregnancy. In 2009, he was murdered in his church by an anti-abortion extremist. When I heard that everyone at the conference would get to meet the physician who helped bring abortion services back to Wichita, I wasn't sure what to expect. And I definitely wasn't expecting someone as young and idealistic as Cheryl Chastine.
Chastine is a family doctor based in Chicago who took over Tiller's role in 2013, serving as the medical director of the South Wind Women's Center, Wichita's only abortion clinic. Chastine and a team of Tiller's past colleagues established the Center at the location of Tiller's former clinic, which had closed after his death. She left the job in April, but when we met last year, she was the clinic's main abortion provider. She traveled from Chicago to Wichita for two workdays each week to perform abortions up to 21.6 weeks gestational age, Kansas's legal limit. (Later abortions, like the kind Tiller performed, are permitted in Kansas only if continuing the pregnancy would cause the mother "substantial and irreversible" physical harm.)
Chastine—who, in her 30s, didn't look much older than me—delivered two talks that day, one on how to perform first-trimester abortions and one about her career choices. As she spoke to around 40 of us medical students, she was deliberate with her words. She didn't spare us the details.
Chastine routinely received death threats, she said. Only a few months after she started working in Wichita, she permanently closed her primary-care practice in Chicago. Although she and her colleagues did not provide abortions in Illinois, anti-abortion protesters who had learned of her high-profile work in Kansas began swarming outside the Chicago office to protest.
Her job sounded hard, and it sounded scary.
Her lecture was inspiring, but it was also sobering. Several of the other medical students there and I exchanged uneasy glances, and a few whispered, "I'm not sure I could do what she does."
One of the reasons I went to medical school was to become an abortion provider—and, coming from a strongly pro-choice family, to use my medical training to increase abortion access in the U.S. I always assumed that my ability to do so was simply a matter of my willingness to perform the procedure. But in seeking out opportunities to learn about abortion—as a medical student, and now as a resident in family medicine—I have ended up in Philadelphia, where there are widespread abortion services, and where women don't face the same barriers to abortion as they do in Kansas. As I think about the kind of doctor I want to be, I have to reckon with whether or not I have what it takes to serve the women who need me most.
* * *
When I started medical school at the University of Pennsylvania, the culture war surrounding abortion still seemed abstract and far away. I grew up attending pro-choice rallies with my physician mom in Washington, D.C., and all my parents' doctor friends supported abortion rights.
My medical education seemed to confirm my false sense that everyone working in healthcare felt the way I did about abortion access: Abortion was discussed in class as openly as blood pressure and diabetes, and spending a day in family-planning clinic was an opt-out, not opt-in, part of our clinical education. Many of my professors who work in family medicine routinely perform abortions for their patients, so when I started to think more seriously about a career in primary care, I assumed that making abortion part of my practice would be an easy decision.
Then, during my third year of medical school, I attended that pro-choice conference where I met Chastine—and I also met students from schools very different than mine. One woman attending medical school in the Midwest told me she had lied to her friends about where she was that weekend. There was a man from the South who said his anti-abortion classmates celebrated when his obstetrician-gynecologist father—one of his town's only abortion providers—unexpectedly passed away. A student from another East Coast medical school just a few hours away from mine described how one of his classmates had been written up for "professionalism concerns" for referring a patient to Planned Parenthood.
Meeting these medical students made my own experience suddenly come into focus: They had to fight to learn about abortion, while my own educational opportunities in reproductive health had simply fallen into my lap. The stigma attached to abortion providers doesn't just come from clinic protestors or grotesque billboards. It can come from within our own profession, too. It can be overt—like the heartbreaking story of that student's father's early death—but it can also be more subtle, like a medical curriculum that doesn't cover abortion care.
The American College of Obstetricians and Gynecologists recommends that all medical schools offer opt-out abortion training, but the reality still lags behind the official guidelines. In a 2005 survey of U.S. medical schools in the American Journal of Obstetrics and Gynecology, only 32 percent of respondents said they offer a formal lecture specifically about abortion as part of their OB-GYN rotation, and 23 percent reported "no formal education" about abortion at all. (Some schools that don't have classes about abortion specifically may address the subject in classes on ethics or contraception.) In the same survey, 55 percent of medical schools reported that they offered students no clinical exposure to abortion.
The University of Arizona College of Medicine, for example, banned abortions at its facilities in the 1970s (except those performed to save the life of the mother) as part of an agreement with the state legislature that authorized $5.5 million to renovate the university's football stadium. The state Supreme Court upheld the decision in 1976, and elective abortions in public university-affiliated hospitals are still illegal in Arizona. (Several other states, including Kansas, Kentucky, Louisiana, Mississippi, Missouri, North Dakota, Oklahoma, Pennsylvania, and Texas, also have laws in place that restrict or ban abortions in publicly funded institutions, including state universities.) How can future physicians decide they want to provide abortions if they've never seen one?
"I never would have seen an abortion had I not sought it out," said Emily Garrett, a recent graduate of the University of Minnesota Medical School who will start her residency in obstetrics and gynecology this summer. She plans to be an abortion provider in the future, but says she was able to come to that decision only through her involvement in an extracurricular student group that arranged shadowing opportunities at a Planned Parenthood. "None of the physicians that I worked with [during the required obstetrics and gynecology clinical rotation] performed abortions in their practice," she said.
Lack of exposure during medical school and residency translates to practicing physicians who do not perform abortions, yet many states still have inadequate services—like South Carolina, where, according to research published last year by the Guttmacher Institute, there were only nine places where a woman could get an abortion in 2011 (the most recent year for which data was available). Or Kansas, where Chastine worked at one of three facilities that offer abortion in that state, according to the same Guttmacher study.
Meanwhile, the medical students who become abortion providers tend to settle in places where state laws and local attitudes are friendlier to their practice. The National Abortion Federation, a membership organization for abortion providers, estimates that the number of doctors in the U.S. who perform the procedure has decreased by 37 percent since 1982, with most providers clustering in larger, more liberal cities. That leaves women in rural areas and women in strongly anti-abortion cities, like Wichita, behind—and few new doctors willing to move to address the gap.
While George Tiller's generation of family doctors started performing abortions after they recognized a need in their communities, Chastine explained, many younger doctors already know from the time they start medical school that they want to become abortion providers.
"People who go into abortion care because they are ideologically committed to it are understandably reluctant to pick up and go live in … an area of the country that is largely defined by its active hostility to abortion," Chastine said. "There is an increasing mismatch between the location of willing and trained providers and the places where providers are needed."
She couldn't have described my own dilemma more perfectly. In Pennsylvania—the state where I have lived for nine years and where I will complete my training in family medicine—there were 47 locations where women could access an abortion, as of 2011. When I interviewed last fall for a spot in a family-medicine residency program, I was open about wanting training in abortion. (Even though first-trimester abortions are considered within the scope of a family doctor's practice, only a handful of residencies in the field offer the training.) I will start my work as a doctor-in-training this June in a program with a strong reproductive-health curriculum. It is no coincidence that it is in Philadelphia, a city that, compared with many others in the country, may not need another abortion provider.
There are a lot of reasons for me to stay here. I like learning and working at an institution that treats abortion as a normal part of a woman's reproductive healthcare, where I can openly discuss it with my patients and colleagues, where I have the resources I need to help them make deeply personal decisions about whether or not to be pregnant. I like being part of Philadelphia's pro-choice community. I like feeling safe when I walk into work.
Wherever I end up practicing primary care after my training, I plan to offer abortions. I may not work in a part of the country where women are most desperate for these services, and my practice may be in a city where there are many other providers my patients can turn to. I am impressed by stories like Chastine's and those of other traveling abortion providers, but as I learn more about the personal and professional sacrifices they make, I am not sure I can do the same, relocating to a place where I would be both more needed and less welcomed. I, unlike many other doctors in training, did not have to fight for my pro-choice medical education—and, maybe partly as a result, I still don't know if I'm prepared to fight to use it.
---
This article has been updated to reflect the author's relationship with Medical Students for Choice.