Eating a Small Amount of Chocolate May Potentially Be Associated With Minor Health Benefits
Another study in the news: Just eat some of the things.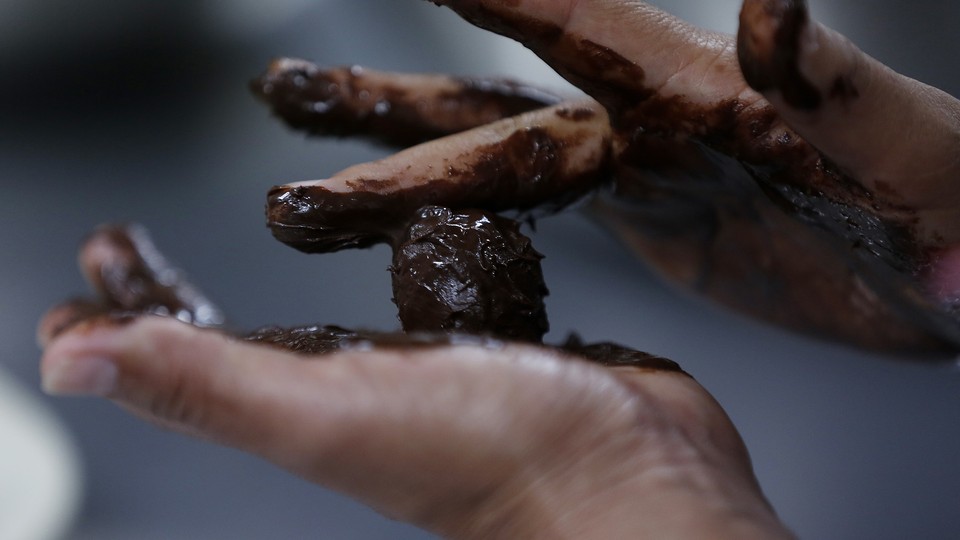 There are things that public-radio listeners like, and things they do not. They do not like when Kim Kardashian shows up on NPR's weekly quiz show Wait Wait ... Don't Tell Me! as an earnest participant rather than an object of mockery. Which she did on Sunday. Deeming her insufficiently highbrow and undeserving of celebrity status, incensed listeners threatened to cancel their memberships. ("I fear I will never be able to listen again.")
Those listeners do like being told that eating chocolate is healthy, as they were this morning:
Sweet news, or … deadly news? What would you do for 4,494 likes? I know, me too. The actual bottom-line conclusion of the study in question, though: "There does not appear to be any evidence to say that chocolate should be avoided in those who are concerned about cardiovascular risk." Unless it increases the overall number of calories that a person takes in. This research is far from telling people that they should be eating chocolate.
There is no shortage of academic research (or ensuing news coverage) about whether the things people enjoy in excess—
chocolate
,
red wine
—are actually beneficial in small amounts. Even when research methods are as good as they can be, the practical takeaways are almost inevitably oversimplified. The current study appears in the journal
Heart
, and is a meta-analysis of data from 20,951 people. It does well in establishing an interesting correlation between chocolate intake and cardiovascular health. But it relies on surveys, in older adults only, and tries to overcome far more confounding variables than could ever be possible to overcome: What else is going on in the lives of these people? What else are they eating, drinking, doing, feeling, enduring, wearing, etc.? Can we say that chocolate is making people healthy? No.
The BBC reported on the study earlier this week ("New scientific research suggests that chocolate could be good for the heart"), and many other news outlets followed. I asked one of the researchers, Phyo Myint, professor and chair in old age medicine at University of Aberdeen, how he felt about the coverage of his study.
"The news media headlines are obviously the first thing people read, and they want something simplistic," Myint said. "The headlines are eye-catching, but that is how the media functions. It has generated a healthy, lighthearted discussion that can generate people's interest in science and research."
That's the same defense used by Dr. Oz in the face of accusations of conveying inaccurate messages: Even if the facts aren't exactly right, at least they get people thinking about health. Isn't that better than nothing? (No.) In this morning's NPR segment, the reporter Allison Aubrey does break down the research with a critical eye—maybe it's the polyphenols?—if one reads past the headline, or clicks through from the Facebook post at all before liking and sharing. But who has the time?
"The key message is not to feel guilty about eating a little chocolate," said Myint. "It doesn't seem to harm [people] too much, if you're a generally healthy person. Whether it actually benefits health, we don't know."
Guilt can occasionally be an effective motivator, so maybe don't discard it altogether if you don't want. Guilt-watching the Kardashians could even be beneficial overall. As for me, I think I'll go get some chocolate. Actually no, when I was very young, my parents told me that I didn't like chocolate, and now I actually don't really like it. Maybe I will die soon.