The Agony of Medical Bills
Even for people with generous insurance plans, a trip to an in-network doctor can result in thousands of dollars in unexpected charges. Can anything be done?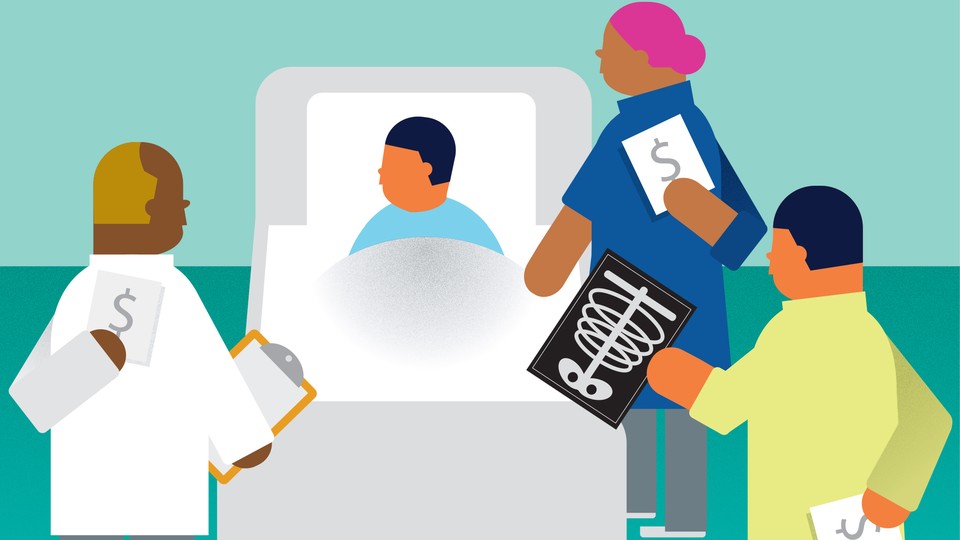 It shouldn't take a Harvard expert in health policy to understand a doctor's bill. But sometimes, it does. In August of last year, Liz was a medical student whose doctor found a lump on her tonsils. Her primary-care physician referred her to an in-network ear-nose-and-throat specialist.
Liz, who asked to go by her first name, expected the usual $20 copay. Instead, she was charged $219.90—wrongly, in her view—for separate physician and facility fees. Under the terms of her plan, Liz says, she should not have been responsible for those charges. After a polite letter to her ("Thank you for your recent grievance..."), Anthem Blue Cross upheld the charges.
A few months later, Liz convinced Anthem to wipe much of the bill. But here's the thing: By that time, she was studying health policy as a master's student at Harvard. "It took me hours of going over the insurance policy and hours of arguing with the insurance company over that insurance pamphlet," she said. (Later, Liz realized she had been doubly insured that month—her Harvard insurance had already kicked in—and she got the other plan to take care of the remainder of the balance.)
"I'm in a privileged position, but the tides were very much against me," she said. "Other people aren't as privileged and don't have as much time."
Liz is, like the roughly half of Americans who have decent insurance through their jobs (or grad schools, in her case), comparatively fortunate. But her experience reveals the persistent frustration, for people with all types of insurance, of trying to avoid surprise medical bills. Even generous insurance plans don't always shield patients from puzzling bills. A simple trip to an in-network facility—with a referral!—can combine all the mental anguish of tax season with all the physical anguish of, well, physical anguish.
In a nationwide survey of more than 2,000 people conducted by the Consumer Reports National Research Center in March, nearly one-third of privately insured people said they had received a surprise medical bill in which their insurer had paid less than they expected.
"When people have an episode like this, they think—and hope—it's a one-off kind of thing," says Renee Hsia, a professor of health policy and emergency medicine at the University of California, San Francisco. "But unfortunately, this is not the exception, it's the rule. It's what most people do experience. They might try to do their due diligence, but even then it doesn't remove the possibility of something like this happening."
There are as many reasons for surprise medical bills as there are ways to wind up in a doctor's office in the first place. Some people are befuddled by complicated health-insurance terminology. In a Kaiser Family Foundation survey last year, only 4 percent of respondents answered all 10 questions of a quiz about health-insurance concepts correctly. (And less than three-quarters knew what a deductible was.)
---
Public's Knowledge of Health-Insurance Terms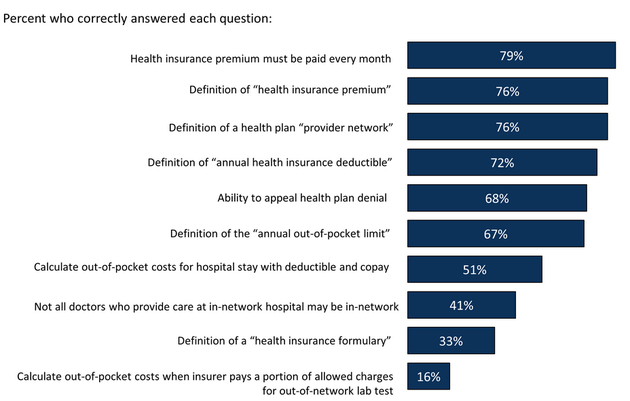 ---
Still, in many cases people understand how insurance works, but they can't get an accurate price quote for a procedure in advance. Or they check online to see if a certain treatment or doctor is covered, but it turns out the insurance website was outdated.
A major reason for medical sticker-shock is that many facilities bill patients separately for each service they provide. "Imagine going out to eat and receiving separate bills from the restaurant, host, waiter, cook, and busboy, some of whom were willing to negotiate discounts or accept coupons, while others were not," wrote Stacey Pogue, from the Texas think-tank Center for Public Policy Priorities, in a September report on surprise medical billing.
It's not always possible for patients to guarantee that every doctor they see during a hospital stay will be in-network. While a colonoscopy patient might be able to call ahead and ensure the gastroenterologist is in-network, someone who arrives in the throes of an emergency is highly unlikely to be flipping through an insurance directory from the gurney.
"At the end of the day," said Kevin Lucia, a professor in Georgetown University's Health Policy Institute, "if you are having a heart attack, it's hard to be like, 'Hey, are you in my network?'"
* * *
One source of unexpected charges are stand-alone emergency rooms, which are non-hospital facilities whose numbers have roughly doubled in the past decade. As they've bloomed across the country—like "Texas wildflowers in the springtime" as one health economist put it—so has patients' bewilderment at their fees.
I recently spoke with Rod, who lives in Spring, Texas, a state where the number of freestanding ERs has exploded from 25 in 2011 to 145 today. One day in October, Rod's wife Debbie began complaining of chest pains. Over the course of several hours, Rod grew increasingly worried because Debbie has a family history of heart attacks.
"You never know at first where they're coming from or what it is," said Rod, who asked that I only use the couple's first names. "She wanted to see if they would pass. Then we talked about it again, and we figured it would be best to take her to an ER to get checked."
But first, Rod did what health-policy experts advise: He shopped around. He says he used an Aetna insurance app on his phone to try to compare the prices of emergency rooms nearby. A stand-alone ER called First Choice seemed like the best option.
Debbie, who has insurance through her job as a public-school teacher, presented her Aetna card to the intake workers at First Choice. The couple asked how much the total visit would cost.
Here's what happened next, according to Rod: First Choice assured them that there would be no facility fee, a type of charge that hospitals sometimes tack onto bills to cover the cost of building operations and equipment. Rod asked for an estimate of all the other charges the couple would accrue. He says the workers told him it would depend on the types of tests the doctor ordered, and that they couldn't know the total ahead of time.
"We quizzed those people for quite some time," Rod says. The workers demurred, but the couple decided to check in regardless.
Debbie was seen, and the doctor said there was nothing to worry about. They went home.
A few weeks later, the first of several bills rolled in. "The very first charge when I open the bill is a facility charge for $2,258," Rod said—the one First Choice said he wouldn't incur. There were some blood tests, a $300 electrocardiogram, and so forth. The total was $4,605.
Rod called First Choice's billing office. "No, we always charge a facility charge," he recalls them saying. (A First Choice spokesperson would not comment on the facility fee mix-up, but did point out that the company mentions the fee on its website.)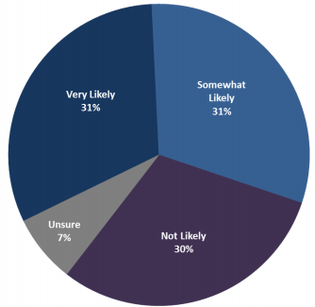 "Yeah, $500 is a big deal to me," Rod said, referring to the post-deductible sum, rounded-up, that he owed First Choice. But he's more upset that "the [intake workers] did not seem to know what they were doing when they were trying to find the information for us. I don't think they lied. I think they're a victim of working in a system that's so complex that even the people working in it don't understand it. The only way you find out is when you get your bill."
Ultimately, the couple got lucky: Aetna covered much of their bill, and months later, Rod struck a deal with a collections agency that reduced that amount further.
Yelp reviews for First Choice suggest that many other patients have been flummoxed by the facility charge. Aetna, Debbie's insurer, recently sued two freestanding ERs in the Houston area, saying their facility fees were unjustified because they were not actually attached to a hospital. A measure that recently passed the Texas legislature would require freestanding emergency rooms to explain their fees more clearly. But other states are just now starting to allow freestanding ERs, and they don't have the same transparency policies in place.
"It's not inconceivable [Rod] was given an incorrect answer," said Hsia when I asked her about Rod's facility fee. "Our system is so convoluted that most providers don't even know how patients are billed."
Even when a hospital is in-network for a given plan, one or more of the doctors whom a patient sees while there may not participate with that plan. Occasionally, this discrepancy results in balance billing, a situation in which a provider charges the patient for the portion of the bill the insurer didn't pay. These bills can amount to thousands of dollars, especially for long or complicated hospital stays.
Pogue, from the Center for Public Policy Priorities, and her colleague Megan Randall found that people enrolled with Texas's three largest insurers—UnitedHealthcare, Humana, and Blue Cross Blue Shield—had an average of 68 percent, 42 percent, and 41 percent, respectively, of their total ER-doctor bills at in-network hospitals billed as out-of-network. What's more, 8 percent of hospitals that contract with these three insurers had no in-network ER doctors. In other words, at some Texas hospitals, a balance bill was seemingly inevitable for people on certain insurance plans, even if the hospital was in-network.
Texas being the size that it is, some of these hospitals are the only emergency rooms for miles. According to the report, for example, Midland Memorial Hospital has no in-network doctors for any of the state's three largest insurers, and it serves a West Texas town of more than 120,000 people.
In Dallas recently, I met a man whose personal account exemplifies how balance billing typically works. (He requested anonymity because of a legal case he says he is building, so I'll call him Steve.) Three years ago, Steve had a stroke, and the paramedics who rushed to the house suggested they take him to Medical City Dallas Hospital, a top hospital for strokes in the area. At the hospital, he was given a clot-busting drug and spent the weekend in intensive care. He recovered and went home.
Steve had an Aetna PPO plan, but he says that in the weeks to come, he received bills totaling several thousand dollars above what his insurance covered because of various diagnostics and providers that were billed out-of-network. Six months later, Steve had another stroke. He said the same thing happened with a different hospital, Methodist Richardson Medical Center, which was in-network for Aetna.
In separate statements, both hospitals said that while they encourage their doctors to accept the same insurance plans as the overall facility, the doctors do bill separately for their care. It's conceivable, in other words, that these other providers did not accept Steve's plan.
Steve told me he couldn't find his bills, so I could not independently verify his account.
Which brings the total opacity of American health care full circle: Hospitals don't tell patients how much they charge. Patients don't know how much their insurers will pay until they get their bills. And the information in the bills isn't publicly available, so there's no way to know exactly how, why, or to whom frequently surprise billing is happening.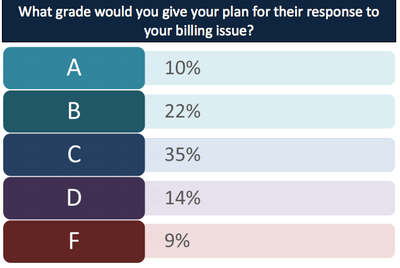 Several states, including Texas, have already moved to restrict or end balance billing. Colorado has had limitations on the practice in place since 2006—though it still apparently happens on occasion. New York last year passed a law requiring providers to notify patients about their insurance-network status before treatment. If this notification doesn't happen, the patient is only required to pay his regular co-pays. California restricts balance billing from HMOs and PPOs that are licensed by the California Department of Managed Health Care.
Texas is in the middle of the pack when it comes to state efforts to prevent balance billing: There, patients who receive a balance bill from certain types of out-of-network providers can go into mediation, a process in which the patient, doctor, and insurer talk over the bill with a certified mediator until they reach a compromise.
Data analyzed by Pogue show that the number of requests for mediation in the state more than quadrupled between 2013 and 2014. The greatest number of requests came from Austin, which might be because the city has a large number of state-government employees, and the state government is by far the largest employer subject to mediation in Texas.
The cause might have been a simple changing of the insurance-company guards—an event that barely raises an eyebrow at most workplaces. In 2012, United Healthcare took over a contract for the state employees' health plan. Last year, Texas lawmakers complained that United's network was leading to more balance billing for state employees. (Indeed, United enrollees had the most mediation requests in 2014, with 1,373 out of 1,569 that year.)
Tom Quirk, United's chief operating officer for Texas and Oklahoma, has defended the insurer, saying, "Claims administrators don't balance-bill. Physicians or care providers balance-bill."
The next-largest mediation hotspot on Pogue's list was an East Texas town called Lufkin. Two of the hospitals there—Memorial Medical Center and Woodland Heights Medical Center—showed up on Pogue's chart of hospitals that are in-network with Texas' three largest insurers but have no ER physicians who are in-network with any of those insurers. And Lufkin residents might have trouble reaching a different hospital: The town is sandwiched between the Davy Crockett National Forest, Lake Sam Rayburn, and another small city called Nacogdoches.
Pogue reported that nearly all requests for mediation have resulted in an agreement. However, she noted, there have been "relatively few" of these types of requests because people don't know the process exists.
In the national Consumer Reports survey, nearly three-quarters of respondents said they weren't sure if they had the right to appeal a medical bill, and 87 percent did not know which agency handled insurance complaints. Only about a quarter of people with a medical-billing problem were happy with how it was resolved.
"The consumer has no leverage in this game," said Dianne Longley, the former director of health-insurance initiatives at the Texas Department of Insurance who is now with the Health Management Associates consulting firm in Austin. "The guys with the leverage are the hospital, the physicians, and the carriers, the health plan. If you can get them together to resolve the issue, sometimes it works."
Until recently, patients in Texas could only enter mediation if their bills were $1,000 or more. A bill in the Texas legislature would have lowered the threshold for mediation to $0, so patients could negotiate no matter how big their bills were. But that proposal faced opposition from Texas doctors' groups, so it was amended to $500, and that version passed last week.
Dawn Buckingham, a Texas ophthalmologist who chairs the Texas Medical Association's Council on Legislation, told me she thought lowering the bar for mediation to $0 might result in a deluge of mediation requests—people wanting to haggle over a dollar or two—and short-staffed doctors' offices would be swamped.
She added that doctors don't have as much say in their insurance status as patients might think. "There are a few bad apples in the doctor basket, but the physicians that I know, we don't want our patients to be struggling with big bills," she said.
Besides, she argued, doctors are far from the only villains when it comes to inscrutable bills. "Insurers should pay [doctors] a fair rate, consumers shouldn't get really big bills, and physicians shouldn't charge too much," she said. "Somewhere within that triangle we ought to find a happy place."
* * *
After speaking to patients who had tried, and failed, to keep all of their expenses in-network and predictable, I called various hospitals and physician groups myself to see what I would do if I were facing an emergency in their neighborhood. I found them to be about as forthcoming with their insurance contracting status as the Chinese politburo is with state secrets.
When I asked the receptionist at First Choice whether Aetna, Debbie's insurance, was considered in-network, she said, "We are not contracted by them, but we do file the paperwork in-network ... We file the paperwork in-network, but it might be considered out-of-network because we're not contracted by them."
The receptionist at Graham Medical Center, which is situated in the plains about a 90-minute drive from Fort Worth, told me the hospital would file with any insurance a patient had, but that she did not know its contracting status with every insurer.
Next, I tried calling CHI St. Luke's Health Memorial (the new name for Memorial Medical Center) in Lufkin, the town that was one of the top cities for balance-billing mediation requests in Pogue's analysis. It took me three transfers to get the phone number for its independent ER doctors' group, Emcare.
When I finally reached Emcare, I asked the operator which insurers its physicians contract with at CHI St. Luke's in Lufkin. The operator said she didn't understand my question. Then she told me to call a separate billing office. That office told me Emcare only accepts Medicare, Medicaid, and a handful of niche plans, such as the United Mine Worker's plan. When I asked about all the other insurance plans, I was told, "There are various other insurances that they accept, but they are not in-network with those." In other words, all the other insurances would seem to be not accepted, in the way that most people understand the word "accept."
In a statement, Shawn Barnett, the market president of CHI St. Luke's Health Memorial, said, "Our contract with Emcare requires them to negotiate in good faith with all payers in our market. However, CHI St. Luke's Health Memorial does not get involved in those negotiations if contractual arrangements are not completed, unless we feel Emcare has not negotiated in good faith. The contract does allow for Emcare to be out-of-network, which could result in higher out-of-pocket expenses for the patient."
* * *
If there is one central cause of the various agonies presented here, it's that healthcare is one of the few things Americans buy before they learn the price. As Steven Brill wrote in Time, hospitals all charge different prices for the same procedures: "Most hospitals' chargemaster prices are wildly inconsistent and seem to have no rationale." Patients' out-of-pocket expenses are similarly random: In a recent report, the Health Care Cost Institute found that within Wisconsin, to name just one example, out-of-pocket payments for cataract-removal surgery ranged by $989.
Texas has made progress with its recent legislation, but there are people like Rod and Steve across the country. In other states, the surprise-billing picture seems to be getting worse. In Missouri, UnitedHealthcare announced in March that it would stop paying the entire bill for out-of-network ER doctors and specialists that work at in-network hospitals—meaning patients could get stuck with the remainder of the bills. The Florida legislature failed to pass several balance-billing protection measures this session.
Short of a total overhaul that would mold American healthcare into "a rational system," Hsia recommends some incremental fixes, such as episode-based care (in which doctors are paid for keeping individual patients well), more public financing, or possibly even price caps on medical procedures set by employers or insurers.
Hospitals often contend that most customers don't pay the "sticker price" of various procedures, since insurance picks up part of the tab, and sometimes part of the bill is written off or haggled down. But not everyone is savvy enough to know when a bill is valid and must be paid—and when it's up for negotiation.
"Ninety-nine percent of consumers would be overwhelmed by the process of really challenging the hospital. An effective solution has to have a process in place for ensuring that these bills are reasonable," Longley, the former director of health-insurance initiatives at the Texas Department of Insurance, said. "And that's the problem, because states don't regulate those charges."
For the most part, she added, "It's up to the hospital or physician to charge whatever they want."
And that leaves it to patients to challenge the bills they believe are unfair. Consumers Union recently released a tool to help with reporting surprise charges. Not everyone can be an Ivy League health wonk, but to get out of steep medical bills, more people are finding they have to fight like one.