Why Order a Salad at IHOP?
A new report highlights 100 restaurant salads that are supposedly worse than a Big Mac. But why do people order grease-laden items when they want health food?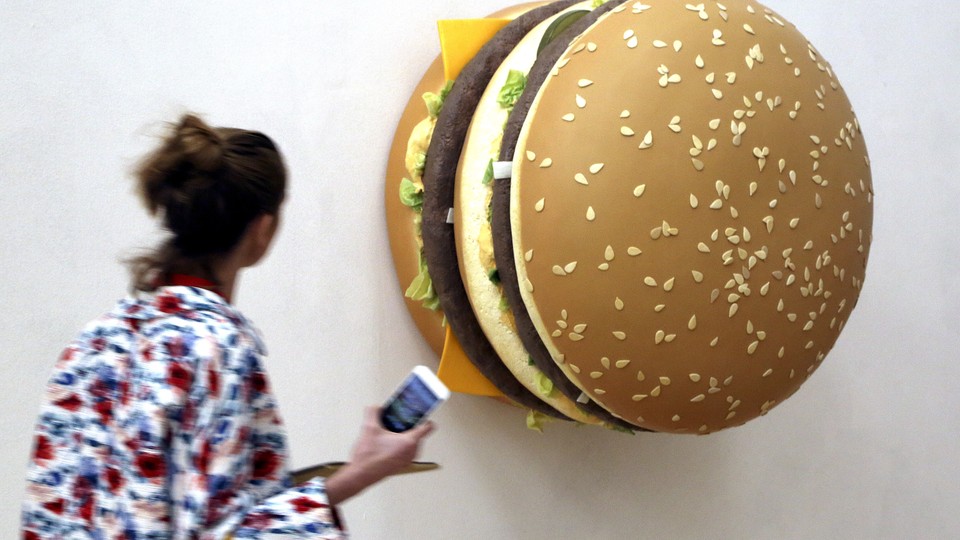 Let's be honest for a second: Salad is usually not the most delicious thing on a menu. Salad—not the highfalutin, ramps-and-pine-nuts kind, but the patriotic, iceberg-lettuce-and-a-petrified-tomato-wedge kind—is the food you order when you're at a place where you're expected to be eating food (chain restaurants, broadly), but it's a time of year when you should not really be eating the food they serve there (the seemingly 10-month annual timespan known as "swimsuit season"). Salad is a necessity, a type of proto-Soylent. In its purest form, it says, "I'm taking care of a basic bodily need, but it's just crunchy water!" Salad, at its best, feels like a strategically good choice without being truly satisfying to the soul, like dating someone who's not that smart, but has a beach-adjacent timeshare.
Salad has its faults, and it knows it. It's healthy, but it will never win the popularity contest against your Chipotle burritos, or even your Quizno's subs. So the one thing salad should really never be is less healthy than a Big Mac. A Big Mac! It's the sandwich that's shorthand for everything that's wrong with the American diet.
And yet, a new report from the Physicians Committee for Responsible Medicine points out 100 restaurant salads that are "worse" than a Big Mac. The group defines "worse" in terms of saturated fat, cholesterol, sodium, and calories, of which a Big Mac has 550, according to PCRM. (McDonald's says the famous burger has only 530.) According to PCRM, a Big Mac also contains 29 grams of fat, 75 mg of cholesterol, and 970 mg of sodium.
Here are the worst five salads, according to those metrics:
Applebee's Grilled Shrimp 'N Spinach Salad, Regular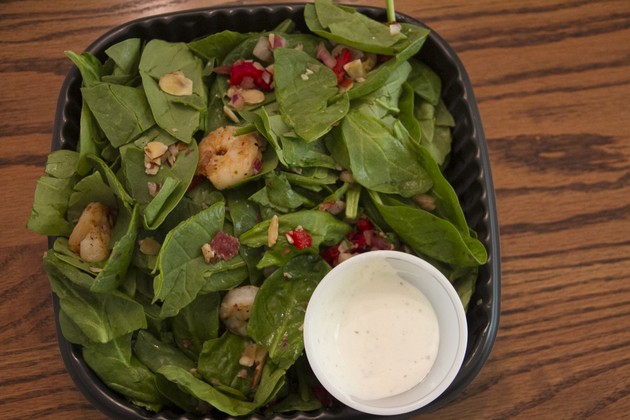 From Applebee's: "Tender spinach, crisp bacon, roasted red peppers, red onions, toasted almonds, and hot bacon vinaigrette topped with grilled shrimp." From PCRM: 1,000 calories, 10 g saturated fat, 195 mg cholesterol, and 2,990 mg sodium. This salad has the highest sodium.
California Pizza Kitchen's Moroccan-Spiced Chicken Salad, Full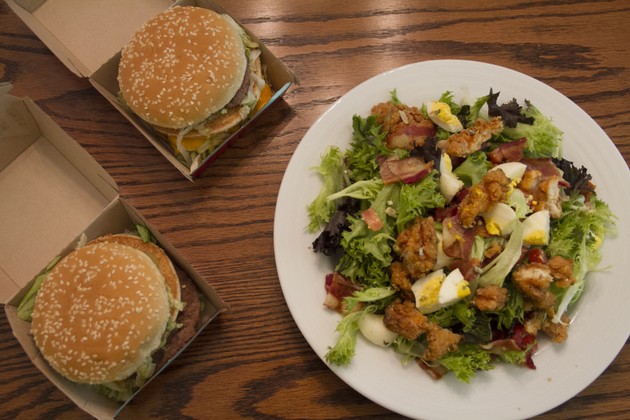 From CPK: "One of a kind, with roasted butternut squash, dates, avocado, toasted almonds, beets, red peppers, chopped egg, and cranberries. Tossed with housemade Champagne vinaigrette." From PCRM: 1,500 calories, 10 g saturated fat, 295 mg cholesterol, and 1,380 mg sodium. This salad has the most calories.
Chili's Quesadilla Explosion Salad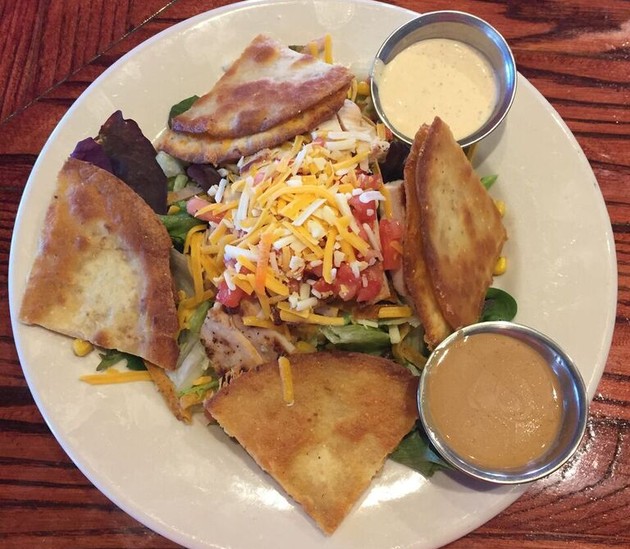 From Chili's: "Grilled chicken breast with shredded cheese, diced tomatoes, house-made corn and black-bean salsa, crispy tortilla strips, a drizzle of ancho-chile ranch sauce and citrus-balsamic dressing. Served with freshly toasted three-cheese quesadillas." From PCRM: 1,430 calories, 28 g saturated fat, 175 mg cholesterol, and 2,620 mg sodium. "Worse than two Big Macs in all categories."
IHOP's Crispy Chicken Cobb Salad With Avocado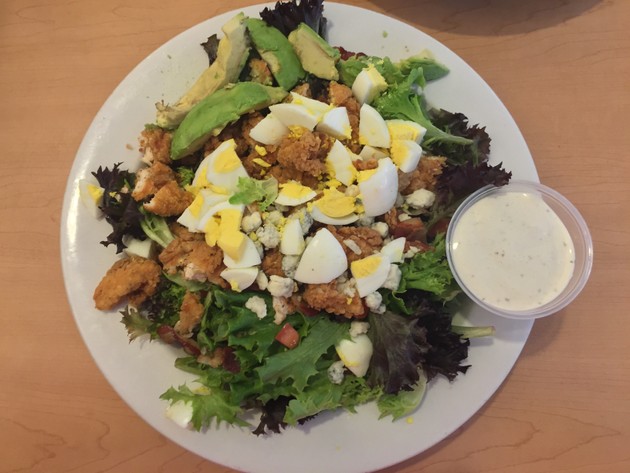 From IHOP: "The most satisfying salad. With crispy chicken, smoky bacon, hard-boiled egg, juicy tomatoes, and tangy blue cheese crumbles all tossed in a tasty ranch dressing, this salad has it all. Also available with grilled chicken." From PCRM: 1,350 calories, 29 g saturated fat, 590 mg cholesterol, and 2,980 mg sodium. This salad has the highest fat and saturated fat.
IHOP's Crispy Chicken Cobb Salad With Grilled Chicken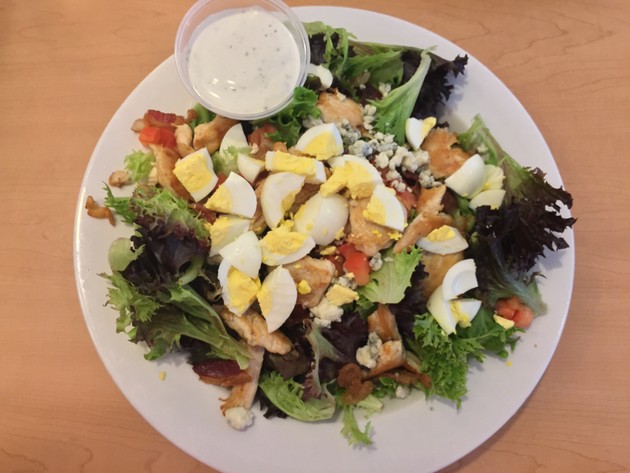 From PCRM: 1,130 calories, 27 g saturated fat, 635 mg cholesterol, and 2,880 mg sodium. This salad has the most cholesterol.
Here's a link to the other 95.
* * *
There's plenty to be skeptical about here: PCRM promotes a vegetarian diet and opposes the use of animals in scientific research, and it's received plenty of criticism from the American Medical Association as a result. Also, many of these salads bring fibrous, nutritious ingredients like spinach and beets along for the sodium-and-fat ride, so "worse than" is in the eye of the beholder, to a certain extent.
Still, the group has a point: Some mass-produced salads are basically nachos in disguise. Once something comes with "freshly toasted three-cheese quesadillas," it's not a salad, it's a Super-Bowl party appetizer.
What explains consumers' continued willingness to order calorie-bomb salads? In at least one study, researchers found that customers perceived a food item that was presented in a "healthier" food category, like salad, to be more wholesome than a similar item that had identical ingredients but was listed under a less-healthy category, like pasta. (This might scientifically be known as the "But it's the light Ben & Jerry's" principle.)
And paradoxically, just by listing salads on the menu, restaurants can prompt customers to order even less healthy (and more expensive) fare. Thanks to a mind trick called "vicarious goal fulfillment," a person can feel that his goal of healthy eating is met by simply seeing a salad on the menu and considering ordering it—before ultimately going with the house sirloin. You don't have to know how unhealthy the Quesadilla Explosion Salad is. You don't even have to point to it on the shiny trifold menu and glance bashfully at the waiter. You think you're eating healthier just because the word "salad" is there.
If you'd like a salad that doesn't have the calorie count of a body-builder's last meal, PCRM recommends avoiding creamy dressings, skipping the cheese, and topping the dish with beans instead of bacon. ("Chickpeas are a tasty addition to almost any salad," the group notes dubiously.)
Or you could admit that you want something salty, greasy, and cheese-slathered, and eat the Big Mac already.