Into the Body of Another
In an effort to protect children in the midst of addiction epidemics, some states are jailing women for using drugs during pregnancy. But is incarceration the best approach?
In a four-bedroom, white house by the airport in Tulsa, Oklahoma, 2-year-old Jacob squirmed around in Mickey Mouse pajamas, his explosion of poofy black hair pulled into a topknot. He smiled shyly, pushed a red toy car back and forth, and shoved his fingers into his mouth. He appeared to be a typical toddler. Meanwhile, his mother, Amber Briana Smith, was 40 miles away in Taft, Oklahoma, sharing a prison dorm with dozens of other women after having pled guilty to neglecting Jacob by using meth while she was pregnant with him. Three of her other six children were also born with drugs in their systems. She's seen Jacob just a handful of times in the past year, she says, and some of her other offspring even less frequently. (I changed the names of all the children in this story to protect their privacy.)
Smith, who is African American and Native American, is 33, petite, and pretty. She considers herself curious and impulsive—the kind of person who will do something all the way or not at all (a quality which, perhaps, helps explain both the quantity of her children and the depth of her drug habit). When she was 10, both of the adults in her own life were sentenced to prison—her mother's husband for abusing her and her mother for failing to protect her from him. Smith was sent to live with her aunt, Jammie Smith, for a five-year period she describes as "wonderful" and full of "life lessons." Still, medical records show that she cut herself as a teenager.
After dropping out of high school, she successfully completed a phlebotomy course at Career Point College, a local vocational school. However, she and her family say Smith was never able to actually obtain her license because she owed $1,000 in student loans for the course. For money, Smith bounced between stints at Waffle House, McDonald's, and Arby's. Occasionally, she stripped.
Smith, who has been diagnosed with post-traumatic stress disorder and says she also has bipolar disorder, began using drugs around 2007—first crack and, later, meth. She already had three children by then, and between 2008 and 2011, she gave birth to three more. Hospital workers tested them for drugs as soon as they were born, and all three samples came back positive for cocaine. Social workers suggested that Smith take parenting classes. She says the social-services agency ran out of bus passes, and she couldn't find other transportation. Her mother says she would have given Smith a bus pass if she had asked. In 2010, she says, the Department of Human Services began to remove her children from her care. (DHS workers would not comment on her case, citing privacy laws.)
One weekend in 2011, Smith tried to kill herself by choking herself with a sheet, cutting her wrist with a dull knife, and locking herself in a hot car. In 2012, she was caught stealing clothes from a Walmart, a misdemeanor for which she was given a deferred sentence, meaning if she stayed out of trouble for one year, her guilty plea would be expunged.
It was Jacob, Smith's seventh child, who would be the final straw for Tulsa authorities. The day before her deferred sentence was up in February of 2013, Smith delivered Jacob at Tulsa's Saint Francis Hospital. Both mom and baby tested positive for meth, and the next day, a DHS investigator interviewed Smith. She confessed to using drugs while she was pregnant, and Jacob was whisked into state custody.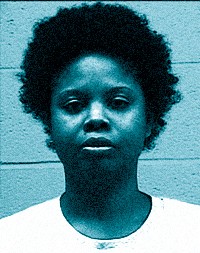 A DHS worker then called Danielle Bishop, a detective with the Tulsa police department, and, as Bishop recalls, said "it was on her conscience that this woman had drug babies." Bishop, whom the county district attorney describes as "very passionate about the protection of children," researched Smith's history and requested a warrant for her arrest. A criminal investigation was justified, she says, because of just how many children Smith had exposed to drugs in the womb.
Last April, Smith was sentenced to six years in prison and five on probation for felony child neglect. Her court records say that she "neglected the victim by using methamphetamines" during her pregnancy. She has been at the Eddie Warrior Correctional Center since last May. Four of her children are now living with Jammie Smith—the same aunt who took in Smith during her own turbulent youth.
People do not have much sympathy for Smith. After her arrest warrant was issued, the Oklahoma Bureau of Narcotics posted a note on Facebook saying the agency was looking for her.
"I cannot believe that women cannot stay clean long enough to not damage their babies," one commenter responded. "It's just so so sad that someone can be that selfish." Another said simply that Smith was a "sorry excuse for a parent."
Smith is one of a growing number of American women who face criminal charges for allegedly harming their own fetuses through drug use and other behaviors. In a 2013 study published in the Journal of Health Politics, Policy, and Law, Lynn M. Paltrow of the National Advocates for Pregnant Women and Jeanne Flavin of Fordham University found that nationally, between 1973 and 2005, there have been at least 413 arrests or other state actions against women for their conduct while pregnant. Eighty-four percent of the women were using drugs. In a November op-ed in The New York Times, Paltrow and Flavin wrote that they had identified an additional 380 cases involving pregnant women since 2005, representing an upswing in prosecutions per year. Cases like these may become more common as painkiller and heroin addiction increasingly affect infants: A recent study in The New England Journal of Medicine found that between 2004 and 2013, the rate of intensive-care admissions for infants withdrawing from drugs rose nearly four-fold.
Legal actions against pregnant addicts are unusual, as far as drug busts go, because it was the women's use—not possession—of the substance that led to jail. Typically, simply getting high doesn't lead to incarceration.
"If you were to look at the number of people who go to prison for doing something related to drugs, upward of 99 percent would be there for either sale or possession," says James Forman Jr., a law professor at Yale University. "This use idea is very rare."
Everyone wants to stop pregnant women from using drugs, but women's-rights advocates, law-enforcement officials, and doctors are at odds over how best to accomplish that.
Hospital workers and cops are disturbed by what they believe to be withdrawal symptoms, such as sleeplessness, crying, and agitation, that some drug-exposed newborns exhibit. "These babies are born into the world addicted to methamphetamine," says Elena Cannon, an investigator with the prosecuting attorney's office in Mena, Arkansas. "It's not a very good way to come into the world."
A growing body of evidence, though, suggests that in-utero exposure to illegal drugs does not hobble children for life in the way that some state officials fear. Many advocates, doctors, and other experts say jailing new mothers for using drugs during pregnancy is counterproductive—and might exacerbate the harms suffered by both the women and their children. Other nations pursue a far less punitive approach to pregnant addicts, with seemingly better results.
The legal justification for such detentions varies by state. Only one state—Tennessee—explicitly criminalizes drug use during pregnancy. In Alabama and South Carolina, meanwhile, the state supreme courts have upheld convictions in which a pregnant woman's drug use was considered criminal child abuse.
But elsewhere, states have found other legal avenues that allow for the jailing of drug-using new moms. About 20 states have specific reporting procedures for state employees who discover that a newborn shows evidence of having been exposed to alcohol or controlled substances, and 18 states, including Oklahoma, consider this type of exposure to be child abuse under civil statutes.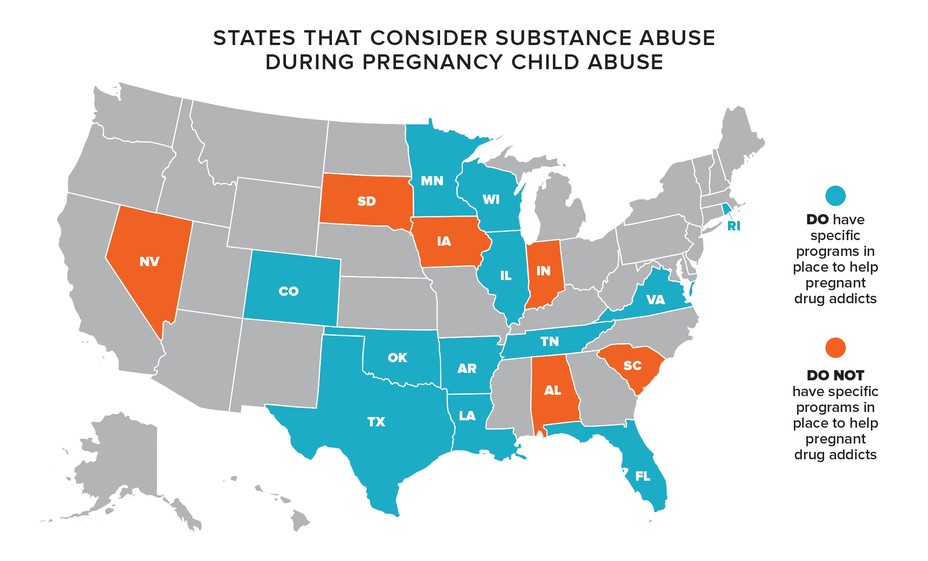 Some lawyers argue that, in cases such as Smith's, prosecutors are using their own discretion to retroactively apply criminal child-endangerment protections meant for live children to fetuses. "The prosecutors in these jurisdictions are taking criminal statutes that are pretty broadly defined, and using them in a way that is not explicitly forbidden by the law, but that maybe other prosecutors wouldn't initiate," says Linda C. Fentiman, a law professor at the Pace University School of Law.
In Oklahoma, for example, the state's children's code does not explicitly consider fetuses to be children, yet police documents describe Jacob as being in Smith's "care and custody" while he was still in utero. The language of the Oklahoma definition of a "drug-endangered child" includes only children who have already been born, but makes it clear they may have suffered those abuses while still in the womb: "Newborns who test positive for a controlled dangerous substance" fall under this statute.
However, according to Stephen Kunzweiler, the Tulsa county district attorney, Oklahoma law does not make a distinction between a born and unborn child when it comes to egregious crimes.
"If someone decides to punch a pregnant woman and as a result the baby dies, and I can establish that the baby was a viable baby, I can charge that person with murder in the first degree," he says, citing an Oklahoma statute. "That's the measuring stick: Are you doing harm to a child? I don't know that I necessarily need something specific that says it has to be an unborn child."
In Arkansas, Andy Riner, the prosecuting attorney in Mena, says the social workers, police, prosecutors, and medical personnel in his area met and agreed to prioritize cases of newborns who had been exposed to drugs and to tell law enforcement about them. "We kept hearing about this child that was born addicted to drugs and had to spend a significant amount of time at Arkansas Children's Hospital," Riner told me, "and we were like, 'Why is this happening and we're not being notified about this?'"
Riner added that he doesn't know what specific medical harms the children of the addicted women will endure. "There's not any scientific data on what the long-term health effects are on these children," he says, "There's not any hard data. We'd like to see what it's doing to a generation of children."
Women in Paltrow and Flavin's study were charged with crimes or otherwise deprived of liberty even though, in nearly two-thirds of the cases, there was no reported medical harm to their children. The health of Smith's children—at least those I met—also seems to be on track. A four-month checkup for Jacob reads, "No concerns with growth or development." Her 6-year-old daughter, who tested positive for cocaine at birth, scored between a four and seven (on a nine-point scale) on most measures of a teaching assessment conducted in the fall.
Jammie Smith describes Smith's brood as "normal kids." "We run around a lot," she says. "They go to Girl Scout meetings. They go to counseling. When they come home from school if it's not too cold, they go outside for an hour, read books, go places a lot. Anywhere I go, they go."
Some states have cracked down on drug use during pregnancy without addressing more common behaviors, like drinking, that might be riskier but aren't criminalized. Though any kind of drug use among pregnant women is concerning, the substances that are especially damaging to fetal development are perfectly legal. Tobacco is the drug most commonly used during pregnancy, for example, and it's been directly linked with miscarriage, placental abruption, placental insufficiency, and low birth weight.
Alcohol use during pregnancy, meanwhile, is considered by some doctors to be a leading cause of preventable birth defects and developmental disorders in the U.S. "The very worst thing that a mom could do during pregnancy is drink alcohol," says Karen Farst, a pediatrician at Arkansas Children's Hospital.
Yet many cases of fetal alcohol-spectrum disorders go undiagnosed because the condition can be difficult to detect at birth. Bishop, the detective in Tulsa, says she doesn't think she's ever filed any charges for fetal alcohol syndrome.
Barry Lester, the director of Brown University's Center for the Study of Children at Risk, says the worst type of withdrawal occurs among newborns exposed to opiates, such as heroin, methadone, and prescription painkillers. A large study in 2011 found that women who use therapeutic doses of prescription painkillers just before pregnancy or during the first trimester were 40 percent more likely to have a baby with a serious heart defect. These newborns also had elevated rates of spina bifida, hydrocephaly, and glaucoma. But since painkillers are legal drugs, the mother likely would not be prosecuted if she had a prescription.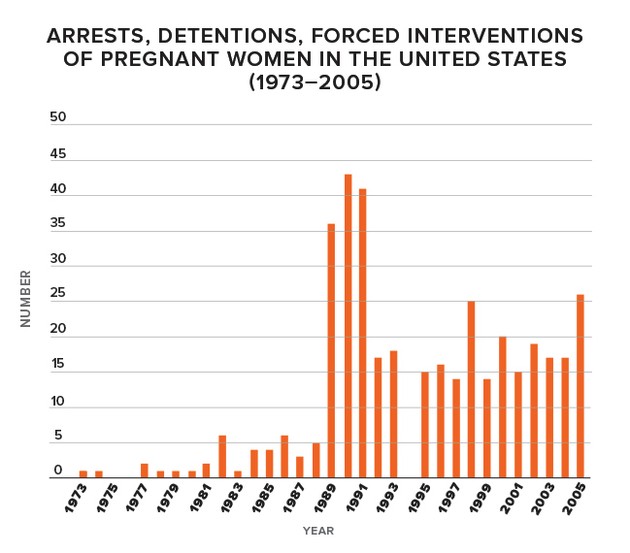 Though heroin has become a more pressing crisis in some parts of the country, meth addiction still ravages many southern and western states. After marijuana, meth was the second-most common illegal drug found among the 375 newborns who tested positive for substances in Oklahoma hospitals last year. In Paltrow and Flavin's study, meth was also the second-most commonly used drug among the female defendants they examined, involved in 14 percent of cases. Among pregnant women, treatment admissions for methamphetamine increased from 8 percent of federally funded admissions in 1994 to 24 percent in 2006.
Some researchers believe meth might be harmful to fetal development because it stimulates the body to create highly unstable oxygen molecules called free radicals. Peter Wells, a professor of toxicology at the University of Toronto, explained that these free radicals can have a range of consequences, including breaking genes or stopping them from making proteins, or preventing cells from talking to one another. It's these changes that can ultimately cause problems in brain function. Other researchers believe the drug alters dopamine and glutamate receptors in the brain.
In very rare cases, government officials have associated prenatal meth exposure with infant deaths. I obtained a list of all infant or newborn deaths in Oklahoma that the state believed involved a mother's drug use. There have been 22 in all since 2011. In seven of the deaths, meth or another drug was listed as an immediate or possible cause. But according to reports from the state's DHS, there were at least 1,200 babies that tested positive for drugs at birth during those years.
However, Lester takes issue with the term used in many of these cases of meth-associated newborn death: "acute methamphetamine toxicity." "The term is used loosely to indicate that the medical examiner thinks it was the meth," he says. "It's the term that's used when they want to say that this drug caused the death and not anything else. They don't know that, and they'll never know that." Whether or not a fetus is affected by meth, Lester says, depends on how often the mother used meth, how much she used, and how clean her drugs were—not the simple presence of the substance.
Wells acknowledged a similar problem: It's almost impossible to tell what other drugs the fetuses of meth users encountered. Meth users rarely stop and start with meth. Wells conducted a mouse study in 2005 that found that exposure to meth in mice led to long-term neurodevelopmental problems, such as worse motor coordination. Though the study spawned overblown headlines—"One Hit Of Crystal Meth Causes Birth Defects"—Wells cautioned that animal models can't be extrapolated to draw perfect conclusions about humans. He thinks, however, that there's now enough meth research in humans to say that "while you cannot ascribe to humans what's found in a mouse, you ought to be worried about it."
There's evidence that meth exposure in utero may indeed lead to setbacks throughout childhood. Lester's study of 3,705 mothers, 204 of whom used meth, in Los Angeles, Des Moines, Tulsa, and Honolulu found that the ones who used meth bore infants who, though they were not likelier to arrive prematurely, were smaller on average. At 5 years of age, these children were more likely to have slower reaction times, to be more impulsive, and to have more trouble following rules. Another study found deficits in hand-eye coordination among meth-exposed children.
"These children are at risk for having cognitive impairment," says Charles Vorhees, a neurobiologist at Cincinnati Children's hospital who has studied prenatal meth exposure in rats, but not in humans. "I don't know if it will show up as an outright intellectual disability. It might be a learning disability of some type."
Other researchers, meanwhile, say the long-term risks of meth exposure in the womb are being dangerously overstated. "When you control for other drugs and other social factors, you do get differences, but they're not huge," says Lester. "You see differences in attention, more behavior problems. But it's not dramatic." Lester says that if you walk into a classroom today, "you can't tell at all" which kids were meth-exposed and which were not.
Meth-exposed newborns also do not experience "withdrawal" in the same way that those exposed to heroin do. A pregnant woman who uses opioids, including prescription painkillers, may give birth to a child experiencing neonatal abstinence syndrome, which is marked by symptoms like high-pitched crying, seizures, and trembling. But "methamphetamine-exposed babies do not have NAS," Lester says. "They may show some of these symptoms, and if they do, they are milder versions."
Mark Hudak, the chief of the neonatology division at the University of Florida College of Medicine-Jacksonville, concurred that newborn symptoms of meth withdrawal are typically not noticeable. "Infants who have prenatal exposure to methamphetamine rarely require medical treatment," he added.
Linda LaGasse, the director of research at the Brown Center for the Study of Children at Risk, who also worked on Lester's meth study, says that schoolchildren who were exposed to meth in utero do tend to act out, but they generally do not have lower IQs and are not excluded from normal classrooms. Another study in 2011 in Oregon found that 7- to 9-year-olds who were exposed to meth in utero had worse spatial memory and parental ratings of executive function, but they performed just as well as their non-exposed peers on five other tests, including an IQ test.
"I look at all these kids, and there are very few that are severely problematic," LaGasse told me.
Lester calls the current crackdown on prenatal meth exposure a "replay" of the 1980s fear that so-called "crack babies" would be permanently brain-damaged. That theory has now been widely discredited. Although some studies have found differences in attention and behavior in the brains of children exposed to cocaine in the womb, the dramatic deficits predicted by the earlier studies have not borne out. Twentysomethings who had been exposed to cocaine as fetuses—and were part of one prominent study on the drug's effects—fared no worse than the control group. In a recent lecture, Hallam Hurt, one of the authors of this study, said that "poverty is a more powerful influence on the outcome of inner-city children than gestational exposure to cocaine."
Danielle Bishop, the detective with the Tulsa Police Department, did not seem to buy into these developments. "I'm not a doctor, so I don't really follow medical literature on drug use and kids," she says. But, "all of the research that was done on crack babies, nothing has really changed. They were going through withdrawals. They'll have problems learning."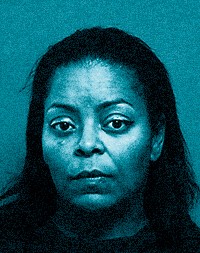 In 2013, Monique Holland, a 41-year-old African American woman from Tulsa, was sentenced to eight years in prison and five years on probation after giving birth, over the course of several years, to three children who tested positive for illegal drugs at birth. The child whose positive test brought about her conviction, a 2-year-old named Greg, is now being cared for by Holland's relatives and family friends. Shy but alert, Greg spent the duration of my visit running around, trying to grab my phone, and cuddling with his grandpa.
Holland had something of a career before her arrest: She graduated from high school, became a medical assistant, and later worked as a substitute teacher. But her husband was a deadbeat, she says, and it was hard to pay for rent, food, and gas while tending to her growing family. (A court document from 2012 shows the man did, in fact, owe thousands in child support.) Holland began selling drugs when she was about 30.
Holland never finished her first drug-counseling stint because her kids were taken away, and she was on a waiting list for two other treatment programs before her arrest, she says. (Her attempts at treatment could not be independently verified.)
In 2010, she was sentenced to jail time and probation after pleading no contest to six counts, including assaulting a police officer.
When she delivered Greg, Holland says he stayed in the room with her long enough for her to change his diaper for the first time. Then she was told he wouldn't be coming home with her after all: The hospital had found PCP in him, but not in Holland. The positive drug test proved she had violated her probation, and it was revoked. Holland would serve the eight-year prison term and the five years of probation for child neglect concurrently with her original sentence.
Unlike drug users with no prior offenses, people on probation, as Holland was, are often jailed for using drugs. But authorities discovered Holland's probation violation, her drug use, because she gave birth—something that could never have happened to a male probationer.
Holland hasn't seen Greg since her incarceration. She says her parents lack transportation, but also that the ordeal might be difficult emotionally for them. "I don't know why my momma won't bring him down," she told me by phone from prison. "She doesn't hardly come. I don't know if she doesn't like to see me in here, if it stresses her out." Holland tries to reassure her mother, sending her letters she intricately illustrates herself. Last year, she sent her a Mother's Day card featuring a bunch of grapes wearing lipstick and false eyelashes: "Have a grape day," it said.
Healthcare workers do not drug test every newborn and woman in labor. Hospitals in Oklahoma, for example, are more likely to test women who arrive at a hospital far from home, have had no prenatal care, show physical signs of substance use, previously tested positive for drugs during pregnancy, or experience placental abruption, which some studies suggest is associated with drug use. Oklahoma law mandates that healthcare workers report any positive newborn drug or alcohol test to the Department of Human Services, which then must launch an investigation. These investigations only occasionally end in criminal charges.
One of the most reliable drug tests for newborns involves meconium, the first stool that develops within a fetus. Meconium begins forming in the second trimester, and it stays in the baby until he passes it after birth. Though it does indicate that the baby was exposed to drugs at some point during gestation, because of its longevity, testing the meconium might reveal traces of drugs even after the mother has stopped using.
The fuzziness of the hospital testing criteria leaves the testing process open to racial bias. Overall, about 5 percent of pregnant women use illegal drugs. In a study performed at several Florida clinics and doctors' offices in 1989 and published in The New England Journal of Medicine, pediatrician Ira J. Chasnoff and his coauthors found that African American women were about 10 times more likely to be reported to health authorities for illegal drug use during pregnancy, even though white women were slightly more likely to test positive. (The white women in that study had higher rates of marijuana use, while the African American women had higher rates of cocaine use.)
That tendency seems to hold true today: A 2007 study of 8,487 women found that African American women and their newborns were 1.5 times more likely than others to be tested for substances, even though they were no more likely to have a positive result. Similarly, the study by Paltrow and Flavin found that the majority of women who faced criminal charges or deprivations of liberty for doing drugs while pregnant were African American.
What's more, most of the cases Paltrow and Flavin were able to document in their study took place in the South, even though Southerners are overall less likely to abuse drugs or alcohol than are people from other regions. David McLeod, an assistant professor of social work at the University of Oklahoma, thinks one reason might be that the region has become disproportionately prone to leaving it to the justice system to punish bad mothering. "I think the idea of womanhood here is held up in a classic way," he says. "There are a lot of expectations around how a woman should nurture and care. When the courts see that the women don't fit those stereotypes, they can be more punitive."
When I asked Jessica Young, an obstetrician at the Vanderbilt Center for Women's Health in Tennessee, why legal action against pregnant addicts is more common in the South, she was even more blunt. "In the South, the fetus is everything," she says. "But it needs to be both: the woman and baby. That's not where our legislators are."
About five years ago, meth tightened its grip on Oklahoma. Tulsa had the most meth labs in the nation, according to a CNN analysis of the Drug Enforcement Administration's national meth-lab registry from 2004 to 2012. "People were making meth in pop bottles, and we were finding babies and small children in these labs exposed to just horrific chemicals," Kunzweiler says.
Even those who believe addicted mothers don't deserve prison acknowledge that drug-filled homes can be dangerous for children, and that addicts aren't always suited for parenting. Officials in the state have been scrambling to protect children caught in the midst of their parents' drug habits.
Dub Turner, the program administrator of the Drug-Endangered Children's section of the Oklahoma Bureau of Narcotics, is a former rodeo rider from southwest Texas, with a gray goatee and the easy air of a Southern gentleman. (He calls grown women "girl" in a non-sexist way.) He has been rooting out drug dealers since one evening in 1971, when he saw a rodeo buddy of his walking up a hill with bayonets sticking out of his thighs. The man had taken "orange-barrel sunshine," or LSD, come to the conclusion that his legs were snakes, and stabbed himself. "I went after the people who gave him the LSD," he told me, making sure they were punished. In the late 1970s a friend of his persuaded him to begin working in narcotics.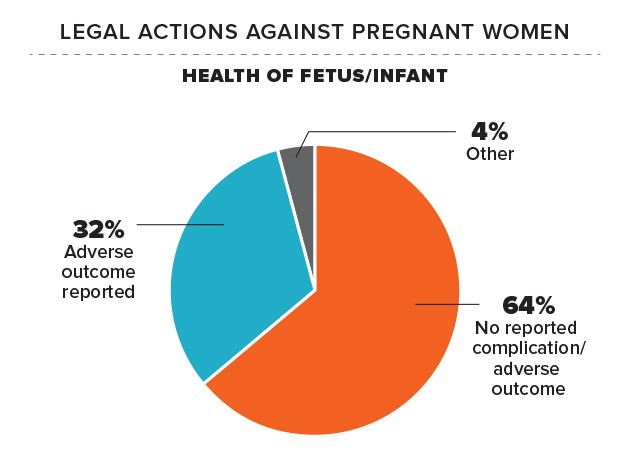 When I met Turner recently at the Bureau's offices in Oklahoma City, he told me how he first became concerned about the children of drug users. At a conference in San Francisco in 1995, he heard a talk by Sue Webber-Brown, a California cop who pioneered the idea that narcs should prioritize the safety of children in the course of their busts. Too often, Turner recalled her saying, police officers would kick in the doors of drug dens, arrest the parents, and then simply leave the children with the first adults who showed up to claim them. There was no follow-through, no way of ensuring the kids would be okay.
"It's like she smacked me between the eyes with a two-by-four," Turner says. "I'm going, 'Oh my God, that's me! That's what I've been doing.'"
The experience prompted Turner to start a drug-endangered children's program in Ardmore, the town near the Texas border where he was working at the time, and then later in Oklahoma City. The goal of the group was to get police officers and social workers to collaborate on drug cases if children were involved.
"It's so important for law enforcement to talk to [the Department of Human Services], because when we don't talk, children die," he says.
Turner was horrified in 2011, when the Tulsa World reported that dozens of newborns in the state had been sent home with drug-using mothers between July 2009 and June 2010. Several of these incidents revealed the chilling effects of unsupervised, drug-addled parenting: One strung-out mother wrapped her 10-day-old daughter in a pink satin blanket and put her in the washing machine, where she drowned. Others involved drug-using family members who were sleeping next to infants and accidentally smothered them.
After that report, says Turner, the state's Department of Human Services began "catching heat" for not doing enough to protect children. In 2014, the department removed 68 of the 375 newborns who tested positive for substances in Oklahoma hospitals.
Turner and the rest of the drug-endangered children collaborative—which includes social workers, professors, and doctors—drafted a bill that created a definition for a "drug-endangered child" and required the Department of Human Services to conduct an investigation (rather than a less-rigorous "assessment") any time a substance-exposed newborn was reported.
Turner says the coalition approached the state's legislature with the bill, which was passed and signed by the governor within four months.
Since then, Turner has continued to work closely with the Department of Human Services, even if he doesn't always agree with their conclusions. During one meeting, an administrator with the department suggested that marijuana exposure was not very harmful to fetuses. Turner said, only half-jokingly, that the only thing that stopped him from voicing his outrage was that a colleague dug her sharp fingernails into his leg.
The debate over the effects of prenatal drug exposure will rage on, but it's undeniable that some addicted mothers recover. At that point, prolonging their separation from their children can have serious consequences. For example, unhappy foster-care placements can impair child development in their own way. A 2006 study by researchers at the University of Minnesota found that foster-care children "showed elevated levels of behavior problems following release from care." Experts say drug-exposed children do best when they are in stable, loving environments with lots of individualized attention—not in tumultuous and unfamiliar foster homes.
Babies who have been placed in foster care are less likely than older children to be returned to their mothers, says Brenda Jones Harden, an associate professor at the Institute for Child Study at the University of Maryland. The rate of reunification for babies younger than one month is about 35 percent, she says, while it's about 60 percent for children between the ages of 1 and 17. Authorities are nervous about returning vulnerable infants—who cannot ask a teacher or police officer for help—to addicted moms, she added.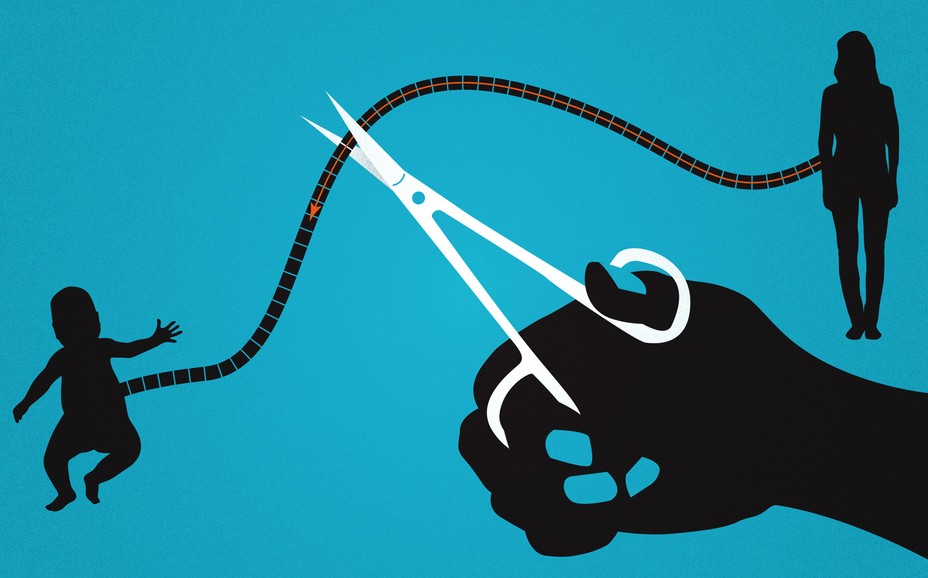 But when mothers are incarcerated, the estrangement between mom and baby can become much more severe than anyone anticipated, with repercussions that continue for generations. Melissa McCann Arms, a white 38-year-old, grew up poor in western Arkansas, the oldest daughter of a single mother struggling to raise four children. Her father had been sent to prison for cooking meth. She suffered through a string of "loser" stepfathers, as she calls them: One beat Melissa's mother; another molested her and her sisters for seven years, until they were sent to a children's home. Melissa tried to kill herself when she was 15.
When she was 18, Melissa met Joe McCann, a man about a decade older than her. They had a relatively stable marriage, and they adopted a daughter. Melissa had desperately wanted to get pregnant herself, though, and she and Joe saw several fertility doctors, she says, to no avail.
In 2009, Joe traveled to Kentucky to work on an oil pipeline. Melissa, feeling lonely and depressed, reconnected with a high-school crush. According to Melissa and her sister Michele Baker, the man introduced Melissa to meth. "He could tell her anything he wanted her to believe and because it came from him, she believed it," Michele says.
The meth was only an occasional dalliance for Melissa until July 2011, when her mother, whom she loved fiercely, passed away.
"The night we buried mom, [Melissa] disappeared," Michele says. Michele alerted the police, but Melissa called later that night and said she was fine; she had been on a meth binge in Oklahoma.
Melissa, who wept throughout our hour-long interview, says her mother had been her best friend. "When she died, a part of me died," she says. "I've always been the peacemaker in my family. I could always take my sisters' sadness away from them and make them smile, but this one I couldn't. I walked away from them when they needed me the most."
Along the way, Melissa was charged with theft and put on probation for failing to return a rental car on time; she and Michele said a friend of hers had taken it without her permission.
Joe, who finds drugs repugnant, was fed up. He filed for divorce that October. Soon after, Melissa married Joseph Arms, a younger man who had had occasional run-ins with the law. He collects disability payments because of a learning disability, and he can't read. According to a 2004 psychological examination performed by a court, he was diagnosed with mild mental retardation.
Joseph was a hard drinker and a meth user. Michele said he would sometimes erupt in jealousy, yet openly express interest in other women. Several times he attempted to hit Melissa, the sisters say. (Joseph says Melissa was also physically aggressive toward him.)
In 2012, Melissa got pregnant. Throughout her pregnancy, she used meth four times, she later testified, including the night before her son was born.
That November 1, she arrived in labor at Mena Regional Health System thrashing and screaming. She gave birth to a baby boy, who was described by hospital workers as being slightly jaundiced on one side. The baby, whom I'll call Michael, might have looked like he was withdrawing from drug exposure: He breathed rapidly, was jittery and shaky, and had an unusually shrill cry. One nurse said that the left side of Michael's face drooped when he cried.
While Melissa was at the hospital, a hospital worker found a drug pipe in the trash can of a room where she had rested before her delivery. (Michele said the pipe belonged to Joseph, who had it with him when Melissa went into labor, and who disposed of it in a panic. Joseph denies the pipe was his.) The hospital dispatched a police officer, who interviewed the nurses tending to Melissa and Joseph. The nurses said Melissa appeared to be on drugs, and Cannon used this fact, along with the pipe, to obtain a search warrant for her blood and urine.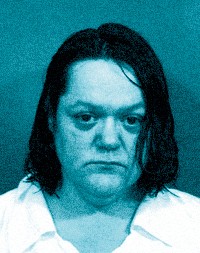 Both she and the baby tested positive for meth. Melissa seemed upset by Michael's symptoms. "I did this to my baby," she reportedly told a nurse, in tears. (Michael also tested positive for codeine, an opioid found in some cough medicines, but Melissa's family maintains that this is impossible because she is allergic to codeine.) Michael was put into foster care, and Melissa was ordered to take parenting classes and go to rehab. She completed both, according to court documents. She also passed regular drug tests and attended a 12-step group. On her discharge paperwork from the rehab center, Melissa filled out a statement of her "Strengths, Needs, Abilities, and Preferences." Under "Needs," she put, "Getting my son back."
According to medical records, Michael was later diagnosed with mild cerebral palsy, a condition that doctors say may be linked to prenatal drug exposure but also to other factors. Calling him a "happy baby with a good temperament," therapists noted that he had delayed motor skills, but also that he has a family history of learning problems. The most recent checkup record I obtained, at 18 months, showed that he had "mild global delays," but was "improving steadily."
After she recovered, Melissa used her disability check, which she received for PTSD and depression, to rent a two-bedroom, two-bath trailer home in De Queen, Arkansas. She got the utilities hooked up and stocked the place with food and baby supplies.
The state's Department of Human Services began allowing Melissa and Joseph to have occasional visits with their son in May of 2013. Both Michael and her daughter were staying overnight occasionally, and Melissa felt like she finally had her family back. In June, both of her kids moved home. "That was the happiest day of my life," she says.
In late August, the couple was just days away from regaining full custody, the family said, when Melissa received a call from her social worker while out running errands. The social worker told her to return home; when she arrived, police officers pulled up and arrested her. Andy Riner, the prosecutor on her case, says it simply had taken that long for the state to get the full panel of drug-test results back.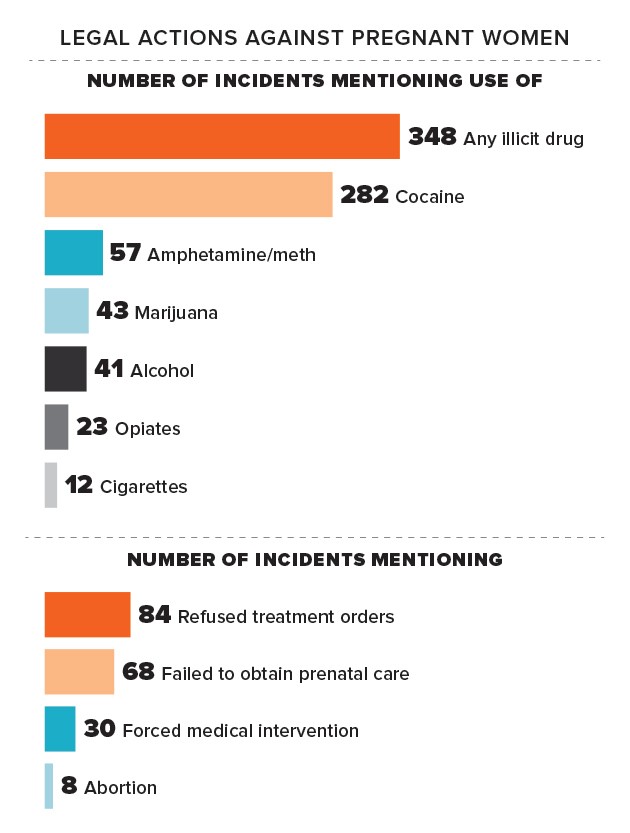 In building its case, the state sidestepped the "unborn child" issue entirely. It argued that Melissa and her son were connected by his umbilical cord at the time of his birth, and that in this way, she had infused him with meth before the cord was cut.
It reportedly took a jury 19 minutes to convict Melissa of introducing the drug into her son's body. She was sentenced to 20 years in the Arkansas Department of Corrections, the maximum for this type of crime. In all, she lived with Michael as his mother for less than a year.
"By the time they actually took her to trial, she had rehabilitated herself," Melissa's child-custody attorney, Pamela Fisk, told me. "She had done the drug treatment, she had done parenting, she had done counseling. She had done everything the state had put in place. This is punishment. This is not rehabilitation."
Fisk argues that the statute Melissa was charged under, concerning "introduction of [a] controlled substance into [the] body of another person," was originally intended for date rapes in which women had been slipped roofies, but that it is now being applied to drug-using pregnant women. Arkansas has seen at least 73 cases under this charge since 2010, according to a list I obtained from the state. Of the 24 guilty verdicts in which the gender of the defendant could be determined, the majority were men, which suggests that, indeed, pregnant addicts are not the ones who are most commonly charged under the statute.
Riner counters that according to the letter of that law, it could include "a drug dealer injecting another person, a person placing something into someone else's drink, or introduction through breast milk or an umbilical cord." Perhaps in hopes of reducing the ambiguity around these cases, Riner recently urged the state's legislature to change the law to say that a "person" includes an "unborn child in utero at any stage of development," Arkansas' Polk County Pulse reported. In February, State Representative Nate Bell filed a bill to this effect, but it did not pass before the session ended.
Melissa is still in prison. In January, the court of appeals affirmed her sentence, and her case is now headed to the Arkansas Supreme Court. She now says she feels "shame and regret. I waited 18 and a half years to get pregnant, and I messed up."
After Melissa went to jail, Joe McCann, her ex-husband, moved in with Melissa's new husband, Joseph, and Michael in order to keep an eye on the baby's well-being.
On December 9, 2014, Joseph waited until Joe had left for work, disconnected his cell phone, took the baby, and left town. He has ceased contacting Melissa entirely, she says. In a recent phone call from a relative's house in Antlers, Oklahoma, Joseph told me he plans to get off disability and train to become a welder.
Melissa said she now worries her son won't know her when she gets out.
"I wish I could see my son, but I don't [know] where he is," Melissa wrote in a February letter to me. "This is so hard on me. My sanity is going crazy."
In some countries, the children of drug-addicted women are rarely removed, and the women themselves are almost never jailed. In a 2009 journal article, Fentiman, the Pace law professor, wrote about the only known pregnant Canadian woman to be indicted for hurting her own fetus. In 1996, a postal worker named Brenda Drummond inserted a pellet rifle into her vagina and fired. The baby was born alive two days later, and he underwent surgery to remove the pellet. Though Drummond was charged with attempted murder, an Ontario judge dismissed the case because under Canadian law, a fetus is not considered a human being. Fentiman wrote that French courts have generally taken a similar stance.
Lester told me how a New Zealand audience reacted once when he was giving a lecture there about the way things work in the States. "Someone stood up in the audience and said that if anyone ever tried to take the baby away from the mother because of drugs, this country would riot," he says.
In the course of their research, Lester and his team found that 40 percent of the meth-exposed newborns they were tracking in various U.S. cities were not living with their biological mothers by age 2. Among the New Zealand mothers, the number was around 13 percent. There, healthcare workers attempt to identify drug-using pregnant women or new moms early and give them ramped-up services. But the women aren't reported to the police, says Trecia Wouldes, an associate professor in psychological medicine at the University of Auckland.
One Auckland rehab center, Odyssey House, brings pregnant addicts, and sometimes even their partners, into residential treatment with or without their existing children. After the mother has the baby, Odyssey House provides parenting support and helps them reintegrate back into their community, usually over the course of six to nine months. Another one of its programs treats the children of drug addicts, then takes them all on a horseback riding trip with their parents for added bonding. Both programs are completely free.
Approaches like this are driven by the view—shared by the National Institutes of Health—that addicts are sick, not malicious. In the U.S., meanwhile, drug addicts, especially pregnant ones, are often villainized and misunderstood. "This is the easiest population for Americans to hate," Wendy Kissin, a researcher at Westat who studies female addicts, says.
Although addiction is often the result of poor life choices, once it sets in, addicts have little control over their habits. All types of drugs, both legal and illegal, work primarily by causing dopamine levels in the reward center of the brain to surge. Meth spurs cells to flood the brain with this ecstasy-inducing neurotransmitter. It "kidnaps the pleasure centers of the brain," says Michael Owens, a professor of pharmacology at the University of Arkansas for Medical Sciences. "It gives you a pleasurable rush without having a really good experience in your life that feels pleasurable. They can use a chemical to give themselves a reward."
Once they are hooked, addicts are programmed to chase this feeling almost at the expense of everything else, and it's not clear they will stop using when threatened with jail time.
"Providing treatment is more effective than incarcerating someone for a disease," says Terri White, the commissioner for the Oklahoma Department of Mental Health and Substance Abuse Services. "Just like we wouldn't say, 'This person has chronic hypertension so we're going to incarcerate them.' These are sick people who are trying to get well."
Heroin addiction can be eased with drugs like methadone, but no medications have proven effective to treat meth dependence. Owens and his colleagues are working on an antibody medication that meth users could take intravenously, but that drug won't be ready for perhaps another decade. In the meantime, counseling and therapy are the only treatments available for meth addicts.
Hudak, the Florida neonatologist, says it's far more effective to get drug-using pregnant women into the treatment programs that are available early on, rather than refer them to law enforcement after they give birth. "That's all to make sure they continue to access prenatal care and maximize the chance that the baby will have a good birth outcome," he says.
For his part, Riner agrees, saying drug-exposed newborns have become "a really terrible problem" that is best addressed by getting drug-addicted women into treatment earlier in their pregnancies. Under the current system, "we only receive reports when children are born addicted," he says. "Doctors do not report pre-birth exposure, so there is no early intervention to encourage addicted expectant mothers to seek treatment."
Many states lack the resources to treat all the drug addicts within their borders, however. In Oklahoma, there are 214 drug-treatment beds available for women with dependent children. As of December, 1,500 people were waiting for a bed, including pregnant women and new mothers.

The budget of Oklahoma's Department of Mental Health and Substance Abuse was slashed by $30 million between 2009 and 2012, and during this time the agency lost 95 drug-abuse treatment beds. Twenty million of those dollars were restored in later years, but much of that money was earmarked for specific programs and did not make up for the shortfall. Agency spokespeople said their constraints make them feel pressured to play whack-a-mole with the worst cases while early-stage addicts go untreated. Oklahoma's drug courts, which provide drug treatment in lieu of prison, have proven to reduce re-arrest rates, but they, too, struggle to meet the current demand for their services.
Not long ago, I met the operators behind a Tulsa advocacy center called Just the Beginning, which, among other things, connects drug- and alcohol-addicted women to residential treatment facilities. We met in Tulsa at a rehab home that Just the Beginning is closely partnered with. The home seemed to face serious limitations: It worked mainly with women who had already been to jail, had only 23 beds, and was running on a shoestring budget. Such tight finances can leave addiction-recovery programs at the mercy of good Samaritans. Just the Beginning's co-executive director, Kimberly Cummings, says she has to phone individual psychologists and ask them to provide free therapy for the center's participants. Oklahoma rejected the Obamacare Medicaid expansion, which would have insured approximately an additional 100,000 poor adults.
In 2011, before she got pregnant with Jacob, Smith was admitted to Rose Rock Recovery Center in the town of Vinita, about an hour northeast of Tulsa. One day, she says, counselors there used her personal story as an example in a group session with other addicts. Outraged at what she perceived to be a gross privacy violation, she checked out. Her Rose Rock discharge document lists her prognosis as "poor."
In the years that followed, Smith and her mother say she tried to enter treatment at several other facilities, but they always seemed just out of reach. Smith says one program, 12 & 12, told her she had to be clean for 30 days before she could enter. ("If I'm an addict, how do you expect me to be clean for 30 days?" she says. "I gotta get high every day.") Another, she said, required her to call weekly in order to keep her spot on the waiting list. Two of the facilities Smith says she contacted say they have no record of her name. A 12 & 12 representative told me the facility would not have asked an addict to be clean for 30 days before beginning treatment. (Charlotte Smith, Amber's mother, says she also called several treatment facilities on her daughter's behalf and was told that there was a months-long waiting list for individuals without private insurance).
In any case, Smith gave up—too easily, she now thinks. "I quit, I give in," Smith told me. "If it doesn't happen for me, I feel like it's not for me." The slow, difficult process laid out by rehab centers, to her, signaled "y'all don't want me there." She took it as another sign that things weren't going to turn out as she'd hoped. She kept smoking meth.
Kunzweiler, the Tulsa County District Attorney, points out that both Smith and Holland were offered many support services, and yet they continued using drugs and getting pregnant. How much were Tulsa authorities expected to take?
"I get it," Kunzweiler says. "There's different levels of addiction. But ultimately, they're the ones that are in control of their lives. I can't force them to get sober; they have to buy into it themselves. It got to the point of, we have utilized a lot of time, effort, and resources, and this person's choosing over and over and over again to ignore what's for the benefit of their baby. It was only after the fourth [substance-exposed] baby that finally somebody says, enough's enough, we've done what we can do."
At one point, Smith quit meth on her own. But by then, her children had all been removed from her custody. While the drugs didn't help things, she says the children were removed partly because she was temporarily homeless and staying with her brother in his two-bedroom apartment. Social workers deemed the place too dirty and cramped for her and her five (at the time) children, she says. Her mother says the kids were removed because social workers discovered welts on the backside of one of Smith's daughters, evidence of possible abuse. Smith says it was her ex-boyfriend who whipped her daughter while she was staying with him temporarily, but that the children had already been taken away from her at that point.
Without her kids, Smith says, "I didn't have anything to do." After a month without meth, she turned to the drug again to fill the void.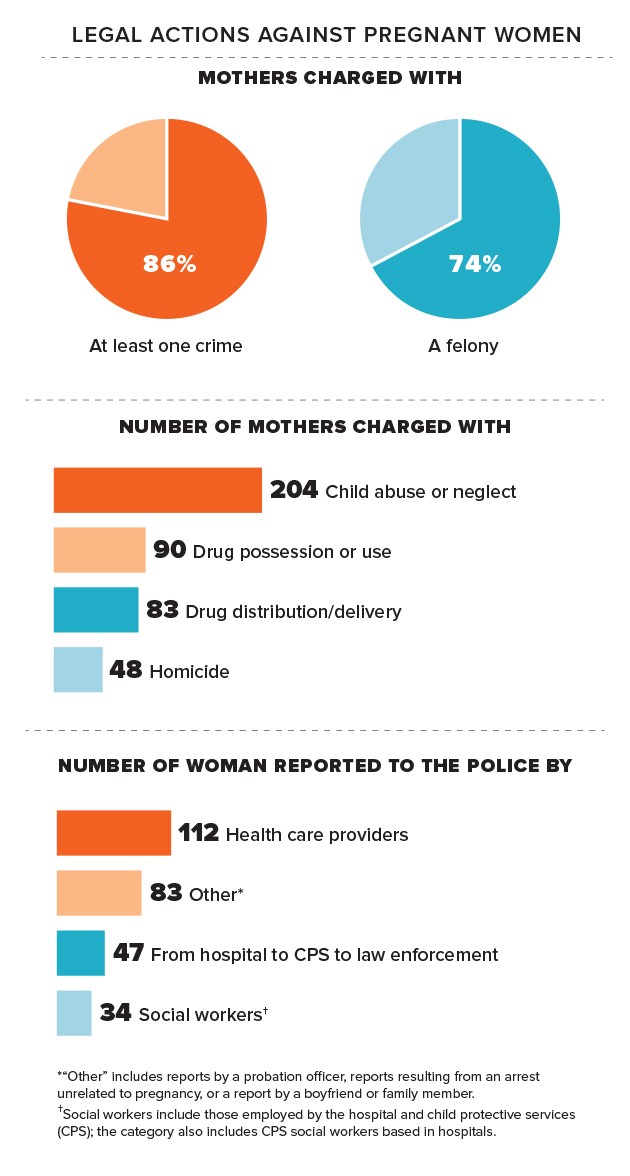 The relapse rate for users of all drugs is 40 to 60 percent. If addiction is seen as an illness, it's worth noting that a similar percentage of people with other chronic illnesses, such as diabetes and asthma, fail to adhere to their medication regimens. Owens, the Arkansas pharmacologist, likens quitting drugs to overcoming an eating disorder. Just as the latter goes smoothly until the person, say, suffers rejection by a romantic prospect, recovering addicts might fall off the wagon when they stumble on triggers from their old lives.
"You've got these memories that come back, and they're very powerful," Owens says. "Just when you think you've got it under control, you start hanging around old friends and seeing how much fun they're having."
After Smith was arrested for using meth during her pregnancy with Jacob, she was not eligible for either drug court or Women in Recovery, a special rehab program for drug-addicted women, because hers was considered a child crime, said her lawyer, Isaiah Parsons. After she was jailed but before she was sentenced, Smith's bond was reduced on the condition that she attend a rehab center in Tulsa. She was accepted into the program, and her mother picked her up from jail and drove her there. But after several months of being locked up, Smith says she bristled at the idea of spending more time in what she saw as yet another institution. She says she wanted to see her kids, eat a burger, and do other things prisoners can't.
So she snuck off 20 minutes after her mother dropped her off at the rehab center. Authorities swiftly sent her back to jail. Parsons thinks that even if Smith had completed the treatment program, her sentence likely would have been the same.
The effects of drug addiction, as well as the life circumstances that put people at risk of using drugs, inherently make it difficult for addicts to follow through with treatment plans.
In Burns Lake, British Columbia, a program called Healthier Babies Brighter Futures has tried to address this problem. The program enlists lay people to visit the homes of local pregnant women who are using (or at risk of using) drugs or alcohol. These visitors help the women fill out paperwork, manage phone calls, and remember appointments. (An Oklahoma DHS spokesperson told me that child welfare workers could assist with phone calls to treatment centers in a case like Smith's, but the agency cannot say specifically what they did in her case.)
According to Anne Guarasci, a coordinator with the Canadian program, many of the women helped by it themselves show signs of fetal alcohol-spectrum disorders, a condition marked by memory and attention problems. To keep women from missing group sessions, the program provides reminders, transportation, and childcare. Guarasci says that 85 percent of the program's clients report abstaining from alcohol.
"Do the women pay for this service?" I asked Guarasci by phone.
"Oh, gosh, no," she said.
Smith, Holland, and Arms ultimately did all wind up in counseling—in prison. All of their programs are faith-based in one way or another. Arms's program involves taking life-skills classes with prison chaplains and volunteers from the community. Smith says hers consists of talking about her past drug use with volunteers from a church. Holland says she has completed courses on Bible studies, attitudes and behavior, and substance abuse.
During my reporting for this story, all the experts and officials I spoke with had the same ultimate goal. "Everybody wants to promote healthy mothers and healthy babies," says Caitlin Borgmann, a professor at the City University of New York School of Law. "The question is how best to go about."
Kunzweiler says people in "the medical profession and perhaps social-welfare agencies ... are saying, 'Let's not put this person in jail or prison, let's see if we can work this out and get her off the drug addiction so we can keep her with her baby."
But he feels prosecutors "need to be the voice for the baby who can't be spoken for, who's being victimized by the abuse of drugs."
People who oppose jailing drug-addicted new mothers, meanwhile, say the practice inappropriately relies on the justice system to solve a health problem, and that it does not deter other pregnant women from using illicit substances.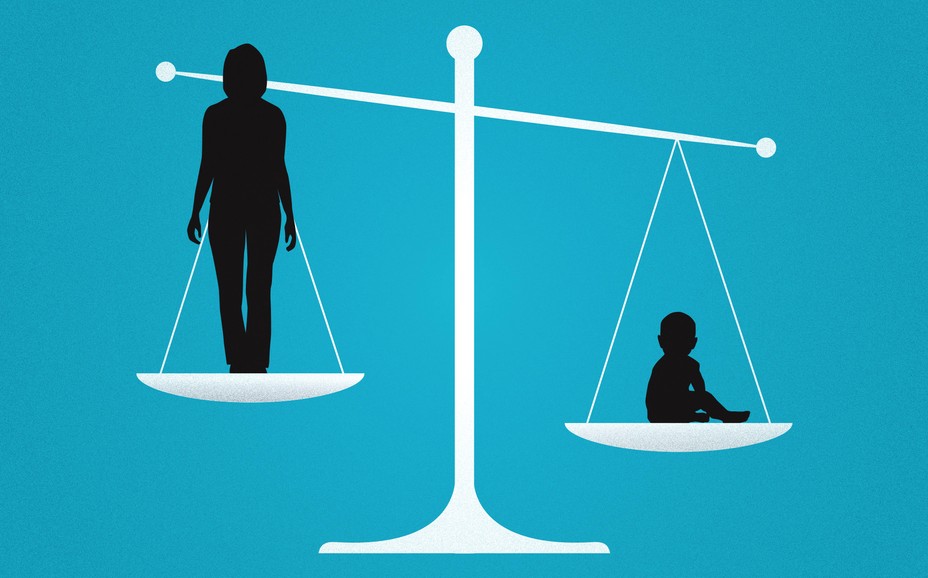 "There's no evidence that punitive responses promote healthy moms and babies," Borgmann says. "In fact, they do the opposite. They're telling women that if you seek medical attention, you could go to jail, or you could lose your children."
Some drug-using women have even become skittish about receiving prenatal care. Smith avoided many of her obstetric appointments while she was pregnant with Jacob. "I figure it was because her drug use would have been discovered if she had gone to the doctor," her mother says.
Young, the obstetrician in Tennessee, said that since the state criminalized drug use during pregnancy, "I'm having patients who are stopping their medically assisted buprenorphine therapy too soon or against medical advice because of a fear they'll be prosecuted if their baby has neonatal abstinence syndrome."
The American College of Obstetricians and Gynecologists recommends that doctors ask expecting mothers about drug issues throughout their pregnancies, but that they not drug test the women or their babies without their consent. The women should not be referred to law enforcement, the group says. "The use of the legal system to address perinatal alcohol and substance abuse is inappropriate," ACOG states in a position paper. The organization urges gynecologists and obstetricians to push to "retract" punitive legislation.
For now, though, these measures appear to be plowing ahead with even more momentum than other anti-drug laws. Authorities in both Oklahoma and Arkansas said the sentences Smith and Arms received are more severe than the typical prison sentence for drug possession. Bishop says that her department regularly "sees ex-cons get two to three years in prison for straight possession. They end up serving six months in prison on a three-year sentence." Riner said a typical meth possession sentence is zero to six years for a person with no felony record.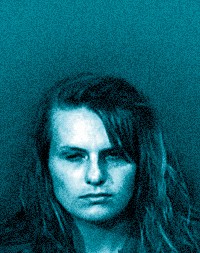 Elsewhere, pregnant women convicted of various drug crimes appear to receive extra jail time because a fetus was involved: In July, a Tennessee judge sentenced 27-year-old Lacey Weld to a substantially longer sentence in prison because she was pregnant when she was caught visiting a meth lab. And in Wisconsin, a pregnant woman spent 18 days in jail last year after telling her doctor that she had used meth—but had since stopped. As Rolling Stone reported, the woman's "14-week-old fetus was given a lawyer, known as a guardian ad litem. This court-appointed official represented the fetus's interests during two hearings."
Fentiman thinks one reason these types of cases are on the rise is that, prior to the 1960s and 70s, "birth was seen as a bright line in the criminal law. Medically, we never knew if a baby would be born until it popped out."
But today, sonograms and other medical technologies can sketch the bean-shaped outline of a fetus just a few weeks into a pregnancy. This makes it easier for people to imagine these tiny entities that are wholly reliant on their mothers and being exposed to drug molecules. Mothers now face added pressure to protect their unborn children's health—no matter the odds.
"We can visualize this fetus as a baby in its earliest weeks of gestation," Fentiman said, "and that makes a difference in how prosecutors think and laypeople think."
After Melissa gave birth and the initial drug testing was complete, Cannon and a senior investigator for the local drug task force, Michael May, arrived to interview her as part of their investigation, court records show. Melissa talked with them voluntarily.
"What do you think should happen to somebody who brings a baby into this world addicted?" May asked her. "What do you think?"
"The person should get help," Melissa said.
May and Cannon told Melissa her baby had been given a "bad deal." "If there was ever an innocent victim, that little boy is ... He's going right into hell right off the bat," May said.
"How do you feel about your baby being born addicted to meth?" Cannon asked later.
"Honestly, I want to die," Melissa answered.
May seemed to be trying to peer into the minds of pregnant drug users in general. Melissa wasn't the only one, he had said earlier. This is an epidemic. "I'm just trying to get some insight because ... we'd like to be in a world where this doesn't happen," May said toward the end of their conversation.
"I see myself as being a meth user," Melissa responded. "I myself would like to talk to other people and tell them my story ... because if I keep one person from using it, that would be good ... This world would be better."