A Liberian Hospital After Ebola
In the wake of the epidemic, Liberian healthcare facilities have overhauled the way they handle infectious disease. But as resources and attention wane, can the country's health system sustain these changes?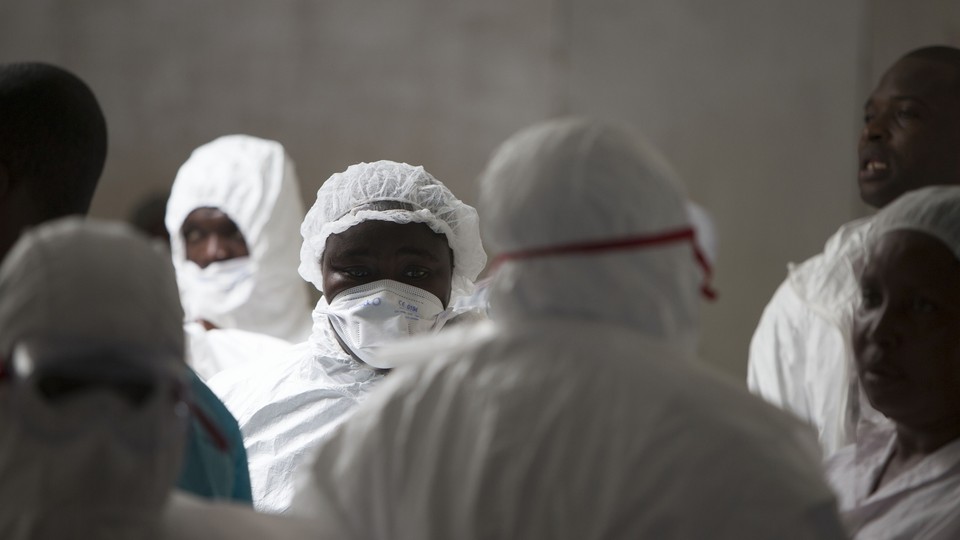 In late March, a woman arrived at Redemption Hospital, on the outskirts of the Liberian capital of Monrovia, with a fever, headache, joint pain, and diarrhea. A year ago, patients with these symptoms were admitted to Redemption, seeding an Ebola outbreak that killed 12 staff members. But this woman never made it past triage; she was quickly isolated and tested for the disease. She was Liberia's last Ebola patient of this outbreak.
Redemption, Monrovia's only free general hospital, lay at the heart of Liberia's Ebola outbreak. Now it is a test case for whether hospitals in West Africa can change the way they operate, so a disease like Ebola never puts such a stranglehold on the region again. With help from the International Rescue Committee (IRC) and the U.S. Agency for International Development (USAID), Redemption has been overhauled. Its success at catching Liberia's last Ebola patient—the country was declared free of the disease on May 9—has raised hopes that Redemption can lead Liberia's health system into a new era.
"The same way that HIV changed the way you practice medicine in the U.S., Ebola should change the way you practice medicine here," says Elizabeth Hamann, IRC's project director for the reopening of Redemption.
The hospital now has a rigorous procedure for checking patients at the door, including temperature checks and questions about their symptoms and possible contact with Ebola. It has an isolation unit, where any suspected cases can immediately be sent. It is also now equipped to do the kind of infection prevention that Western hospitals routinely do: It has running water throughout its wards and chlorine hand-washing stations; it has stocks of rubber gloves and doctors and nurses have been trained to wear them every time with every patient; beds have been properly spaced and staff have been warned of the dangers of putting more than one patient in a bed, a practice that used to be common.
But can Redemption keep up its new procedures as the epidemic fades and international help dries up? Can the gains be replicated throughout the country, even at tiny, rural health outposts? Or will the health system slip back into poor habits as resources head elsewhere, leaving it vulnerable again to Ebola?
There are many reasons the West African Ebola outbreak grew into the world's largest. It struck in a place where people were unfamiliar with the disease and were likely to initially misdiagnose it. It hit communities where people move around a lot, so new clusters were easily seeded, including in big cities. It emerged in places where funeral rites call for touching the corpse, the most potent source of Ebola infection.
But perhaps most important, weak health systems in the three most affected countries—Liberia, Sierra Leone, and Guinea—amplified the outbreak. Liberia is among the world's poorest countries and was only beginning to emerge from more than a decade of ruinous civil war when Ebola hit. The country, founded by white Americans in the 1800s to resettle free blacks, had just 51 doctors for its 4 million people before the outbreak. It spent $44 per capita on health in 2013, according to the World Bank database, but that figure drops dramatically in some rural areas, according to Last Mile Health, a non-profit focused on rural healthcare. It is one of the most dangerous places on Earth to give birth.
Once Ebola gained a purchase on this weak system, it exploited it. The virus is also sometimes called the caregivers' disease because it is generally only passed to those who treat the sick—close family members or health workers. Because the sick can only infect others once they have symptoms and because the symptoms quickly become so severe that patients are confined to bed, Ebola's spread was more limited in the past. When it struck in remote Congo or Uganda, it could wipe out a whole village, but the distance to the next village provided a natural firebreak. In West Africa, by contrast, Ebola hunkered down in major cities, where it could flit from one neighborhood to the next and fell whole hospitals.
It is easy to see how Ebola took root at Redemption. It's made up of a jumble of bright-yellow buildings that weren't built to house a hospital; its emergency room was once a market hall.
Because Redemption's services were free, it was often teeming with the most desperate cases. The staff almost never turned anyone away, says Hamann. How could they? Instead, they put two patients to a bed, even three sometimes on the pediatric ward.
With so many patients, the hospital was generating 10 times more waste than its small incinerator could handle, and so the garbage piled up, says Jude Senkungu, a Ugandan pediatrician who worked at Redemption from 2010 to 2013 before returning  to help lead IRC's work there in this outbreak. Taps on the wards only had running water in them about every other day. Laundry was washed by hand. All of these shortcomings made Redemption fertile ground for Ebola.
The first case the hospital saw was in one of its own nurses, but that  turned out to be the leading edge of a tidal wave of infection in Monrovia in June. Some of the most shocking scenes of the outbreak played out in the Liberian capital: patients dying at the door of treatment centers that had no room for them, people swimming through sewage-infested waters to break out of quarantine, bodies being dumped in the water because there was nowhere else to put them.
In August, with Ebola cases exploding, Redemption's in-patient services were shut down and its wards turned into a holding center for suspected cases. At one point, more than 400 people were held in the facility, which had only had 205 beds.
In October, when an Ebola treatment center finally opened nearby, the hospital essentially went dark. Although it technically never stopped providing out-patient care for other maladies, few people wanted to visit a hospital seen as a death trap.
Ebola didn't just exploit Liberia's health system, it decimated it. Hospitals and clinics were shuttered or turned into holding centers. Staff were too scared to show up to work; patients were too terrified to seek care. Hundreds of healthcare workers were infected, and nearly 200 died, according to the World Health Organization. Despite this devastation, the outbreak could provide the motivation to finally direct resources and political will toward building a more robust health system.
"This does provide an opportunity to take a big step forward," says Justin Pendarvis, a public-health specialist with USAID.
Some experts point to Rwanda, where a spasm of ethnically motivated violence left 1 million people dead. In the wake of the genocide, the new leadership invested heavily in health, with some remarkable outcomes, says Josh Michaud, the associate director of global health policy at the Kaiser Family Foundation. Rwanda's measles vaccination rate has increased from 74 percent in 1993, before the genocide, to 97 percent in 2013, the most recent year for which there are such statistics in the World Bank database. Its mortality rate for children under 5 years old has plummeted from 179 kids out of every 1,000 in 1993 to 52 per 1,000 a decade later.
Could the devastation of the Ebola outbreak spur that kind of change in Liberia? Maybe, but only over the very long term, says Paolo Lubrano, an emergency-response manager for Plan International in West Africa. Pendarvis notes that the epidemic has already given Liberia a jumpstart. More than 4,000 Liberian healthcare workers were trained to work in Ebola treatment centers—that's a huge well of knowledge that didn't exist before. Perhaps more important, the outbreak has proved that a viral case in West Africa can put the world at risk, and that has emphasized the need to help remake healthcare systems in Liberia, Guinea, and Sierra Leone.
"It would be very sad if all the money that came into this country and all the people that came in just stayed just for a few months and then left the country alone," says Adi Nadimpalli, a doctor who is heading Doctors Without Borders' mission in Liberia. "There's a moral responsibility at this point."
Whether or not the world will rise to the challenge will be revealed in July, when donors, including Western governments and international aid organizations, will meet at a pledging conference to discuss investment in West Africa's health systems.
But work is already under way at Redemption.
The International Rescue Committee, with funding from USAID, has renovated the hospital, which began reopening its wards in January. Redemption now has running water throughout its wards and washing machines to properly disinfect its laundry. It has stocks of gloves and gowns and face masks. It finally has an industrial incinerator to properly dispose of its waste. Pits that once held biological waste—and that became crammed with everything from needles to gowns during the epidemic—are being decontaminated and cleared. There is an isolation unit next door, where suspected cases can be held while they await testing, and a triage area at the hospital's door where patients continue to be assessed for Ebola symptoms before they're allowed into the rest of the hospital.
Perhaps the most important of these interventions is the training staff received in infection-prevention procedures and triage, or the process of separating out patients who might have Ebola and isolating them. While Liberia has been declared free of Ebola, the outbreak continues in neighboring Sierra Leone and Guinea, and a case could easily cross the border.
These procedures are important for preventing the virus's spread throughout a hospital, but they're also associated with better health outcomes in general. Patients who are properly diagnosed quickly are typically treated more successfully, and clean hospitals mean fewer infections are transferred from one patient to another. Their training will be helpful for other diseases besides Ebola that are prevalent in Liberia, like malaria, tuberculosis, or Lassa fever.
But as Ebola fades, Hamann of IRC worries that so, too, will the good practices.
"Terms like IPC (infection prevention and control) and triage, those didn't really exist pre-Ebola," she says. "The fear is that now that Ebola's over, all of that will just go out the window."
Nadimpalli of Doctors Without Borders, which has done a similar rehabilitation and training at another Monrovia hospital, says health workers in Liberia now have a "healthy fear" and are happy to follow the rules, but he notes that it can be hard even in the United States to get doctors to wash their hands.
Senkungu, the Ugandan doctor working at Redemption, says the coming high-malaria season will put the hospital to the test. The hospital typically sees about 50 percent more patients during that season—June, July, August—and in the past doctors have crammed patients two or three to a bed.
He's worried, even though IRC will stay heavily involved this summer. What about when the organization leaves? Will doctors and nurses continue to wash their hands before examining every patient? Will the hospital be able to maintain stocks of important supplies, or continue to pay the staff who disinfect the wards—whose numbers IRC tripled? Even now, under IRC's leadership, motivation among the health workers who are employed by Liberia's Health Ministry (as opposed to by IRC directly) is low, and many show up late or not at all for their shifts, according to John Shakpeh, the acting head of nursing, and Saidi Makokha, who is in charge of hygiene and sanitation at the isolation unit.
It can take years for these sorts of changes to take root. Tolbert Nyenswah, Liberia's assistant health minister, who led the country's Ebola response, says hospitals like Redemption will need two to three years of outside support before they can operate on their own. But IRC's current funding is set to run out at the end of the year. Such is the curse and blessing of emergency funding: It is plentiful but time-limited.
The work at Redemption will hopefully help Monrovia be better prepared, but about half of the people in Liberia live in rural areas.
And just under a third of Liberia's population lives both in a rural area and more than three miles from a health facility, says Na'im Merchant of Last Mile Health. That may not sound far, but three miles is often used as a benchmark for healthcare access because that's how far most people can walk in an hour. And walking is the principal means of travel in much of rural Liberia, notes Merchant, a consultant who advises the charity on how to strengthen health systems.
"Not only is the national health spending low in the country overall, but the problem is compounded by the fact that as you get out into rural areas, there's no health system really present in remote communities," said Josh Albert, Last Mile Health's country director for Liberia. "If you think about a disease like Ebola, if it's walking into a hospital in Monrovia, you're already so far past the place you want to be in terms of containing it."
But will donors invest in remote healthcare? Liberia needs more than $450 million for its health system over the next two years. It was fairly easy to get money for Ebola. Emergencies are like that. It's much harder raise cash for long-term training programs or plumbing improvements. Much of the money donated for Ebola comes with constraints on how and how quickly it must be spent, Merchant says. What Liberia needs now is money that can be invested over the long term and directed to projects that address general deficiencies in the health system. Too often even long-term funding is narrowly focused on one disease and isn't able to be used to address wider problems, says Merchant.
Redemption has patients again these days.  Shakpeh, the acting head of nursing, says the medical and pediatric wards and all the beds in the emergency room were full in early May, giving the hospital another test of its commitment to following the infection prevention procedures put in place by IRC, like keeping just one patient per bed. But the staff stood firm against overcrowding, which helped fuel Ebola's spread in hospitals. Even Shakpeh's niece's son was sent to another clinic; for now, there was a place where he could go. But the true test, Senkungu says, will come this summer, when malaria season strikes and sends patients pouring into hospitals and clinics across the country.