When an HIV Crisis Trumps Ideology on Drug Policy
The outbreak of cases in rural Indiana has forced a skeptical Governor Mike Pence to authorize—and extend—a needle-exchange program.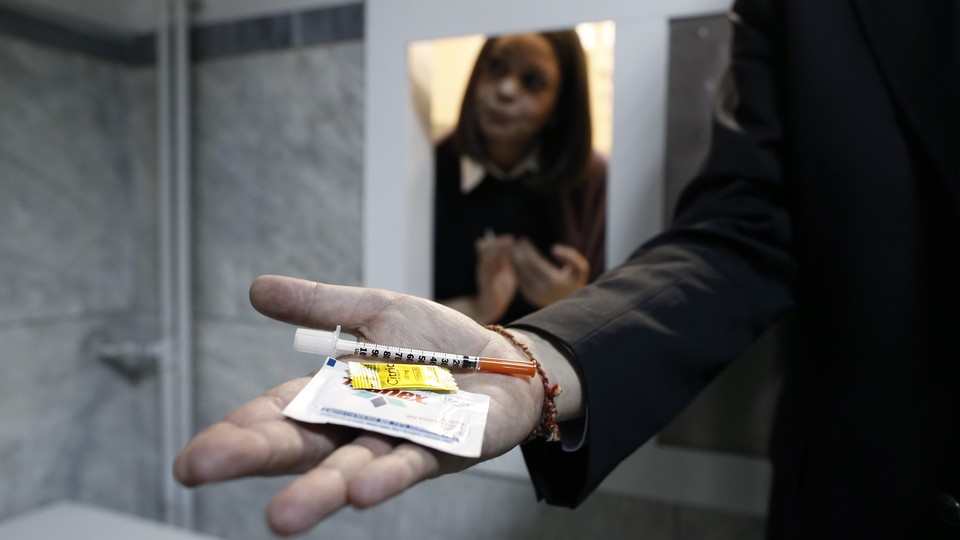 In the summer of 2009, then-Congressman Mike Pence of Indiana voted with nearly every other Republican to keep in place a 21-year-old ban on federal funding for needle-exchange programs. For Pence, one of the House's top conservatives and a member of the party leadership, this was undoubtedly an easy vote—one of hundreds taken in opposition to the free-spending ways of the Obama administration. (The ban was lifted, briefly.) Republicans had long opposed giving addicts a clean supply of syringes, believing that the policy only encouraged more illegal drug use.
Pence surely didn't imagine back then that six years later, he would be using his authority as governor of Indiana to do exactly that. Yet as the Hoosier State confronts an outbreak of HIV infections in rural Scott County, the reality of a public-health crisis is intruding on the conservative ideology of the politicians running its government. In late March, Pence signed an emergency order to implement a temporary needle-exchange program in Scott County, which had seen nearly 80 cases of HIV linked to intravenous drug users who had shared dirty needles. Poverty-stricken areas had simultaneously experienced a high number of positive tests for hepatitis C. Just last week, with the number of HIV cases topping 130, Pence extended the program for another 30 days, and he plans to sign a bill passed by the Republican-controlled state legislature that would allow other counties hit by the epidemic to start needle exchanges.
"I don't take this action lightly," Pence said when he initially authorized the program. The move came following a recommendation by the CDC and state public-health officials, and since then, Pence has stressed that he still opposes needle exchanges as an "anti-drug" policy. But advocates see a conflicted governor, reluctantly acting in response to a crisis but unwilling to move aggressively enough to end it.
"I think he just wants this problem to go away, and it's not," said Beth Meyerson, co-director of the Rural Center for AIDS/STD Prevention at Indiana University's School of Public Health. Meyerson told me the needle-exchange program should be implemented statewide and that Pence acted to pre-empt legislation that would have authorized a broader policy. Indiana lawmakers late Wednesday night voted to approve a measure allowing other counties to seek approval for needle-exchange programs when infection rates hit epidemic levels. After initially resisting proposals to expand the policy, Pence said he would sign the legislation and that it would "save lives."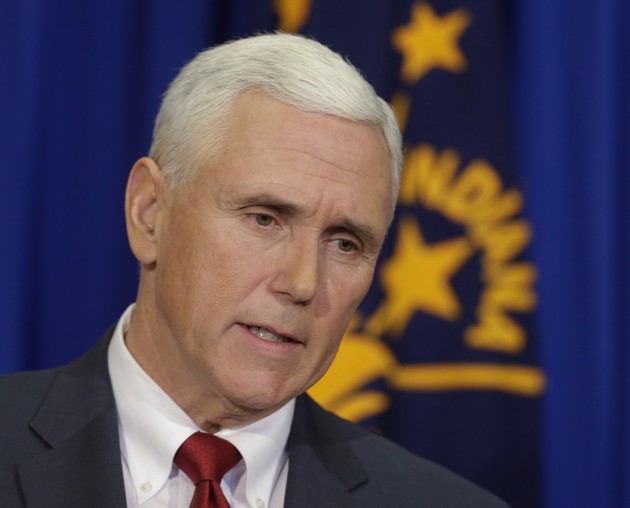 Pence, 55, took office in 2013 after serving a dozen years in the House. He had drawn some notice as a possible presidential contender in 2016. But that buzz diminished following the uproar earlier this year over his signing of the Religious Freedom Restoration Act, which prompted an outcry from gay-rights advocates and led to threats of a boycott of the state by businesses.
While HIV/AIDS prevention is more frequently discussed in the context of safe-sex practices, the virus's transmission among intravenous drug users has sparked a debate about needle-exchange programs since the onset of the epidemic in the early 1980s, said William McColl, director of health policy at AIDS United. The policy has always been a tough sell politically in the "Just Say No" culture toward drugs. Lawmakers couldn't stomach the thought of enabling the injection of heroin and other opiates, even as public-health experts insisted that providing addicts with clean syringes would reduce HIV/AIDS and hepatitis transmission. Congress first barred funding for needle exchanges in 1988, and while Democrats succeeded in lifting it during the early years of the Obama administration, the ban returned after Republicans re-took the House majority in 2010.
Despite the lack of federal funding, local needle-exchange programs were in place in nearly 200 locations across the U.S. in 2014, according to the Foundation for AIDS Research (amFAR). And experts say they work: Needle-exchange programs have been credited with a drop of more than 80 percent in incidences of HIV among intravenous drug users between 1988 and 2006, the CDC reported in 2008. "It both decreases incidence of HIV and decreases drug abuse," McColl said. The drop in drug use occurs because addicts who participate in needle exchanges are often taking their first steps toward protecting themselves and engaging with social services. By taking that initial precaution, McColl explained, "they're getting interested in their own health." At many sites, workers will offer drug users information about treating addiction, or refer them to other programs through which they can get help to reduce their dependence. The idea, he said, is "to meet the people where they are."
Yet the key to success for these programs is trust, which can take time to build in a community of people who may be fearful of getting arrested if they show up at a needle-exchange site with a handful of dirty syringes. That's why advocates are concerned about the temporary nature of Indiana's program. "It is a short-term needle exchange, and everyone knows it, including the users," Meyerson said of the program in Scott County, which includes both a clinic and a mobile outreach van. Several thousands of needles have been exchanged, she said, but the limited duration could lead to users trying to hoard needles while they can get them.
The program has drawn opposition—unsurprisingly—from Indiana prosecutors, who contend that the needle exchange is tantamount to drug legalization and is "tying the hands of law enforcement" trying to combat heroin and other opiate use in rural areas. "If you can't prosecute people at the low level, you can't get the big dealers," said Aaron Negangard, the president of the Association of Indiana Prosecuting Attorneys. The group opposes needle exchange on principle, he told me, but particularly in the absence of a more comprehensive response that would include tougher penalties and higher spending on drug-rehabilitation programs. (On the latter push, public-health advocates agree.)
Still, the politics of drug-prevention policy have shifted in recent years, and tellingly, Pence hasn't drawn much criticism from the right for his executive order. Legislators in neighboring Kentucky recently passed a new law allowing needle exchanges as part of broader efforts to reduce the state's heroin epidemic. The developments at the state level have given advocates some hope that Congress will also lift its ban. (The chairman of the House Appropriations Committee, Hal Rogers, represents Kentucky, but a spokeswoman would only note that the panel had historically supported the ban.) For now, they are watching Indiana and its governor, trying to see whether Pence's temporary break with conservative orthodoxy will last, and whether it will work to slow the outbreak. "He's very cautiously been trying to do something that is right," McColl said, "but he needs to do it in a way that's going to last."