The Labyrinth Revival
Why entangled pathways are increasingly being built in hospitals, spas, and prisons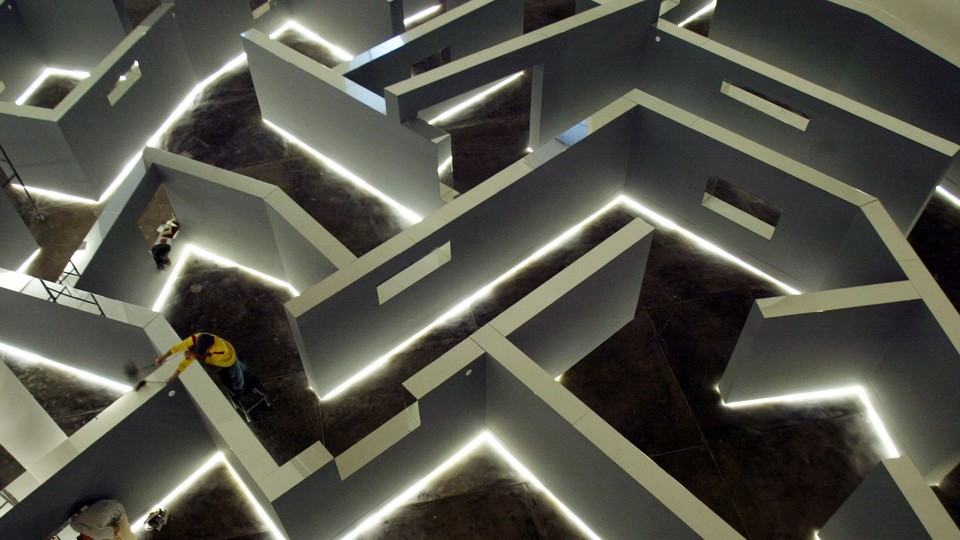 When Nelson Aponte, a 37-year-old prisoner serving 10 to 12 years for larceny in Hampshire County Jail, in Massachusetts, registered for a class on labyrinths three years ago, he was skeptical, to say the least.
"When it was time to walk the indoor labyrinth for the first time, I thought it was a joke," he said in a handwritten letter. "Grown men walking in circles, criminals at that."
The instructor explained the history and theory of labyrinths, how they are based on ancient patterns thought to hold meditative powers. Walking a labyrinth promotes healing and mindfulness, some believe. But Aponte "was not convinced, nor impressed," he said.
"But since I signed up, I had to attend."
Then came the fourth class. The day's lesson was about breathing techniques, and Aponte arrived feeling stressed. As he walked the labyrinth, he felt his breathing loosen and his mind start to settle. "I was just thinking about my family, those I harmed, and what my life has become," Aponte wrote. "I can honestly say that on my fourth visit, I had a sense of freedom."
Now, Aponte says the time he spent walking that labyrinth—and building a second, permanent one in a prison garden—has helped him grow into a more self-controlled adult. "The labyrinth has taught me to be mindful of my emotions," he wrote. "It's shown me how to work on patience."
Some people do yoga. Others meditate. These days, there are those who walk labyrinths, swearing by its emotional and spiritual benefits. Labyrinth devotees are an odd mix of new-age enthusiasts and clinicians, even doctors. Riding such endorsements, labyrinths have made their way into prisons, spas, wellness centers, and hospitals in recent years. Last year, Riley Hospital for Children in downtown Indianapolis became the second hospital in town to build a permanent on-site labyrinth. A pamphlet at Colorado Children's Hospital informs patients that "walking a labyrinth can often calm people in the midst of crisis." At Kaiser Sunnyside Medical Center in Clackamas, Oregon, patients who can't make it outside to the paved labyrinth can have a paper "finger labyrinth" brought to their bed. Even Ben Bradlee, legendary executive editor of the Washington Post, had a 50-foot labyrinth built for his wife, Sally Quinn, on their Maryland estate.
"There are waves of revivals of interest in labyrinths that occur throughout history," said David Gallagher, the executive director of the Labyrinth Society. "We happen to be in a moment of one of those revivals."
A labyrinth is not a maze. There is nothing to be solved, no dead ends meant to entrap the walker. Labyrinths have a clear way in and out. Yet the small amount of concentration required to stay on the path, combined with the repetitive nature of following the pattern, is said to produce a calming effect that can do everything from reduce anxiety to combat chemotherapy-induced nausea.
The science behind this theory is sketchy, at best. "I would have a lot of difficulty trying to prove this as a research-based, double-blinded study," said Thomas Ferrara, an Indianapolis-based physician who has referred several patients to local labyrinths. But dozens of small studies have hinted that labyrinth walking may hold some real benefits. One 2001 study found that walking a labyrinth provided "short-term calming, relaxation, and relief from agitation and anxiety" for Alzheimer's patients. Others show that everyone from pediatric cancer patients to nurses feel happier and less stressed after a good labyrinth walk.
Whether a good walk around the block wouldn't produce the same benefits is hard to say. But it's also not the point, says Ferrara. "We're using way, way, way too many pharmaceuticals in this country right now," he said. "This is a very easy way to" to reduce stress. "It takes a little bit of time, but there's very little risk to it."
Skeptics are invited to join labyrinth fans in a "moving meditation for peace" taking place this World Labyrinth Day (May 2, as always). You can use the Labyrinth Locator to find one near you.