Should Patients Be Able to Find Organ Donors on Facebook?
A recent case in Belgium, in which a man took to social media to ask for a kidney, is raising questions about who can ethically donate.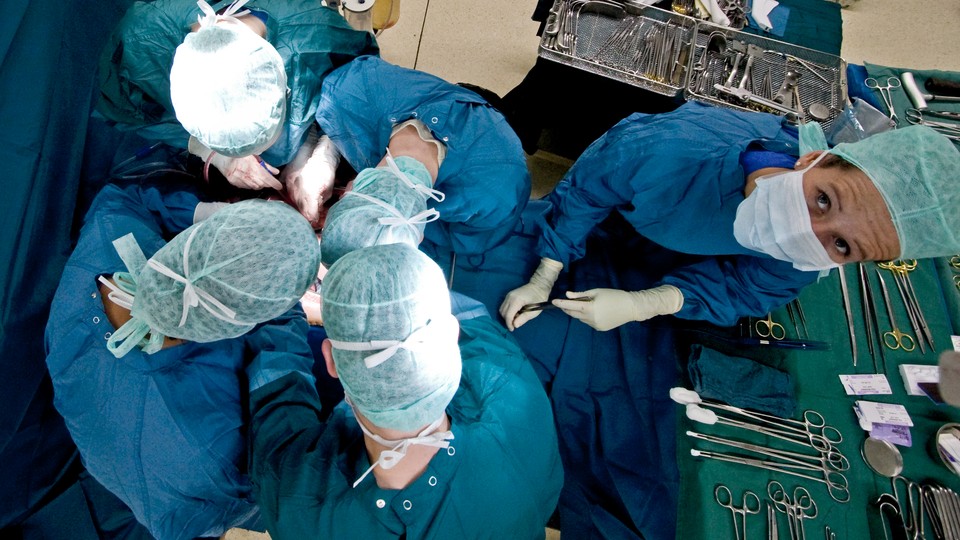 The list for a donor organ in Belgium is 1,248 patients long. Many will wait more than three years to receive a kidney. Roel Marien, 39 and the father of two young girls, says he does not have the time to sit and wait. So he took matters into his own hands and began to search for a donor among his Facebook friends.
His move sparked a discussion among doctors and patients in Europe about the current system, which is based on strict laws and anonymity. Is it fair if people search for organ donors online to avoid endless waiting lists? Might social media give certain patients an advantage, if they can present their stories well online?
On January 12, Marien, a car salesman, posted a message on Facebook, between the photos of polished old Porsches and his daughters playing outdoors. "Urgent," Marien wrote. "Looking for a kidney from a living donor." He was looking for someone with blood type A-negative, between 18 and 45 years old.
In less than a month's time, he found eight people who agreed to donate one of their two kidneys if they were a good match for Marien. It would have been the first organ transplantation between Facebook friends in Belgium.
In March, however, Marien's doctors at the University Medical Center in Leuven refused to do the transplant, calling it unfair, according to the Belgian newspaper De Standard. "Someone who comes across as attractive or who is very active on social media has more chances to find a donor," the clinic's medical director, Johan van Eldere, told the Dutch newspaper Trouw. However, being mediagenic should not play a role and patients with a touching story should not get preferential treatment, they say.
Steven Vanderschueren, an internist who is involved in the evaluation of possible donors in Leuven, says the case provoked worry among other patients who did not receive a donor organ. Many of them might not have access to social media. The idea that the most noticeable people get more attention "goes against their sense of justice," Vanderschueren wrote in an email.
The doctors postponed a final decision as to whether they will accept Marien's Facebook friends as possible donors until Belgian authorities ruled on the matter. Vanderschueren explained they asked Belgium's Advisory Committee on Bioethics and the Belgian Transplantation Society for clarification.
For the doctors it is not only a moral question, but also a legal issue. Usually, organs come from deceased organ donors or from anonymous donors. In Europe, the organs are then allocated according to a central list, which is maintained by the organization Eurotransplant.
Relatives and friends, too, can volunteer to become "living donors" for a patient. Many countries, however, have strict limitations on who can donate. In Belgium, only family members and people who have a "sustainable relationship" with the patient can become his or her donor. In Germany, volunteers must be family members of the first or second degree or "related to the recipient in a very special way."
"They are hiding behind bureaucratic regulations," Marien says. His case raises the question of whether transplantation laws should be updated in times in which many people make and maintain contacts by using social media.
Other countries have adopted a more liberal approach. In the U.S., rules are less strict and allow for transplants between biologically unrelated people—a transplant between Facebook friends, then, would be theoretically possible. Back in Europe, in the Netherlands, a transplantation between Facebook friends took place in January. Erardo Kea, a Dutchman, posted a request in February 2014 that was shared more than 2,700 times.
Kea, too, found several volunteers within just a few days. Not all of them were medical matches, but in January 2015, less than a year later, he got a kidney from a Facebook friend. It would have taken him around four years to get a kidney through typical channels, according to the Dutch organ-donation foundation Nierstichting.
The Amsterdam University Medical Center says the way patients find a donor does not matter. "For us it doesn't make a difference how donor and recipient got to know each other," says the clinic's spokesperson, Marc van den Broek. He finds the argument of fairness reasonable but not convincing. Under the existing regulations, people who have a big family or who know many people would have an edge over others, too, he says.
Van den Broek goes even further by arguing that social media can have a positive effect: "Patients who find a donor themselves on Facebook or within their families are removed from the list and, therefore, reduce the waiting time for other people," he said.
Others, too, have pointed out social media could play an important role to address the organ shortage. In 2012 Facebook put in place a feature allowing members to add their organ-donor status. The social network also provides a link to the official donor registries.
The first day after the feature was introduced, the number of people who registered as organ donors in the U.S. increased 21-fold. Researchers from Johns Hopkins University, therefore, suggested social media might be an effective tool to search for donors. "The short-term response was incredibly dramatic, unlike anything we had ever seen before in campaigns to increase the organ-donation rate," said Andrew Cameron, the study leader and an associate professor of surgery at Johns Hopkins in a press release when the study was released in 2013. "And at the end of two weeks, the number of new organ donors was still climbing at twice the normal rate."
Facebook may be powerful, but some doubt whether that power should be used. Wolfgang Eckart, a professor at the Institute for the History and Ethics of Medicine at the University of Heidelberg in Germany, says the use of social media could interfere with the current allocation system.
First, it could open the door to organ trading. "Authorities could not control the arrangements between donors and recipients," he said, adding that the likelihood that money is being paid could increase with this arrangement.
Second, the allocation of organs under today's system is based on clear-cut criteria, Eckart says. In European countries under Eurotransplant's authority, factors such as medical urgency, the age of a patient, and the waiting time are taken into consideration. The U.S. has a similar system with the United Network for Organ Sharing (UNOS) managing a national waiting list and matching donors to patients. Such a system creates an objective and transparent distribution, Eurotransplant says on its website.
"From a patient's perspective, those criteria may seem hard, but they are the same for everyone," Eckart says.