The Childless Millennial
A new report finds that today's twentysomethings have a lower birthrate than any previous generation.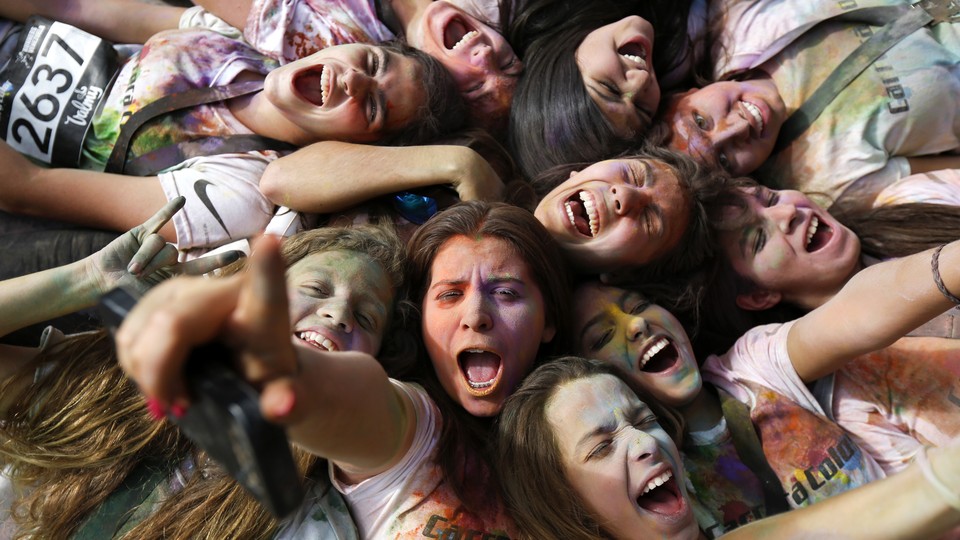 The characters of the TV show Girls have the kinds of problems only childless people complain about. A fight with a partner over whether the songs you write together sound like those of a popular indie band. A fight with a friend over how long it took them to come over. A chilly reception to one's modern-art show.
It's no wonder Millennial audiences relate to the show so well: Today's twentysomething women have been slower to have children than any previous generation.
In a new report, the Urban Institute think tank writes that in 2012, there were only 948 births per 1,000 women in their 20s, "by far the slowest pace of any generation of young women in U.S. history." In 2007, the rate was 1,118 births per 1,000. The decline in births was largest among Hispanic women, at 26 percent, followed by black women, at 14 percent, and an 11 percent drop for white women.
---
Decline in Fertility Among Twentysomething Women, by Race
---
The researchers put forward a few theories for the decrease. One is the Great Recession, which might have hit pause on pregnancy plans because babies are, among other things, expensive. Past studies have estimated that the recession led to a 2.4 percent decrease in the fertility rate, or about 426,850 live births. The recession also slowed the trickle of immigrants to the U.S., and immigrants tend to have more children.
The authors also found stark differences when they parsed the data by race. For Hispanic and black women, the majority of the fertility decline was explained by falling birth rates among unmarried women. That's generally considered a good thing, because while most single mothers do an admirable job, they are also more likely to be poor, stressed-out, and feel regretful. If more women are waiting until marriage to have kids, they might have an easier time of parenting.
---
Components of Decreasing Births from 2007 to 2012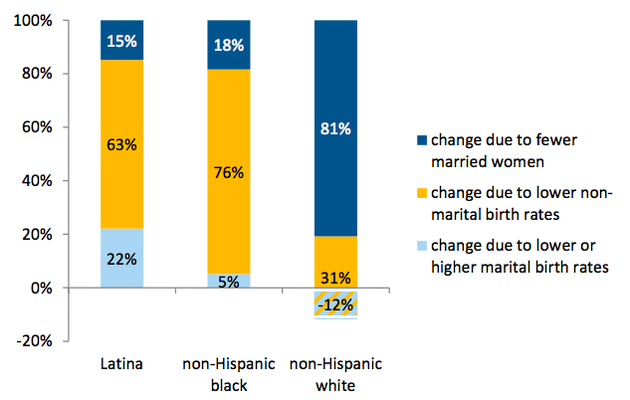 ---
For white women, though, the story was very different: "81 percent of the decrease in fertility is attributable to declining marriage rates." (Granted, white women were less likely to be single mothers to begin with.) All the single ladies of countless Internet essays are, indeed, staying unhitched—and they're not having kids as a result.
The report authors say they don't know whether Millennial women will eventually catch up in childbearing like women who lived through past recessions did.
Overall, the report paints a positive picture for women of color and a neutral one for white women. On one hand, women might be enjoying living carefree and childless into their 30s. On the other, a nationwide shortage of babies hasn't worked out well for places like Germany, Denmark, or Japan, where aging populations threaten economic growth and the sustainability of pension funds.
The report ends with a shrug:
These results indicate that in the near future there will be at least a temporary drop in the number of very young children. This has implications for planning how many Head Start spots, vials of vaccine and, eventually, seats in classrooms we need. If these low birth rates to women in their twenties continue, without a commensurate increase in birth rates to older women, the U.S. might eventually face the type of generational imbalance that currently characterizes Japan and some European countries, but it is too early to predict or worry about that eventuality.
Yeah, why worry? Millennial women aren't.