Ebola Vaccine Appears Safe, Effective
Two experimental trials bode well for gaining control of the hemorrhagic viral disease.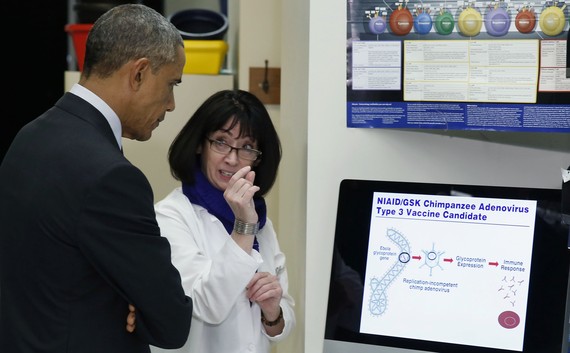 Tests of an experimental Ebola vaccine have found that 100 percent of vaccinated people mounted a promising immune response and incurred no serious side effects, according to results published this morning in The New England Journal of Medicine. A large, international group of researchers report that between two studies, all 200 subjects in the United States, Switzerland, and Germany who were given the recombinant vesicular stomatitis virus-based vaccine (rVSV) vaccine developed an immune response that should be effective in warding off future infection.
The subjects in today's studies were not actually exposed to the Ebola virus after vaccination, so the appraisal of effectiveness is based on primate studies that give researchers an idea of how many antibodies are required to prevent infection. Some people who received the vaccine did develop fatigue, chills, and muscle aches, but no serious complications, and based on the formulation of the rVSV vaccine—which is a mixture of some Ebola Zaire viral proteins inside another more innocuous virus—it carries no risk of infecting patients with Ebola.
At least 10,000 people have died in West Africa as a result of the ongoing epidemic. Based on the findings reported today, this Ebola vaccine formulation has been incorporated into recently initiated human trials in Liberia and Guinea, and will be introduced in Sierra Leone in the near future.