What Obamacare Subsidies Are For
The Supreme Court has upheld federal subsidies for health care under the Affordable Care Act, a decision that affects millions of Americans in 34 states.
Terry Donald, a self-employed junk hauler who lives in St. Petersburg, Florida, didn't fully appreciate the value of his health insurance until last spring. That's when he sliced his arm open on a broken mirror and had to rush to the ER for stitches. Then on Labor Day, he tripped in the yard and cut his leg. At first it didn't seem bad, but after about 10 days, the wound began to look infected. He had to get surgery for what turned out to be a severe staph infection. After a long hospital stay, he couldn't work for a month. Meanwhile, his wife kept filling her regular prescriptions for a thyroid condition.
When Anthem, his insurer, sent him an estimate of how much it had paid out for the couple's care over those few months, the total was more than $90,000, he says. Donald, meanwhile, only faced co-pays that were tiny by comparison.
"At that point, I noticed how easy everything was," he told me recently.
Donald and his wife are able to afford their generous health plan, for which they pay about $200 per month, because they get a tax credit through Obamacare that adds up to savings of about $5,000 per year. Before Obamacare, he remembers signing up for catastrophic plans that had deductibles over $10,000. "Just having that tax credit up front is a little ease of mind," he said. "You don't have to worry every month when the bill comes in."
Today, the Supreme Court will hear arguments in King v. Burwell, a case that threatens to yank the tax credit away from Donald and millions of other people like him. Under the Affordable Care Act, otherwise known as Obamacare, the states were invited to create exchanges, or online marketplaces, where uninsured individuals must buy insurance plans. In the states that opted not to create one—either for logistical reasons or out of political opposition to the law—consumers were told to use an exchange created by the federal government through Healthcare.gov. Florida is one of these states.
The law also stipulates that people below a certain income threshold, about $47,000 a year for an individual, get tax credits to help offset the cost of their insurance plans. King v. Burwell hinges on, essentially, four words: In the section of the law that discusses these tax credits, the text refers to an exchange "established by the state." That would imply, the plaintiffs' lawyers will argue, that the tax credits should not extend to the 34 states that operate on the federal exchange. The Internal Revenue Service, they say, is illegally offering those tax credits to people in those states.
---
States That Risk Losing Subsidies After King v. Burwell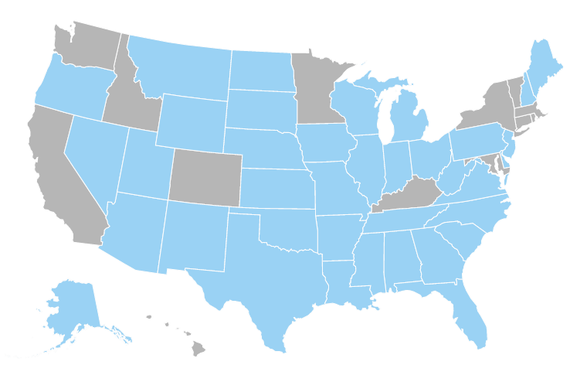 ---
David King, the lead plaintiff, is a Virginia Vietnam vet who hates the very thought of a law that requires him to buy insurance. Mother Jones and The Wall Street Journal have raised questions about whether King is actually affected by the law, since veterans are usually eligible for free healthcare anyway. But others say he and the other plaintiffs do have the proper legal standing.
"When you look at the rules, just because you may have had military service at some point in time, he might not actually in the full sense qualify for eligibility by the VA," Thomas Miller, a resident fellow at the American Enterprise Institute, told me.
If the Court goes for King, Obamacare as we know it might end. In a recent analysis, the Urban Institute noted that more than 9 million people currently live in states that use a federal exchange and receive subsidies. It estimates that they would lose about $3,000 in tax credits each, and 8 million of those people would become uninsured. Because so many people would pull out of these insurance markets, the cost of insurance premiums in those states would skyrocket by 35 percent, the think tank estimated. As the cost of coverage rises, fewer people would want to enroll. The goal of Obamacare—to cover all Americans—would be hobbled.
Most people who will be affected by this case do not realize they will be. According to a January poll by the Kaiser Family Foundation, 56 percent of Americans say they have heard "nothing at all" about King v. Burwell. In fact, most people do not know what kind of exchange their state uses, which suggests that these people might be blindsided by the ruling.
---
Percent of People Who Responded Correctly When Asked About the Nature of Their State's Exchange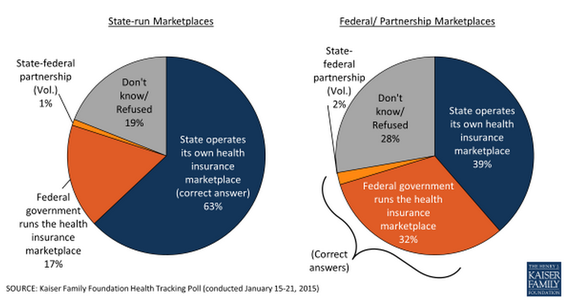 ---
When he first heard about the case in the news, Donald thought, "'Are you kidding? It boils down to four words?' If this goes away, what are we going to do? We'll be right back to where we started, every year trying to decide whether we'll get insurance or not."
Some supporters of Obamacare have argued that those "four words" are just a technicality—the government has called it "a term of art"—and that the case is a frivolous one. Others maintain that it's a good case rooted in a solid question. That's why it's being heard in the highest court in the land, after all. And not everyone who receives the subsidies supports the law. Some people feel their share of the premiums are a financial burden, and others prefer not to have to carry health insurance at all.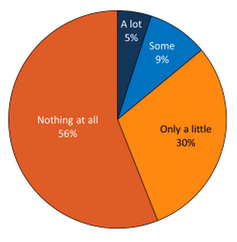 "Ultimately, what is passed into law is the particular text of a law. We interpret the laws that we actually get," Miller told me, adding, "In the event that the petitioners are successful, I think it will have positive effects for the development of health policy and the healthcare system."
The Obama administration has warned that it has no fix for the states that would lose their subsidies if King prevails. "We know of no administrative actions that could, and therefore we have no plans that would, undo the massive damage to our healthcare system that would be caused by an adverse decision," Health and Human Services Secretary Sylvia Burwell, the defendant on the case, wrote in a February 24 letter to Congress. Several Republican leaders have come forward advocating transitional financial help for the people affected in their states. The Washington Post reported that at least six Republican states are weighing contingency plans, such as setting up their own exchanges, if the ruling erases their subsidies.
Still, some leaders remain staunchly opposed to stop-gaps. Florida Governor Rick Scott, when asked about the case at a gathering of conservative activists, said, "This is not my program. It's a federal problem." Florida will be one of the worst-hit states if the subsidies disappear: More than 1.2 million people there currently receive them, according to the Commonwealth Fund. Texas has the most to lose, with 1.6 million of its residents getting the tax credits.
Donald predicts that if his subsidy evaporates, "we'll have to go back to an extremely high deductible, a catastrophic-care kind of insurance plan that won't cover anything until we've chipped in $12,000 a piece," he said. When they were on this kind of plan, the couple would look for deals on their prescriptions at Target. They would skip doctors' appointments and avoid following up on their medical problems, Donald says.
Without a plan that covers doctors' visits, he says, "You go to the doctor, that's $100. You go and you're sick, that's $150. You go and you're sick and he writes a prescription, that's $200."
Texas has a bill pending that would allow the state to switch to a state-run exchange. If that fails, Shala Russell, a 26-year-old who lives in Houston, said she "can't imagine" what she'll do. Russell says her $180 monthly tax credit knocks the premium of her health plan down to $29. (I found Russell and Donald through The Young Invincibles and Families USA, two groups that have been supportive of the Affordable Care Act.)
Russell, a student who is studying psychology and working part-time, says she signed up for a Blue Cross Blue Shield plan during Obamacare's open enrollment last year after seeing signs around the city and being nudged by her girlfriend. Her income ranges from $15,000 to $29,000 annually. She, too, has a thyroid condition she must manage through regular check-ups, and she's also worried about hypothetical health-horror scenarios.
"I commute all the time," she told me. "One of my big fears is, what if I get into a car accident? That would just be another debt to my name."
Though the Court will hear arguments this week, the ruling is not expected to be announced until June. When she thinks about the potential outcome, Russell says she feels "fear, and just a kind of sadness that these (plaintiffs) are also working class, but it's like they're attacking other people who are also working class. They're harming people who are already oppressed in other ways."