Free Speech Outside the Abortion Clinic
The Supreme Court has given pro-life advocates free rein, even if it distresses patients. But getting people to listen is more complicated.
When Kelsey McLain, then a 25-year-old in the midst of the first trimester of her pregnancy, arrived at the abortion clinic closest to her home, her car couldn't get past the entrance of the parking lot. Protestors loomed toward the front of her vehicle. The group of 12 wielded signs covered in photos of aborted fetuses with the word "murder" printed across them in big block letters. McLain's mother was behind the wheel, and with her foot on the brake, she gave the road blockers a choice of moving or getting run over.
The encounter didn't end after the protesters moved off to the side. As McLain got out of the car, louder shouts greeted her, accusing her of turning her back, of not wanting to know the truth. She felt growing anger but resisted the urge to lash out. She dashed inside the clinic, her mother close behind. "It wasn't what I needed to deal with that day," McLain recalls.
In the clinic's waiting room, McLain noticed that many of the patients seemed rattled. "At that point, all they knew was that there were people outside and they were screaming at them. They didn't know their motivations or if they were good or bad people." As a woman with a self-proclaimed interest in reproductive rights, McLain had thought she was prepared for what she was going to face when she arrived at the clinic. But she, too, felt jarred. "Protesters are always going to be a scary thing, no matter how much knowledge you have about them," she says.
Today, McLain witnesses pro-life activism on a weekly basis, when she volunteers as a clinic escort. Her role is to offer patients moral and physical support as they make their way past protestors, some of them quietly praying, others approaching the women with an intensity that that borders on harassment. She says protesters are quick to remind escorts and clinic staff that they're legally entitled to be there. "They comment to us that they have great lawyers, and they know their rights, and if we ever violate their right to free speech, they'll sue us," she says.
In June 2014, the Supreme Court unanimously struck down a Massachusetts law forbidding protesters from standing within 35 feet of the entrance to a reproductive health care facility. After that decision came down, the demand for escorts like McLain sharply increased, says Marty Walz, the recently retired CEO of the Planned Parenthood League of Massachusetts. "The protesters definitely have greater access to our patients, right up to the front door," Walz says. "And they take advantage of it." When the buffer zone was in place, the Boston clinic used escorts only on Friday and Saturday—its busiest days. Now, every day, a swarm of people descends on the building. Along with the patients, the protesters—who now number anywhere from 20 to 80 each day— and the pedestrians, there are 20 to 30 additional escorts at the Boston clinic.
This growing horde of people has made the atmosphere outside the clinic tenser, more chaotic, and in general, a lot less comfortable for the patients, says Sarah Cyr-Mutty, the community relations coordinator at the Boston clinic and a regular clinic escort. "No one wants to drive up to their doctor's office and see over 100 people standing outside."
The activists are now able to walk right up to patients—praying, pleading, and handing out flyers. They can follow women up to the clinic's doors, which means that once the patients are in the waiting room, they can still hear the chants from outside. As such, Cyr-Mutty says that the patients she escorts through the clinic's doors now are often in need of more consoling than they were before the Court's decision. "Whether they're just a presence outside, or they're really trying to interact with them, it's always really upsetting to the patient."
But apart from the commotion, it's not clear how much has changed since the Supreme Court's ruling in McCullen v. Coakley nine months ago. There's no evidence that activists are succeeding in changing women's minds. What is succeeding is the one thing the Supreme Court intended: People who believe abortion is murder are able to share that message with those who least want to hear it.
"It is no accident that public streets and sidewalks have developed as venues for the exchange of ideas," wrote Chief Justice John Roberts in the Court's opinion. "Even today, they remain one of the few places where a speaker can be confident that he is not simply preaching to the choir. With respect to other means of communication, an individual confronted with an uncomfortable message can always turn the page, change the channel, or leave the Web site. Not so on public streets and sidewalks."
For pro-lifers, the opportunity to protest outside clinics is nothing less than a divine calling. In 1985, Joseph Scheidler, founder of the Pro-Life Action League and often called the 'grandfather' of the pro-life movement, published the book Closed: 99 Ways to Stop Abortion. It begins with a chapter on sidewalk counseling, which Scheidler called "the single most valuable activity that a pro-life person can engage in. When pro-lifers counsel at an abortion clinic they come between the baby who is scheduled to be killed and the doctor who will do the killing."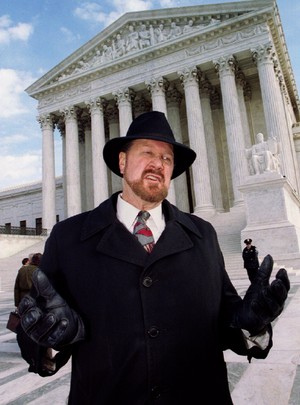 Ann Scheidler, Joseph's wife, felt the 1973 Roe v. Wade ruling strongly when it came down during her fourth pregnancy. "It infuriated me that our country and our government did not respect the life of my child," she says. "That she was only a human being if I said so, as her mother."
When Ann and her husband began their activism, they thought it would be an easy fight. "We thought all you had to do was teach the public about fetal development, and everybody else would also be upset that these children weren't being valued," Ann says. "We thought it would be a short-term involvement." Forty-one years later, Ann, Joseph, their son Eric, and the rest of their family are still devoting virtually all their time and energy to the Pro-Life Action League.
It's because of people like the Schiedlers that abortion is still a fiercely debated issue decades after Roe v. Wade was decided. "It's a hot topic because we've stayed out there, forcing the issue," says Eric Scheidler, Ann and Joseph's son and the executive director of the Pro-Life Action League. "We're not going to forget about this, and we're not going to let our society forget about this."
Since 2000, the organization has been hosting annual Face the Truth tours, which bring together activists from all over the country. Most of the action occurs in urban areas around Chicago with heavy pedestrian traffic. During last year's demonstration, men and women in red t-shirts with "Face the Truth" emblazoned on them in a white script dotted the blocks of Michigan Avenue. Several of them held a tall, thick signs featuring photos of aborted fetuses. Some of the signs bore the words "Abortion Is Not Healthcare." The more graphic ones included a "death date" for the pictured fetus. In their other hands, the protesters clutched small stacks of pamphlets that read "Face the Truth: See what abortion really looks like."
Eric says the group's approach is often misunderstood. "Even very pro-life people will think that what we do is go out with bull horns and picket signs, wave them around, and yell and scream," he says. "In fact, we're pretty quiet." He says the goal is to get people talking. "Given the opportunity, we can really flip an angry conversation into an opportunity." Every once in a while, he says, someone tells him or another Pro-Life Action League member that the signs had an impact and, in some cases, even stopped a woman from getting an abortion.
When the Scheidlers' group and other pro-life activists gather outside abortion clinics, their agenda is slightly different. Part of the goal is to draw public attention to what goes on inside that building. But the overwhelming priority is to stop individual women from going through with the procedure. "The best counselors are good listeners," Joseph wrote in his 1985 book, "since people often find their own solutions if they have someone to listen while they talk out their problems. Counseling is nine-tenths listening and one-tenth advising."
Catherine Mieding has worked as a sidewalk counselor in and around Chicago for more than 20 years. With a small stature and sincere smile, Mieding seems more grandmother than protester. She radiates a captivating warmth—it's easy to imagine her putting an angry person at ease. During the Face the Truth tour, Mieding sported the same bright red t-shirts as her fellow volunteers, but when she's counseling outside abortion clinics, she dresses in street clothes so as to not intimidate the patients.
Every abortion sidewalk counselors prevent is called a "save," Mieding says. If they can, activists will convince the woman to go through the doors of a crisis pregnancy center instead of an abortion clinic. It's a difficult task, she admits. "It's a challenge every time you go out there, and it's a challenge with each person," she says. "You have to convince them that this is wrong. That even if you give your baby up, [you should] give your baby life."
While saves are rare, Mieding says even one makes all the effort worth it. And after more than 20 years as a sidewalk counselor, Mieding has quite a few to her name.
One night, in the lot of a Chicago-area clinic, a woman approached Mieding—a rarity in itself, as it is usually the other way around. The woman asked her if she had been there 11 years earlier. Her response was easy: "Always."
While Mieding didn't remember this particular woman, the woman told her about a conversation they'd had on the sidewalk. After speaking with Mieding, the woman had changed her mind about the abortion and instead gone to the nearby crisis pregnancy center, where Mieding accompanied her.
"You don't see most of the endings with sidewalk counseling," Mieding says. "That's the offering you have to make, and that you have to give up to. You don't have that right." But seeing this woman again gave Mieding the opportunity to fill in the blanks and find out where her activism had led. When she asked to see a picture of the child, the woman reached into her wallet and pulled out a photo of a tow-headed 11-year-old boy holding a basketball.
"I asked her, 'How do you feel about this, and what happened?' And she said, 'He is my joy,'" Mieding recalls. "No matter how tired you are, no matter how upset you feel, if it's bad, bad day, or week, or month, God drops something down and says 'Don't give up.' To me, I could never give up because of these memories alone."
Mieding has had other chances to see the results of her efforts—over the years, she's been invited to the weddings of parents, and even some children's christenings and first birthday parties. Once the child reaches a certain age, however, Mieding feels that out of respect, she has to back off. "They're deep in my heart, but it's their life," she says. "No one is going to want to tell their son that he was almost aborted."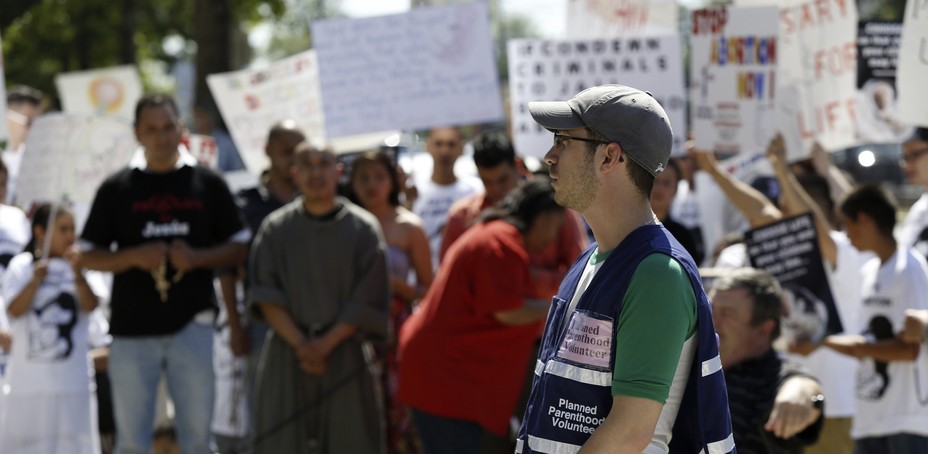 Although most activists say they approach women with empathy and compassion, the scene can look very different from the other side. Escorts say they have to shepherd patients through thickets of signs, pamphlets, and emotional protesters, some of whom trail behind them, begging the women to have mercy on their babies. "It's scary," McLain says. "If you're going to your medical appointment, you don't expect to see a circus. But that's what you're greeted with."
Over the years, the Massachusetts branches of Planned Parenthood have seen more intense forms of activism, including a 1994 shooting at a Brookline clinic that killed two employees and wounded five other people. The buffer zone was designed to prevent acts of violence and particularly aggressive protests, not so much quiet, unobtrusive praying and sign-holding. But the law also helped eliminate what Walz described as "the everyday reality of protestors in our doorway or clustered around the driveways, making it difficult for women to access healthcare."
A patient named Pia (who wished to withhold her last name) has never had an abortion, but she goes to Planned Parenthood for her annual exams. She says she's been endlessly harassed by protestors for 20 years, first as a Planned Parenthood patient in San Diego and now during her visits to the Boston clinic.  In 2012, she brought her then-boyfriend, now-fiancé, along to her annual exam. As they drove up to the clinic, Pia and her boyfriend saw a man pacing back and forth, carrying a giant cross over his shoulder. When they stepped out of the car and into the chaos, an elderly woman approached them.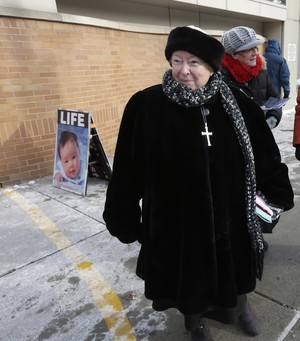 Pia believes the woman was Eleanor McCullen, the lead complainant in McCullen v. Coakley. (She later ran into McCullen again at a State House hearing and was fairly sure she recognized her from that encounter.) According to the Supreme Court's opinion, McCullen claimed that she always began her conversations this way: "Good morning, may I give you my literature? Is there anything I can do for you? I'm available if you have any questions." But Pia says the women she believes to be McCullen looked her in the eye and screamed, inches from her face, "Please don't kill your baby!"
"I'm not pregnant," Pia responded, exasperated. Immediately, the woman left her alone.
When a patient is, in fact, pregnant, Walz says that the protesters aren't as quick to leave their posts—even when the patient asks to be left alone. "If a patient does not wish to communicate with the protesters, they still continue to follow them, continuing to yell at them and harass them," she says.
In an effort to cut down on these encounters, Massachusetts Senator Hariette L. Chandler introduced a new bill less than three weeks after the Supreme Court decision came down. The bill was passed quickly by the legislature and signed by Massachusetts Governor Deval Patrick on July 30. The Safe Access Law allows police to diffuse protestors who are "substantially impeding" patients' access: After receiving a dispersal order, the protesters are required to stay 25 feet away from the health center's door for eight hours.
In some ways, the new law isn't so different from a 2000 Massachusetts law that preceded the buffer zone; it prohibited "passing a leaflet or handbill to, displaying a sign to, or engaging in oral protest, education, or counseling" within six feet of another person outside a health care facility. But police found that law hard to enforce, and the new law is proving challenging for the same reason, even though there's been an increased police presence near the clinics following the Supreme Court's June 2014 decision.
So far, there have been no dispersal orders given at either the Boston or Worcester clinics, which have been protesters' biggest targets in Massachusetts. "It's difficult for police to assess when protesters are substantially impeding a health center unless they are physically present to witness it," Walz says. "If we had someone who was substantially impeding patient or staff member access and we called the police, the person may stop to avoid the dispersal order."
At the very least, however, even threatening to call the police may give clinic staff a way to single out the most aggressive protesters and force them to step back. As Pia put it, testifying at the Massachusetts State House last summer on behalf of the new law, "We should not lose our right to feel safe and protected on our way to see our doctor. Let me be perfectly clear: harassment, intimidation, and fear tactics are not free speech."
More than four decades after Roe, pro-choice activists seem to be on especially shaky ground. During the past three years alone, more abortion-limiting pieces of legislation were passed than throughout the whole previous decade, according to the Guttmacher Institute. The trend is likely to continue, given the Republican-dominated U.S. House and Senate and the Republican majorities at the state level. As of 2015, 70 percent of state legislative chambers are under GOP control. Twenty-four states have both Republican governors and Republican-controlled Houses and Senates (in contrast with a mere seven states entirely under Democratic control).
But it's not yet clear whether McCullen v. Coakley will any serious impact on abortion access. Shortly after the decision, Portland, Maine, overturned its own buffer-zone law, and New Hampshire's House of Representatives recently voted to do the same. So far, Colorado's "floating buffer zone" law still stands: It doesn't restrict people from standing outside clinic entrances but does forbid them from coming within six feet of a person who is trying to enter the clinic. The law, which was upheld by the Supreme Court in 2000, has been a model for similar laws elsewhere, and it was not mentioned in last year's McCullen v. Coakley opinion.
Meanwhile, for all the debate surrounding them, buffer-zone laws don't seem to have much bearing on whether women actually choose to go through with abortions. They can certainly reduce chaos outside a clinic and limit patients' discomfort and distress. Jerri (who wished to keep her last name unpublished) remembers hearing protesters jeering from her at a distance when she had an abortion at age 19. "Obviously, it affected me, being raised Baptist, in the South," she says. "I worried about the message they were shouting—was that God's way of telling me I was murdering my child? Like he sent the woman there to specifically shout that to me, on that day."
Still, Jerri went through with her abortion, and so do the vast majority of other women who contend with protesters outside their clinics. A 2012 study published in the journal Contraception surveyed 1,000 women at 30 different clinics and found that about half of them felt at least slightly upset after encountering pro-life activists. Those who saw the protesters without hearing them were less likely to be affected—only 3 percent of those women reported being extremely upset. But there wasn't much difference between women who heard protesters and those who were actually stopped by them: 8 percent and 9 percent, respectively, reported feeling extremely upset by their encounters.
What's more, the women who were stopped by protesters were no more likely than any of the other women to feel guilt, sadness, anger, or regret a week after their abortions. The women who were most likely to feel those negative emotions were the same women who struggled with the decision initially; it made no difference whether they encountered any protesters once they got to the clinic.
In other words, says Dana Greene Foster, a medical researcher at UC San Francisco and the study's lead author, when a woman is determined to terminate her pregnancy, protesters have little effect on her decision. As Foster puts it. "The reasons women have abortions are much more important to them than someone else's opinion about abortion." The Supreme Court has upheld the right to protest on public sidewalks, and all the way up to a clinic's front door. And for those who equate abortion with murder, showing up each day with signs, flyers, and rosary beads may feel like God's work. But even the most dedicated among them know that true "saves" are few and far between.