Why Don't Convenience Stores Sell Better Food?
New programs aim to put more produce in corner stores in order to improve the health of low-income communities. Will it work?
At a small corner store in northeast Washington, Nola Liu, a community-outreach officer with the D.C. Central Kitchen, whirled around a deli case with a clipboard in hand, passing out a recipe for cinnamon pear crisps to anyone who would take it.
She thrust a card at a man in a blue knit hat who was on his way out.
"Are you gonna make it for me?" he asked.
"No, you have to make it yourself," she responded.
"I'm not much of a baker," he said, and walked out.
Fresh pears are a relatively new arrival at this store, which is called Thomas & Sons. Just a few months ago, the extent of its produce selection was a small refrigerated case holding a few forlorn fruits and onions, all going at a premium. The owner, Jae Chung, was reluctant to stock things like tomatoes, which would often go bad while they lingered on the shelves.
Now, a brand-new refrigerated vegetable case sits front and center amid all the beer and bulletproof glass. ("I have some unruly customers," Chung explains.) Inside are apples, lemons, limes, and grapes packaged neatly in plastic containers. Additional baskets hold potatoes and bananas. The case was provided by the D.C. Central Kitchen as part of their Healthy Corners program, which seeks to expand the fruit and vegetable offerings in corner stores across the District.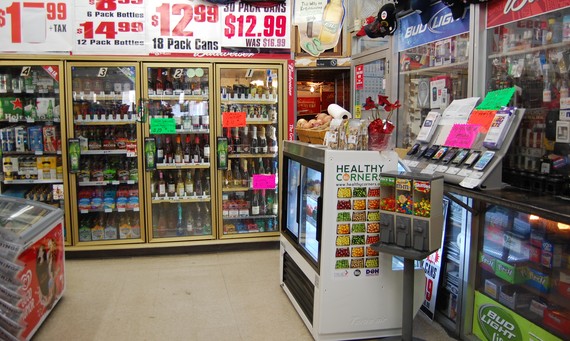 Not only did the nonprofit give Chung the fridge for free, it will also replace any items that go bad at no extra cost. They sell the greens to him for cheap, too. Chung says before, he had to buy his fresh produce stock at Costco and pick it up himself. After he added in his markup, a tomato at Thomas & Sons would sell for about $2.50. Now, it's more like $1 to $1.50—on par with what someone might pay for a bag of chips or package of donuts. (At Walmart, a pack of four tomatoes goes for $2.48, or about 60 cents per tomato.)
Nearly every city has neighborhoods that suffer from a lack of access to cheap, easy, and healthful options, and Washington, D.C. is no exception. Tiny, independent corner stores—the kind that have wall-to-wall beverage cases, rows of brightly-packaged junk food, and just one or two cash registers—are crammed into every nook of the city. They're an essential part of the food landscape, providing everything from make-do lunch fare for construction workers to emergency beer for hipsters on their way to house parties. According to the D.C. Central Kitchen's calculations, 88 percent of food retailers in the District sell mostly junk food or processed food. Two hundred thousand of the District's residents live in an area where the closest grocery store is three times further away than the closest fast-food or convenience store.
One solution is to lure more large grocery stores to these so-called "food deserts." But it's often much easier, some advocates argue, to simply get the ubiquitous corner stores to start selling healthier food.
Size is the main reason most American corner and convenience stores don't stock very many fruits and vegetables. Many food distributors require a minimum order—say 250 apples—for a delivery. That's easy for places like Safeway or Giant, but it's harder for small shops that sell maybe two dozen apples each week. Corner-store owners who do opt to sell produce end up buying it at prices similar to those regular consumers pay. On top of that, produce requires refrigeration, which adds to the cost for store owners. And unlike Cheetos or Oreos, vegetables rot.
The Healthy Corners program has lowered most of these hurdles. The D.C. Central Kitchen already owned a fleet of trucks that it used for food deliveries to homeless shelters and transitional homes. In 2011, the organization realized it could use the same drivers to bring produce to local corner shops. Because it serves many different types of facilities, the Kitchen has substantial buying power: It's more akin to a large restaurant than a tiny retailer. That, combined with its strategy of buying from local farms and seeking philanthropic grants, helps drive down prices.
"We buy product that's aesthetically or geometrically challenged," says the organization's chief executive officer, Mike Curtin. Some of it is produce that's "the wrong shape or size to fit in the right box to fit in the right truck to fit in bins in the grocery store that are organized by size." But it's still perfectly good—and corner-store owners were happy to have it.
The Healthy Corners program targets areas where there is not a full-service grocery store within a quarter-mile. In addition to promoting fruit and veggie recipes in the stores, D.C. Central Kitchen staffers have also held cooking demonstrations and doled out free samples. It's not enough, store owners told me, to simply install a produce fridge and expect the community to flock.
There are now 67 such Healthy Corners in D.C., most of which are in lower-income neighborhoods. According to the nonprofit's own numbers, the corner stores in the program sold more than 140,000 pieces of produce within the past 10 months, up from about 17,000 in the seven-month period between September 2011 and April 2012.
The organization says it wants to help grow these types of programs in other cities. It recently consulted on a similar project in Rochester, New York. Separate initiatives focusing on corner-stores have sprouted up in Chicago, Manhattan, and Denver.
* * *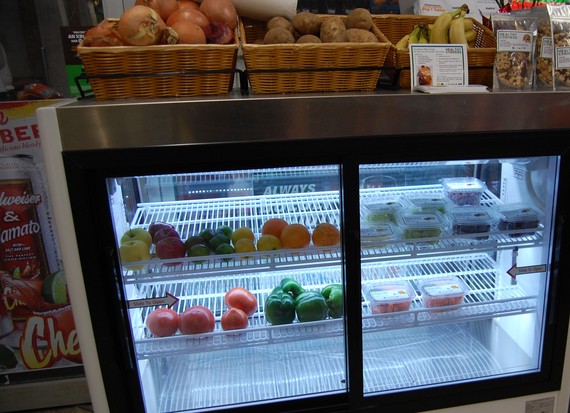 The idea that food deserts, or even insufficient produce intake, are a cause of obesity has come under fire recently. One study in Health Affairs last year found that when a new grocery store opened up in a food desert in Philadelphia, neither locals' weight nor their diets changed. Roland Sturm, an economist with the RAND Corporation, wrote a paper (which I covered when it came out) about how people of all incomes now eat about 30 pounds more vegetables and fruit annually than they did in 1970. Obesity rates have worsened all the while.
People still rely on corner shops primarily for household essentials, like toilet paper, or for a filling meal they can eat on the run. Chung says that occasionally parents thank him for providing fruit as an after-school snack option. Still, "customers' behavior hasn't really changed at this point," he says.
At Thomas & Sons, one man plopped a 12-pack of Yuengling on the counter and announced to the cashier, "I ain't working today, so I'm going to drink." At Wheeler Market, another Healthy Corners store, some customers eyed the fridge full of fruit before grabbing a package of donuts.
"This is not going to end obesity, or diabetes. It's naive to think that's the case," Curtin says. "People will avail themselves of this food, but are they still going to eat junk food? Sure."
* * *
But perhaps reducing obesity shouldn't be the goal, or at least not an immediate one. Other than weight loss, there are plenty of advantages of eating well, like preventing some forms of cancer. And even produce-heavy, organic grocery stores still sell brownies. (Curtin points out that no one would say, "Oh, we shouldn't open up a Whole Foods in McLean [a wealthy D.C. suburb], because people are still going to buy chips.")
The Healthy Corners do seem to resemble a European style of grocery shopping that some public-health advocates extoll. Rather than pack up the family and head to Kroger every Saturday, returning with a trunk full of Teddy Grahams and assorted meats, many Europeans buy their produce on the way home from work from the dozens of small green-grocers that dot their street corners. These independent merchants—many of them recent immigrants—wedge their stores into the bottom floors of larger buildings, their melons and squashes stacked neatly in blue bins on the sidewalk.
Jaap Seidell, an obesity expert at Vrije Universiteit Amsterdam, said these small vegetable shops, which have proliferated across both large and small towns in Europe, offer a great deal of variety at prices that are even lower than those of grocery stores. They don't seem to run into the same distribution and cost issues that their American counterparts struggle with. "It's in season, they don't have to store it for a long time, they don't have to cool it, and there's a lot of demand for it," Seidell says. "There's a lot less cost and waste involved."
Of course, the Dutch way of life makes on-the-fly veggie shopping easier. Big grocery-store runs aren't very practical anyway, Seidell notes, because almost everyone bikes or walks to work. Most Dutch women work part-time, so they have ample time to procure and cook fresh food.
In the Netherlands, he says, "It has always been like this: you have butchers, bakers, and the vegetable farmer."
* * *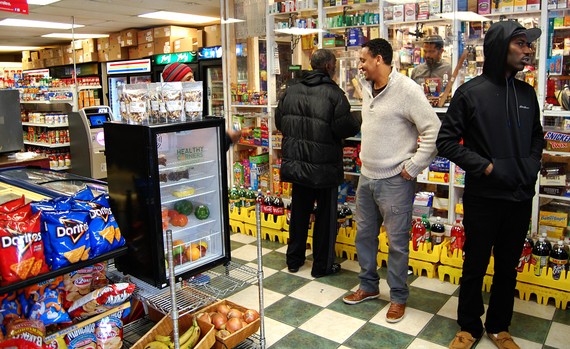 Curtin says the success or failure of Healthy Corners will not hinge on whether "we put vegetables in 67 corner stores, and some people are still fat." It's about allowing people to decide what kind of diet they'd like to have.
Muller Woldeabzghi, the owner of Wheeler Market in southeast D.C., says he sells maybe 10 to 20 pieces of the Healthy Corners produce each day, accounting for about 10 percent of his sales. He said some customers come to Wheeler instead of the Giant, which is one and a half miles away, because they lack transportation, but others simply like the shop's community feel. It's "a neighborhood feeling," he says. "They want to support us, we want to support them."
When I asked one Wheeler shopper what he thought of the fridge, he seemed skeptical. "Why would someone go to the corner store for produce?" one man said on his way out. "Why wouldn't they go to the market?"
Several other customers I spoke with, though, seemed to take a more Dutch view.
"It's convenient," said Laray Winn, who lives in the neighborhood. "You can make it here in an emergency and get whatever you need."
Demetrius Cain, who lives across the street, says his 6-year-old son is also a fan. Sometimes when he's bored, the boy runs over and comes home with a still-chilled apple. It's not exactly a revolution, but at least it's not a Twinkie.