How to Prevent the Next Ebola
In a pair of editorials, Bill Gates lays out a plan to fight outbreaks on a global scale.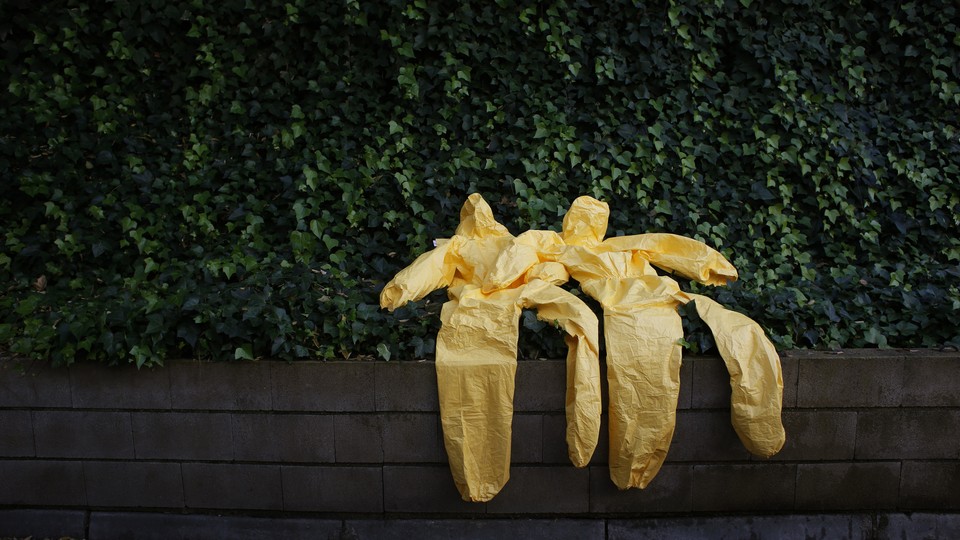 Brian D'Cruz, a Virginia emergency-room doctor, spent the winter volunteering in a Doctors Without Borders Ebola treatment center in Conakry, Guinea. One of the myriad obstacles he encountered was that the yellow hazmat suits Ebola doctors wear take 45 minutes to don, yet are so stifling that a doctor can only spend an hour in one before risking dehydration. Having to frequently drop everything to pull off the suits made it even more difficult to stretch their already meager staff, D'Cruz told me in an interview at the Washington Health Forum this morning.
In an editorial in the New England Journal of Medicine today, Bill Gates, who now focuses his philanthropy, the Gates Foundation, on global health, said he noticed the issue with the suits as early as September. "It was apparent that health workers in protective suits would get so hot that it was difficult for them to care for their patients," Gates wrote. "I asked a group of people who work for me on technology for keeping vaccines cold to refocus on keeping the medical workers cool."
The workers quickly devised a new, cooler system. But they then found there was no way to get the new equipment to the treatment centers. It was another example, Gates wrote, of how "there was no coordinated process for getting new equipment ... distributed to the people who need it." The suits, however small of an issue they might be, were yet another illustration of how the Ebola virus managed to outwit the global response against it.
The current Ebola outbreak, the worst in history, appears to be fading. However, this might be just a temporary retreat before the virus comes roaring back in another country or another strain. This epidemic taught the world, at a cost of over 10,000 lives, how ill-prepared health responders are to deal with a viral outbreak of this size.
---
New Ebola Cases in West Africa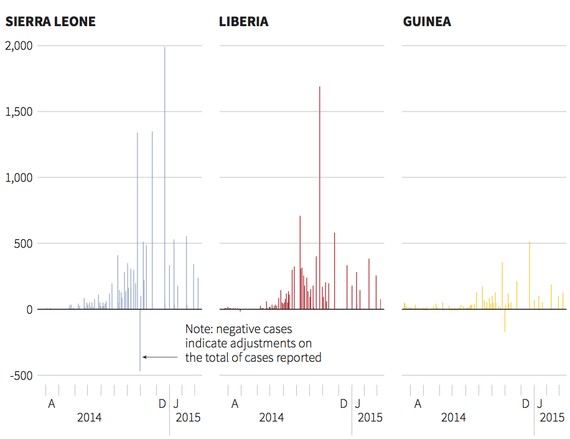 ---
"I am concerned that as the intensity of the problem fades from the world's attention, we will miss the opportunity to learn from the Ebola epidemic and be better prepared for the next one," Gates wrote.
There have already been calls for stepped-up healthcare resources in the affected countries, for better training of health workers, and for a more robust pipeline of vaccines and treatments. But the reason why Ebola spiraled out of control this time, Gates argues, is not because of millions of tiny flaws in the current global health system. "The problem is that we hardly have a system at all," he wrote.
In NEJM, Gates calls for a kind of global SWAT team for outbreaks. He envisions an operations center that's manned by "experts in epidemiology, surveillance, outbreak response, social anthropology, and other areas who can provide surge capacity for the response."
Among other things, he also recommended:
Constant disease surveillance
Better transportation networks and supply chains (so the new-and-improved suits could have made it to their destination in time).
Better cell phones and Internet access
Strengthened healthcare systems in the host countries
Better diagnostics for faster blood-test results
More funding for research into treatments, such as Zmapp, the antibody-based drug that appeared to help a few Ebola patients before its manufacturer ran out of supplies.
Funding for vaccines now, so that they are tested and ready when an outbreak hits later.
Gates argues that there should be a "global institution" to coordinate all of this. The WHO, he argues, is too underfunded and neutered to handle the task.
"I worry that many people do not think a serious epidemic is a problem for them to worry about. They may think that the United Nations system, and especially WHO, has it covered. In fact, WHO has not been clearly chartered or funded to handle most of the things required in an epidemic," he writes.
Linda Fried, the dean of Columbia University's Mailman School of Public Health, told me she agrees with most of Gates' recommendations. "These are global issues and everyone needs to come together," she said. "The strength of one country's health system matters to the others.'"
She agrees that the WHO suffers from a lack of money and structure—issues that led to a weak response in the early days of the epidemic—though the organization could rally if given more resources. The Ebola funding picture is improving: Congress just approved $5 billion in emergency aid targeted toward the disease, at least $800 million of which is aimed at preventing future outbreaks. But Fried notes that there are still funding shortages in other scientific realms—including in the United States. The U.S. spends only 3 percent of its health budget on public health, even though it is precisely groups like the Centers for Disease Control and Prevention that protect Americans when deadly diseases strike.
"We would do well to invest in the science of prevention," she said. "But I believe the federal government is disinvesting in that science. At a time when the science of prevention and public health is important, the U.S. is backing away."