Bigger Booties, Smaller Chins: Trends in Plastic Surgery
A look at which cosmetic procedures are sagging—and which are lifting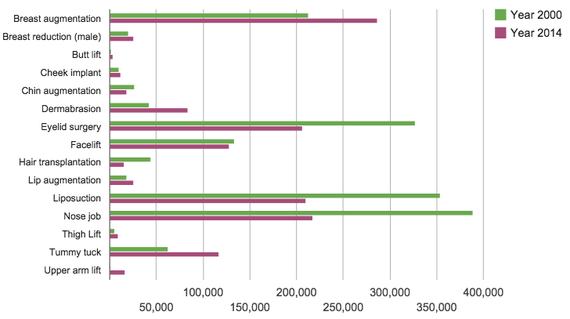 You can thank JLo, Kim, Meghan Trainor, and Nicki Minaj: Women are increasingly concerned with having all the right junk in all the right places. That's according to recently released data on cosmetic procedures from the American Society of Plastic Surgeons. Not only has demand for breast augmentation increased by 35 percent since 2000, the number of butt implants nearly doubled in the past year, from 942 to 1,863. (The organization didn't count butt implants in 2000, so there is no telling how bootylicious we were back then.) Butt augmentations and butt lifts are up, too.
Meanwhile, we've become more comfortable with our natural-born selves in other ways. Eyelid surgeries, facelifts, forehead lifts, hair transplants, and chin implants have all declined since 2000. The only outliers here are lip and cheek augmentation, which are both up slightly. Perhaps due to the rising obesity epidemic, men are increasingly getting breast reductions. And dermabrasion—a type of skin polishing—has nearly doubled as well. Among other things, the procedure helps people who suffer from acne scars.
The procedures whose popularity has grown the most are those that snip away excess skin, such as arm lifts and tummy tucks. These surgeries, according to the society's website, are for people who have "excess sagging skin that droops downward" and who are at a stable weight. Meanwhile, liposuction is down by 41 percent.
Perhaps many seasons of Biggest Loser have inspired Americans to lose weight on their own, and they are just turning to plastic surgeons to sculpt their newly toned physiques.
The plastic-surgery industry overall has shrunk by 12 percent since 2000, suggesting that people are more accepting of "junk" in general—whether or not it's in the right places.
---
Via Samuel Bennett