Lowering the Age for HIV Prevention
The risk of infection is highest among among gay black men in their teens—but Truvada, the drug otherwise known as pre-exposure prophylaxis, is still available only for people 18 and older.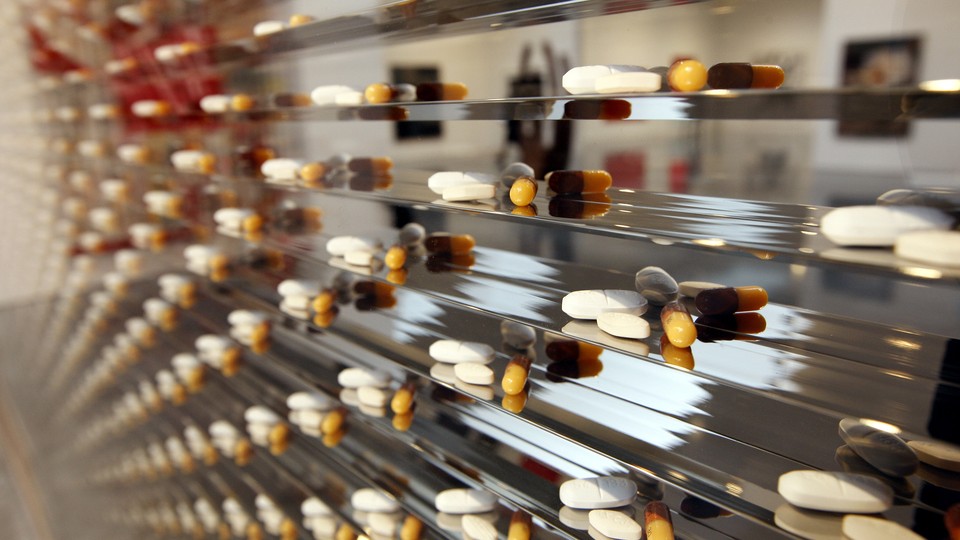 In May 2014, the Centers for Disease Control and Prevention issued new guidance for HIV prevention, recommending that uninfected people at risk of contracting the virus—including gay and bisexual men, HIV-negative partners in mixed-status relationships, and intravenous drug users—take a daily pill as protection against HIV/AIDS. Truvada, a powerful combination of two antiretrovirals, was approved in 2004 to treat people who are already HIV-positive. It became the first and only medication to be approved for HIV prevention in 2012, after a 2010 study found it to be up to 96 percent effective if taken four or more times a week. Truvada is approved as a treatment for HIV-positive patients as young as 12 years old. But only adults 18 and older are allowed to take Truvada as pre-exposure prophylaxis, or PrEP—and that is a problem, according to a growing number of public-health researchers and advocates.
The number of new HIV infections in the United States has stabilized at around 50,000 per year, according to the CDC, but new infections continue to increase among gay and bisexual men. The trend is particularly acute among black men, and even more so among those between the ages of 13 and 19. New infections among young gay and bisexual black men increased by almost 50 percent between 2006 and 2009, a rate the CDC has called "alarming." An estimated 6 percent of black gay and bisexual men in the United States under the age of 30 are HIV-positive, according to data from a longitudinal study conducted by the HIV Prevention Trials Network.
"That 6-percent prevalence is higher" than the overall adult rate of infection in some countries in sub-Saharan Africa, noted Christopher Chauncey Watson, a public-health researcher at George Washington University who presented the longitudinal data at HIV/AIDS conferences in Melbourne, Australia, and Cape Town, South Africa, last year. "In addition, there are so many other barriers [to healthcare]—poverty, homelessness, unemployment—that these youth face on a daily basis," he said. "We need to consider innovative approaches toward HIV prevention. Pre-exposure prophylaxis could become a powerful tool."
So far, only one study is investigating the potential use of PrEP among adolescents. "Project PrEPARE" is a national clinical trial conducted by the Adolescent Trials Network and funded by the National Institutes of Health. Gilead Sciences, the company that makes Truvada, has donated the medication. The study follows two groups of young gay and bisexual men and transgender women: The first includes 79 teens between the ages of 15 and 17, and the second is composed of 200 young adults between the ages of 18 and 22 (although members of this age group can already legally take PrEP, researchers have little data on their adherence rates for the medication). Researchers hope the results of the trial, which also includes quarterly screenings for HIV and other sexually transmitted infections, will persuade the Food and Drug Administration to lower its age requirements for preventative Truvada.
The researchers behind the study hope it will also counter the racial disparities often present in clinical trials, said Sybil Hosek, the lead investigator and a clinical psychologist at the John H. Stroger Jr. Hospital in Chicago. The 2010 study on Truvada's effectiveness as PrEP used "an overwhelmingly white [and older] sample," she said. "That's not who is getting infected in this country." In Project PrEPARE, by contrast, around half of participants in the younger group are Latino (another group disproportionately affected by HIV) and one-third are black; in the older group, around half are black and just over a quarter are Latino.
Project PrEPARE has been met with resistance by some institutional review boards that raised bioethical concerns about the younger age group. The study is being conducted in 12 different cities, and six of the research sites did not approve the younger group. That undermines the purpose of the research, Hosek says, and doesn't reflect the real-life conditions faced by many teens at risk of HIV. Young gay men "may face harm or violence if they come out [and] tell their parents they are having sex with men," she said. "We felt strongly that they should be able to access this medication through the trial without having to come out to their parents. We wanted them to consent for themselves much like a young woman requesting birth control or Plan B."
Officials at the NIH agree. "There are important precedents for adolescents to receive care without obtaining parental consent," said George Siberry, a physician and medical officer at the NIH's Maternal and Pediatric Infectious Disease Branch. "The ability for adolescents to seek HIV treatment and preventive care represents a similar situation."
After Project PrEPARE wraps up in September and the researchers submit their final report to the FDA, either NIH or Gilead will need to submit a formal request to the FDA before the minimum age for Truvada as PrEP can be lowered. The researchers say they don't plan to lobby for any particular age, but believe that "it should be indicated for youth that are sexually active," Hosek said. "Going down to 15 years old may capture the youth who are particularly at risk. But it's not for us to say."
Public-health experts still aren't sure why new infections are increasing among younger black gay and bisexual men in particular. Research has shown that among men in relationships with partners of the same race, black gay couples are actually more likely to use condoms than their white counterparts, but many researchers believe that several different social and economic factors—including poverty, limited access to healthcare and insurance, high incarceration rates, homophobia, and racism—play a role in keeping the infection rate high.
Even if the FDA were to lower its age restrictions for Truvada, many young people would likely still have a hard time accessing the drug, which can cost up to $1,500 monthly. PrEP is covered by most insurance programs (Medicaid coverage varies by state), but black and Latino youth, in particular, are less likely to have insurance than their white counterparts. And even teens with health insurance may be deterred from using it for Truvada, for fear that their parents will find out when they receive the medical bills.
In July, Washington became the first state to offer financial assistance for PrEP, and a handful of other states, including Illinois and New York, are considering following suit; Gilead has a financial-assistance program as well. PrEP advocates argue that if the age is lowered, some funding should be directed toward similar programs for adolescents that allow them to access Truvada without parental knowledge. "We need to challenge insurance notification for young men—over and under 18—who are still on their parent's insurance and want to access PrEP," said Steven-Emmanuel Martinez, a graduate student in public health at Brown University who is writing his thesis on the effectiveness of PrEP counseling among young gay and bisexual men.
Equally important, Martinez said, is educating doctors and patients alike on how Truvada could help the groups at highest risk for HIV. "The research community and PrEP advocates—myself included—have done a mediocre job of reaching medical providers and primary-care physicians," he said. "We've also done a poor job at translating research on PrEP for communities that aren't particularly scientifically literate."
Still, he added, knowledge of Truvada's potential is catching on among young people: "My friends are discussing it," he said. "Conversations around PrEP are happening."