Is Fast Food Healthier Than Chipotle?
Calorically speaking, America's favorite fast-food meals probably check in below their fast-casual counterpart.
In a wayward tribute to Fat Tuesday, I decided to stop for lunch at Popeyes, the New Orleans-themed fried chicken chain just off of Union Square. I ordered a two-piece combo with a biscuit and cajun fries. And since 14th Street is the Champs-Élysées of fast food in New York, I decided to also make a stop at the Taco Bell nearby, where I got my normal order: a crunchy taco, a Cool Ranch Doritos Locos taco, and a Nachos Supreme.

And, since it was right next door, I also popped into the Wendy's where I would have gotten my old standby—a Double Stack cheeseburger and a medium fries—had the line not been entirely too long. So instead I dropped by the Union Square McDonald's and ordered two Big Macs.
Now, I was at a crossroads. I was just across the street from Chipotle where my standard chicken burrito bowl beckoned me. If I had to draw the line somewhere, I figured it might as well be with Chipotle, which, believe it or not, would have constituted the most calorie-laden of all my lunch stops.
On Tuesday, the Internet went aflame after a disquisition by The New York Times concluded that the average Chipotle habitué consumes 1,070 calories with each visit. "That's more than half of the calories that most adults are supposed to eat in an entire day," the report added, leaving a jagged tortilla chip in the throat of the collective Chipotle body fanatic.
The news was stunning to some news outlets, which treaded delicately on the ethically raised, fast-casual sacred cow with headlines like Why Your Chipotle Habit Is Probably Worse For You Than You Think and Chipotle Burritos Have More Calories Than We Want To Admit.
Chipotle as the standard bearer for the fast-casual movement has been marauding through a market once dominated by fast food with aplomb. While part of the appeal of Chipotle and its ilk has been its fealty to a simpler, more customizable menu, locally and more humanely raised food, and, seemingly, the superior treatment of its employees, the illusion of its health has generally persisted.
For example, take my Chipotle order, the burrito bowl, the company's most popular item, which I get with white rice, black beans, chicken, lettuce, cheese, sour cream, corn, spicy salsa, and guacamole. (To some uproar, President Obama ordered the same one back in June of last year.)
Using the company's nutrition calculator here's how my stat line looked:

That's 1060 calories, more than 75 percent of my daily fat and saturated fat intake and more than 100 percent of my daily sodium intake. (Now throw a 300-calorie tortilla around that for the burrito version.) Surprisingly, this is also 10 calories fewer than the average Chipotle customer.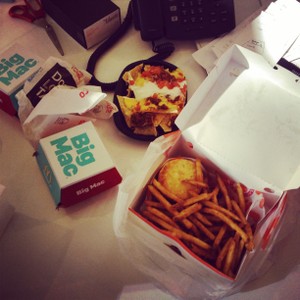 Now, given the ingredients of indeterminate provenance that comprise many fast food items, most nutritionists and food ethicists would probably object, but when comparing my Chipotle order to the spread I got at the pretty representative triumvirate of fast-food restaurants, the Chipotle order fares worse. At least, non-scientifically and calorically (the latter of which being the standard the First Lady uses to promote healthy eating as well as the focus of the Times study).
Two Big Macs (530 each)
Total: 1,060
While I've never ordered or much less eaten two Big Macs (at least I don't think), it seems worthwhile to point out that had I downed two of them, it would be calorically equal to my regular Chipotle order. The fat content would have been exactly the same (54 grams) while the saturated fat count for the Big Macs would have been slightly higher (20 grams vs. 18.5).
Double Stack cheeseburger (430), Medium Fries (410)
Total: 840 calories
While I didn't actually make it through the Wendy's line, a pretty standard burger and fries order also falls far short of my Chipotle order in calories, fat, and saturated fat. Also, I could have substituted a small fries and ordered a small Frosty and I would have been nearly even with just one Chipotle burrito bowl.
Nachos Supreme (450 calories), crunchy taco (170), Doritos Locos Taco (160)
Total: 780 calories
Say what you will about The Bell, but I could have wrapped my entire order in a Chipotle tortilla and still come out with nearly the identical calorie count as I would have with a burrito bowl. My Taco Bell go-to has also nearly a quarter fewer grams of both fat and saturated fat.
Chicken breast (420), chicken leg (170), biscuit (260), medium fries (260)
Total: 1,110 calories
This was the only meal that registered more calories than my Chipotle burrito, but only because I ordered a value meal with fries and only just barely. Had I just ordered the chicken and the biscuit (which I normally do, far too often) or had gotten a less indulgent side order ... I would feel much better than I do right now.