You Must Be This Old to Die
Just nine months from her 18th birthday, a Connecticut girl is fighting against forced chemo.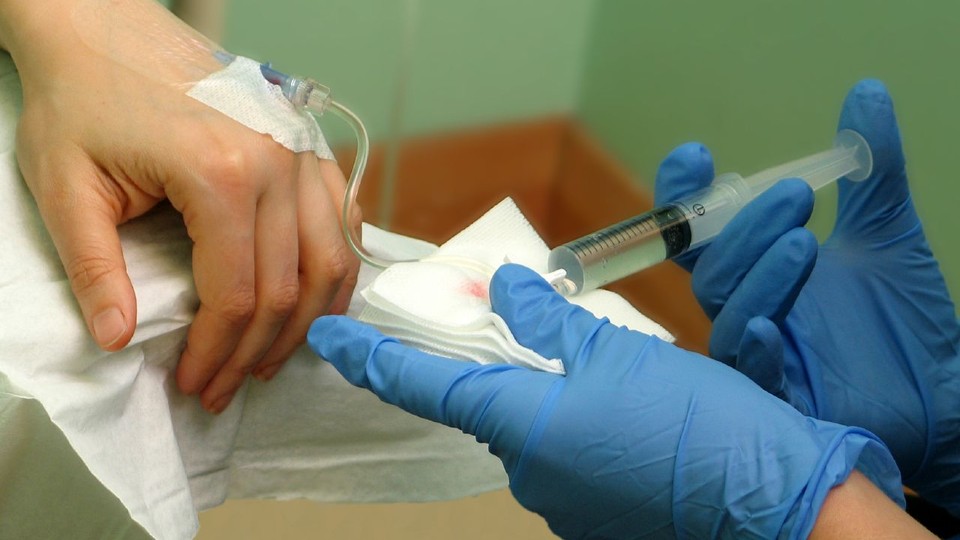 A 17-year old Connecticut girl is currently confined to a hospital room against her will and receiving life-saving treatment that she does not want.
The girl, identified only as Cassandra C., was diagnosed with a type of cancer called Hodgkin's lymphoma in September. The disease infiltrates essential components of the body's immune system, specifically weakening the lymphatic tissue, which helps fight infection. Though fatal, patients often have a high survival rate with early treatment. Yet, Cassandra was adamantly against treatment from the beginning, according to the Hartford Courant. Her mother, Jackie Fortin, supported the teenager's decision and allowed her to miss several appointments for treatment. Cassandra's doctors then informed the Connecticut's Department of Children and Families (DCF), accusing Fortin of neglect. The DCF removed Cassandra from her mother's stewardship and put her into temporary state custody.
In Cassandra's case, the chemotherapy gives her an 85 percent chance of survival. Without it, she has two years to live, according to doctors. Yet, she and her mother do not want to subject her to the treatments, which can often be painful and traumatic. They argue that Cassandra is fully aware of the consequences of her decision, and should be allowed to make it. "She has always—even years ago—said that if ever she had cancer she would not put poison into her body," Fortin told NBC. According to her mother, Cassandra feels that the chemotherapy would do as much harm to her body as the cancer.
According to court documents, the state forced Cassandra to undergo two chemotherapy sessions in November, after which she ran away. When she returned a week later, Cassandra was placed in Connecticut Children's Medical Center in Hartford, where she currently continues to receive unwanted treatment. After trying unsuccessfully to stop the government from administering treatment to Cassandra, her mother and lawyers have filed an appeal with the state's highest court. Because of its urgency to Cassandra's life, the appeal has been expedited and will take place on Thursday, according to the court documents. Now, the Connecticut Supreme Court is mired in a legal battle over whether a 17-year-old can make medical decisions about her own body. With Cassandra turning 18 in September, the question becomes whether she can legally make the same choice today as she could in nine months.
"Give us the chance to prove that she has the maturity to do this," assistant public defender Joshua Michtom told the Associated Press. "One has a right to bodily integrity. It doesn't matter if it's harmful. An adult's right to refuse care is without limitation, provided they're not incompetent."
In the U.S., adults have the right to bodily integrity, meaning they can refuse life-saving medical treatment. For many adults, ending life-prolonging treatment is an issue to be discussed much later in life. But when young people choose to die, like 29-year-old Brittany Maynard, pundits make impassioned pleas. Maynard, who had terminal brain cancer, chose to end her own life in November of last year rather than undergo treatment that would extend her life, but reduce its quality. The right to refuse life-prolonging treatment is even more contentious for minors.
Only a few states allow the "mature minor doctrine" which lets 16 and 17-year-olds argue in court whether they are mature enough to make medical decisions. In 1989, Illinois had a case where a 17-year old Jehovah's Witness with leukemia who was allowed to refuse life-saving blood transfusions. Normally this doctrine is used when children want to receive treatment that their parents are refusing, but in this case the girl's parents also agreed in accordance with their religious beliefs. The court decided in favor of her right to refuse treatment under the mature minor doctrine. Ironically, the girl survived her bout with leukemia because she had already received a transfusion before the court made its decision. It's unclear if Cassandra's appeal, which will be Connecticut's first case calling for the "mature-minor doctrine," will face similar judicial impediments.
Considering her high chances of death without treatment, the state is arguing that it is rational for them to take over. According to the Associated Press, the DCF justified its actions by saying that when experts inform them a child will die because a parent decided not to treat her, the state has a responsibility to take control. Fortin continues to stand with her daughter, telling NBC, "My daughter and I have a close connection, and I have always said—since she was a baby—no matter what you do in life, I will be here for you and I will be by your side."