The Push to Destigmatize Abortion
Pro-choice activists hope that getting women to talk about their experiences will boost support for the movement.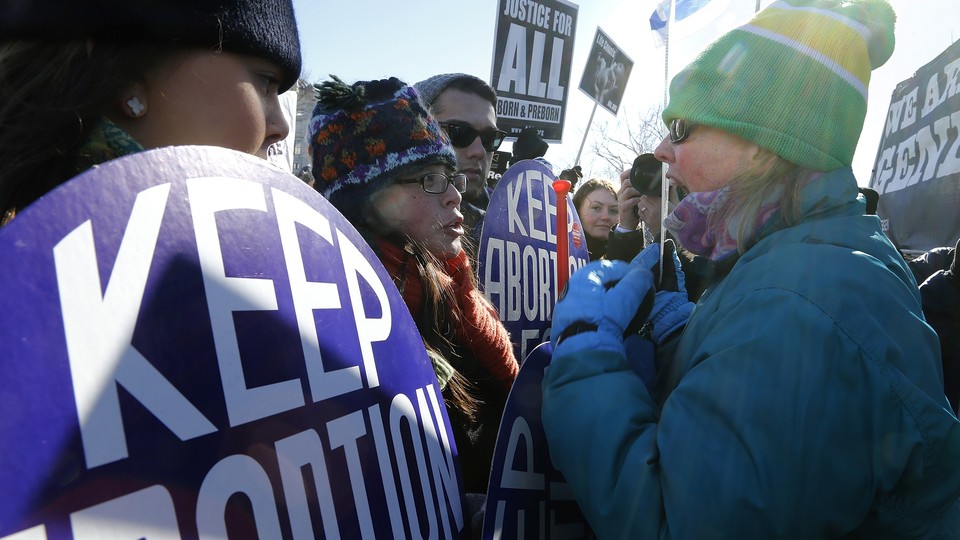 Deb Hauser was a married mother of a six-month-old when her husband "went to work one day and didn't come home." Two weeks later, she realized she was pregnant.
"I'm working full time. I've got this six-month-old, and all of a sudden I'm pregnant," she remembers. "I didn't have any idea what was going to happen. I didn't know if he was going to come back, if my marriage was going to stick. I didn't know where I was going to get the money I needed. All I know is I had a responsibility to my six-month-old."
Hauser had an abortion, "which was absolutely the right thing to do for me, and for my son," she says. "I never ever regretted it." Eventually her husband was diagnosed with bipolar disorder, they were divorced, and she remarried and raised her son, who is now 20. "Abortion has played a really important role in my life," she said. "It got me stable again."
Now she wants to help other women tell their abortion stories. It's part of an effort by her organization, Advocates for Youth, and several others to "de-stigmatize" abortion. As the 42nd anniversary of the Roe v. Wade decision that legalized abortion approaches Thursday, abortion-rights forces hope this new tack will help them reverse the momentum gained by abortion opponents in recent years. Not only have states passed a growing list of abortion restrictions, but with the U.S. Congress now in GOP hands, federal restrictions are likely to pass as well.
"It's very clear that pro-life legislators and people running for office are on the offense now," said Marjorie Dannenfelser, president of the anti-abortion advocacy group, the Susan B. Anthony List. "It's also very clear that our opponents are on the defense."
Planned Parenthood President Cecile Richards, who appeared at the National Press Club in Washington a day before Dannenfelser, conceded as much.
"The new Congress is introducing anti-women's health bills at the rate of one per day," she said. The House is expected to vote on a bill to ban abortions after 20 weeks of pregnancy on the day of the Roe v. Wade anniversary.
But in addition to fighting legislative efforts, abortion-rights backers hope to change the public view of abortion, much as gays and lesbians have done of homosexuality in recent years.
Having more women talk about their experiences, they say, will help underscore the statistic that an estimated one in every three American women will have an abortion during their reproductive lifetime.
"Probably everybody knows somebody who's had an abortion," said Lindsay Rodriguez of the National Network of Abortion Funds. "They just don't know they know somebody who's had an abortion."
The stigma around abortion "permeates every aspect of our culture," says Steph Herold of the Sea Change Program, another group working to make it easier to talk not just about abortion but about other "stigmatized reproductive experiences," including infertility and miscarriage.
Herold says the stigma is everywhere, from media depictions "where a person who's had an abortion is often stereotyped as selfish or immoral" to hospitals, which may refuse to provide the procedure not because of ideology, "but because they're afraid of the backlash or anti-abortion protesters." Herold says stigma even prevents women from talking about abortion with people they're close to "for fear it might ruin their reputation or their friendships."
Advocates for Youth has launched the 1 in 3 Campaign, which has so far collected some 700 abortion stories in audio, video, and print versions. Last fall, the project hosted an eight-hour online "speak out," at which more than 100 women shared their stories. It's also prompted a book and a play, Out of Silence, debuting this week in Washington D.C., based on some of the stories.
The goal is two-pronged—to give women a safe place to talk about their experiences and to boost support for abortion rights, says Hauser. "We know from the research that the number one predictor of whether or not you say you're pro-choice and vote pro-choice is if you know someone who's had an abortion," she says.
Richards says the movement to de-stigmatize abortion also has a special appeal to younger women. "They are much more open about sex, sexuality, sexual identity, and abortion," she said.
Planned Parenthood consulted on the production of last year's indie film Obvious Child, in which a young comedian played by Jenny Slate finds herself unexpectedly pregnant after a one-night stand. "It was so refreshing," Richards said. "Most of the time abortion is talked about [in the media] it's some gothic story. This was really about a young woman's life. What happened, what she decided to do with the support of her family, even her boyfriend."
Advocates of women "coming out" with their abortion stories are quick to admit that they're following a page from the same-sex marriage playbook.
"More and more people in the U.S. became aware of the people in their lives who they knew who were gay," said Jessica Arons of the Reproductive Health Technologies Project. "And they started to become more comfortable with it." Even abortion opponent Marjorie Dannenfelser says the effort is good politics. "In terms of tactics, it's smart. I have never underestimated their ability to do the smart thing," she said.
Which is not to say she agrees that speaking out will—or should—eliminate the stigma. "It's very true that women are afraid to talk about their abortion," she says. "It's very true that there is a lot of shame associated with it. The question is, what are the root causes of those things? If this is a child, it's complicated in a different way."
---
This article appears courtesy of Kaiser Health News.