Batgirl's Psychologist
By applying characters' fictional psyches to real-life problems, a cosplay enthusiast turned a passion for comic books into a mental-health career.
By day, Andrea Letamendi was a model doctoral student in clinical psychology at the University of California, San Diego, who kept her head down while concentrating on her research on post-traumatic stress in Iraq and Afghanistan war veterans.
By night, she scoured DC Comics, reading up on the latest Batman and Batgirl adventures. She fell in love with superheroes and villains as a child, but hadn't revealed her obsession to her academic colleagues. In her off-hours, she frequented sci-fi and comic conventions, dressing up as characters like the female Darth Vader in a costume complete with LED lights, or the Huntress from Batman, designed out of leather and metal.
Her secret double life dated back to before her days as an undergraduate at Cornell University. For years, she learned to keep her knowledge of the backstories of Mr. Freeze and Clayface a secret from the professional world she wanted to enter, omitting her real name from her twitter handle, @ArkhamAsylumDoc, which was inspired by the fictional psychiatric hospital for criminally insane villains, like the Joker and the Riddler, in Batman's Gotham City.
Letamendi's worries went beyond thinking that her colleagues might poke fun. She was raised by immigrant parents from Ecuador, who instilled in her a hard work ethic but also taught her that as an ethnic minority woman, "people are going to tell you you don't belong here. So you have to fight for what you want."
Despite her excellent credentials and high grades, she carried with her traces of imposter syndrome—the fear that colleagues would discover she wasn't smart or talented enough to be in her position. It is an anxiety that many career-driven women who excel in their fields experience, as noted in a famous 1978 study in Psychotherapy Theory, Research, and Practice, in which observations of 150 highly successful women found that they often thought of themselves as frauds and did not "experience an internal sense of success."
Letamendi thought people already had enough reason to question her; she didn't need to fuel whatever underlying doubts by revealing that she was a superhero aficionado who dressed up in costumes. She didn't want them to think she was immature or unhinged. "I was concerned that people would not only not take me seriously," she said, "I thought it would impact my value as a scientist."
To compensate for her own insecurities, Letamendi worked harder, and kept up appearances as a diligent, unassuming academic—while secretly moonlighting in cosplay. It was like she had two separate personalities. She was careful not to let them intersect.
Until one day, when both worlds collided, and she finally removed her mask.
*  *  *
As a kid, Letamendi first grew captivated by Archie comics. When she discovered she could get them mailed to her home, she saved all of her quarters and dimes and stuffed them into an envelope to pay for her subscription. The bulky envelope came back marked "return to sender."
Letamendi later became hooked on Batman: The Animated Series, which led her to collect the Batman comic series too. Growing up in California's Santa Clarita Valley, there was not a lot for kids to do. The area's first mall had just been built. But there was one comic-book shop, Brave New World. She convinced her mom to drive her to the store so she could browse the aisles.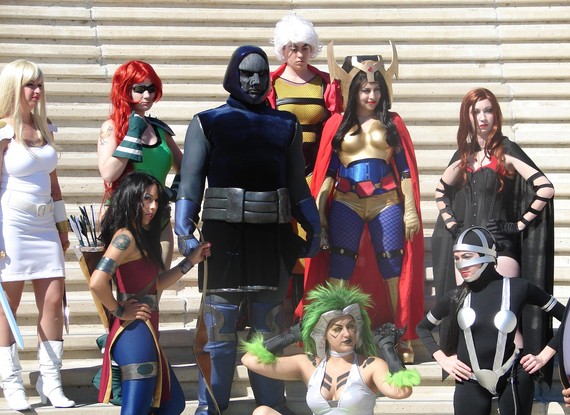 In middle school, she was bullied some for having interests her peers called immature (she has memories of someone kicking around her Garfield lunch box and calling her names). But by high school, she knew she wanted to be valued for her knowledge, not her looks or social status. She played tennis, dressed in goth and punk clothes, and earned the highest G.P.A. in her class. Her mother was a registered nurse and her father worked for a medical-supply company. "The reason I worked so hard was that I knew I wanted to have a seat at the table," Letamendi said. "I wanted to have value, and a voice."
At home, her graphic novel and comic book collections stacked up, and her love for sci-fi blossomed. She also began experimenting with costumes. In 1997, Star Wars was re-released in theaters. "That's when my fandom exploded," Letamendi said. She remembers standing in line at the Hollywood Mann's Chinese Theater dressed in a Jedi outfit, complete with a cape, taking pictures with other people dressed up as characters in the movie. Luke Skywalker, R2-D2, Princess Leia, and three Darth Vader figurines filled her room, alongside Batman, She-Ra, He-Man and G.I. Joe.
It wasn't just the storylines of sci-fi and comics that hooked her, but questions of why and how each character evolved into who they were. She thought deeply about human behavior, even when she was young, and she found she could most easily relate that behavior to characters. What life experiences drove one character to become a villain, and another to be a hero? How did characters deal with senses of abandonment, alienation, grief, or loss? Batman, Superman, and Spider-Man were orphans; how did that shape their desires to save others? These narratives in which she immersed herself were about so much more than costumes and adventures. The fictional psyches fascinated her.
She did not know it in high school, but superhero psychology was already emerging as an actual field of treatment, with professionals analyzing characters like Captain Marvel, Green Lantern, Green Arrow, Wonder Woman, the Hulk, Aquaman, Thor, the Flash, and the cast of Star Trek, sometimes bringing those comparisons into therapy sessions.
Letamendi majored in computer science at Cornell. She said it was one of the loneliest periods of her life, trying to survive in an ultra-competitive program dominated by male students. She had no friends or mentors, and no support system. Unable to find a social group, she barely read comics and didn't go to any comic events. Feelings of being a fraud crept up on her. Once the top of her class in high school, she now struggled with college coursework. Depression fell over her, and she considered dropping out.
Sophomore year, she took a popular psychology class, and felt a connection to the topics, from neuropsychology to critical psychology, and how they tried to explain what drives personalities, human actions, and characteristics. These were the questions she had been contemplating through comics for years. She switched majors, and eventually ended up at UC-San Diego for her doctorate in psychology. That was when she went to her first Comic-Con convention in 2008. Each year after, she returned to the convention, and was eventually invited to speak on panels about the connections between her work with war veterans and traumatized superheroes.
Her psychology colleagues did not frequent comic-book fan events, and she still did not bring up her hobby at work. But trying to keep her dual identities secret made her anxious and stressed, and she didn't know how much longer she could keep it up.
She went on to become a postdoctoral scholar in psychology at the University of California, Los Angeles, and in 2011, she launched her blog, Under the Mask, dedicated to psychoanalyzing comic book heroes and villains. This time, she made a bold decision. She would use her real name and title online: Dr. Andrea Letamendi.
Letamendi wasn't Facebook friends with her coworkers at the time, but if they stumbled across her social-media profiles and found her blog, she decided, so be it.
Meanwhile, within the comics world, she was becoming a more prominent voice. She spoke out on issues like the lack of ethnic diversity within the comics, and the portrayal of women, whose characters are often created solely to satisfy men's ideas of desirability. In one essay for The Mary Sue, a blog that covers gender representation in comics and "geek culture," she wrote about micro-aggressions against female fans, comments like: "You sure know a lot about Batman, for a girl," or "You're a nerd's wet dream."
Such insulting remarks, she wrote, "reinforce the stereotypes, the deluded beliefs that women lack comics knowledge, that women who affiliate with geekdom shouldn't look feminine/pretty/sexy, and that male members of the community are responsible for our membership."
One day, Gail Simone, author of the Batgirl comic series, contacted Letamendi, seeking her professional psychological opinion for an upcoming issue.
Letamendi was well aware of Batgirl's backstory. Barbara Gordon (the Gotham City police commissioner's daughter who fought crime in disguise as Batgirl by night) had been shot in the spine and paralyzed by the Joker, and suffered from psychological trauma ever since.
Simone asked Letamendi: What would happen if Gordon visited a psychologist? How would the psychologist and patient realistically interact? What questions would the doctor ask? What would the office look like? Would the psychologist wear a lab coat? Oh, and there was one catch: The psychologist would not know that Gordon was Batgirl.
Letamendi explained that Gordon's paralysis could be compared to veterans with similar injuries, once heroes to their communities who became debilitated as they not only struggled with their loss of mobility, but the doubts and fears that come from losing their role in society. Some veterans Letamendi had worked with in her research longed to return to combat, while others just longed to be normal again.
A few weeks later Letamendi opened her new issue of Batgirl. In it, she found a shocking surprise. Simone had turned Letamendi into a character: Batgirl's psychologist.
"You were shot; your life has changed. Don't you think you could maybe use a little help negotiating that, Ms. Gordon?" Letamendi's character (also named after her) asked, sipping a steaming cup of tea, laptop open on her desk.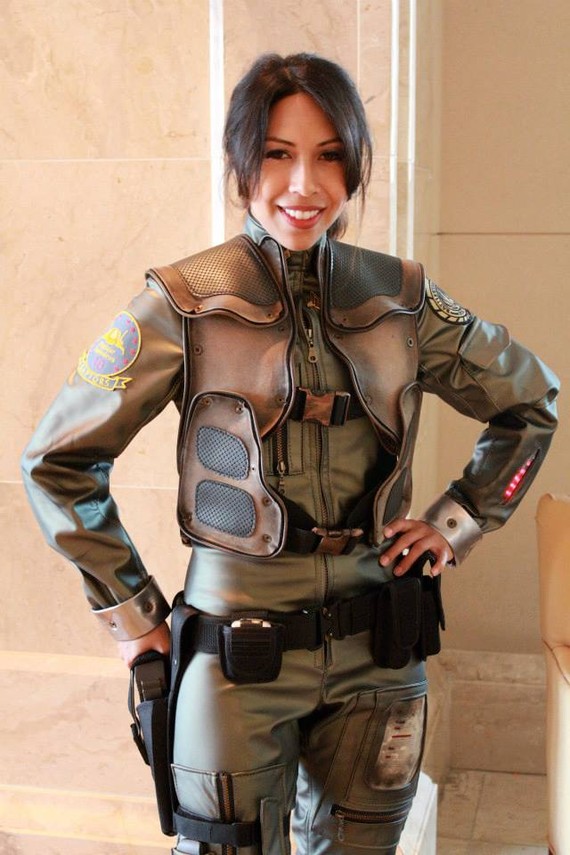 Gordon, shot when she was a civilian, sat in a wheelchair talking about her dreams of choking the Joker to death. "I kill the Joker with my bare hands. Sometimes I feel guilty," she said. "And sometimes I wake up crying that it was only a dream."
Letamendi wrote in her notebook: "Progress remains painfully slow. Patient is exhibiting signs of fatalism and depression."
Her role in Batgirl brought her a level of celebrity status within the comic world. It wouldn't be long before the rest of the world caught on. A UCLA campus magazine called Letamendi "Superhero's Shrink." Her secret was out.
"I realized that I was the one expecting this to invalidate me," she said. But her colleagues reacted with surprise and delight instead of disapproval. By now, Letamendi had earned respect in her field. She knew she was no imposter. She could unite both of her personalities, and use them as a force for good.
*  *  *
At a recent Comikaze Expo in Los Angeles, Letamendi wore a shiny army green-colored spacecraft-pilot costume, complete with a fake gun, cargo belt, and name patch. She was dressed as Sharon Valerii, or "Boomer" from Battlestar Galactica. A teenage girl approached, and told Letamendi that Boomer was her " favorite character."
"It means something to have that social connection with people who have the same level of passion for something," Letamendi said later, glancing around at other characters roaming the convention center. There was the cast of Marvel's Agents of S.H.I.E.L.D., a mother and baby version of Harley Quinn from Batman, and several versions of Captain America. A sign at the entrance of the expo read: "Cosplay does not equal consent," a message that women who dress up as characters are not asking to be groped or objectified.
Letamendi chose to be Boomer because she admired her character, played by Grace Park, a Canadian born actress of Korean descent, one of the few ethnic minorities to play such a prominent role in a sci-fi series. Letamendi spoke on a Comikaze panel that day about bullying, discussing studies showing the impact that name-calling and antagonizing has on the bullied brain. A nine-year-old dressed as Black Widow from Marvel Comics sat in the audience with her mom. She had recently been bullied by friends, and related her experiences to a storyline from My Little Pony.
This is the kind of work that Letamendi hopes to continue, bridging comic-book and sci-fi characters with everyday people who have everyday problems. In her day job, she works on education initiatives for children's mental-health programs. In her spare time, she hosts a podcast called The Arkham Sessions devoted to psychoanalyzing the characters in Batman: The Animated Series, and she is regularly called upon to speak to audiences that range from Yale University scholars to comic-book crowds and Nerd Nites (gatherings in which crowds gather at bars and listen to on paleontology, deep space, neuroscience, and other topics over beer). Each time, she draws real-life conclusions about what superheroes' backgrounds can teach the rest of us about adversity and resilience.
"Yes, they are fictional characters," Letamendi said, "but we can learn from their stories, and learn from their recovery. We can all relate."