Why Not Just Breathalyze Yourself?
Personal breathalyzers let people check their blood alcohol content before driving—but they're not very popular.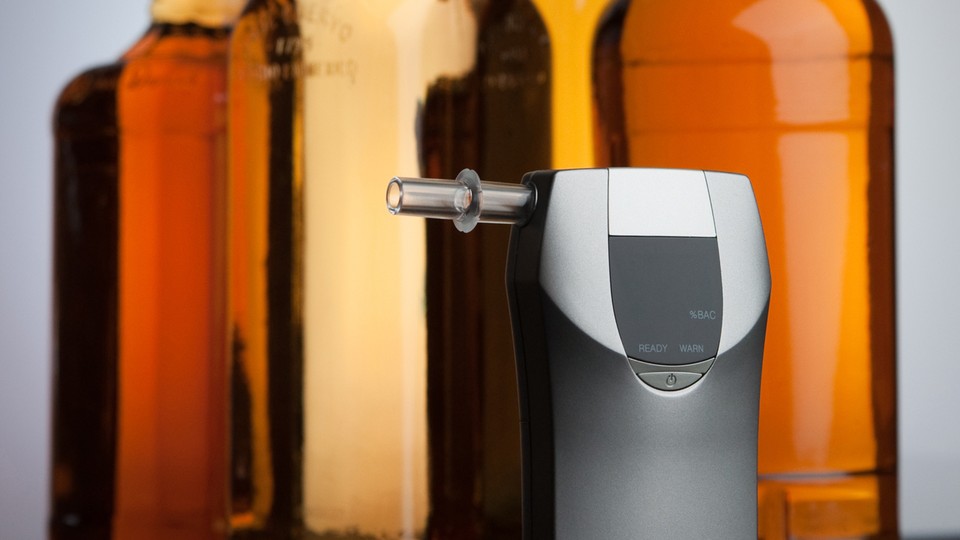 Despite the number of driving fatalities decreasing over the last decade, around 12,000 people in the United States continue to die every year in crashes involving a driver with alcohol in their system, according to the National Highway Traffic Safety Administration. The days around each holiday can also be some of the most dangerous to drive during the year, with more people on the roads and higher proportions of drivers being legally drunk, the NHTSA reports. But the U.S. seems to be at a standstill when it comes to improving its drinking and driving problem.
"Traditional methods of DUI prevention clearly are not working effectively enough," says San Francisco-based criminal-defense lawyer Jai Gohel, who has dealt with hundreds of DUI cases over the course of his 21-year career. The general scare tactics used by a host of industry organizations to fight drunk driving just aren't connecting with drivers well enough, he says.
Keith Nothacker, founder and president of personal-breathalyzer company BACtrack, is trying to put an end to the drinking and driving epidemic in America. "I thought it was crazy that you could get pulled over, get arrested and go to jail for a number you couldn't test yourself," he says, explaining why he started the company 14 years ago. "It's like not having a speedometer in your car and then getting arrested for speeding."
Today, BACtrack devices are in more than 15,000 retail stores. They're small enough to fit on a keychain and in a pocket, and many of them have corresponding smartphone apps.
"We live in a tech-savvy world where if you want to reach younger consumer demographics, you need the right products," says Lauren Casparis, a BACtrack spokesperson. "We use smartphone apps to monitor all aspects of life—fitness, diet, sleep, heart rate—so why not monitor alcohol levels for both personal health and safety?"
The price of personal breathalyzers depends on the technology used. Semiconductor technology is less expensive and costs between $30 and $50. Fuel-cell technology, which provides more accurate and sometimes faster results, can cost $100 and up. Breathalyzers used in police stations, meanwhile, often cost between $5,000 and $10,000.
But even with the steep discount, these devices are carried by less than 1 percent of all drivers, according to law enforcement officials—and even that's a generous estimate, Gohel says.
"It's a societal thing. People don't want to put a breathalyzer in their pocket or in a car ... it just hasn't caught on yet, and I'm not sure why," says Jeffrey Rose, a police officer in West Hartford, Connecticut, whose police department makes hundreds of DUI arrests every year.
West Hartford is not alone. DUIs are one of the most common types of motor-vehicle arrests in the U.S. and have become more frequent as the law imposes steeper fines on driving under the influence, Gohel says. A driver who is pulled over for a DUI offense with a blood-alcohol level above the legal limit can suffer up to $20,000 in fines over the long term, including bail, legal fees, increased auto-insurance premiums, loss of work income, court-ordered alcohol education programs, and more, according to J.C. Diaz, executive director of the Nightlife Association, and research from Bankrate.
Research from the Insurance Institute for Highway Safety indicates that about 7,100 deaths would have been prevented in 2012 if all drivers with BACs of .08 percent or higher had been kept off the roads.
Many researchers say personal breathalyzers could help curb the drinking and driving problem in the U.S., noting that the devices provide hard markers for people to see when their judgment might be impaired.
There are many possible reasons behind the lack of widespread adoption of personal breathalyzers among drivers. Some people might reject them because they feel using the device would be a sign that they might have a drinking problem or a DUI, and are court-ordered to use one, according to Brian Sturdivant, vice president of marketing at Breathometer, another personal-breathalyzer manufacturer.
Based on consumer research and conversations with drivers, Sturdivant says other people prefer not to know their BAC level when they're out at a bar with friends, for example. They believe they can count drinks and manage just fine.
The price of the devices may be another factor keeping people from using them, Sturdivant says, noting that drivers might view the technology as an unnecessary expense.
Bars and restaurants could take on the expense instead, but few do, according to the Nightlife Association's J.C. Diaz.
For several years, Las Vegas pub chain Steiner's has used a breathalyzer called AlcoScan at one of their locations, stationed next to their restrooms, which costs $1 per test. Diaz says another technology that has been showcased at nightlife trade shows is called BreathAdvisor, where if the reading is above the legal limit, the machine will automatically ask the customer if they want to request a cab.
The Steiner's pub in Las Vegas is an anomaly, however. Such breathalyzer devices are still few and far between in the nightlife industry. "I don't see why bars and restaurants couldn't be incentivized to have breathalyzers and sell personal breathalyzers for a marked up price, and collect a small profit, similar to how they used to sell cigarettes," Diaz says.
David Volk, the owner of Virginia-based Vienna Inn, a restaurant and neighborhood bar, says that he hasn't provided breathalyzers for his employees or customers because he hasn't felt knowledgeable enough about the technology. "But I'd certainly consider getting them for my employees and selling or providing them to customers," he says. "If the technology is reliable, I'm surprised every bar and restaurant in the world doesn't have them."
Yet, if more drivers used the technology, whether on their own or at a bar, researchers say the potential to understand, access, and address drunk driving behavior is enormous. New research by BACtrack based on nearly 300,000 unique breathalyzer tests collected over 13 months, for example, found that between December and March, the average BAC is higher than any other time of the year. (According to the firm, the average BAC is above .06 percent on nearly 75 percent of days during that period; the rest of the year, the average is only that high about 50 percent of the time.)
The data also shows that 14 of the 15 biggest drinking days of the year, all of which have an average BAC of .08 percent or higher, fall between December and March.
The main goal of this data, Casparis says, is to reach as many drivers as possible and put information in terms that people will understand. "They might not want to hear a lecture of 'don't drink too much,' but if they see that certain days and regions are likely to have drivers with high BAC levels, they might think to be more careful."
Opposition to personal breathalyzer technology has largely centered on the claim that a reading below .08 percent could give people a false sense of security about their ability to drive. "Some of our biggest critics have actually come from law-enforcement officials who say personal breathalyzers aren't as good as police ones and its results couldn't be used in court," says Sturdivant at Breathometer. He notes that other criticism has centered on basing driving decisions on technology at all. Mothers Against Drunk Driving, for example, does not support the use of personal alcohol tests to assist a driver in making decisions about his or her ability to safely drive after drinking. MADD promotes planning ahead and designating a non-drinking driver, according to Jan Withers, the organization's national president.
Sturdivant thinks that's all largely missing the point. A legal limit of .08 percent BAC is far higher than what adults should ever consider as safe, he says. The goal of personal breathalyzers is just to know where you are in terms of intoxication to make smarter decisions. "At no time do we ever recommend driving after drinking. Use of these products should help individuals learn what their 'number' is, as everyone reacts differently to alcohol and a lot of variables impact that each time you drink."
He makes an analogy to teaching abstinence instead of discussing safe-sex practices. "That's the same message we're giving to people about alcohol," Sturdivant says. "It's about drivers using tools proactively instead of waiting for a police officer to tell them what their BAC level is."