The Kids Are Alright
Teens are using less drugs and alcohol than before, even though they're less likely to think the substances are harmful.
Sociologists have been puzzling over what to call the generation born after Millennials ever since today's teens were in diapers. So far, the roster of potential nicknames has included: iGeneration, Gen Tech, Gen Wii, Net Gen, Digital Natives, Gen Next, Post Gen, and Plurals. Earlier this year, the Pew Research Center scared up some even cringe-worthier suggestions, like "TwoKays," "Tweenials," and "the swipe generation."
Perhaps the most fitting moniker might be "Generation Straight-Edge."
That's one I just made up, based on survey results released today finding that the use of cigarettes, alcohol, and prescription painkillers among teens have all declined in the past year, consistent with an overall downward trend for the past few years.
The results of the Monitoring the Future survey, released yearly by the National Institute on Drug Abuse, should be encouraging for any parent concerned about today's youth.
Kids these days are drinking less: "Since the recent peak rate of 61 percent in 1997, there has been a fairly steady downward march in alcohol use among adolescents," said Lloyd Johnston, the study's principal investigator, in a statement. "The proportion of teens reporting any alcohol use in the prior year has fallen by about a third."
---
Percent of Teens Who Said They Drank in the Past Year
---
They are taking fewer painkillers. "Past-year use of the opioid pain reliever Vicodin showed a significant five-year drop, with 4.8 percent of 12th graders using Vicodin for non-medical reasons, half of what it was just five years ago, at 9.7 percent," the study authors write.
In fact, high schoolers are taking less of pretty much all prescription drugs, other than Adderall and other stimulants:
---
Past Five Year Use of Prescription Drugs Among 12th Graders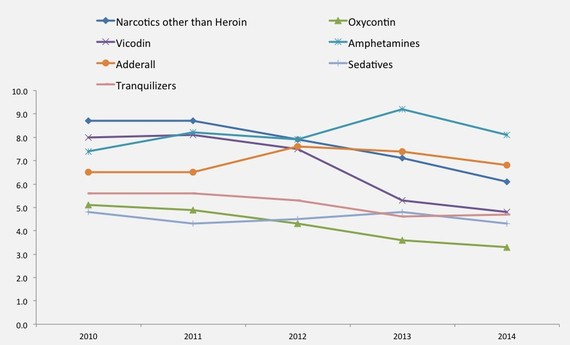 ---
What's more, they're using less of pretty much every drug.
Here are some highlights from the report:
"The proportion of 12th-graders reporting use of synthetic marijuana [K2 or "spice"] in the prior 12 months has fallen by nearly half. It was 11 percent when first included in the survey in 2011 and was down to 6 percent in 2014."
"Ecstasy (MDMA) use showed a statistically significant decline in 2014. For the three grades combined use in the prior 12 months dropped from 2.8 percent in 2013 to 2.2 percent in 2014. In 2001, the peak year of use, the rate had reached 6 percent."
---
Annual Use of Any Illicit Drug other than Marijuana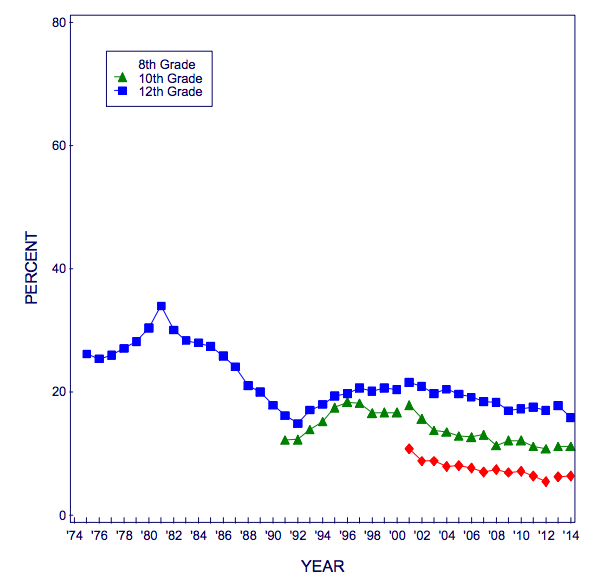 ---
Interestingly, the number who say MDMA is risky has also declined over time.
---
Use and Perceived Risk of MDMA
University of Michigan 2014 Monitoring the Future Study
---
"Salvia, another drug used for its hallucinogenic properties, has fallen to quite low levels of use, and it continued to fall significantly in 2014. For example, it was used in the prior 12 months by 5.7 percent of the 12th-graders in 2009 but by less than 2 percent in 2014."
"Use of hallucinogens other than LSD, which for the most part involves the ingestion of hallucinogenic mushrooms (Psilocybin or "shrooms"), is continuing a longer-term decline."
Abuse of over-the-counter cold and flu medicines "has been falling among teens since 2006 and declined significantly again in 2014, with annual prevalence declining from 4.0 percent to 3.2 percent for the three grades combined."
They are smoking less tobacco than ever before: "Cigarette smoking also reached historical lows among teens in 2014 in all three grades. For the three grades combined, 28 percent reported any smoking in the prior month in 1997, the recent peak year, but that rate was down to 8 percent in 2014."
---
Percent of 12th Graders Who Smoked Pot or Cigarettes in the Past Month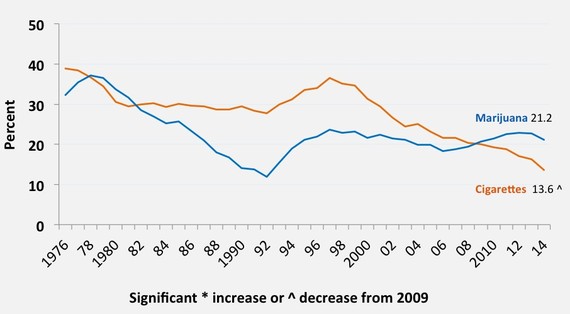 ---
More teens are now smoking e-cigarettes and weed than are smoking regular cigarettes. Among 10th graders, for example, 16 percent reported using an e-cigarette, but just 7 percent reported smoking the old-fashioned way.
They are using marijuana in roughly the same numbers: The survey found that in the past month, rates of marijuana smoking remained steady among eighth graders at 6.5 percent, 10th graders at 16.6 percent, and 12th graders at 21.2 percent. It's worth noting, though, that in states with medical-marijuana laws, high school seniors were more likely to say they had eaten marijuana edibles than in states without the laws.
High-schoolers' ambivalence toward smoking pot is especially surprising because they find pot less risky than they once did.
---
Percent of Who Perceive "Great Risk" of Smoking Marijuana Regularly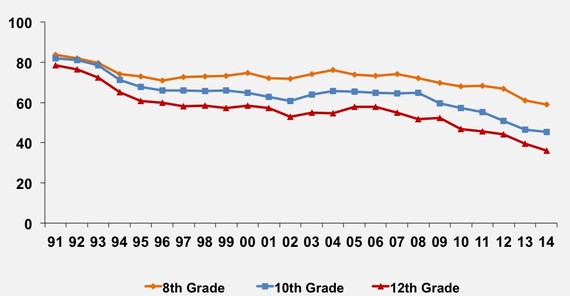 ---
The majority of high school seniors currently do not think occasional marijuana smoking is harmful, with only 16.4 percent saying occasional use puts the user at "great risk," compared to 27.4 percent five years ago. Eighty-one percent of high school seniors told researchers this year that marijuana is easy for them to get.
In other words, pot is readily available, in some cases legal to have, and kids don't think it's harmful. Yet they aren't using more of it.
Which leads us to a law of teenagers that has held constant across all generations: Things are only cool as long as they're dangerous and forbidden.