Gay Men Could Soon Donate Blood
The FDA is considering revising its ban on donations from men who have sex with men—a policy intended to prevent HIV transmission that many say is not supported by science.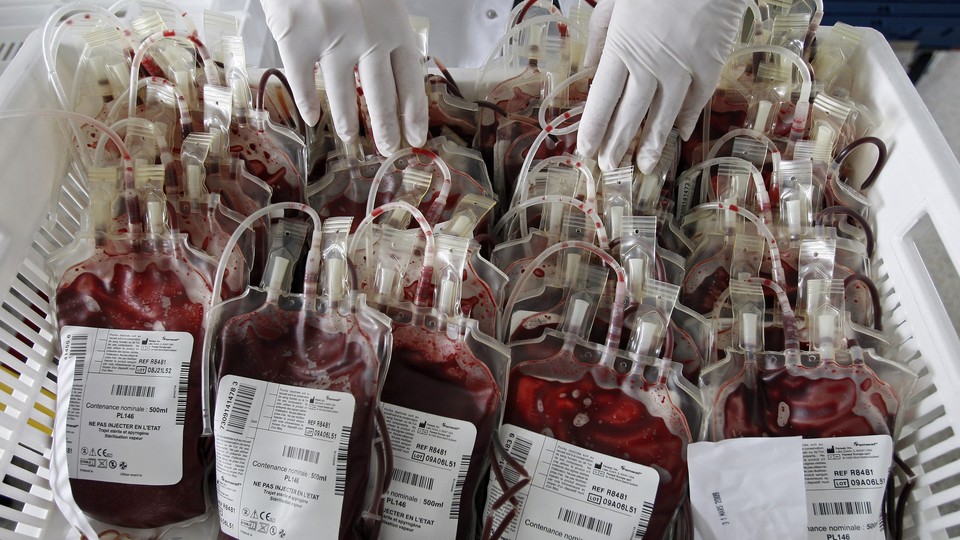 In February 2013, Blake Lynch tried, and failed, to donate blood. He wanted to help his friend from nursing school, Emmy Derisbrun, who has sickle-cell anemia and sometimes needs blood transfusions. But Lynch, who was then unaware of the Food and Drug Administration's ban on blood donations from gay men, was turned away for honestly answering the question "From 1977 to the present, have you had sexual contact with another male, even once?" Answering "Yes" means you can't donate, not just that day, but ever.
"I was in shock, I was a little angry, because I didn't expect to be banned," says Lynch, who is now a registered nurse.
"I remember when Blake came home that day," says Lynch's partner, Brett Donnelly. "He was so upset and, frankly, embarrassed. You go somewhere to do something good for a friend, and you're turned down for being gay. This really struck a chord with us."
The policy has been in place since 1983, "when the risk of [contracting] AIDS from transfusion was first recognized," the FDA website reads, and "a history of male-to-male sex is associated with an increased risk for exposure to and transmission of certain infectious diseases, including HIV."
On Tuesday, the FDA's Blood-Products Advisory Committee met to discuss potentially revising that policy. In November, the Department of Health and Human Service's (HHS) Advisory Committee on Blood Safety and Availability recommended easing—but not lifting—the ban. It suggested a one-year deferral policy instead, under which gay men would be permitted to donate after a year of abstinence. The FDA will consider this recommendation, as well as scientific evidence on HIV blood safety, during its meeting.
About a month after Lynch was turned away, he and Donnelly started the nonprofit Banned4Life to raise awareness about the ban, and encourage people who can donate to do so in the place of their friends who can't. They've made YouTube videos, held blood drives at schools and churches, and spoken in front of the HHS committee that made the recommendation.
"We believe it's a step in the right direction," Donnelly says of the one-year deferral suggestion. "That's a big step. They haven't taken any steps since 1983. But we still have a long way to go. Blake and I, who are in a monogamous relationship with basically no risk of contracting anything, are still not able to donate."
Understanding of HIV is much different today than it was when the ban was first implemented. For example, in 1983, the Centers for Disease Control and Prevention were just ruling out casual contact as a possible means for transmitting AIDS. More than 30 years later, we have preventive drugs for HIV and life expectancy for HIV-positive people in the U.S. is very nearly the same as that of the general population.
While infection rates decreased by 33 percent globally between 2001 and 2013, infection rates have stayed stable in the United States, and have actually increased among men who have sex with men, according to the most recent CDC numbers. So while gay men are still at increased risk for HIV, advances in medical technology make it much easier to test people, and their blood, for the virus now, and no matter how people answer the donor questionnaire, their blood will be tested for HIV and other diseases anyway. The risk of contracting HIV from a blood transfusion is currently about one in 2 million, according to the Red Cross.
Medical professionals, as well as activists, have called to lift the ban. The American Red Cross and the American Association of Blood Banks support a change to a one-year deferral, and in 2013, the American Medical Association officially opposed the current policy. An AMA board member called it "discriminatory and not based on sound science."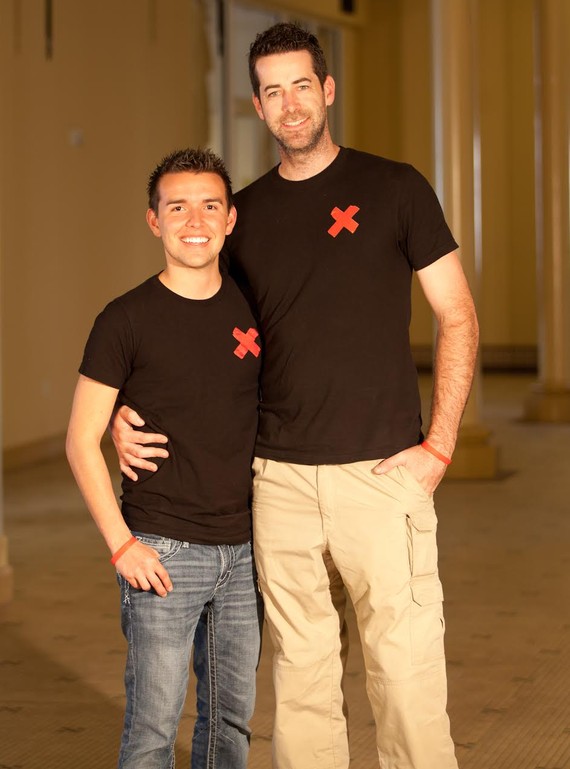 One worry with testing blood for HIV is the "window period"—a time in which a person can be infected, but still receive a negative test. On average, the CDC says, an infected person will develop antibodies to the virus within 25 days, and a standard HIV test can then detect those antibodies. And 97 percent of people will have detectable antibodies within three months, though the agency notes that "in very rare cases, it can take up to six months." According to the Red Cross's website, the test it uses "closes the window period … by about four to seven days."
At the FDA's meeting Tuesday, "additional discussion will focus on blood-safety monitoring for HIV and other strategies to further assure blood safety," FDA press officer Jennifer Rodriguez wrote in an email.
"So the one year [deferral] is a time frame that's not represented by science," Donnelly says. "It's just a number. It could've been six months; it could've been two years. It's just something they kind of pulled out of their butt." Several other countries have replaced their lifetime bans with deferral periods ranging from six months (in South Africa) to five years (in Canada), according to CBS News.
GMHC, an HIV/AIDS prevention nonprofit formerly called Gay Men's Health Crisis, recommends that the FDA "update the Donor-History Questionnaire so that all potential donors are screened for high-risk behavior, regardless of sexual orientation," its website reads. "Only prospective donors determined to be at high-risk should be subject to deferral periods."
Lynch and Donnelly say this is their ideal policy as well—one where everyone is screened for HIV risk based on their sexual behavior, not their sexual orientation.
"If you're a heterosexual who's having lots and lots of unprotected sex on a daily basis, they don't weed you out," Donnelly says. "And if we're in a monogamous relationship, we're at no risk. [Risk is] based on sexual behavior, not on sexual orientation, and that's the way we want the policy to address those questions. To be fair, and to be accurate."
Lynch says that Banned4Life is continuing to sponsor blood drives in the meantime. When he came home from his unsuccessful attempt to donate last year, "I talked to Brett about it a little bit, and we realized that the policy doesn't really affect us, it affects people like Emmy who need life-saving blood transfusions."
If the ban was lifted, 2,603,004 more people would be eligible to donate blood, according to the Williams Institute, a think tank at the University of California, Los Angeles. With a one-year deferral, 1,065,375 more people would be eligible. Though not all those people would necessarily rush to their local Red Cross, the Institute estimates that would mean 219,200 more pints of blood donated each year (with no ban), or 89,716 more pints (with the deferral).
"While Brett and I are trying to get the policy changed, we're not really doing it for us," Lynch says. "We're doing it for the people who need blood."