The Source of a Deadly Meningitis Outbreak
More than two years after the disease killed 64 people, the owners of the clinic responsible will face charges.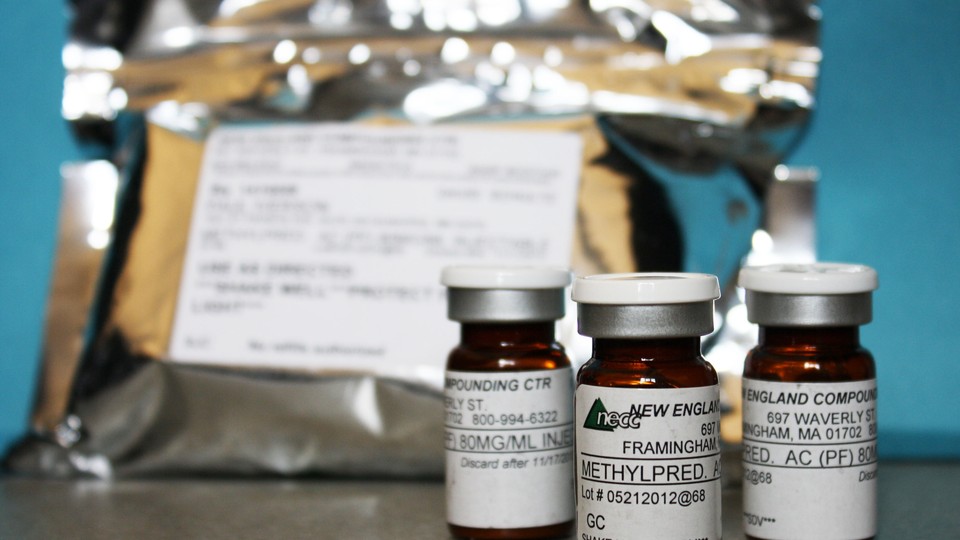 Late in the summer of 2012, doctors in the northeast United States began to notice numerous cases of fungal meningitis. As the outbreak grew, spreading across the region, public-health investigators determined there was a common source for the infection: A medication used in a common steroid injection had been contaminated at the source. When all was said and done, 751 people in 20 states had become ill and 64 of them died.
The contamination was soon traced to what's known as a compounding pharmacy—specifically the New England Compounding Center in Framingham, Massachusetts. Drugs from the center had been contaminated with fungi and bacteria, which were then injected into patients who developed serious infections.
On Wednesday, more than two years after the outbreak began, 14 former employees, including NECC's two co-founders, were arrested and charged with a wide range of federal crimes for their role in the outbreak. The indictment accuses them of "wanton and willful disregard" for that possibility that their contaminated products could harm patients.
The center's supervising pharmacist was arrested in September while trying to leave the country. He was accused of helping to fraudulently label a batch of methylprednisolone acetate as sterile, allowing it to be shipped to a pain clinic in Michigan, where it was then injected into hundreds of their patients. More than 200 were infected and 15 died.
Compounding pharmacies are licensed to mix and alter drugs to create specific formulations for patients and doctors, but because they are not actual drug manufacturers, they are not directly regulated by the Food and Drug Adminstration. On Tuesday, the FDA announced a new Pharmacy Compounding Advisory Committee that would consult on the issue, but they still fall into what Massachusetts Congressman Ed Markey called a "regulatory black hole." State oversight has since been tightened.
NECC filed for bankruptcy last year after multiple lawsuits concerning the outbreak. All the arrested individuals are expected to appear in court on Monday to hear the full charges against them.