A Podcast for Your Mental Health
Former comedian Paul Gilmartin has built a devoted following for The Mental-Illness Happy Hour, which tackles everything from incest to alcoholism to serial killers.
Paul Gilmartin can spot his listeners well before they introduce themselves to him. They look like they want to cry, and their first words are usually something along the lines of "I just want to say ..." Gilmartin immediately hugs them, and the conversation that follows is far from anything two people who just met would ordinarily hold.
Gilmartin, 51, is the creator and host of The Mental-Illness Happy Hour, a weekly two-hour trudge to the darkest—and most joyful—corners of the human condition. He records the podcast in his hometown of Los Angeles, and the show is built around interviews with celebrities, artists, therapists, and podcast listeners; anonymous surveys; and Gilmartin's narration of his own struggles with depression, addiction, and overcoming sexual abuse. Thirty-five thousand people download the podcast each week, and some episodes—interviews he's held with Marc Maron, Maria Bamford, and Adam Carolla, for example—have been downloaded more than 80,000 times. The Mental-Illness Happy Hour website is home to an active listener forum, and the show's 200th episode aired on November 21.
The podcast serves as a place of community and affirmation for those who struggle with mental illness, including Gilmartin, who has been undergoing treatment for clinical depression since 1999 and has gained clarity on his own issues through talking with his guests and corresponding with his listeners. It was while interviewing comedian Danielle Koenig during episode 16 of the podcast that Gilmartin realized on-air that he had been molested by a neighbor as a young boy, and the revelation that he was a survivor of incest began its slow simmer while talking with radio personality Phil Hendrie on episode 59.
"We kind of compared notes and had the same creepy mom that had no boundaries," Gilmartin said in a Skype interview from the Dubuque Food and Wine Festival in Iowa in early November, where he was emceeing the event and serving as grand marshal of the festival's parade from a horse and buggy.
Ironically enough, Gilmartin has been sober since 2003, but prior to that, he read about wine all the time and kept his bottles in a temperature-controlled locker. "I drank wine every single night," he said. "I didn't think I was an alcoholic. I just thought I was classy."
Though his career has shifted almost entirely towards the world of mental health, Gilmartin remains well-known for his successes in the world of stand-up comedy and entertainment. He began performing stand-up in 1987, hosted TBS' Dinner and a Movie from 1995 to 2011, and has done the rounds at the Montreal and Aspen Comedy Festivals. You can still find his performances on YouTube and The Adam Carolla Show as the faux Congressman Richard Martin, a Republican from Ohio who believes religious extremism can be "crushed with God's help." Levity and humor also keep the podcast from being overwhelmingly heavy, and listeners can expect a dick joke every now and again, in between tales of binge eating, drug dealing and coping mechanisms.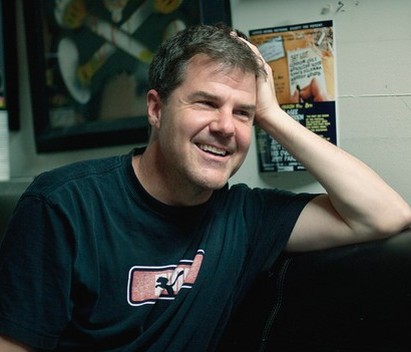 "[Dr. Zucker] started pulling things out of me and walking me through it, and it was just like a dam broke," Gilmartin said. "By the time I posted the episode it was clear, and I cut contact with my mom." During episode 58 (recorded after the interview with Hendrie but aired beforehand), Gilmartin confronted the truth about his relationship with his mother for the first time: He had been a victim of incest. He was speaking with Dr. Jessica Zucker, a clinical psychologist who specializes in women's health, and about halfway through their conversation, Gilmartin's mother came up, along with her habit of grabbing his butt until he was in his mid-20s.
Gilmartin is all about getting into the grit, and this is why so many people listen to his podcast, take his surveys, pour their hearts out to him in emails, and walk up to him to say thank you, eyes full of mist. All psychiatric disorders are discussed and treated with empathy on The Mental-Illness Happy Hour, simply because Gilmartin feels that the more people can talk about their issues, the less others will be hurt by them. And perhaps people are genuinely curious about the inner workings of the unwell mind—Gilmartin's interview with Dr. David Hirohama, a counselor who worked with rapists and child molesters at Coalinga State Hospital in California, was the third most-listened to episode of 2013.
"We're all so related in so many ways," Gilmartin said. "Everybody has a dark side and a light side. And I'd like to think that the podcast is a really safe place to talk about their dark side, because there aren't many places that we can do that."
Gilmartin has put feelers out for interviews with serial killers, pedophiles, and rapists in efforts to push the limits of our understanding of one another, no matter our thoughts or actions. However, he says he won't interview someone who is planning on hurting someone, nor will he interview someone if he feels it's the wrong time—if they're in the midst of a breakdown or a relapse, for example. This, Gilmartin says, would be exploitative.
Between the hundreds of interviews he's conducted, the thousands of listener surveys he reads, and the extensive email correspondence he maintains with his listeners, Gilmartin finds that depression and anxiety are the most common ailments suffered. In fact, it was Gilmartin's own depression—or rather his emergence from it—that inspired him to create The Mental-Illness Happy Hour podcast in the first place. It was the holiday season of 2010, five months after he had stopped taking Wellbutrin, Celexa, and BuSpar for depression and anxiety, and darkness had descended over his life in a seemingly permanent way.
"When I realized, 'Oh my god, this is the depression!' I went back on my meds and within three, four days was feeling fine," he said. "I was like, 'I have to talk about this. I have to get the word out there.' Because I've been in therapy for years; I've been [going] to support groups for years; I've been seeing a psychiatrist for years, and I was [still] fooled by it. I thought about all the people who have never had any of those things, and what they're up against—thinking that [depression] is reality."
The first episode of The Mental-Illness Happy Hour aired in March of 2011, and it featured an interview with Janet Varney, Gilmartin's former co-host on Dinner and a Movie. She, too, suffered from depression and anxiety, as well as panic attacks and a habit for soothing herself with sugar.
The Mental-Illness Happy Hour now serves as Gilmartin's full-time job, though not one that pays very well. Between listener donations, podcast advertisers, and speaking gigs, he makes the equivalent of what would be a minimum-wage job—but according to Gilmartin, it's the greatest minimum-wage job you could ever imagine having. His wife works as a sitcom writer and takes care of most of the bills, allowing him to keep the podcast free for whoever needs it. Gilmartin says he also gets more fulfillment from producing the show than he ever did while making a name and money for himself in the world of entertainment.
"I don't come to this out of a sense of altruism," he said. "Maybe I started it because I thought I'd be good at it and it would help people. But I wouldn't be doing it three years later if I wasn't comforted by it. And I love that people say it helps them. I love it, love it, love it."
The Mental-Illness Happy Hour is not all healing tears and recovery breakthroughs. Gilmartin wades through people's gnarliest thoughts, compulsions, and confessions day in and day out, and he sometimes gets triggered and overwhelmed by the volume and intensity of it all. He can only get through between 10 and 20 responses to his abuse-focused "Shame and Secrets" survey in a sitting due to their heaviness, and he currently has a backlog of about 100 responses to sort through before he reads them on the air.
"Sometimes the best I can do is to say, 'I'm so sorry you're feeling that way, I'm so sorry this happened to you," Gilmartin said, describing how he handles the heaviest emails. "'That must be really hard. I want to encourage you to go talk to someone who's qualified because this is too much. This is over my head.'"
As Gilmartin nears his fourth year of producing The Mental-Illness Happy Hour, he's looking to get another idea off the ground, one that could provide instant solace to those in need: an app, similar to Twitter or Tinder, that would allow people who are experiencing an intense emotion to connect to other people and get support.
Gilmartin thinks such an app could play a small part in preventing child abuse, financial collapse, and even war. When you boil down addiction, murder, and greed to its base parts, he says, you'll find a hurt person at the bottom of the pot, a person expressing themselves in the only way they can. Destigmatize that person's condition, give them affordable healthcare and a safe place to process, and you're on your way to nipping 90 percent of society's problems in the bud, he believes.
"Our only other problem would be the weather," he said.